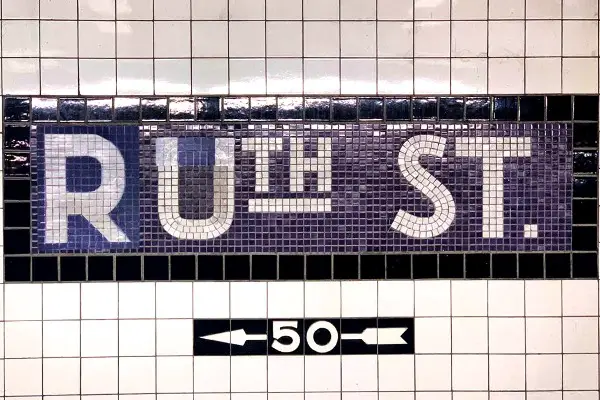 For the second consecutive month, the city's unemployment rate has dropped, this time by a healthy 25%—although overall unemployment remains high, about double national averages. With tourism and hospitality curtailed, it's not surprising (Arizona, Minnesota, Nevada, Rhode Island, and Wyoming have just been added to the state's quarantine list). We continue to see less than 1% in positive testing so reopenings can continue. The Bowery Hotel is welcoming back guests, and the hotel's Gemma Restaurant is serving weeknight dinners, with brunch and lunch added on the weekends. The Sea Fire Grill announced its return in tandem with the reinstatement of indoor dining next Wednesday, and Le Bernardin will be the first three-star back, boasting a new state-of-the-art air filtration system. Intrepid is back as of this Friday. Although the Justice Department has categorized NYC as an "anarchist jurisdiction," street cleaning rules will still be in effect.

This week the city mourns the loss of native daughter and legal pioneer Justice Ruth Bader Ginsburg. She will not be forgotten in New York. The Brooklyn Municipal Building will be renamed in her honor and the city will put up a statue in her home borough of Brooklyn. In addition, the Empire State Building will be lit red, white, and blue for Ginsburg on Friday night. Read on for the latest New York City and global tourism news.
Links of Interest
NYC
NYC's first coronavirus supply store opens near Herald Square.

Are dining bubbles the next phase of outdoor dining?

A restaurant COVID surcharge of up to 10% okayed by the City Council. 

Brooklyn Museum to sell off works to ease financial strain.

NYC & Company adds to its All In NYC: Neighborhood Getaways program with mini Staycation Guides.

87% of NYC bars and restaurants couldn't pay full rent in August.

85 reasons real New Yorkers will never leave.

HOTELS
New robots readied to sterilize hotel rooms.

Nearly 60% of Manhattan hotel rooms are still closed.

Without aid, 74% of U.S. hotels expect to lay off more employees.

NATIONAL
Airline CEOs say low COVID rates among employees prove flying is safe. (They also plead for mandatory virus tests as a cure for flagging demand.)

Small Wikipedia edits have large impact on tourism, say economists.

The International Energy Agency projects travel and tourism won't be back to pre-COVID-19 levels before the end of 2021. 

CLOSING TIME
The 2.0 version of Fedora hangs it up after a decade in the Village. 

Billyburg breakfast fave Egg says goodbye for now.
Everything to Do NYC Facebook Group Post of the Week
City Guide's Facebook Group Everything to Do NYC is growing fast, now over 8,000 active members. A post from Monday got the group in a planning/helping mood, with 95 comments already posted for this query: 
Hello everyone!
I'm planning to visit NYC on December 25.
Any recommendations?
Classic New York Christmas ideas included Chinese food and a movie (albeit in the hotel room), recommendations to book stays out of midtown, and the general suggestion to "hit up museums, the world trade, brooklyn bridge, central park, the highline, walk in the east village." There was also some instructive pushback against the notion that New York is still locked down, like this piece of advocacy:

What city are you living in? I have been to six museums this month, haven't had to stand in line ever to get in. I have also been to Governor's Island, the Highline, Socrates Sculpture Park; dancing in both Central Park & Washington Square Park, taken self guided tours of the monuments, sculptures, and sights of Central Park, walked around only a small part of Flushing Meadows/Corona Park. Next up: Brooklyn Botanic Garden and riding the Staten Island ferry. Nothing to do you say?

You can check out the full response here. Other recent posts provide insight into what locals and visitors are thinking.
---
Want more on New York City tourism? Sign up for our free weekly Tourism Happenings newsletter. Just drop a line to ewolff@davlermedia.com.