It's been a little over a week since international tourists were allowed back in and already we're starting to see the impacts. One promising note in an article on big bets by midtown restaurateurs is a report of a sushi counter already fully booked through Christmas—and that's at a place that just opened! It's all thanks to international travelers.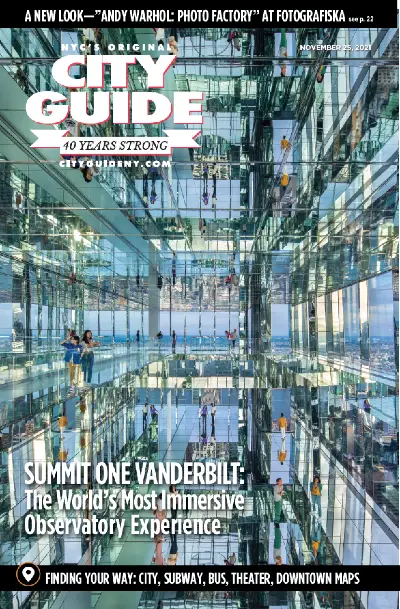 City Guide is ready for them, with our magazines back in print as of today, and out for distribution to hotels as of tonight and tomorrow. The Mayor's announcement this week that New Year's Eve will be a full-throttle in-person event reenforces the message that New York will be open for business for the busy final weeks of the year. Other signs of city vitality include:
We have been asking around about how the return of international travelers is playing out. It's early yet, of course, but here's are a couple of indicative quotes:
"We are so happy for the return of international tourists as we get so many people from around the world at Patsy's Italian Restaurant. It is a very important component of our business and we could not be more thrilled!!!"—Sal Scognamillo 
"There is a great deal of pent up demand from theatregoers all over the world. While we don't have a crystal ball, the initial ticket buying from those outside of the US is promising. It is early to predict the numbers, but we are very encouraged."—Charlotte St. Martin, President of The Broadway League
At City Guide, we are encouraged as well.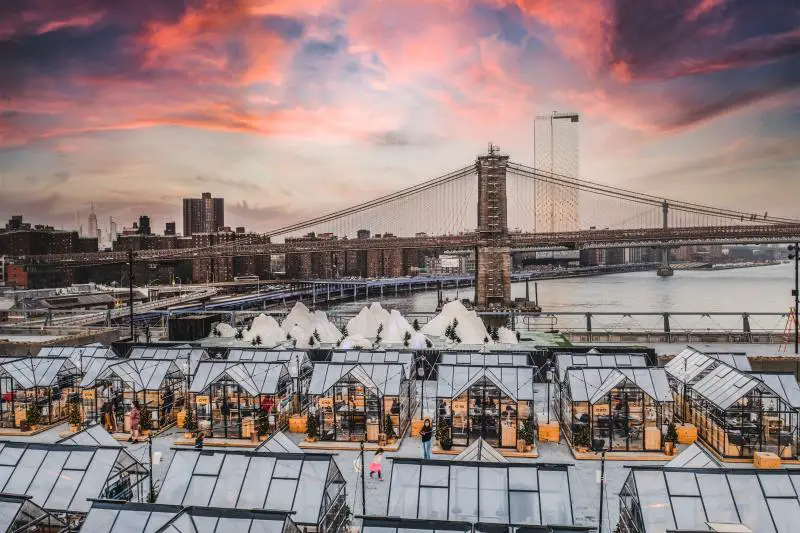 The Greens on The Rooftop at Pier 17 return to the Seaport next Monday, with chalet seating and globally inspired bites. Photo: Keeyahtay Lewis on behalf of The Howard Hughes Corporation.
LINKS OF INTEREST
NYC
BEYOND NYC
CLOSING TIME
The show will go on at Ellen's Stardust Diner! Food, drink, and singing waitstaff returned yesterday.
EVERYTHING TO DO FACEBOOK GROUP POST OF THE WEEK
City Guide's Facebook Group Everything to Do NYC has over 60,000 members, bringing together a mix of tourists making plans and locals giving advice. It's a great barometer of what visitors are thinking. This very specific request was met with some very specific suggestions, which the poster found very helpful:
Going to see the Lion King Friday at Minskoff theatre- any recommendations for dinner around that area? Preferably not italian or pasta but anything would be great. Also any recommendations for breakfast and lunch anywhere in Manhattan or near Times Square would be awesome!
Among the suggestions: Printers Alley, Bryant Park Grill, Winter Village, Dim Sum Palace, Niza, Nine Restaurant and Bar, Westway Diner, Junior's, Il Forno, Becco, The Glass House, Gyu-Kaku, Haru Sushi, Joe Allen's, Le Prive, and The Perfect Pint. The group is a great way to reach customers in real time as they're making decisions about where to invest their time and money in NYC. If you're not a member yet, join us!