One might not think of the Upper West Side for outstanding restaurants or cultural dining experiences—but only 20 blocks uptown of Times Square you'll find a vibrant neighborhood with a feel all its own. There are plenty of restaurant authentic offerings here; to find the best of the best let this article be your guide.
Barney Greengrass
Image: Barney Greengrass.
Although there are plenty of places to find a bagel in the area, you must head to the iconic Barney Greengrass. Once you taste the offerings you'll understand why this restaurant has been a New York staple for over 100 years! Barney Greengrass' aim was "to cater to those who demand the best by serving the finest foods available." Sitting in the restaurant you will be transported back when Barney Greengrass himself was still around—the deli dates back to 1938. Their menu includes every bagel type one can think of, their famous sturgeon, and seven other kinds of lox, caviar, and herring, and, of course, sandwiches loaded with eggs, lox, and cream cheese. 541 Amsterdam Ave., 212-724-4707, barneygreengrass.com
Cafe Luxembourg
Continuing with the staples of the Upper West Side, Cafe Luxembourg is another legend, a historic and delicious restaurant that serves French comfort food. Since 1983, Robert De Niro, Al Pacino, Kathleen Turner, Tom Hanks, and Liam Neeson have been among the patrons, to name but a few. The Parisian vibe creates a perfect setting for the kitchen, which serves favorites like a house version of the hamburger, called the Luxemburger (served on a brioche bun), the yellowfish tuna burger, and moules frites. Vegetarians to meat lovers and everyone in between will find something scrumptious at Cafe Luxembourg. 200 W. 70th St., 212- 873-7411, cafeluxembourg.com
Gennaro
Image; Gennaro.
If pasta is what makes your palate sing then make sure to add Gennaro to your list of Italian eateries. It's an Italian/Mediterranean restaurant full of character, making for a classic neighborhood restaurant that serves plates of steaming fresh pasta and cheeses direct from Italy. The friendliness from the staff combined with the fresh rigatoni con melanzane brings in clientele from near and far. (There's also an attractive mahogany bar.)  Just a little note, this restaurant only takes cash, credit cards are not accepted. 665 Amsterdam Ave., 212-665-5348, gennaronyc.com
Joanne Trattoria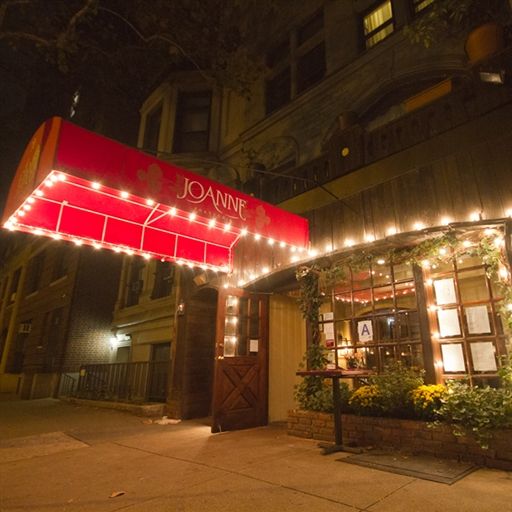 Lady Gaga's father (Joe Germanotta) and mother along with cookbook author Art Smith opened this homey trattoria in 2012. Since its inception the restaurant has continued to celebrate the legacy of Joe's sister, Joanne, through classic Italian offerings like meatballs, lasagna, veal chop Milanese, and lobster mac 'n' cheese. The restaurant also provides weekly entertainment and a "Groceria" for take home items. 70 W. 68th St., for reservations text the word "Reservation" to 212-721-0068, joannenyc.com


Cafe Fiorello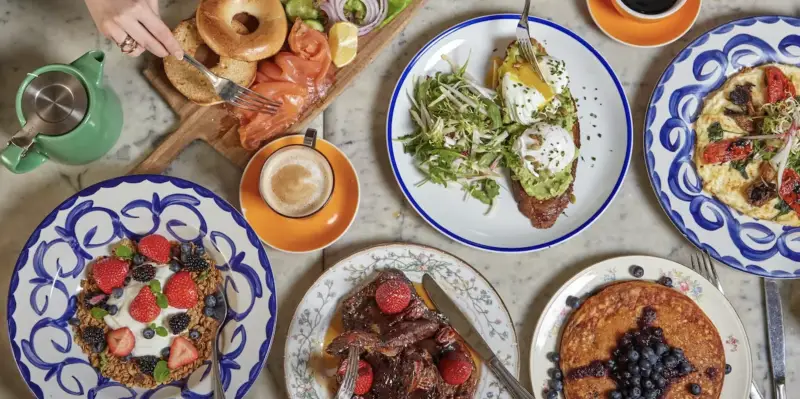 New Yorkers' go-to when they've got tickets to Lincoln Center is Cafe Fiorello. This Upper West Side institution has a lively outdoor cafe and a timeless interior finished in warm wood, brass, and mirrors. Updated Italian classics from the kitchen begin with the 50-item hot and cold antipasto bar. Brunch is a hit (see above), as are seafood, steak, veal, and pasta. 1900 Broadway, 212-595-5330, cafefiorello.com
Wau
Looking for a restaurant that has been featured in the Michelin Guide? The Upper West Side has one just for you, Wau. In 2022, Michelin Guide New York wrote, "The façade of this Salil Mehta operation is meant to evoke the hawker stalls of Singapore; and thankfully for us, the chef's creations are equally unique and delicious."  The menu focuses on Malaysian and Indonesian comfort food and has also been lauded by the New York Times and Eater.com. Wau's owners and staff pride themselves on the restaurant's food while also hoping that this is a place for people to come to get away, relax, and celebrate regional cultures and traditions. 434 Amsterdam Ave., 917-261-5926, waunyc.com
Eléa
Image: Eléa.
Making a stop at this next restaurant will be one you won't forget. An exquisite spot, Eléa offers up phenomenal appetizers, delicious mains, drinks, and desserts that deserve their own Michelin stars. When you enter, white airy walls and classic Grecian decor takes you on an adventure to a quiet island in Greece, where the atmosphere matches the perfectly procured Greek food on your plate. The philosophy of Eléa is to create dishes with ingredients that are daring, and true to Greek culture. 217 W. 85th St., 212-369-9800, eleanyc.com
El Mitote
Image: El Mitote.
For a Mexican experience you won't find anywhere else on the Upper West Side visit El Mitote. El Mitote serves up mouth-watering esquites (street corn salads), quesadillas, flautas, tostados, tacos, and more. The restaurant tailors the menu towards Mexican food found around the country, but also to the street food found in the owner's hometown, Guadalajara. El Mitote was picked as one of "New York City's 30 Essential Mexican Resturants" by Eater.com in 2021 and one of the "Best Restaurants on the Upper West Side" in 2023 by Infatuation.com. Since the restaurant does not take reservations make sure to plan ahead. 208 Columbus Ave., 212-874-2929, elmitoteny.com
Sushi Nonaka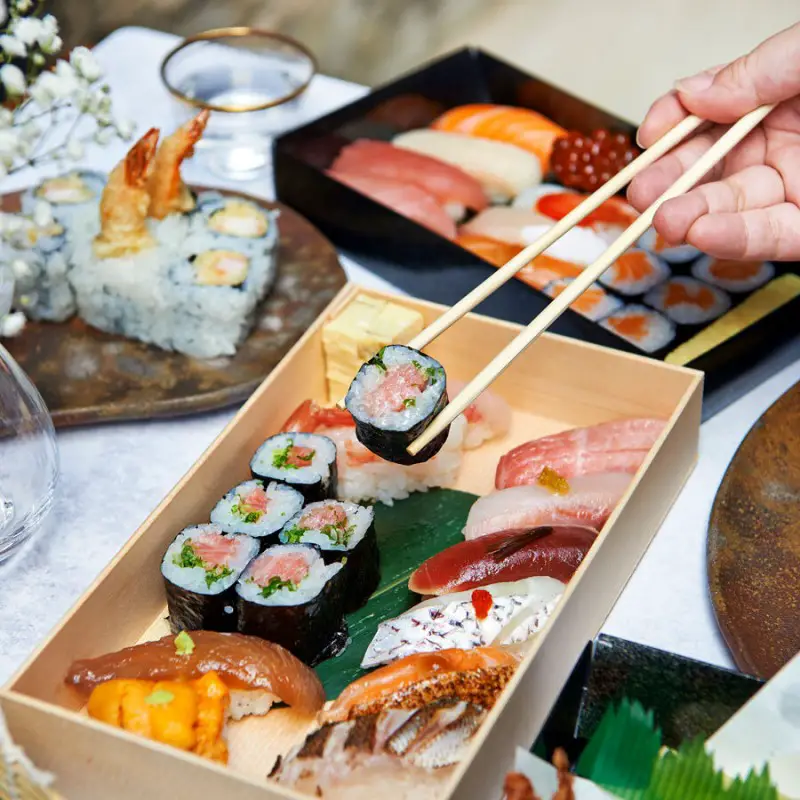 Image: Sushi Nonaka. Art Direction & Website Design by Hachikin Creative.
The freshest fish that melts in your mouth and omakase that won't break the bank are the trademarks of Sushi Nonaka. This speakeasy of a sushi restaurant serves its high quality Japanese food in a secret type of setting. The restaurant can be found on the downstairs level of the Korean restaurant Boka (fun fact: the owners of each restaurant are married). Since there isn't a sign to alert you to Sushi Nonaka, you will have to ask the host where to go. Fun, right? Even more fun—they base their menu on what fish is caught fresh and shipped that day. 410 Amsterdam Ave., Lower Level, 646-454-0226, sushinonaka.com
Beyond dining, we've got some great ideas on what to see and do on the Upper West Side.
The captivating restaurants above are only a glimpse into the Upper West Side's many culinary offerings. Other noteworthy restaurants in the neighborhood include:
Absolute Bagels
A Vietnamese-owned bagel spot with a perpetual line and some of the tastiest chicken salad you'll ever have. Columbia students and locals have known this is one of the best bagel spots in the city for years.
2788 Broadway, 212-932-2052, absolutebagels.com
Awash
The uptown location of the Ethiopian favorite. Prepare to share a variety of flavorful meat stews on a large slab of injera, an Ethiopian bread that takes the place of utensils.
947 Amsterdam Ave., 212-961-1416, awashny.com
Bánh Vietnamese Shop House
The most elusive Vietnamese dishes in NYC can be found here.
942 Amsterdam Ave, 917-639-3151, banhny.com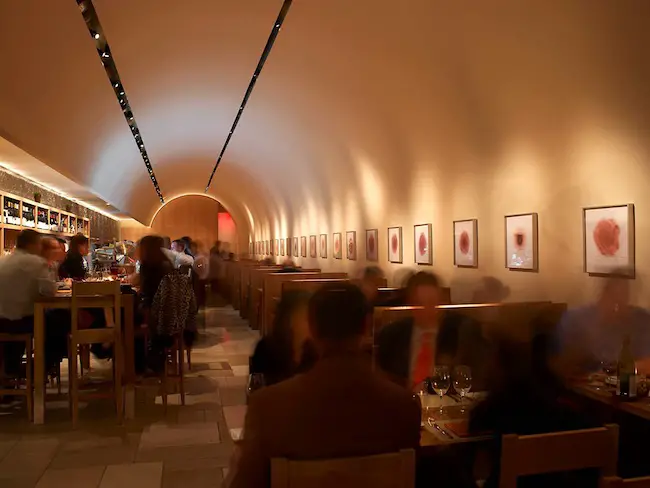 Bar Boulud
One of Daniel Boulud's hipper efforts, with its splashy, all-glass façade and location directly across from Lincoln Center, this French bistro and wine spot is where you can bring a first date for first-rate boudin blanc and a selection of 500 wines.
1900 Broadway, 212-595-0303, barboulud.com
Celeste
Excellent pizza and pastas hand-picked from the owner's home neighborhood in Italy are what get people packing this Amsterdam spot. 502 Amsterdam Ave., 212-874-4559, celesterestaurantny.com
Flor de Mayo
Culinarily, a marriage of Chinese and Peruvian food, with a dash of rotisserie chicken thrown in for good measure. Interior-wise, a marriage between a diner and a picket fence.
484 Amsterdam Ave., 212-787-3388, flordemayo.com
Indus Valley
Secretly one of the finest Indian restaurants on Manhattan. Friendly service and a brunch buffet of Indian favorites make this spot worth the trip uptown.
2636 Broadway, 212-222-9222, indusvalleyny.com
Leyla
One of the smallest restaurants on the Upper West Side but excels at rustic-haute Turkish and Mediterranean cuisine. 108 W. 74th St., 347-334 -7939, leylanyc.com
Miriam
Mediterranean/Israeli favorites.
300 Amsterdam Ave., 862-307-8702, miriamrestaurant.com
Parm
The uptown location of this insanely popular modern Italian sandwich spot is more dinner- and date-friendly than its downtown counterpart. Check out their daily-changing dinner specials.
235 Columbus Ave., 212-776-4921, parmnyc.com
Porter House New York
A massive, high-powered steakhouse at Time Warner Center from the man who once ran Windows on the World.
10 Columbus Cir., 212-823-9500, porterhousenewyork.com
Salumeria Rosi
Charcuterie plus Tuscan small plates and wine, all to be enjoyed best on warm summer nights on their sidewalk seating. Feel free to take home some salume as well.
283 Amsterdam Ave., 212-877-4800, salumeriarosi.com

Storico
Venetian-inspired appetizers and fresh handcrafted pasta can be found in the restaurant of the New-York Historical Society.
170 Central Park W., 212-485-9211, ​​storicorestaurant.com
Tasca
Spanish and Latin-Caribbean fare inside a roomy, stylish space.
505 Columbus Ave, 212-362-2211, tasca-nyc.com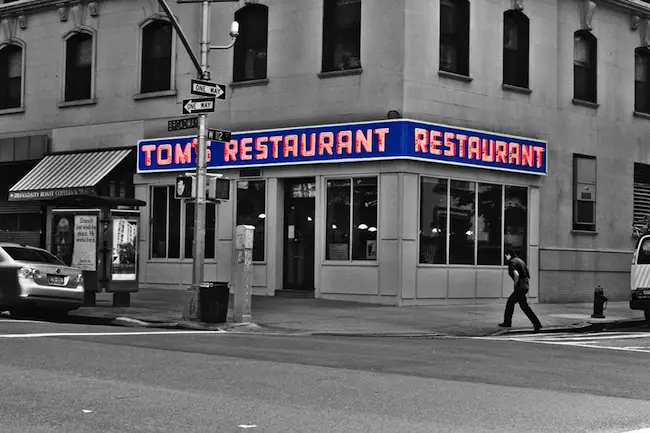 Tom's Restaurant
You may know it as Monk's, but the diner that served as the famous exterior for Seinfeld's regular haunt is actually Tom's. If you go on the right day, you'll find the Big Salad on the menu. 2880 Broadway, 212-864-6137, tomsrestaurant.net