To the list of New York experiences you can't get anywhere else add the largest and most innovative virtual reality center in the country: VR World.
VR World has over 50 VR experiences, featuring top-of-the-line technology and a wide range of games, entertainment, and educational programming. Their location right across the street from the Empire State Building also features a bar with cocktails, wine, beer, and soda.
The MOVEO unit is the first thing you'll notice upon walking into VR World. This small space shuttle simulates a takeoff into space. From inside the module, you'll spin into the sky with 360-degree rotation and feel just like an astronaut.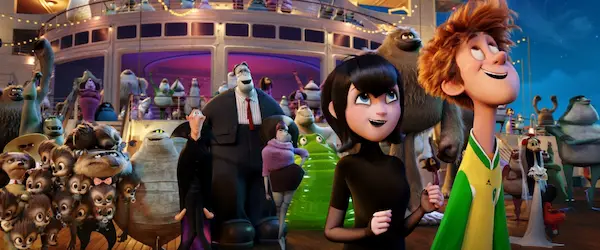 VR World is also perfect for families (ages 7+). Kids can step into their favorite film franchise with the Hotel Transylvania Popstic game. This rhythm and music game features you and your favorite DJs: Drac, Johnny, and Mavis from the Hotel Transylvania movies.
Available until August 31, Journalism 360 walks you through in-depth news stories from outlets like the BBC, KCRW, and Frontline/PBS. This experience matches documentary content with VR-friendly entertainment and gaming elements. The feature stories in Journalism 360 investigate the Nile, melting ice caps, and U.S.-Mexico border relations.
Where Thoughts Go: Prologue is an award-winning VR experience that allows you to hear secret messages left behind by other users—and leave a few of your own. Venture Beat called it "an experience that prioritizes open catharsis and empathy."
Also at VR World, Raw Data has designed a multiplayer sci-fi combat game akin to Halo, which invites you and your friends into the futuristic world of Eden Corp. If you're a fan of Mario Kart, play Sprint Vector, an extreme sports/game show hybrid full of zany characters and parkour-style racing.
Richie's Plank Experience takes you 480 feet in the air to the end of a plank, while Arizona Sunshine taps into your inner Rick Grimes as you fight off undead attackers. Fly over an arctic landscape in Icaros, with recliners that position you in a plank to better simulate a flying stance.
Other VR games include Fruit Ninja, Tilt Brush by Google, Space Pirate Trainer, boxing games, and car-racing games with car seats and wheels to better simulate a high-octane drive. You can even step into a Duran Duran video with 360-degree access to your utterly 80s surroundings.
Interested in designing VR experiences of your own? Come to VR World for summer education sessions in VR design, an NY Department of Education-certified program. These classes are available for all ages.
---
VR World experiences are available 7 days a week. Children under 7 years of age are not permitted, and children ages 7-14 require adult supervision.
A 2-hour pass is $39, while an all-day pass is $59. Buy a separate ticket for the MOVEO space simulator experience for $25 at the door.
VR World is located at 4 E. 34th St. Call the Infoline at 347-915-5802 or the Front Desk at 646-578-9630. Visit vrworldnyc.com for tickets and more.