A new frontier of experience awaits in New York City. It's called VR World, and it's the largest virtual reality entertainment center in the Western Hemisphere. Combining the possibilities of an IMAX theater, a Star Trek holodeck, an art gallery, and an arcade, VR World is like nothing else. It's conveniently located, too—just a few feet from the Empire State Building in the heart of Midtown Manhattan.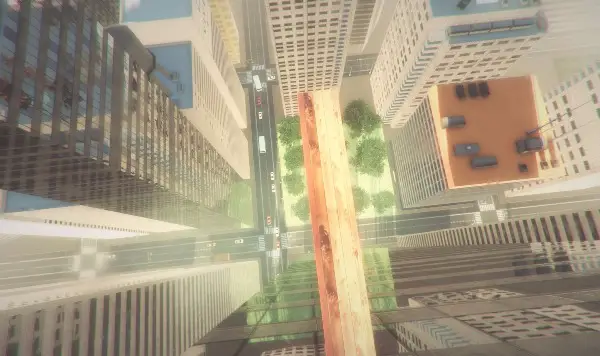 There are three floors to explore here, providing a range of ways to interact with virtual reality. Right at the front is a deceptively simple game, Richie's Plank Experience. There's a physical board on the floor (with padding on either side, just in case). Get strapped in and push the virtual elevator button up to the top. You can say to yourself "mind over matter, mind over matter," but when you're trying to negotiate a toothpick jutting out onto a skyline from a dizzying height, it's not so easy. Challenge yourself to master your balance. Remind yourself it's a simulation. It's probably not going to be much help: a plummet down dozens of stories is your likely fate.
Here's an experience you wouldn't want to have in the real world; one that's really only possible in VR. It's what makes a place like VR World so exciting, having to renegotiate the relationship between body and brain, and being forced to face the limitations of your intellect's ability. The "out of body experiences" cause you to reconsider all of your senses. That departure creates an interesting re-entry experience as well, as you take off the visor and readjust to "reality."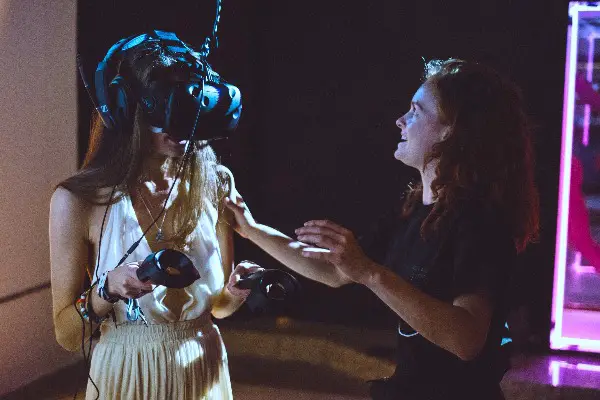 VR World Photo by Kenny Rodriguez provided courtesy of VR Worldwide, Inc.
A lot of thought has gone into facilitating the experience. You get an all-day admission ("all you can play") so you don't have to worry about a ticking clock. A bracelet lets you tap in to various games, so you won't be waiting in a non-virtual line. If there're people ahead of you, you'll get a text letting you know when it's your turn. The staff is well-trained, helpful and patient. They know the games forward and back. Don't be intimidated if you've never interacted with VR before. As one staffer puts it, when it comes to VR, "everyone is a rookie." There's an obvious passion for the form as well. It's contagious.
With brick and mortar retail having a bad run of it, travelers are increasingly looking toward experience. VR World board member Leo Tsimmer has been a player in real estate for two decades, with a focus on innovative concepts, and he saw the potential for more than just another store or mall in the space that VR World calls home.
Virtual reality can be "an isolating experience, on its own, in your living room, your bedroom," Tsimmer explains. VR World makes a social experience of it, with multiplayer games and adventures. One great example is the car racing game in the back. There are four virtual vehicles, so you can take on your friends for some high-speed Formula One action. Opt for the overhead view of your car and you may not feel how far things have come since Atari's "Night Driver." Sure, there's a wheel, and pedals, and you're strapped in to a driver's position, but it's only when you switch on the helmet perspective that the thrill really kicks in. You feel like you're actually on the track, heat all but rising off the pavement. There's a ton of feedback in the controls, with your reflexes, nerve, and restraint all put to the test.
In terms of challenges, the games range from easy to confusing. They're puzzles taken to three dimensions. "The Climb" is equal parts coordination and problem-solving. One of the trickiest outings is I Expect You to Die, where you get to play a secret agent with telekinesis. You can fight off robots, get your Game of Thrones on with bow and arrow in Elven Assassin, or vent some office angst with Job Simulator: The 2050 Archives. To see the mixed-reality of the flight rigs is to sense a new architecture of human experience.
VR World is not, however, an arcade.  As Tsimmer puts it, the space is "an eco-sphere of all things VR." Art, film, and music are all at home here. You'll also find room for expansion, as the carefully curated selection of VR grows along with the technology.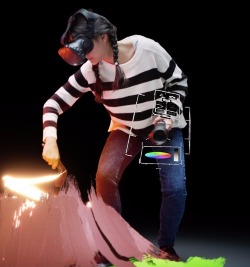 "Serious artists are embracing digital tools," Tsimmer notes, pointing out that even Steven Spielberg has "done a 180° on 360° filmmaking." But you don't have to be a serious artist to excel at Tilt Brush. There's two versions of the experience here and the one upstairs has a green screen, allowing you to enter your own creation. It's a little bit like the computer program Paint suddenly exploded into four dimensions. Even just scribbling is enchanting. Lay down a few lines and then enjoy the strange feeling of inhabiting a dream of your own creation. (It's no accident that the back of some staff uniforms at VR World are marked with the slogan "Dream Awake.") Virtual space is infinite and so are the possibilities here.
TV monitors show what other guests are seeing and doing, meaning you don't have to be under the visor to be entertained. There's also a full bar in the back, making this a great date night destination, or meet up with friends. Art happenings, launches, and group events are all part of the programming.
Beyond entertainment, VR World seeks to expand the reach of virtual reality itself. The vision for VR World is of "a platform and an ecosystem that helps the industry thrive," says Jessica Gray, Marketing Director at VR World, who envisions helping the public "come to an understanding that this is a new platform for storytelling."
Virtual reality is the ultimate example of something you need to experience to appreciate. With 50 experiences across three floors, VR World lets you dig into a full buffet of a new frontier. If the promise here is of a deeper experience beyond the thrill of a game, VR World delivers.
It will stay with you.
VR World is open Tuesday through Saturday, noon to 10pm; Sundays noon to 8pm; closed Mondays. All-you-can-play passes are $39. 4 E. 34th St., between Fifth and Madison Aves., 347-915-5802, vrworldnyc.com.