As NYC comes back from coronavirus, Upper East Siders are eager to get back into restaurants. For outdoor dining near Museum Mile (the Met, the Guggenheim) and shopping on Madison Avenue, here is the best patio seating the Upper East Side has to offer. From foie gras and bone marrow to corned beef and roast chicken, find the best of the best on the white tablecloths of these Upper East Side restaurants that compare with the famed tastes of JG Melon, Sushi of Gari, and The East Pole.
UES Outdoor Dining Guide: Cafe D'Alsace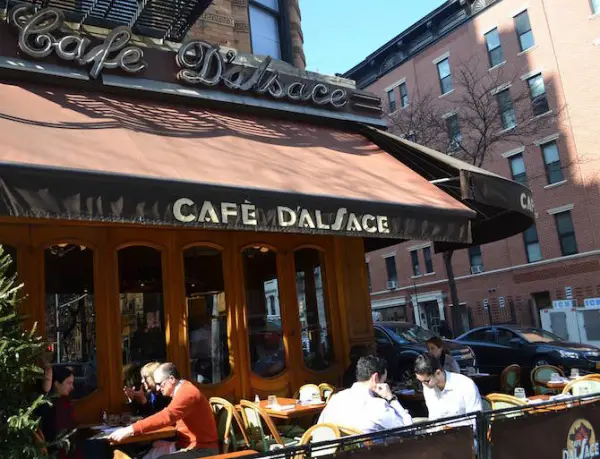 Open for walk-in only at this time. Please wear a mask when entering or leaving the restaurant and while walking around the patio or in the bathroom.
Cafe D'Alsace is a bustling but homey French bistro with sidewalk patio seating on Second Avenue. With a killer brunch menu and delectable dinner selections, you can't go wrong at any meal. At brunch, enjoy the Eggs Petatou (poached eggs on potato salad with Munster cheese) or the Belgian Waffle. At dinner, the Steak Frites are the dish of choice. The pan-seared, prime hanger steak is a staple of French cuisine and a popular item on their menu. There are sausage selections like the lamb Merguez, or other French entrees like Duck Confit. In case you weren't already booking a table, D'Alsace also offers beer, and lots of it. 1695 Second Ave., 212-722-5133, cafedalsace.com
UES Outdoor Dining Guide: B Cafe East
The cafe is open for outdoor dining with a limited menu.
At B Cafe East, B is for Belgian. This adorable cafe wows with continental specialties like carbonnade flamande, a Belgian beef stew that's prepared with Belgian dark beer. They also make a dependable burger with Gruyere cheese and brunch favorites like waffles, both savory and sweet. Their back patio is full of greenery and adorable wicker chairs around white-linen clothed tables. 240 E. 75th St., 212-249-3300, http://www.bcafe.com/


UES Outdoor Dining Guide: The Jeffrey Craft Beer & Bites
The bar is open for delivery and pickup only.
On the strange slice of the Upper East Side near the Queensboro Bridge (where, P.S., there's also a secret TJ Maxx), The Jeffrey achieves a biergarten feel with picnic tables and a display/storage area of kegs on the back patio, complete with twinkle lights. The pho tacos are out-of-this-world, and the thick garlic pretzel with mustard won't disappoint. Whether you're a seasoned craft beer enthusiast or a novice, you'll relish the colorful descriptions of various brews in the beer menu. Free Will, for example, is described as an "aggressive but drinkable IPA." 311 E. 60th St., 212-355-2337, thejeffreynyc.com
UES Outdoor Dining Guide: Jones Wood Foundry
The Jones Wood Foundry is open for outdoor dining. You must make a reservation and your order over the phone in advance to dine at the restaurant.
The term "gastropub" is often thrown around with places like Jones Wood Foundry. As far as we're concerned, gastropub is code for a bar with great food. On this menu, you'll find mouth-watering items like Welsh rabbit fondue with Farmhouse cheddar, grain mustard & Guinness. Or homemade ricotta with over dried rosemary and thyme, aged balsamic, Maldon salt, and sourdough toast. And we haven't even gotten to main dishes like the awesome house burger or seared Atlantic salmon pave. Or how about their pie and mash dishes, like shepherd's braised lamb or chicken and mushroom. The brick patio out back makes the perfect ambiance to enjoy your favorite beer and a stellar snack or meal. 401 E. 76th St., 212-249-2700, joneswoodfoundry.com
UES Outdoor Dining Guide: Lakeside Restaurant at The Loeb Boathouse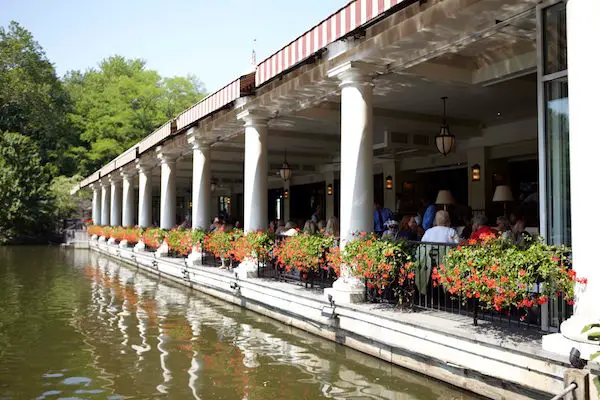 The Boathaouse is closed until further notice.
As far as outdoor dining goes, you can't do much better than watching the boats in Central Park float by. The iconic Loeb Boathouse is located on the water in Central Park and serves lunch, brunch, and dinner. If you're lucky, you'll even have live piano scoring your meal! Food includes staples like eggs Benedict for brunch and diverse offerings like jumbo lump crab cakes and and steak frites for lunch and dinner. The Lake at Central Park, at E. 75th St., 212-517-2233, thecentralparkboathouse.com
UES Outdoor Dining Guide: Mediterraneo
Open for outdoor dining.
Looking for some delicious Italian food that you can enjoy under the New York Stars? Look no further than Mediterraneo. Start out your meal with delicious meatballs or vegetable polpettine. For the main course, enjoy a pizza margarita with a gluten-free option or the Branzino alla Livornese (pan-seared Italian sea bass with tomato sauce, capers and olives). If you're in the mood for some pasta, consider their Penne al Sugo Toscano, Pappardelle All'Antra (with fresh duck meat), or the Tagliolini al Grancio (or jumbo crab meat). 1260 2nd Ave, Corner 66th St., 212-734-7407, http://mediterraneonyc.com/index.html
UES Outdoor Dining Guide: The Milton
Open for outdoor dining
The Milton blends influences from Irish and British pubs and American tastes to create a fantastic, outdoor dining and drinking experience. Stop by on Saturation Sunday for the restaurant's brunch menu. If you're in need of a nice cold drink, try a Guinness Stout, Margarita, or a Frosé. Start out your meal with a flatbread with mozzarella and tomato sauce or beer-battered shrimp, then follow that up with fish and chips, the fried chicken sandwich, or just a classic Milton Burger. Enjoy a molten chocolate cake for dessert with a beautiful view of the NYC night sky. 1754 2nd Ave., 646-682-7019, http://themiltonnyc.com/
UES Outdoor Dining Guide: Shake Shack
Open for outdoor dining.
If you've ever been to New York, you've probably already stood in line for a life-changing shake, burger, or both at Shake Shack. Regardless, you won't find much better when it comes to classic American fast-food fare. Go for the Smoke Shack, fries, and a Black and White Shake. This one is just down East 86th from the Met, and the large patio will accommodate your group enjoying their food in the sunshine. 154 E. 86th St., 646-237-5035, shakeshack.com
UES Outdoor Dining Guide: THEP Thai Restaurant
Open for outdoor dining
The word "THEP" is Thai for "angels." That is a perfect analogy for this wonderful Thai restaurant, which is named after the capital of Thailand and the City of Angels (or "Krung Thep"), Bangkok. The affordable, authentic Thai restaurant is open now for outdoor dining along the street of the Upper East Side over the summer. Start your meal with a fried vegetarian chive pancake, or a chicken or shrimp dumpling, or dive straight into dinner with a traditional pad thai stir-fried thin rice noodles, a Panang curry dish with a choice of proteins (chicken, vegetables or tofu, shrimp, and beef just to name a few options) with string beans and bell peppers with a slightly sweet and creamy coconut curry sauce. Seats are first-come, first-serve right now, so hurry quick to try this great restaurant. 1439 Ave 2nd Ave. Corner of 75th Street, 212-899-9995, https://thepnewyork.com/.
UES Outdoor Dining Guide: Toloache
Open for outdoor dining
After a long day of waiting in line for Heavenly Bodies at the Met, Toloache will make a perfect place to rest your legs. On the relaxed back patio, enjoy fruity guacamole with chips and a Prickly Pear Margarita. It's difficult to choose from the stellar menu at Toloache, but we'll point you to the Suadero Tacos with brisket, avocado, and salsa, or the unforgettable Costilla de Res with mole sauce. 251 W. 50th St., 212-582-1818, toloachenyc.com
UES Outdoor Dining Guide: Uva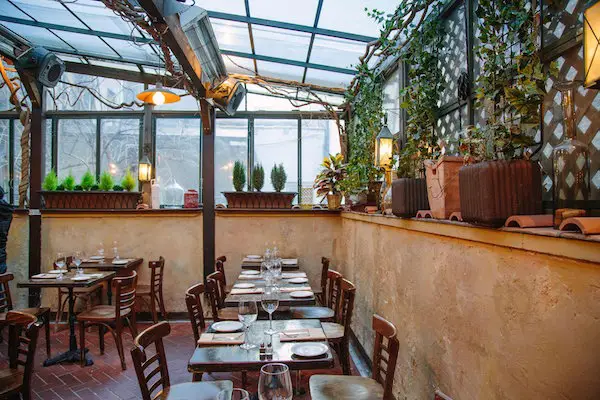 Open for outdoor dining.
In certain lights, the back patio at Uva looks straight out of a Tuscan countryside, with distressed shutters against brick and plenty of greenery overhead. Uva is a great pick for dinner or brunch if you like pasta and good wine (but really, who doesn't?). A wide selection of cured meats and cheeses goes perfectly with wine for heavy appetizers with your happy hour. The pear and gorgonzola salad with fig syrup, mezzelune alla boscaiola ravioli, and pappardelle with ragu are a few other standouts from the dinner menu. 1486 Second Ave., 212-472-4552, uvanyc.com
Additional research by Patrick Gunn.