Best Restaurants for Outdoor Dining on the Upper East Side
May 18, 2018 - by Merrill Lee Girardeau
The Upper East Side is known for Museum Mile (the Met, the Guggenheim) and shopping on Madison Avenue. Neither of these activities gives you much time outside, and on a pleasant day you might like a meal in fresh air. Here's a guide to get you started, with the best patio seating the Upper East Side has to offer—and some tasty food as well.
UES Outdoor Dining Guide: Cafe D'Alsace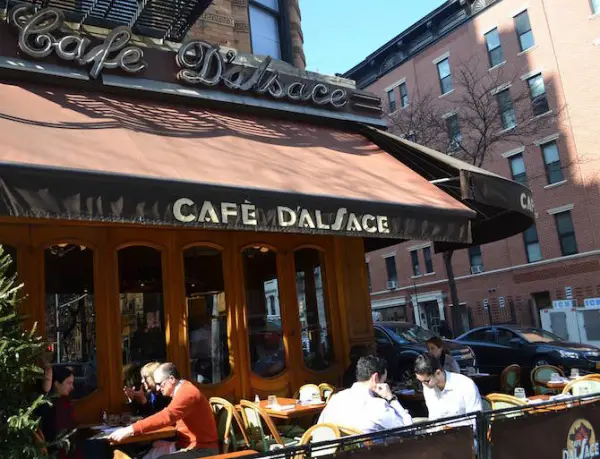 Cafe D'Alsace is a bustling but homey French bistro with sidewalk patio seating on Second Avenue. With a killer brunch menu and delectable dinner selections, you can't go wrong at any meal. At brunch, enjoy the Eggs Petatou (poached eggs on potato salad with Munster cheese) or the Belgian Waffle. At dinner, the Baeckeoffe is the dish of choice. A traditional Alsatian stew, Baeckeoffe is made with oxtail, bacon, and potatoes cooked in pinot gris. There are sausage selections like the lamb Merguez, or other French entrees like Duck Confit. In case you weren't already booking a table, D'Alsace also offers beer, and lots of it. 1695 Second Ave., 212-722-5133, cafedalsace.com
UES Outdoor Dining Guide: B Cafe East
At B Cafe East, B is for Belgian. This adorable cafe wows with continental specialties like confit pork with poached pear and garlic mashed potatoes or the Belgian endive salad. They also make a dependable burger with Chimay cheese and brunch favorites like waffles, both savory and sweet. Their back patio is full of greenery and adorable wicker chairs around white-linened tables. 240 E. 75th St., 212-249-3300
UES Outdoor Dining Guide: Beyoglu
The Turkish cuisine at Beyoglu is some of the best you'll find in the whole city. Their hummus is nutty and hearty, perfect for dipping a slice or two of pita bread. Choosing between several vegetable dishes (or mezes) like yogurt sauce and pan-fried eggplant, you can get a whole plate of your favorites with pita for just $12. For the meat-eater in your group, order the Iskender Kebab, which is mixed lamb and beef over pita, yogurt, and tomato sauce. And in pleasant weather, you can enjoy it all at a table outside! 1431 Third Ave., 212-650-0850
UES Outdoor Dining Guide: Flora Bar
Before climbing all those stairs to the Met rooftop (pricey and always crowded), consider an al fresco martini at the Met's cooler cousin, The Met Breuer. The museum's restaurant, Flora Bar, serves innovative, seafood-centric small plates like snow crab on ice with yuzu kosho mayonnaise and lobster/crab dumplings. In addition to a unique wine list—we have our eye on the Kierkegaard Chardonnay—the house cocktails play fast and loose with your expectations. Try chai-spiced gin with tea-infused syrup and orange bitters in the Spice Trader cocktail. 945 Madison Ave., 646-558-5383, florabarnyc.com
UES Outdoor Dining Guide: The Jeffrey Craft Beer & Bites
On the strange slice of the Upper East Side near the Queensboro Bridge (where, P.S., there's also a secret TJ Maxx), The Jeffrey achieves a biergarten feel with picnic tables and a display/storage area of kegs on the back patio, complete with twinkle lights. The pho tacos are out-of-this-world, and the thick garlic pretzel with mustard won't disappoint. Whether you're a seasoned craft beer enthusiast or a novice, you'll relish the colorful descriptions of various brews in the beer menu. Free Will, for example, is described as an "aggressive but drinkable IPA." 311 E. 60th St., 212-355-2337, thejeffreynyc.com
UES Outdoor Dining Guide: Jones Wood Foundry
The term "gastropub" is often thrown around with places like Jones Wood Foundry. As far as we're concerned, gastropub is code for a bar with great food. On this menu you'll find mouth-watering items like calamari salad with chickpeas, squid ink, piquillo peppers, and arugula. Or toast with marrow and shallots and chicken skin crumbs. And we haven't even gotten to main dishes like the awesome house burger or duck with sour cherry and sauteed veggies. The brick patio out back makes the perfect ambiance to enjoy your favorite beer and a stellar snack or meal. 401 E. 76th St., 212-249-2700, joneswoodfoundry.com
UES Outdoor Dining Guide: Lakeside Restaurant at The Loeb Boathouse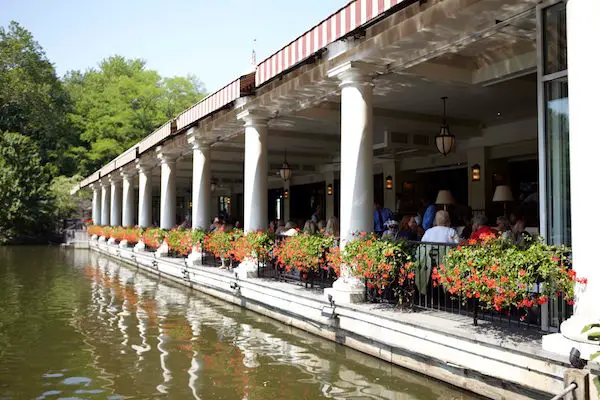 As far as outdoor dining goes, you can't do much better than watching the boats in Central Park float by. The iconic Loeb Boathouse is located on the water in Central Park and serves lunch, brunch, and dinner. If you're lucky, you'll even have live piano scoring your meal! Food includes staples like eggs benedict for brunch and diverse offerings like jumbo lump crab cakes and and steak frites for lunch and dinner. The Lake at Central Park, at E. 75th St., 212-517-2233, thecentralparkboathouse.com
UES Outdoor Dining Guide: Shake Shack
If you've ever been to New York, you've probably already stood in line for a life-changing shake, burger, or both at Shake Shack. Regardless, you won't find much better when it comes to classic American fast-food fare. Go for the Smoke Shack, fries, and a Black and White Shake. This one is just down East 86th from the Met, and the large patio will accommodate your group enjoying their food in the sunshine. 154 E. 86th St., 646-237-5035, shakeshack.com
UES Outdoor Dining Guide: Toloache
After a long day of waiting in line for Heavenly Bodies at the Met, Toloache will make a perfect place to rest your legs. On the relaxed back patio, enjoy fruity guacamole with chips and a Prickly Pear Margarita. It's difficult to choose from the stellar menu at Toloache, but we'll point you to the Suadero Tacos with brisket, avocado, and salsa, or the unforgettable Costilla de Res with mole sauce. 251 W. 50th St., 212-582-1818, toloachenyc.com
UES Outdoor Dining Guide: Uva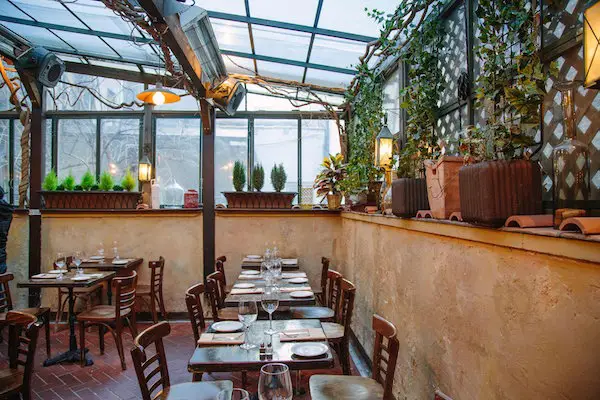 In certain lights, the back patio at Uva looks straight out of a Tuscan countryside, with distressed shutters against brick and plenty of greenery overhead. Uva is a great pick for dinner or brunch if you like pasta and good wine (but really, who doesn't?). A wide selection of cured meats and cheeses goes perfectly with wine for heavy appetizers with your happy hour. The pear and gorgonzola salad with fig syrup, mezzelune ravioli, and pappardelle with ragu are a few other standouts from the dinner menu. 1486 Second Ave., 212-472-4552, uvanyc.com
Looking for Free Group Planning Services?
Get free advice on planning your group's trip to New York.
RESTAURANTS

Multi-concept restaurant offering modern Japanese cuisine, a...

THEATER

Gaston Leroux's famous period thriller is now one of Broadwa...

SHOPPING

The world's largest source of cameras, camcorders, and more ...

SIGHTSEEING

Manhattan's premier all-glass, European-inspired dining crui...