The 10 Best Restaurants for Outdoor Dining in the West Village
May 25, 2018 - by Merrill Lee Girardeau
The West Village is an adorable hodge-podge of stunning brownstones, hip residents, and confusing intersections (West 4th crosses West 11th, so). With all the ivy and filtered sunlight through the trees, this is the perfect place for a meal outside when the weather finally warms up. You might like to watch the world go by on a sidewalk patio or hide out in a pretty backyard garden. Find our picks for both as you discover the ten best outdoor dining experiences this side of Sixth Avenue.
West Village Outdoor Dining Guide: Boucherie
A traditional French brasserie, Boucherie's West Village location has the rule of the sidewalk on its corner of 7th Avenue South. Try out traditional French dishes like escargot or coq au vin (a weekly special each Wednesday), or just come for Green Hour for discounted wine and cocktails from 4-7pm Monday through Friday. This is also a perfect pick for dessert on a warm evening; go for the pistachio bombe glacee. 99 Seventh Ave. S., 212-837-1616, boucherie.nyc
West Village Outdoor Dining Guide: Gottino
Gottino should be your go-to if you're looking for wine in a garden that's a bit more centrally located than the other picks here. Have a crostini with ricotta and fig, cured meats, and cheeses as an appetizer or hefty snack as you enjoy the homey potted plants, lawn chairs, and twinkle lights. For entrees, go with the rabbit pot pie or wild boat and polenta. 52 Greenwich Ave., 212-633-2590, gottino.nyc
West Village Outdoor Dining Guide: Extra Virgin

Extra Virgin manages to feel homey even as it's one of the most popular restaurants in the area. At this Mediterranean cafe, you have elevated sidewalk dining that combines the best of patio seating and street-level people-watching. Kick back with a glass of wine and mushroom-crusted chicken with sweet pea risotto. Or you might like one of the rotating specials designated by day (the Sunday spaghetti dinner is pretty masterful). As you'd expect, there's brunch aplenty at Extra Virgin as well. Go for the monte cristo sandwich and bloody mary. 259 W. 4th St., 212-691-9359, extravirginrestaurant.com
West Village Outdoor Dining Guide: Hudson Clearwater
Everyone already seems to know about Hudson Clearwater's perfect back patio, but that's because it's one of the best outdoor dining options in Manhattan. It's spacious but not impersonal, complete with ivy and twinkle lights. Whether it's cornflake-crusted French toast for brunch, Duchess cocktail for drinks, or angus short ribs for dinner, it's kind of impossible to order wrong here no matter the hour. The wine list also has plenty of natural and organic wines, plus the menus are vegetarian-friendly. 447 Hudson St., 212-989-3255, hudsonclearwater.com
West Village Outdoor Dining Guide: La Loteria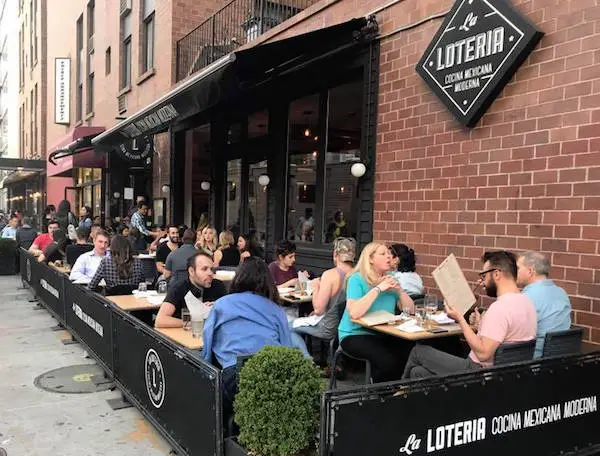 Unlike most of the other restaurants on this list, La Loteria is neither French nor Italian. On this patio, you can enjoy chips and guac and tamarind margaritas for happy hour. Try a lobster quesadilla or Baja fish tacos for lunch or dinner, or come have Mexican French toast and unlimited margs at brunch. La Loteria also offers discounts on Margarita Mondays, Taco Tuesdays, and Wine Down Weekend (see website for details). 29 Seventh Ave. S., 212-858-9096, laloterianyc.com
West Village Outdoor Dining Guide: Malatesta Trattoria
Homemade pasta on a lovely night in the city? Malatesta Trattoria has you covered with doughy, delicious plates of spinach gnocchi and spaghetti alla chitarra with big chunks of fresh tomato and mozzarella. (The tagliatelle with ragu is also splendid.) Located on a sharp corner at Washington and Christopher Streets, the sidewalk on either side of the restaurants serves as a patio, and often the restaurant windows open to make the whole place feel open-air. Malatesta also has a decent (read: cheap) wine, but remember it's cash only. 649 Washington St., 212-741-1207
West Village Outdoor Dining Guide: Mémé Mediterranean

Come to Mémé for the al fresco dining and stay for the hummus, pita, and more Mediterranean goodness than you could imagine. The owners call it North African, but the cuisine reads as a blend of Middle Eastern and Italian. This mix is best savored with grilled octopus salad, chicken kebab with tzatziki sauce, and short rib risotto with butternut squash. Mémé doesn't take reservations, so we suggest arriving as early as you can, especially on weekends. 581 Hudson St., 646-692-8450, memeonhudson.com
West Village Outdoor Dining Guide: Palma
If "dining garden" is a design concept, Palma really goes for it. This adorable backyard space is surrounded with an abundance of ivy and flowers decking the walls (you may have to duck past a garden rose as you sit in your chair). The Italian food at Palma also stands up to the best in the area. Start with arancini and burrata, and go for the pappardelle with short rib sauce or the truffle fettuccine. 28 Cornelia St., 212-691-2223, palmanyc.com
West Village Outdoor Dining Guide: Tartine
This French cafe lies on an idyllic corner of an already idyllic neighborhood.At Tartine, you'll enjoy munching on your brunchtime croque monsieur or corned beef hash regardless as you people-watch from your table bordering the sidewalk. Tartine is swamped on the weekends, so do yourself a solid and come for breakfast or brunch between 9am and noon on a weekend. C'est magnifique! 253 W. 11th St., 212-229-2611
West Village Outdoor Dining Guide: Waverly Inn
Fair warning: if you go to this hallowed garden, you may never want to leave. The enclosed space in the back of Waverly Inn feels like eating in the solarium of a British manor. These can be tricky tables to get, so we suggest reserving yours as early as possible (although there's also an adorable patio out front, FYI). The menu leads with irony: the menu's subheading is "Waverly Inn—worst food in the city. —Donald Trump." Diners enjoy the crab cakes, chicken pot pie, and excellent wine list. This is a superb brunch pick as well. 16 Bank St., 917-828-1154, waverlynyc.com
Looking for Free Group Planning Services?
Get free advice on planning your group's trip to New York.
RESTAURANTS

Multi-concept restaurant offering modern Japanese cuisine, a...

THEATER

Gaston Leroux's famous period thriller is now one of Broadwa...

SHOPPING

An array of quality branded merchandise showcasing HBO's® aw...

SIGHTSEEING

Located in Times Square in the heart of New York City, Riple...