The Best Late-Night Dining in Midtown NYC
March 1, 2019 - by Merrill Lee Girardeau
Whether you're eating late after a Broadway show or hankering for a second dinner, Midtown has you covered on late-night eats. Ramen, burgers, wings, and Korean barbecue are all on the table—the hardest part is choosing. Below are 10 Midtown NYC spots where the kitchen stays open past 10pm.
Late-Night Dining in Midtown NYC: PJ Clarke's
Admittedly, this classic Midtown East spot is always crowded, either because it was in at least one episode of Mad Men or because it's been there forever (i.e. 1884). Regardless, PJ Clarke's will grill you one of its famous burgers until 1am every night of the week. There's also raw seafood, classic pub fare like shepherd's pie, and black angus steaks. The bar stays open till 2am if you'd like to stick around for one more beer. 915 Third Ave., 212-317-1616, pjclarkes.com
Late-Night Dining in Midtown NYC: Dutch Fred's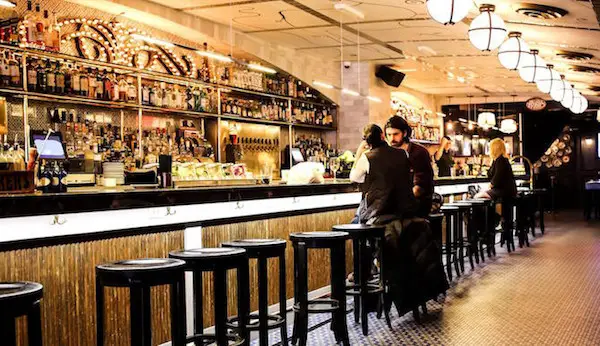 Named after the policeman who supposedly came up with the phrase "Hell's Kitchen," this upscale pub serves craft cocktails and delicious food in a retro setting. Cocktails include the Working Class Hero (smoke included!) and the Ginger Rogers. Have a hearty dish of mac n cheese, some roasted cauliflower tacos, or classic chips and guacamole. The stone oven flatbreads at Dutch Fred's will also satisfy anyone jonesing for pizza, with margherita, meatball, Mediterranean, and arugula varieties. Food is served nightly till 2am. 307 W. 47th St., 646-918-6923, dutchfreds.com
Late-Night Dining in Midtown NYC: Guantanamera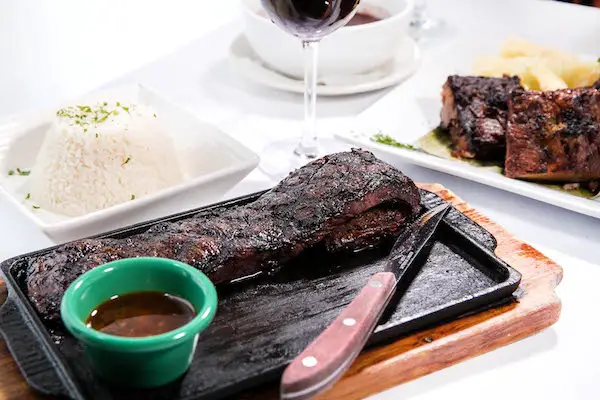 A few blocks south of Columbus Circle is this Cuban outpost where you'll want to party all night. A live band plays Cuban tunes every evening if you'd like to cha-cha after you eat. Start your meal with a salad tossed with avocado, mango, and pineapple. Order the Ropa Vieja as an entree for delicious steak with rice, beans, and plantain chips. For dessert, the traditional Tres Leches Cake is your go-to. The kitchen is open till 11:30pm Sunday through Thursday and till 12:30am Friday and Saturday. 939 Eighth Ave., 212-262-5354, guantanamerany.com
Late-Night Dining in Midtown NYC: Shake Shack
If you want to go casual in Hell's Kitchen, head to Shake Shack. The fast-food-style Shack Burger and crinkle fries made this New York spot an international sensation. Plus, there are milkshakes for miles (we recommend the Black and White). The kitchen closes at midnight. 691 Eighth Ave., 646-435-0135, shakeshack.com
Late-Night Dining in Midtown NYC: Sake Bar Hagi 46
Convenient to the Theatre District, Sake Bar Hagi 46 serves authentic Japanese cuisine and plenty of sake. Their wide-ranging menu features grilled meats, ramen, udon, and more. Reasonably priced and very tasty, Sake Bar Hagi keeps a steady crowd, so reservations are recommended. The kitchen stays open until 2am most nights. 152 W. 49th St., 212-764-8549, sakebarhagi.com
Late-Night Dining in Midtown NYC: Kang Ho Dong Baekjeong
Count on Koreatown for several late-night and 24-hour restaurants. Perhaps the best of these is Kang Ho Dong Baekjeong, a barbecue place with a grill at the table. Select the meat and/or vegetables you'd like to eat, and put it on the grill yourself. It's high-quality protein accompanied by delicious sides like soup, kimchi, egg, and tofu. Weekends tend to get crowded, but luckily it's open until 5am Friday and Saturday. Open till 1am Sunday through Thursday nights. 1 E. 32nd St., 212-966-9839, baekjeongnyc.com
Late-Night Dining in Midtown NYC: Empanada Mama
A rail-thin hallway of a restaurant, Empanada Mama is a 24-hour operation you'll be glad to have in your back-pocket during late-night in Hell's Kitchen. These might be the best empanadas in town. Hot, savory pastry pockets native to many Latin American countries, these empanadas are primarily Colombian, but many also feature Greek, Caribbean, and Italian flavors. Popular varieties include the Spicy Chicken and Reggaeton. You'll be skipping down Ninth Avenue once you're done. 765 Ninth Ave., 212-698-9008, empmamanyc.com
Late-Night Dining in Midtown NYC: Tsukushi
Located near the East River, Tsukushi is an unassuming little Japanese spot in a quiet area of town. For some reason, it says open until 2:30am most nights, a boon for anyone in the area looking for late-night ramen. Owner and chef Norihiko Manabe presents marvelous takes on home cooking and delicate omakase dishes, plus a range of sake and shochu to pair with your meal. Starchy late-night fare like crab fried rice and excellent ramen are available after 10pm and are typically $10. 357 E. 50th St., 212-599-8888
Late-Night Dining in Midtown NYC: Bon Chon Chicken
At Bon Chon, it's all about the wings. This popular Koreatown eatery serves chicken in many forms, including the signature sticky wings with a choice between soy garlic or spicy flavors. Korean staples like bibimbap or bulgogi can accompany your chicken, or get the fast food treatment with fries on the side. Bon Chon serves chicken until 2am Sunday through Wednesday and till 4am Thursday through Saturday. Additional locations on 38th Street and in Chelsea. 325 Fifth Ave., 212-686-8282, bonchon.com
Late-Night Dining in Midtown NYC: Dim Sum Palace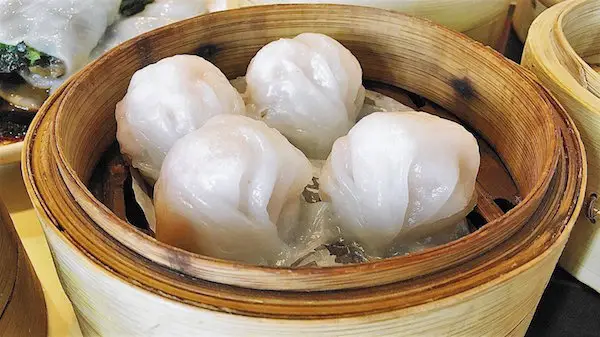 This restaurant is aptly named, as any palace should serve dim sum till 1:30 in the morning. Have your fill of late-night dumplings at Dim Sum Palace—especially the ones with shrimp and the chive and pork. Other must-orders include the pan-fried turnip cake, sticky rice with pork, and sweet sesame balls. Located a few doors down from Sake Bar Hagi in Hell's Kitchen, Dim Sum Palace is open until 1:30am every night. Additional locations on West 55th Street and in the East Village. 334 W. 46th St., 646-861-1910, dimsumpalace.com
Late-Night Dining in Midtown NYC: The Harrow
If braised bacon with roasted banana isn't perfect late-night food, we're not sure what is. The Harrow, a new restaurant in the packed Hell's Kitchen scene, serves New American dishes in a polished setting. This kitchen stays open late-ish, but we have no intention of passing up the bacon/banana, plus crispy pork shoulder with steak fries, pickles, and chimichurri. Other filling favorites include the classic burger, lobster mac, and chocolate s'mores tart. 720 Tenth Ave., 212-757-6977, theharrownewyork.com
Looking for Free Group Planning Services?
Get free advice on planning your group's trip to New York.
RESTAURANTS

Multi-concept restaurant offering modern Japanese cuisine, a...

THEATER

Gaston Leroux's famous period thriller is now one of Broadwa...

SHOPPING

DataVision is redefining retail with their new, fully intera...

SIGHTSEEING

Rosé Mansion is back for another summer residency in NYC aft...