Where to Find Made in NYC Clothing and Accessories
May 4, 2018 - by Merrill Lee Girardeau
New York is the fashion capital of the world, and yet so few labels actually make their clothing and accessories here. The Garment District, once a hub of fashion production, has lost business to overseas factories, which produce more cheaply but also typically foster poor working conditions and low wages, in addition to creating pollution. The city's "slow fashion" movement seeks to address these problems through bringing good jobs back to local factories, minimizing production waste, and sourcing ethically made materials to make beautiful clothes and more. Below you'll find some brick-and-mortar stores (plus a few online outlets) that carry brands whose pieces are designed and made right here in New York City!
Where to Find Locally Made Fashion in NYC: Yeohlee
From a white jacket that produces zero waste to a lovely versatile slip dress, all Yeohlee designs are architectural marvels that also manage to be timeless basics. Designer Yeohlee Teng's locally produced pieces may have a larger price tag than other labels on the list, but that's because they are works of art—proven true when the Metropolitan Museum of Art acquired a few of her pieces for their permanent Costume Institute collection. Visit the Yeohlee flagship store in the Garment District, which lies just blocks from where the clothes are made. 12 W 29th St., 212-244-8635, yeohlee.com
Where to Find Locally Made Fashion in NYC: Meg
Since starting in New York over 20 years ago, Meg has proven its mettle with staying power and five boutiques to its name. The independent clothing label began as a slow fashion forerunner, run by women (the brand is named for founder Megan Kinney) who know how to make good clothes. In their stores you'll find Meg's funky wide-legged pants, Euro-chic linen blazer, and other items from like-minded brands like this pink summer bag by Apprvl, also locally made. West Village: 69 Eighth Ave., 646-912-931. Find other locations at megshops.com
Where to Find Locally Made Fashion in NYC: Canal Street Market
Canal Street Market is back and better than ever. This indoor market is full of food and fashion vendors who employ sustainable production practices, and many of the goods on sale are locally made. Take, for example, sustainable clothing brand SiiZU, who divides their sourcing and production between Asia and NYC. Find beautiful leather bags made in the city at Robert Cheau Leather's counter in the market. Minimalist unisex jewelry shines at MUJO (we're eyeing a few of those thin gold cuffs!). And if you're feeling some locally made chocolate, stop by Raaka's booth for a yummy bar made with coconut milk. 265 Canal St., canalstreet.market
Where to Find Locally Made Fashion in NYC: Catbird
No New York babe would be complete without her delicate gold rings and chains from a local treasure trove like Catbird. With its popular storefront on Bedford Avenue in Williamsburg, you'll find made-in-Brooklyn baubles like an artisanal opal necklace, a silver Sweet Nothing choker, and an engagement ring entitled "Odette the Swan." If that doesn't get you in the door, we don't know what will (wait, did we mention the makeup and candles?). 219 Bedford Ave., 718-599-3457, catbirdnyc.com
Where to Find Locally Made Fashion in NYC: Swords-Smith
Swords-Smith is another Brooklynite's dream boutique. This Williamsburg outpost carries slow-fashion must-haves for men and women, like these stop-you-in-your-tracks tobacco-brown mules by Sunnyside, Queens' own Suzanne Rae. Or you might like a candy-colored cuff made in Red Hook by the brand Rabbitneck. Or a timeless Imago-A burgundy bag made in NYC. Clearly, you'll need to carve out some time to peruse Swords-Smith next time you're in the neighborhood. 98 S. 4th St., 347-599-2969, swords-smith.com
Where to Find Locally Made Fashion in NYC: Kaight
No list on local fashion would be complete without the Brooklyn boutique Kaight. Located on busy Atlantic Avenue on the border of downtown Brooklyn, Kaight sources an impressive collection of women's clothing, jewelry, and accessories made through sustainable production. That means fair-trade, low or no waste, organic and reclaimed materials, and local production. This adorable polka-dot kimono, now at Kaight, is made by Katrin Reifeiss in Beacon, New York, with natural dyes. 382 Atlantic Ave., 718-858-4737, kaightshop.com
Where to Find Locally Made Clothing in NYC: Brave Gentleman
For fellows looking for innovative local clothing, go straight to Brave Gentleman in Williamsburg. The clothes are manufactured in the Garment District using fabrics from the future: future-silk, future-leather, and future-wool. These materials are all vegan and produced with low environmental impact. They look good on, too: this versatile white Armor Shirt made with organic cotton is pretty fantastic. 367 Graham Ave., bravegentleman.com
Where to Find Locally Made Fashion in NYC: Bhoomki
Walking into Bhoomki, your eye will catch on the unique patterns gracing dresses and tops throughout the small store. Take this Taruna dress, which comes from Bhoomki's own clothing line manufactured both in India and here in the city. Whether it's their namesake brand or other brands carried in their boutique, Bhoomki sources clothing made by ethical factories that pay their workers a living wage. They cull from lines like Elk, Kowtow, Louise Broderie (check out her light and easy spring dress), and Indigenous. These brands also employ sustainable practices, whether that's low-impact materials or local production. Find this boutique in the northern part of Park Slope, Brooklyn. 158 Fifth Ave., 718-857-5245, bhoomki.com
Where to Find Locally Made Fashion in NYC: Grand Bazaar NYC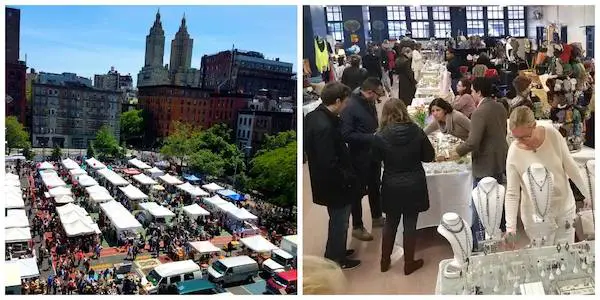 Every Sunday on the Upper West Side, you can find local treasures at the Grand Bazaar NYC indoor/outdoor market. This tradition has over 35 years of history in the area and benefits local public schools. Discover and meet 100+ talented designers, artisans, and food purveyors selling the finest antique watches, handmade jewelry and furniture, art and photography, vintage collectibles, and delicious artisanal foods. You'll also find great fashion, including plenty of one-of-a-kind made-in-NYC items! 100 W. 77th St., 212-239-3025, grandbazaarnyc.org

Where to Find Locally Made Fashion in NYC: Study NY
Tara St. James has trailblazed the local NYC slow fashion scene with her womenswear brand Study NY. With collections made of fashion-forward, reasonably priced work attire, the company operates out of Williamsburg, Brooklyn with a mind toward zero waste and transparent sourcing. This wear-anywhere jumpsuit, for example, is made in the Garment Districts at M.L.J. Fashions and is spun from Baird McNutt Irish linen. You can find Study NY at Brooklyn boutiques like Bhoomki and Kaight (both listed above) and online. study-ny.com
Where to Find Locally Made Clothing in NYC: Cienne
While Cienne is primarily an online fashion company, they've made quite an impact with pieces showing up on celebs like Gigi Hadid and Naomi Watts. Nicole Heim and Chelsea Healy have designed gorgeous luxury pieces for women using ethically produced fabrics from the finest mills around the world. Once they hit the Garment District, those materials become something pretty special, like a pretty lilac crepe top or luscious linen trousers. ciennenewyork.com

Looking for Free Group Planning Services?
Get free advice on planning your group's trip to New York.
RESTAURANTS

Beer hall casual meets craft cocktails with a healthy dose o...

THEATER

Kander and Ebb's "musical vaudeville" in which Roxie Hart ga...

SHOPPING

An array of quality branded merchandise showcasing HBO's® aw...

SIGHTSEEING

Hop aboard these environmentally friendly twin-hulled catama...