Gift givers tend to fall into two categories—first are those who consider the recipient lucky to have the package wrapped at all, even if it's in an old newspaper tied with shoelaces (rustic chic). Then there are those for whom the gift wrapping is equal to the gift—color-coordinated, handmade, imported from a tiny town on the French coast—whatever they chose, it's thoughtful and exquisite. Whichever category you fall into, we've made the job easier in New York City. Except the old newspaper. That's on you.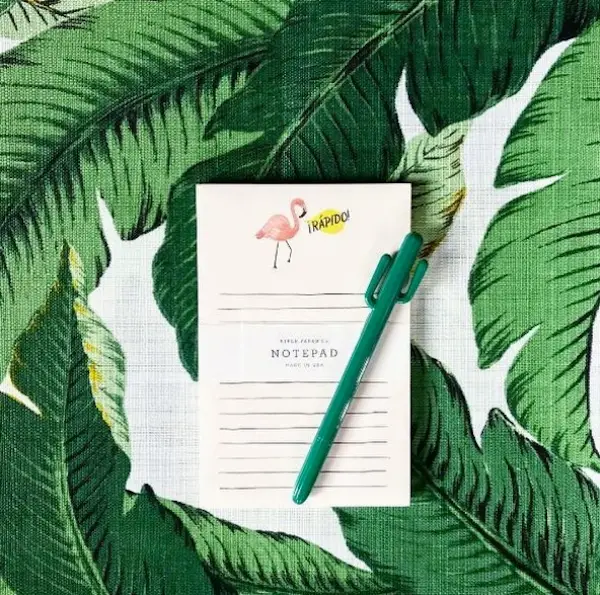 At Paper Presentation (23 West 18th Street), you can get embossed paper—unique, distinctive, pricey (plan on spending around $8 or so a sheet) so think hard about whether the recipient is on the nice list. Choose from designs like pebbled or "crocodile": chic and unexpected. They have gorgeous tags (we like the patterned or wood versions) as well as masking tape in a variety of color and patterns: choose the gold striped version, and they won't even notice that your wrapping is just the teensiest bit messy.


Museum gift shops are often a good source of wrapping paper as well as cards--the American Museum of Natural History may not be your first thought for those goodies, but you might check out the cards with two pandas and festive green twine, a festive T-Rex, or the folk art-inspired cards by Nancy Nicholson featuring cheery birds. Your purchase helps support the museum. (Central Park West and 79th Street)
If you're feeling particularly crafty, stop by Soho Art Materials (7 Wooster Street) and pick up a pack of Murano Paper—it's great for card making—as well as some colored pencils to complete your creation. And if it doesn't work out that well, you can make them part of a gift wrap package—add some tape and scissors and you're set.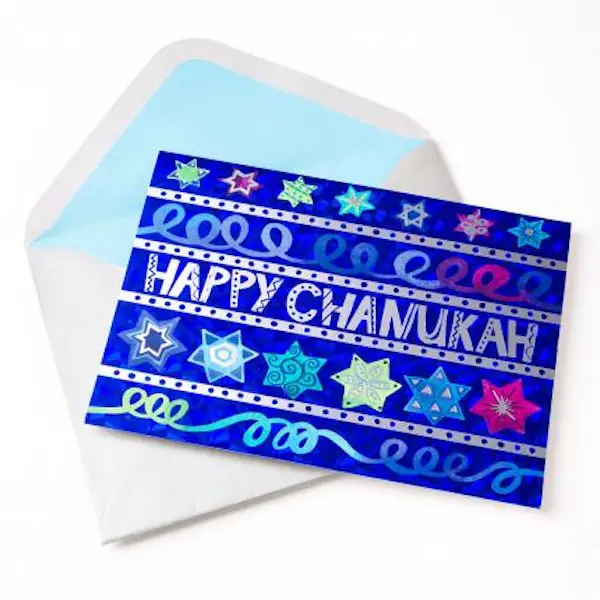 For a good selection of Hanukkah cards, head on over to one of the Papyrus stores (several locations, including 1380 Madison Avenue). We're partial to the "Snowing Stars" and "Modern Menorah" designs. And hey--you'll need thank-you notes for all those holiday gifts—Papyrus has a wide selection, from the elegant (a simple "thank you" in vintage letters) to Kate Spade "merci" cards.
Looking for innovative packaging? Head to the trimmings district the 30s—Hyman Hendler & Sons (142 West 38th Street) carries ribbons made of velvet, satin, grosgrain, linen and more; they'll make any gift look good. In fact, they're nice enough to give as gifts.
Here's a fun idea: Grab a gaggle of friends and have a wrapping party. Put out brown paper, markers, and ink stamps and stencils from The Ink Pad. You can get ready made that vary from New York-y (manhole cover stencil, anyone?) to a hex pattern. (37 7th Avenue.)
And if you're looking to pull off a gift wrapping coup, perhaps the turducken of gift wrap—a package in gift wrap in a larger box—you could do worse than to head to JAM Paper (In a Jam? Head to JAM!) The white and silver Chinese food container boxes are whimsical and fun and make great presentations. This is also the place for gift bags— glossy colorful bags with triangular cutouts for the handles are cool; as are the polka dot bags in two patterns. And if you're looking to pull off the turducken of wrapping—perhaps a box in a larger box inside a bag—this is also the place. Try a glossy gift box in a large corrugated box. The amusement factor alone might make it worth it. (JAM—135 3rd Avenue).
And finally, you can measure that newly purchased wrapping paper with a METric ruler from the Metropolitan Opera Shop (Lincoln Center; 62nd and Broadway). Perhaps a calligraphy set so your cards have that I-just-came-from-the-18th-century careless elegance? Or maybe you'd like to write with a feather pen set so you can feel like you're at Hogwarts. Either way, everyone's address should be handy in Don Giovanni's Little Black address book.
Because your friends deserve gifts—but you do, too.