NYC wagyu beef holds its own with the finest in the world. Wagyu is highly marbled, tender, flavorful, and the pride of many a New York kitchen. Read on for the best wagyu steaks in New York City.
The Most Mouth-Watering Wagyu Beef in NYC: Del Frisco's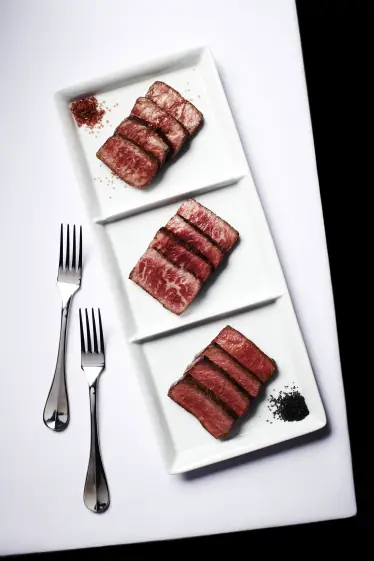 Del Frisco's Double Eagle Steakhouse New York is a mecca for theater lovers, business travelers, and anyone celebrating something out of the ordinary. Their trio of wagyu derives from three global regions: you can sample the Texan Rosewood A8 (Angus and wagyu combined), a fine Japanese A5 wagyu (sweet and silky) or the Australian A9 wagyu (more firm and nutty, and slightly grassier). Enjoy each separately or as a flight of steak. Their flavors truly pop with the addition of black and red Himalayan salts. There's also a 32-ounce(!) Long-Bone Wagyu Ribeye available to share—or not. You can also order wagyu appetizers: try the seared wagyu carpaccio on arugula and shaved fennel, topped with parmesan and Creole mustard aioli. 1221 Ave. of the Americas (entrance on 49th St.), 212-575-5129, delfriscos.com


The Most Mouth-Watering Wagyu Beef in NYC: Sushi Nakazawa
Make it a sushi date by reserving a coveted spot at the West Village's Sushi Nakazawa. There, you'll find Chef Daisuke Nakazawa, who trained under legendary Tokyo sushi chef Jiro Ono—both of whom appeared in the 2012 documentary Jiro Dreams of Sushi. Nakazawa's West Village sushi bar is not only his namesake; it demonstrates his talent at pairing fresh components for daily omakase menus (omakase literally means  "chef's choice"). Their extensive, seafood-leaning tasting menus rotate daily, but there's a tempting A5 wagyu beef that pops up often as an option. 23 Commerce St., 212-924-2212, sushinakazawa.com
The Most Mouth-Watering Wagyu Beef in NYC: Nikutei Futago
Upscale Japanese wagyu restaurant Nikutei Futago has released two new seasonal tasting menus. Both options feature premium cuts of authentic Japanese A5 wagyu, accompanied by hand-crafted sauces and small dishes from Japan. One menu is served from the kitchen, while the second presents grilling at the table, with elevated accompaniments like truffle and caviar. Sake pairings are available. Within each tasting, guests can expect to find Washu-gyu Tounge, Dashidare Yaki, and Reimen, with a focus on quality and authenticity. 341 West Broadway, 917-965-2212, nikuteifutago.com
The Most Mouth-Watering Wagyu Beef in NYC: Benjamin Prime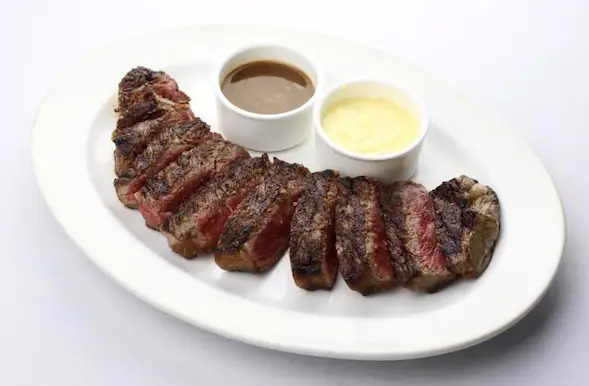 This Grand Central steakhouse delivers every time. Benjamin Prime is the ideal fine dining destination to tuck into an American Ultra Wagyu New York Strip. Decadently tender, the steak is dry-aged in Benjamin Prime's aging room. Their wagyu is also available as a tartare dish if you can't get enough; it's served with egg cream and white sturgeon caviar and egg cream. Oh, and if you save room for dessert, you should check out their pecan pie with ice cream. 23 E. 40th St., 212-338-0818, benjaminsteakhouse.com
The Most Mouth-Watering Wagyu Beef in NYC: American Cut
Take in the elegant art deco interiors with an old fashioned in hand at Marc Forgione's American Cut steakhouse in Tribeca. The Michelin-starred chef pulls out the stops here with some of his signature dishes, including the Chili Lobster with Texas Toast. Steak-cravers will hone in on the Wagyu offerings, which include a premium A5 Japanese wagyu and washugyu, a clever cross that unites wagyu and American Black Angus beef. Like all American Cut steak dishes, you'll have a choice of over-the-top toppings, from a sunny-side egg to bone marrow or a whole grilled lobster. American Cut also has a midtown location. American Cut Tribeca, 363 Greenwich St., 212-226-4736, americancutsteakhouse.com/tribeca; American Cut Midtown, 109 E. 56th St., 212-388-5277, americancutsteakhouse.com/midtown
The Most Mouth-Watering Wagyu Beef in NYC: Empire Steakhouse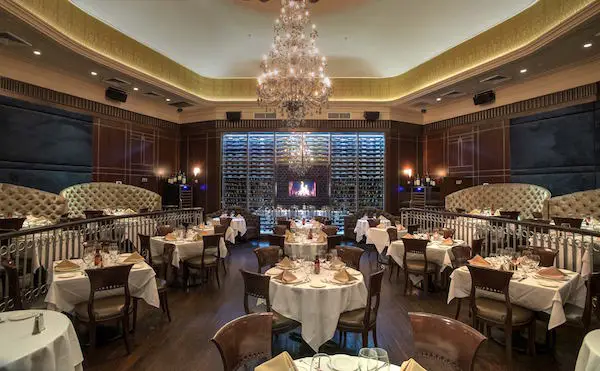 Empire Steak House at E. 50th Street.
You'll find some of the highest quality meats available in the States in addition to USDA Prime beef at Empire Steakhouse, including high-end imported Japanese wagyu. Their 10-ounce wagyu tenderloin melts in your mouth, while the 12-ounce A5 ribeye is a more dense and firm cut. Sample the sauteed asparagus and an Old Fashioned made with Michter's bourbon along with your steak to cap off an elite steakhouse meal at either Midtown location. Midtown East: 151 E. 50th St., 212-582-6900, empiresteakhousenyc.com; Midtown West: 237 W. 54th St., 212-586-9700, empiresteakhousenyc.com
The Most Mouth-Watering Wagyu Beef in NYC: Bohemian
Take note: there's no phone number listed for NoHo's Bohemian restaurant. That's because you must obtain their number by referral—it's all word of mouth at this exclusive spot. Whether you regard that as exclusive or a hassle, if great steak is your obsession you'll call everyone you know to score a table. Bohemian serves a variety of wagyu beef called washu, served as a burger on a plate of tartare, sashimi and steak. What's more, the flat-ron washu steak with potatoes and garlic is almost as lovely to look at as it is to eat. Trust us: you'll want two! 57 Great Jones St., playearth.jp
The Most Mouth-Watering Wagyu Beef in NYC: Kings of Kobe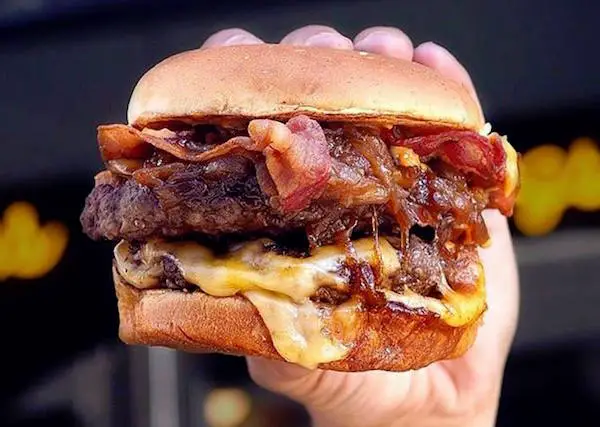 Kings of Kobe on West 42nd Street flouts taboo by integrating fine wagyu beef into its burgers and hot dogs. Call it a casual pub with serious ingredients on hand. Their new business model features a twist: American wagyu in over-the-top creations (does a double-stacked burger loaded with toppings get your attention?). Kings of Kobe is located west of Times Square, close to the Hudson River. 650 W. 42nd St., 646-370-5121, kingsofkobe.com