Celebrate your next special occasion with top-grade steak in NYC! The city's fine dining restaurants are now sourcing wagyu beef, a high-quality Japanese steak prized by chefs worldwide. Wagyu is highly marbled, exquisitely smooth, and perfect for fine steakhouses and sushi restaurants alike. Below are the best wagyu-based dishes in New York City and where to find them.
The Most Mouth-Watering Wagyu Beef in NYC: Del Frisco's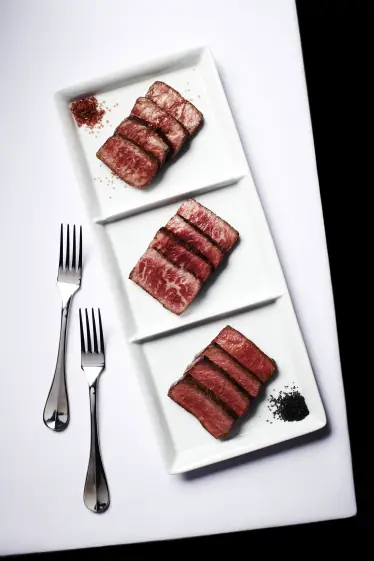 Whether you're pre-theatre dining or gathering with business associates, Del Frisco's Double Eagle Steakhouse New York will surely impress. Come to the Rockefeller Center area for Del Frisco's trio of wagyu from three global regions. Sample fine Japanese A5 wagyu (sweet and silky), Australian A9 wagyu (firmer, nuttier, slightly grassy), and Texan Rosewood A8 (Angus and wagyu combined). Enjoy them separately or as a flight of steak, their flavors highlighted with black and red Himalayan salts. There's also a 32-ounce Long-Bone Wagyu Ribeye on offer to share (or not!). Wagyu not only appears on the steak entree menu but on the appetizers: there's seared wagyu carpaccio on arugula and shaved fennel, topped with parmesan and Creole Mustard Aioli. 1221 Ave. of the Americas (entrance at 49th St.), 212-575-5129, delfriscos.com
The Most Mouth-Watering Wagyu Beef in NYC: Sushi Nakazawa
For a special sushi date, grab a coveted spot at the West Village's Sushi Nakazawa. Chef Daisuke Nakazawa trained under legendary Tokyo sushi chef Jiro Ono, both of whom appeared in the 2012 documentary Jiro Dreams of Sushi. Nakazawa's namesake sushi bar in the West Village demonstrates his flair for pairing fresh ingredients for daily omakase menus (omakase means it's chef's choice!). The extensive, seafood-forward tasting menus change daily, but there's a tempting A5 wagyu beef that pops up often in the rotation. 23 Commerce St., 212-924-2212, sushinakazawa.com


The Most Mouth-Watering Wagyu Beef in NYC: Delmonico's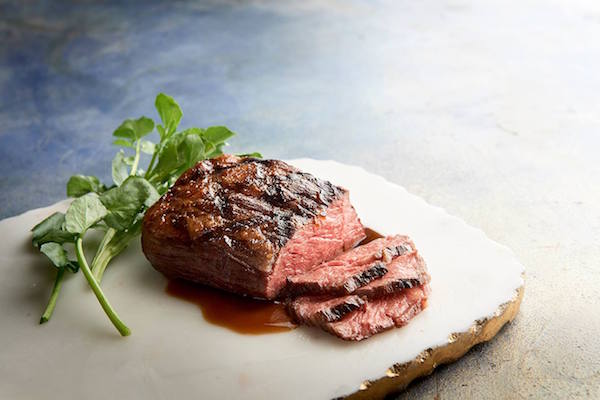 Wall Street workers and Statue of Liberty visitors can enjoy fine wagyu at America's first fine dining restaurant. The legendary Delmonico's, which opened in 1837, has been serving steak to the Financial District since before Central Park opened. Their menu features classic steak in addition to domestic wagyu New York Strip, sourced from Kow Cattle Company. Or you might like to start your meal with tasty wagyu beef tartare, served with onion crema, potato chips, and a quail egg. While you're around, have a Baked Alaska or Lobster Newburg, two dishes innovated at Delmonico's. 56 Beaver St., 212-509-1144, delmonicos.com
The Most Mouth-Watering Wagyu Beef in NYC: Benjamin Prime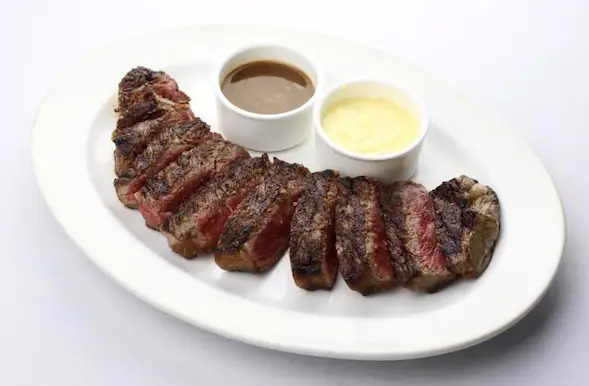 This steakhouse near Grand Central delivers every time. Benjamin Prime is the perfect fine dining destination to enjoy an American Ultra Wagyu New York Strip. Tender and delicious, the steak is dry-aged in Benjamin Prime's aging room. Their wagyu also comes in tartare form if you can't get enough; it's served with white sturgeon caviar and egg cream. (P.S.: if you have room for dessert, order the pecan pie with ice cream.) 23 E. 40th St., 212-338-0818, benjaminsteakhouse.com
The Most Mouth-Watering Wagyu Beef in NYC: Suzuki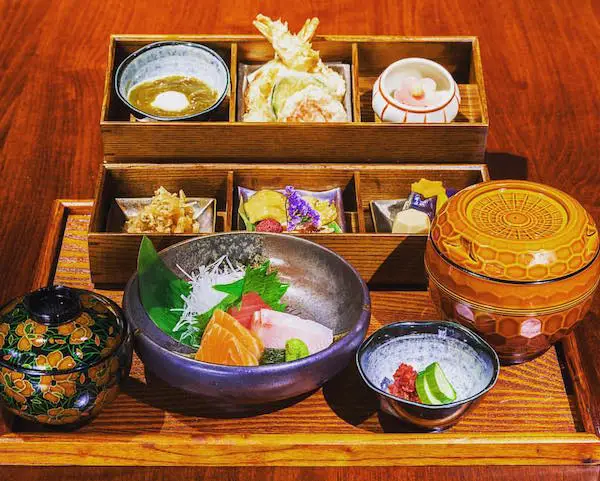 Another Japanese special occasion spot is Suzuki. At this fine dining restaurant near Rockefeller Center, indulge in seasonal ingredients on the izakaya and kaiseki-style menus. Top-grade A5 Wagyu is the centerpiece of two pre fixe sushi tasting menus at Suzuki. Both begin with slices of wagyu and include a hot pot, sushi, nigiri, and entree with miso soup. The Wagyu is also available on the a la carte  sushi menu. You won't find these delicacies just anywhere, making Suzuki a rare treasure in Japanese dining! 114 W. 47th St., 212-278-0100, suzukinyc.com
The Most Mouth-Watering Wagyu Beef in NYC: American Cut
Settle into the elegant art deco interiors, old fashioned in hand, at Marc Forgione's Tribeca steakhouse American Cut. This effort from the Michelin-starred chef features some of his signature dishes, like the Chili Lobster with Texas Toast. Steak-lovers will adore the Wagyu offerings, which include the premium A5 Japanese wagyu and washugyu, a cross between wagyu and American Black Angus beef. Like all American Cut steaks, you have a choice of toppings, from bone marrow to a sunny-side egg to a whole grilled lobster. American Cut also has a Midtown location. 363 Greenwich St., 212-226-4736, americancutsteakhouse.com/tribeca
The Most Mouth-Watering Wagyu Beef in NYC: Empire Steakhouse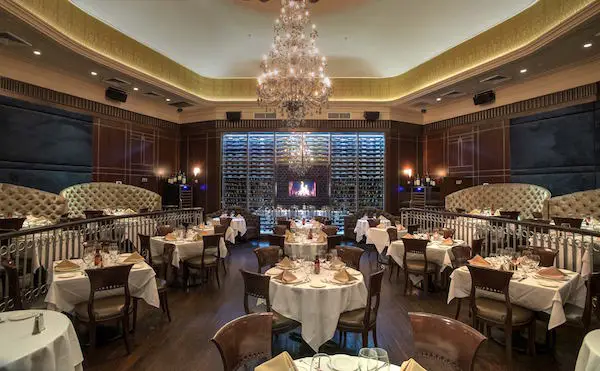 Empire Steak House at E. 50th Street.
In addition to USDA Prime beef, some of the highest quality available in the States, Empire Steakhouse serves high-end imported Japanese wagyu. This is the good stuff. The 12-ounce A5 ribeye is a firmer, meatier cut, while the 10-ounce wagyu tenderloin melts in your mouth. Enjoy sauteed asparagus and an Old Fashioned made with Michter's bourbon along with your steak to cap off your elite steakhouse experience at either Midtown location. Midtown East: 151 E. 50th St., 212-582-6900, empiresteakhousenyc.com; Midtown West: 237 W. 54th St., 212-586-9700, empiresteakhousenyc.com
The Most Mouth-Watering Wagyu Beef in NYC: Bohemian
You won't find a phone number listed for NoHo's Bohemian restaurant. That's because you must obtain this number by referral—it's all word of mouth at this exclusive spot. That might be exciting to you, or might be something of a hassle, but if you care anything about great steak you'll call everyone you know to snag a table. Bohemian serves a type of wagyu beef called washu, which is served as a burger, a plate of tartare, sashimi, and steak. The flat-ron washu steak with potatoes and garlic is almost as pretty to look at as it is to eat. Trust us: you'll want two! 57 Great Jones St., playearth.jp
The Most Mouth-Watering Wagyu Beef in NYC: Kings of Kobe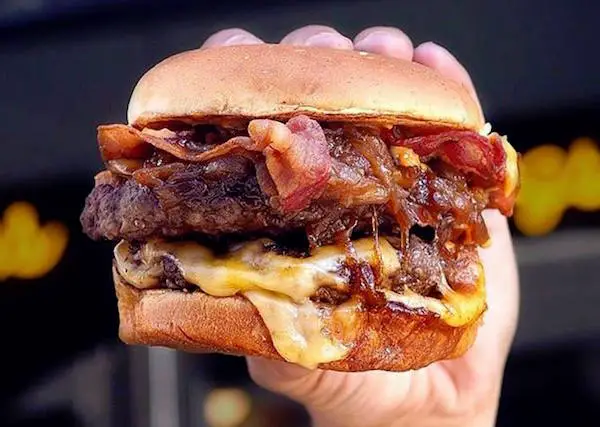 Soon to open on West 42nd Street, Kings of Kobe will integrate fine wagyu beef into burgers and hot dogs. A casual pub with serious ingredients on hand, this new iteration of the business will feature American wagyu in their over-the-top creations (think double-stacked burgers loaded with toppings). More information to come about Kings of Kobe, which will open soon near Madame Tussauds New York. 650 W 42nd St., 646-370-5121, kingsofkobe.com