The Best Italian Eateries in Carroll Gardens, Brooklyn
April 30, 2019 - by Merrill Lee Girardeau
Craving some savory spinach gnocchi or crisp, wood-fired pizza? Head to Carroll Gardens: Brooklyn's take on Little Italy. This neighborhood of lush gardens, churches, and peaceful rows of brownstones has been home to a strong Italian-American population and, as a result, plenty of authentic cuisine from Italy and its neighbor Sicily. Read on for the best pasta, pizza, and cannolis in Carroll Gardens.
Best Italian Eateries in Carroll Gardens, BK: Frankies 457 Spuntino
Frankies 457 Spuntino has garnered rave reviews in its ten years of business, and diners pack the place night after night, with one- or two-hour wait times on weekends. Come early for the famous cavatelli pasta with spicy sausage and browned sage butter, meatballs on a sandwich or as a standalone, and sweet potato ravioli with sage in parmesan broth. Grab a seat in the lovely backyard if you can, and remember there's a version of Frankies in the West Village if you can't make it to Brooklyn. 457 Court St., 718-403-0033, frankiesspuntino.com
Best Italian Eateries in Carroll Gardens, BK: Lucali
We wish you in bocca al lupo (or good luck) getting a table at the constantly crowded Lucali. Its committed following blew to epic proportions after Jay-Z cited it as his and Beyonce's favorite pizza place a few years ago. Come around 4pm to put your name on the list for one of the 30 or so seats in this small restaurant, where you'll have thin-crust pizza hot from the nearby oven. It'll be topped with lots of fresh basil and a simple selection of other ingredients. Get a calzone for good measure, as well as the meatballs with four-hour hot sauce. Lucali is also cash-only and BYOB. 575 Henry St., 718-858-4086, lucali.com
Best Italian Eateries in Carroll Gardens, BK: Pizza Moto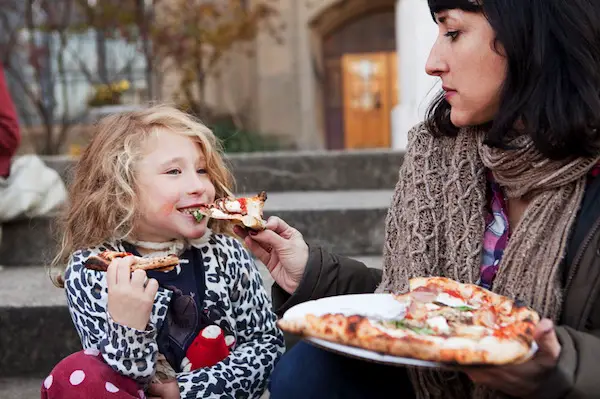 Pizza Moto serves revelatory Neapolitan pizza out of its kitchen just south of the border of Carroll Gardens. These crackling thin-crust pies come "char-kissed" from the oven with toppings like bacon fat and herbs, "eggs in hell," and mushrooms with three cheeses. Top it all with a starter of steamed little neck clams and a craft cocktail like the Wilhelm Scream with campari and orange. 338 Hamilton Ave., 718-834-6686, pizzamoto.com
Best Italian Eateries in Carroll Gardens, BK: Gersi
Another intimate and consistent bistro, Gersi serves a slightly modernized take on Italian fare. Order bruschette with roasted garlic and parmigiano to start, and don't skip the popular spaghetti al limone (spaghetti with lemon and parmesan cheese). Other favorites include the polenta entree, side of eggplant with garlic and tomato, and the octopus special when available. Come for brunch to sample their baked eggs ragu and chicken parmigiano sandwich. Like others on this list, Gersi is cash-only and offers terrific outdoor dining in their back patio. 316 Carroll St., 347-889-5077, gersirestaurant.com
Best Italian Eateries in Carroll Gardens, BK: Court Pastry Shop
Italian bakeries don't get much better than Court Pastry Shop. The very large lobster tails have a perfect crisp on the shell and lightly sweetened cream as filling, as do the shell-shaped sfogliatelle with ricotta filling. Don't skip the cannoli or sesame cookie, and on hot days, visit Court Pastry Shop for refreshing Italian ices. Another mainstay that opened in 1948, this bakery also makes fabulous cheesecake and specialty cakes. 298 Court St., 718-875-4820
Best Italian Eateries in Carroll Gardens, BK: Mazzola Bakery
Two words: lard bread. That's your directive to head to Mazzola Bakery and order the traditional Italian loaf on which they've built their reputation throughout 90 years of business. Mazzola's lard bread is made with salami and provolone baked into the dough, with a crispy outside and tender, slightly sweet interior to the loaf. It's perfect on its own (a great appetizer if you're waiting on a table at Lucali or Frankies 457, for example) or with charcuterie and wine. Mazzola also serves other excellent loaves, as well as sweets like chocolate croissants and butter cookies. Be aware it's cash-only. 192 Union St., 718-643-1719, mazzolabakerycafe.com
Best Italian Eateries in Carroll Gardens, BK: Fragole Ristorante
As with many of these picks, the pasta is the star of the show at Fragole. Homemade black linguine with shrimp and spicy tomato sauce, pappardelle with honey-braised short-rib ragu, and fettuccine with wild mushrooms and white sauce are just three of the sensational pasta offerings at this small family establishment. The grilled calamari with arugula and pickled onions makes an ideal appetizer. A low-lit dining room with exposed brick, Fragole is a great date spot as well! 394 Court St., 718-522-7133, fragolenyc.com
Best Italian Eateries in Carroll Gardens, BK: Caputo's Fine Foods
Not to be mistaken with Caputo's Bake Shop down the street, Caputo's Fine Foods sells Italian imports like olive oil and vinegar, as well as Italian-style meats, cheeses, and olives. Their freshly made mozzarella and scamorza cheeses are worth traveling for, while hot Italian sandwiches are available behind the deli counter. They'll also custom-fill your cannolis if you ask! Come to Caputo's for a deeper appreciation of Italian cooking and the locals who keep the traditions strong. 460 Court St., 718-855-8852
Best Italian Eateries in Carroll Gardens, BK: Ferdinando's Focacceria
Established 110 years ago, Ferdinando's Focacceria exemplifies the word classic. Their traditional Sicilian recipes, from the arancina rice balls to the pasta con sarde, are warm, comforting plates of home cooking executed with consistent excellence. True to the "focaccia" namesake, their sandwich bread is a must-try, whether you'd like a meatball parm or Eggplant Alla Siciliana. Their most distinctive sandwich is the panelle, a deep-fried chickpea patty on bread, smothered with housemade ricotta and a spritz of lemon juice. Lunch or dinner, Ferdinando's is sure to satisfy! 151 Union St., 718-855-1545, ferdinandos-focacceria-brooklyn-2.sites.tablehero.com
Best Italian Eateries in Carroll Gardens, BK: Giardini Pizza
For Sicilian pizza, stop by Giardini to enjoy thicker, doughier slices than you'll find than at the other pizza purveyors on this list. Basic flavors like veggie and pepperoni come in hearty square slices, while the kitchen also prepares delicious calzones and bready garlic knots to prime your palate. A major take-out joint, Giardini is a perfect place to order for delivery or to pick up on the go. 363 Smith St., 718-596-5320, giardinipizza.com
Looking for Free Group Planning Services?
Get free advice on planning your group's trip to New York.
RESTAURANTS

Multi-concept restaurant offering modern Japanese cuisine, a...

THEATER

Gaston Leroux's famous period thriller is now one of Broadwa...

SHOPPING

Specializing in the great vineyards of California, France, A...

SIGHTSEEING

Located in Times Square in the heart of New York City, Riple...