Where to Eat and Drink at the New TWA Hotel at JFK Airport
July 12, 2019 - by Merrill Lee Girardeau
The John F. Kennedy Airport in Queens, New York, sees about 160,000 travelers passing through each day. The massive, multi-terminal airport has added an exciting new feature to the grounds. The former TWA terminal, designed by architect Eero Saarinen, is now the TWA Hotel, decked out in all the midcentury glam that made Trans World Airlines famous. In addition to 512 rooms and an on-site museum on the history of TWA, the hotel contains several new bars and restaurants open to the public. Next time you're coming in or out of JFK, stop by one of the following 6 spots to eat and drink in style.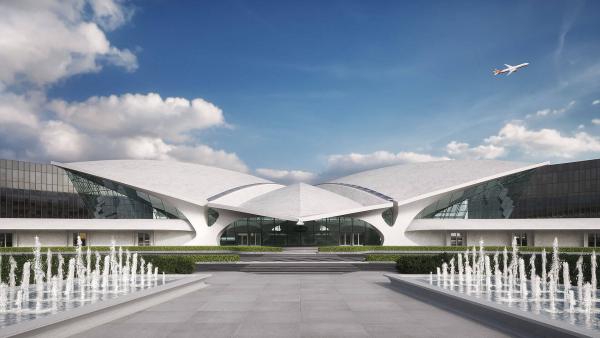 Connie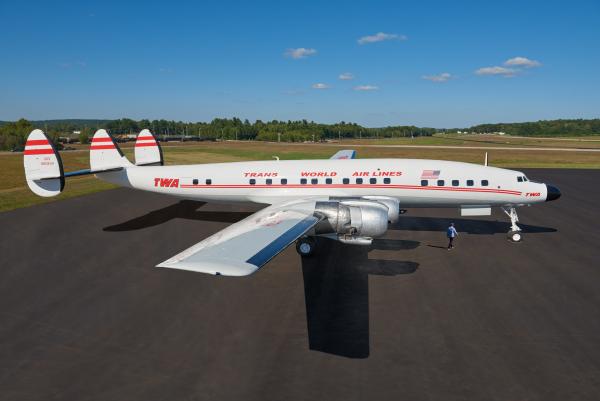 Photo by Aaron Flacke.
Connie is by far the most unique among the new offerings at JFK. This 1958 Lockheed Constellation airplane, which once flew passengers for TWA, has been restored and turned into a cocktail lounge! Sit inside the refurbished interiors with a Royal Ambassador Martini and a snack, and immerse yourself in the air travel of the past. Kids are also welcome to enjoy a Roy Rogers and sit in the cockpit like a real TWA pilot. conniebar.com
The Paris Cafe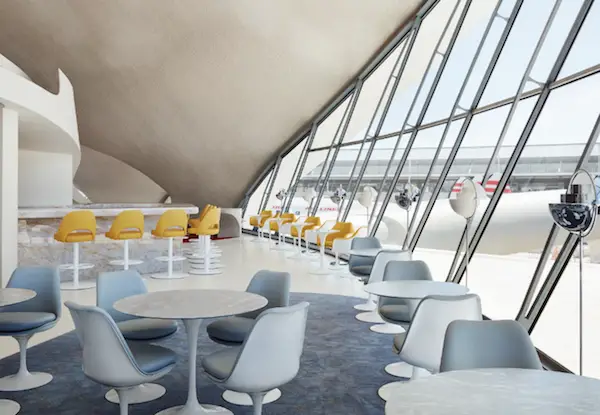 Michelin-starred chef Jean-Georges Vongerichten runs some of the city's most celebrated fine dining restaurants. Now he has opened a more casual offering called The Paris Cafe inside the TWA Hotel. This sizeable restaurant is open for breakfast, lunch, dinner, and drinks. Try a ginger margarita from the cocktail menu, burrata with toast as a small plate, and pizza as a main. Breakfast options include an almond croissant and avocado toast. twahotel.com/paris-cafe
The Halal Guys
Like so many visitors and New Yorkers, you might have stood in the hours-long line for a taste of Halal Guys, the city's most famous food cart. Now you can get your gyro plate with delicious white sauce at the Departures Hall area of the TWA Hotel. This brand-new food hall also serves grab-and-go options from Empanada Republic, paninis at Antico Noe, salads at Fresh&Co, and açai at Playa Bowls. You can take these meals to-go or eat in the seating area. twahotel.com/departures-hall-dining
The Pool Bar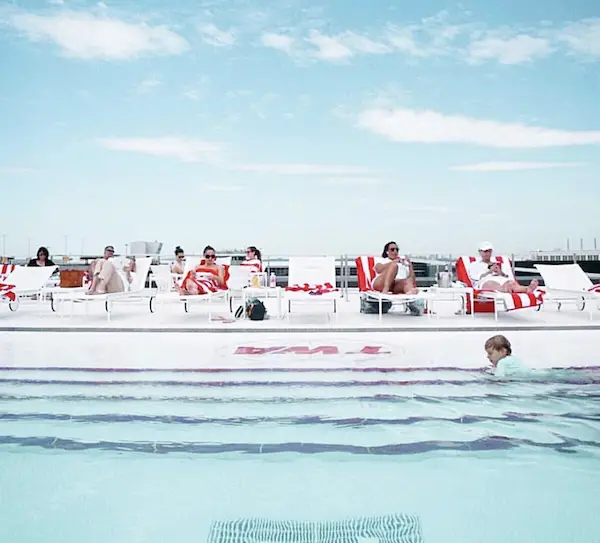 Take a dip in an infinity pool and enjoy a drink at the rooftop Pool Bar. This unique destination has up-close views of the runways at JFK Airport and is open to hotel guests and non-guests alike. Sit beside the pool on the roof with a Paper Plane cocktail, or travel one floor below for an underwater experience. A full kitchen also serves salads, grain bowls, and more. thepoolbartwa.com
The Sunken Lounge
Get down at the Sunken Lounge, a low-lying throwback space overlooking the airport runways through a panoramic glass wall. You'll know the lounge by its Chili Pepper Red carpet and Mad Men vibes, plus the 21st-century spin on a split-flap departures board posted overhead. Here you'll find a Sunken Lounge Martini served with a TWA wing pin, selections of wine and beer, and a small menu of great bar food like an artisanal cheese board. thepoolbartwa.com
Intelligentsia Coffee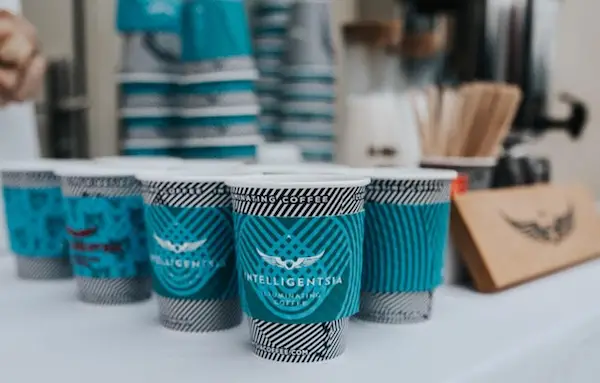 When your standard brew just won't cut it after a red-eye, swing by the TWA Hotel lobby for a cup of Intelligentsia. This Chicago-based coffee chain, which has one NYC location in Chelsea, sources single-origin coffees around the world and roasts the beans to perfection. There's a midcentury coffee bar in the lobby (while you're there, you'll see TWA Hotel staff behind the terminal's former ticket counters) and mobile coffee carts also inside the space. twahotel.com/intelligentsia
Looking for Free Group Planning Services?
Get free advice on planning your group's trip to New York.
RESTAURANTS

Multi-concept restaurant offering modern Japanese cuisine, a...

THEATER

In a heartbeat, 38 planes with 6,579 passengers were strand...

SHOPPING

An array of quality branded merchandise showcasing HBO's® aw...

SIGHTSEEING

The 9/11 Memorial honors the nearly 3,000 people killed in t...