The Best Cooking Classes in NYC
September 28, 2018 - by Merrill Lee Girardeau
New York boasts endless restaurants, so it also boasts an endless amount of chefs. Cooking classes in New York give you access to experienced and helpful kitchen pros who can teach you the basics of knife-wielding, animal butchery, making pasta from scratch, and even shopping for groceries. Take a date, a friend, or a group to one of these phenomenal cooking classes, offered throughout the year and fueled by a love of food.
The Best Cooking Classes in NYC: Demonstrations at De Gustibus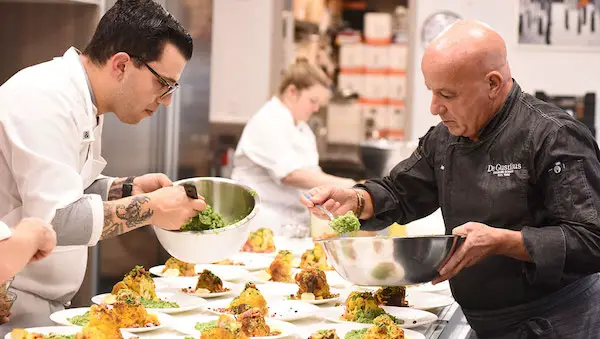 If you're looking for up-close and personal sessions with some of New York's most celebrated chefs, book a class with De Gustibus. This cooking school is located on the 8th floor of Macy's Herald Square, and these classes are a perfect way to cap off a day of shopping. Most events are demonstrations, during which a star chef like April Bloomfield of The Spotted Pig will prepare a dish in front of you. All the while, she'll explain how she selects her ingredients, the techniques she uses, and stories from her life that have enriched her culinary journey. If you'd like to get in there and cook with the chef, try one of De Gustibus' Hands-On classes, which occur both at the school and at local restaurants. Prices range from $100 to $300 per person. 151 W. 34th St., 212-239-1652, degustibusnyc.com
The Best Cooking Classes in NYC: Knife Skills 1 at Institute of Culinary Education
Hate to break it to you, reader, but you chop onions wrong. At least that's what you'll learn at the introductory knife skills class at the Institute of Culinary Education in the Financial District. You and a small group of home cooks will learn to chop, dice, and mince with quality knives: an invaluable part of any kitchen. You'll get to sip wine as you learn, too. Caution: as wine consumption increases, so does the probability of nicking your finger. But the danger's part of the fun, right? Tuition is $105 per person. 225 Liberty St., 3rd Floor, 800-522-4610, recreational.ice.edu
The Best Cooking Classes in NYC: Lessons in Libations with Haven's Kitchen
Although "mixology" might be a new term, the mastery of the cocktail is a sacred and time-honored art. Learn how to make a professional mojito, mule, or margarita with Lessons in Libations: Market Mixology at Haven's Kitchen. The instructor will not only show you how to use fresh fruits and herbs in your drinks, but he or she will also give you some tips for improving your home bar. In Chelsea since 2012, Haven's Kitchen seeks to engage home cooks through a love of food and learn about seasonality and sustainability along the way. Their other classes include Korean Barbecue and Fish Taco Tuesday. Can't make the class? Stop by Haven's on-site cafe, serving coffee, sandwiches, salads, and pastries. Lessons in Libations costs $115 per person. 109 W. 17th St., 212-929-7900, havenskitchen.com
The Best Cooking Classes in NYC: Culinary Boot Camp by Home Cooking New York
If you have 6 weeknights in a row to spare, learn everything you need to know about preparing your own meals at Home Cooking New York in Soho. These weekly classes cover everything from knife skills to handling animal protein to making your own pasta. Once you're finished, you'll have a bunch of new and delicious recipes under your belt. You'll be ready to take on your own kitchen with confidence! Shout-out to another class at Home Cooking NY that piqued our interest: What to Eat + How to Shop. You'll learn how to grocery shop properly in this guided tour through the supermarket! 158 Grand St., Studio #206, 917-803-6857, app.getoccasion.com
The Best Cooking Classes in NYC: Breaking Beef with Dickson's Farmstand Meats
Carnivores, welcome home to Breaking Beef: An In Depth Tour of the Steer at Dickson's in Chelsea Market. You'll take a step inside the meat locker (sweaters recommended) and watch a butcher/instructor identify cuts of beef like the outer skirt, sirloin, and short ribs. Dickson's Farmstand Meats sources animals from small farms in upstate New York raised in humane conditions, and after this class, you'll see every butcher counter in a whole new way. The instructor will recommend how to cook various cuts of beef and how to shop for quality meat to fit your next recipe. $75 per person. 75 9th Ave., 212-242-2630, dicksonsfarmstand.com
The Best Cooking Classes in NYC: Fresh Pasta with The Brooklyn Kitchen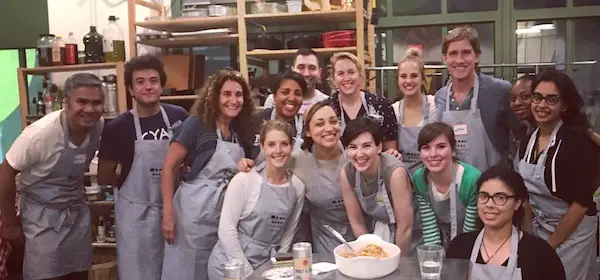 Make your own ravioli with fresh flour and eggs at The Brooklyn Kitchen's pasta class. This two-hour class will make you want to buy a pasta maker immediately (or use the one that's been gathering dust on your shelf). The instruction is thorough and not too fast for beginners, and the wide ribbons of dough are so much fun to play with. The Brooklyn Kitchen is located in Williamsburg and offers a variety of other great cooking classes in pickling, pig butchery, and Vietnamese street food. $100 per person. 100 Frost St., 718-389-2932, thebrooklynkitchen.com
The Best Cooking Classes in NYC: Hand-Rolled Sushi with Cocusocial
It's time to rock 'n roll as you make your own sushi! Cocusocial provides reasonably priced classes about many cooking techniques and flavors, but their sushi class is the most popular and a bargain at $46.90 per person. Gather at a hotel in Midtown for a guided sushi session, where you'll learn to make sushi rice, choose sushi-grade fish, fill in your extra ingredients, and roll them all together in a tight cylindrical shape that stays together effortlessly. Bring a date or a friend, as the class works in pairs for the duration of the session. 1717 Broadway, hello@cocusocial.com, cocusocial.com
The Best Cooking Classes in NYC: Natural Gourmet Institute
If you're a pristine vegan or gungo-ho for gluten-free, you should check out classes at the Natural Gourmet Institute. This culinary educational center was started in 1977, when no one knew about kale, and preached the value of wholesome ingredients from sustainable sources even then. Now, the Institute teaches amateurs and aspiring chefs alike. Here are some class titles to whet your (very healthy) appetite: Vegan Umami Pizza, Vegan Desserts, Meatless Monday through Sunday, and Pickling and Fermenting Foods at Home. 48 W. 21st St., 2nd Floor, 212-645-5170, naturalgourmetinstitute.com
The Best Cooking Classes in NYC: Taste of Indian with The League of Kitchens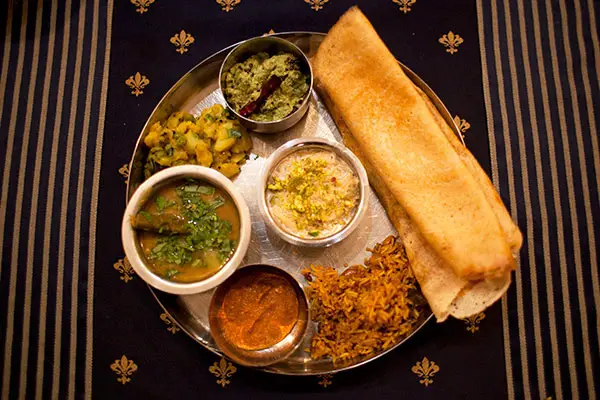 If you're interested in authentic food from other cultures, sign up for The League of Kitchens. Immigrants from far-flung countries like Lebanon, Argentina, Bangladesh, Nepal, and Uzbekistan invite you into their homes for tutorials in their best dishes. Most of these outer-borough classes are held in neighborhoods like Flushing, Queens, and Bay Ridge, Brooklyn, and up to 5 guests can sign up for a single workshop. Yamini, an instructor from India, opens her home several times a month to teach guests how to make spiced chickpea cakes and homemade chai tea. An introductory "Taste of" workshop is $120 per person, and longer "Immersion" workshops are $175. support@leagueofkitchens.com, leagueofkitchens.com
Looking for Free Group Planning Services?
Get free advice on planning your group's trip to New York.
RESTAURANTS

Multi-concept restaurant offering modern Japanese cuisine, a...

THEATER

In a heartbeat, 38 planes with 6,579 passengers were strand...

SHOPPING

The sweetest experience in Times Square!...

SIGHTSEEING

Rosé Mansion is back for another summer residency in NYC aft...