Fashion phenom Pierre Cardin will be honored in a retrospective at the Brooklyn Museum this summer. On July 20, the 50th anniversary of the Apollo moon landing, the exhibition will open to celebrate the French designer who embodied the Space Race and futuristic concepts in his designs. See striking geometric dresses, accessories, and "couture furniture" from Cardin, a living legend at 96 years old.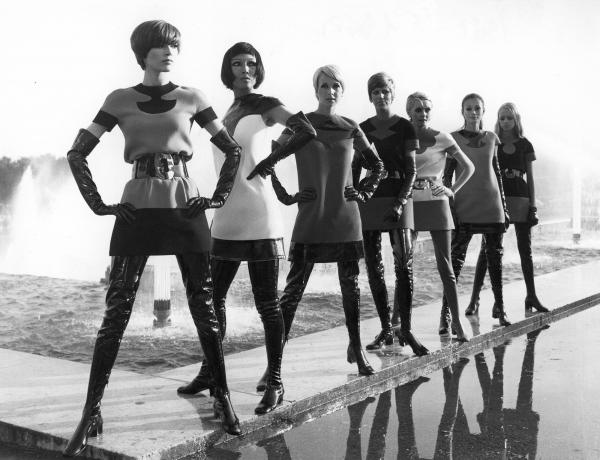 Pierre Cardin two-tone jersey dresses, with vinyl waders, 1969. (Photo: Yoshi Takata. © Pierre Pelegry.)
Pierre Cardin: Future Fashion is the first Cardin retrospective hosted in New York in 40 years. It will display over 170 objects, including fashion pieces, from the Pierre Cardin archive, and will make connections between Cardin's futuristic aesthetic and that of his design contemporaries. Cardin's bold, geometric fashions reflected mid-century advances in technology and industry—most explicitly those concerned with space exploration. In fact, on a visit to NASA in 1971, Cardin donned an Apollo 13 astronaut suit and became the only civilian ever to do so!
Terry O'Neill (British, born 1938). Raquel Welch in a Pierre Cardin outfit featuring a miniskirt and necklace in blue vinyl, worn with a Plexiglas visor, 1970. Image courtesy of Iconic Images. © Terry O'Neill / Iconic Images.
The exhibition web page features a photograph of the actress Raquel Welch modeling a Cardin vinyl miniskirt and necklace, slim black bodysuit, and a Plexiglass visor. Part astronaut, part dancer, this ensemble embodies the playfulness and boundary-pushing use of materials also used throughout Cardin's famous "Cosmocorps" collection from 1964. Other signature designs include Cardin's "target dress," felt jumpers with unconventional cutouts, and futuristic white nurse uniforms. Cardin also designed popular unisex clothing and menswear like a suit with no collar and "cylinder" pants.
Pierre Cardin in his atelier, 1957. (Photo: Courtesy of Archives Pierre Cardin. © Archives Pierre Cardin.)
A consummate creator and tailor by trade, Pierre Cardin could design a piece of clothing from the initial sketch to the final stitch of a hem. After working for Elsa Schiaparelli and Christian Dior in the 1940s, Cardin began his design house in 1950, first as a costumer, then a couturier. Soon, celebrities like Brigitte Bardot, Lauren Bacall, and Jacqueline Kennedy were wearing Cardin designs, and Mia Farrow and Jeanne Moreau wore his costumes on film.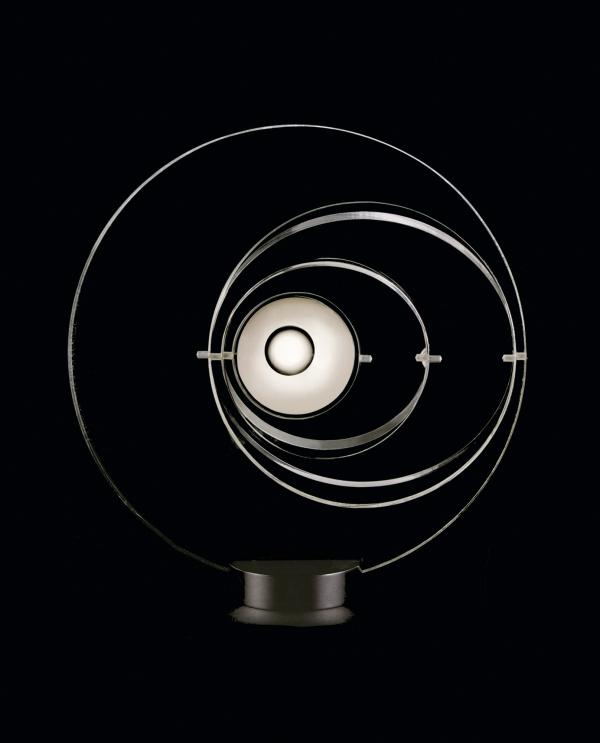 Satellite lamp designed by Yonel Lebovici for Pierre Cardin, 1969. (Photo: Courtesy of Archives Pierre Cardin. © Archives Pierre Cardin.)
Cardin not only made clothing but also designed a fabric called Cardin to execute his vision for three-dimensional pieces of clothing. Not only that, but he designed outside the realm of fashion, crafting furniture, lighting, and the interiors of cars.
Presentation of Pierre Cardin's spring 2017 collection at the Yellow River Stone Forest National Geological Park in Baiyin, China, 2016. (Photo: Courtesy of Archives Pierre Cardin. © Archives Pierre Cardin.)
An entrepreneur as well as creative, Pierre Cardin was among the first European designers to license his name, making him owner and creative head of his company. This also branded his name on a wide range of products, a brilliant marketing strategy that made him a household name. Cardin was the first couture designer to make a prêt-à-porter ("ready-to-wear") line of clothing that made his aesthetic available to a wider audience. He expanded his audience geographically as well, showing in Vietnam, Japan, and China—most notably at his Great Wall of China fashion show in 1979. Clips from this iconic 300-look show will be shown in the galleries at Brooklyn Museum for the exhibition.
In addition to Pierre Cardin's designs, photographs, and film related to his career in fashion, Future Fashion will showcase other works of futurism by several creators. Clips from Georges Méliès' 1903 film A Trip to the Moon and William Cameron Menzies' 1936 film Things to Come will be on view. These works show other representations of outer space that, like Cardin's fashions, reflected a broader cultural fixation on life outside Earth.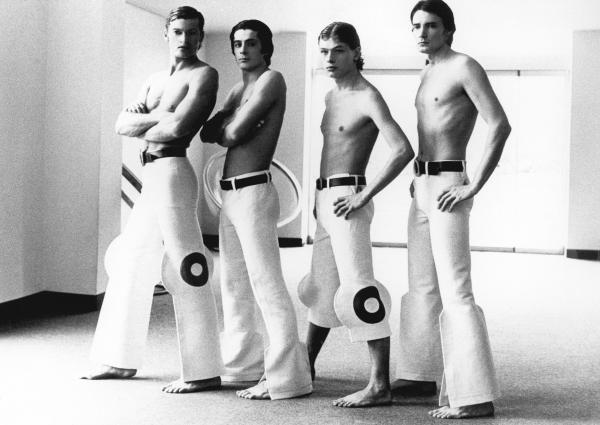 Pierre Cardin linen pants, 1972. (Photo: courtesy of Archives Pierre Cardin. © Archives Pierre Cardin.)
Pierre Cardin: Future Fashion opens July 20 and will close January 5, 2020. It was curated by Matthew Yokobosky, Senior Curator of Fashion and Material Culture at Brooklyn Museum.
---
The Brooklyn Museum is located at 200 Eastern Parkway. Call 718-501-6354 or visit brooklynmuseum.org for more information.