New York City now boasts one of the world's lowest COVID positive rates, raising hopes—or maybe even expectations—that the July 4th holiday weekend will reflect a full bounce back. Certainly cultural organizations are betting on New York, with a slew of live events and reopens coming on line:
A recent survey looked at 100 cities to find the best destination for July 4th. The winner? New York City. NYC & Company is getting the word out about reopening—the city's largest-ever global tourism marketing effort kicked off last week. "It's Time for New York City" is a $30 million, three-phase multimedia campaign. It will send a strong message that New York is ready. We wish all our tourism colleagues a great holiday weekend, and look forward to reconnecting next week with word of a new "NYC Tourism Is Back" opportunity.
New waterfront oasis The Bungalow at Brookfield Place will transport visitors to a beachfront retreat this summer with music, programming, bocce courts, outdoor seating, and cocktails. Rendering by TMRW.
LINKS OF INTEREST
NYC
NATIONAL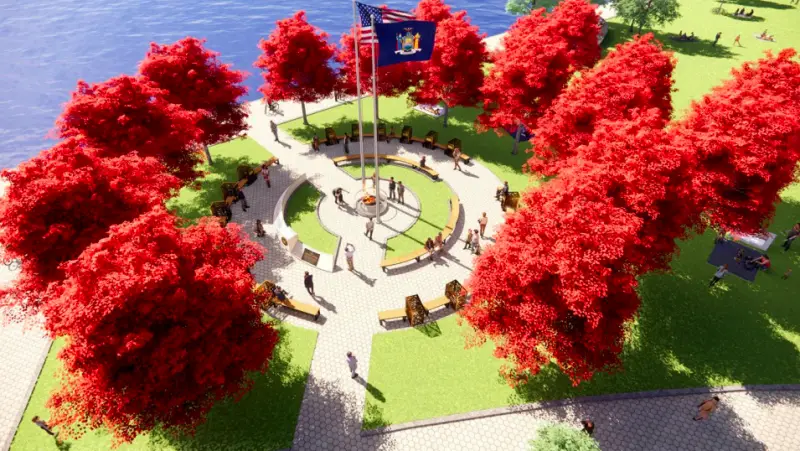 Governor Cuomo has announced a new monument to honor essential workers in Battery Park City. To be completed by Labor Day, the "Circle of Heroes" will feature 19 maples and an eternal flame memorializing those lost to COVID. Rendering courtesy of Governor Cuomo's office.
LAST CHANCE! A MOUTHWATERING STEAK AND EXCLUSIVE EVENT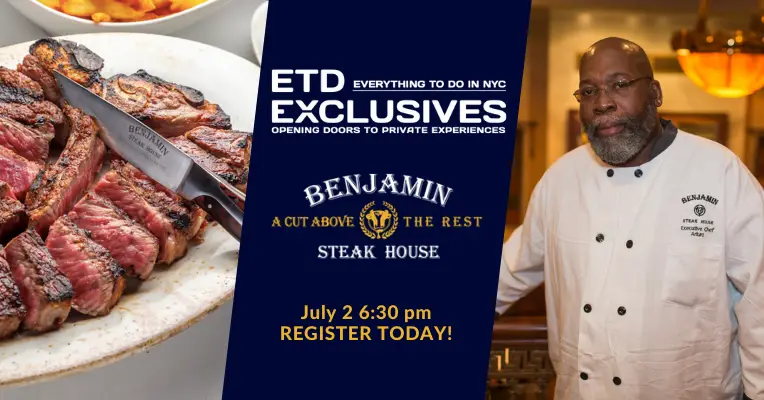 Who's a steak lover? You can have an exclusive experience and learn how to cook the perfect steak from Benjamin Steakhouse's master chef. Then enjoy a special meal just for our group. You'll start off with a summery appetizer (think crab cake, shrimp cocktail, sizzling Canadian bacon), followed by rack of lamb, Norwegian salmon, USDA prime filet mignon, or a custom dry-aged Porterhouse steak for two. Save room for dessert—pecan pie, chocolate mousse cake, or New York cheesecake.
See the full menu here.
In addition to this sumptuous meal, you'll also get a demonstration from Chef Arturo McLeod (20 years at Peter Luger), who will be sharing his secrets about summer cooking and how to prepare a perfect steak. Join us Friday, July 2nd, at Benjamin Steakhouse. Seating is limited, register now.
About ETD Exclusives
ETD Exclusives opens doors to private experiences not available to the public. Want to have dinner with a world-renowned chef, a docent-led behind-the-scenes tour of a museum, or a private experience at an iconic NYC attraction? ETD Exclusives has them—plus you can meet great people.
Do you have a venue or a restaurant that is interested in bringing in full paying groups? Reach out about ETD Exclusives. Our first event, a summer kick off with celebrity chef David Burke, sold out in 36 hours. Contact David Miller, dmiller@davlermedia.com.
IS NEW YORK CITY SAFE FOR TOURISTS? | THIS WEEK'S INSIGHTS FROM EVERYTHING TO DO FACEBOOK GROUP
Looking for on-the-round reporting about the city? Everything To Do NYC Facebook Group brings together 40,000 city superfans sharing what they're experiencing around town. A major impediment to tourism's return is the perception that the city is dangerous. How are visitors dealing with that perception? The prompt "Single mom with 11 and 13 yr old boys. Is it safe to take a Lyft to evening Yankee game?" received more than 100 comments in response. (Most people recommended the subway and downplayed crime.) On a similar note, a questioner with concerns about the Holiday Inn Times Square received almost 200 responses—again, with most people not overly concerned about safety. Check on your own venue's reputation and weigh in, this is a great way to connect with customers. If you're not a member yet, join us.