S. Feldman Housewares has been a part of the fabric of the Upper East Side since 1929—confirmed by a historic plaque near the door. Step inside and you'll hear jazz, blues, and big band music, adding to the throwback feel. Sunlight streams in. Over the decades, the same family has been at the wheel, and you'll likely see a fourth-generation representative behind the counter. The main change over nine decades is that the lighting is much improved. And the merchandise has undergone a thorough update.
S. Feldman occupies a pleasant stretch of Madison Avenue that's part of the Carnegie Hill Historic District. A trip up here is a visit to an older, gracious, residential New York. There are intact side streets and an active preservation community. That said, S. Feldman is an anomaly in a city where turnover rules. The President of S. Feldman is Scott Goldsmith, who just happens to be the grandson of the original S. Feldman (Sam, for the record), and as he surveys the block he notes "Most everybody here has turned over. Several times."


Inside the store things are always changing. Colors come in and out of style, new gadgets and technologies come on line, and the stock shifts with demand. What doesn't change? A general commitment to stocking the clever, the useful, and the occasionally playful. One of the charms of an all-purpose New York store is that they have everything, in a way you can't access over a computer. Online shopping asks you have to wade through dozens of similar items and pick your way through the minefield of dubious reviews. At S. Feldman, they've done the editing for you. What remains is a curated selection of high-quality, high-utility goods.
This is a neighborhood store so you can find necessities like cleaners and lightbulbs. But you'll also find things you didn't even realize you needed. Enjoy cold brew, but lack patience? There's a brewing machine here that cuts the wait time from 24 hours to 25 minutes. If you've been looking to experiment with sous vide cooking, American Iron Chef Geoffrey Zakarian has a appliance here precise enough to go down to the half degree. (Zakarian is a neighbor, by the way.) 
The brands at S. Feldman represent global standards—the neighborhood wouldn't settle for any less. Travel bag needs are met by Lipault, a French label that's both durable and lightweight. You can buy a knife by Kikuichi, whose history goes back to 12th-century Japan. Lodge, Le Creuset, and OXO fill the kitchenware shelves.
While there's not a ton of souvenir shopping, what there is reflects a major upgrade from Times Square schlock. For example: a Manhattan neighborhood cutting board by Alessi. Little hands can be treated to taxis, subway trains, or skyscrapers that double as erasers.
Stocking stuffers are a strength. "There are people stocking up right now," says Goldsmith. Items can get topical, like the Kim Jong-un "Eraser Dictator" synched to summit fever earlier this year. Maybe you'll be tempted by the Red State/Blue State mugs. That's another great thing about a store like this. You WILL find something you love. Something that you can't find just anywhere. Even Amazon can't compete with a good eye and four generations of experience.
Who comes to shop, besides the neighbors? "South Americans, Asians, people interested in good design," Goldsmith explains, noting his stock of finely crafted French, Italian, and Japanese goods. "They really get to see the whole world in one little shop."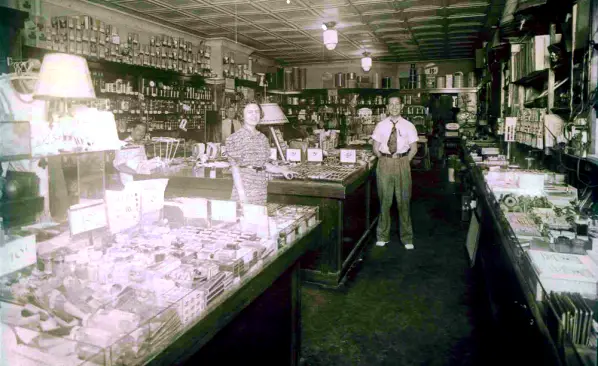 S. Feldman circa 1937: Sam Feldman in back.
---
1304 Madison Ave. (92nd St.), 212-289-3961, sfeldmanhousewares.com