New York's Hottest New Outdoor Workout Venue Is…34th Street
06/13/18 through 08/27/18 | 6:00pm
Broadway Boulevard
34th Street, outside Macy's Map
212-719-3434
Free
13-06-2018 12:00:00
27-08-2018 12:00:00
America/New_York
New York's Hottest New Outdoor Workout Venue Is…34th Street | 6:00pm
The 34th Street district is known for shopping and entertainment, but now a full complement of exercise classes has been added to its list of attractions. And it's all free! Each Wednesday from 6 to 7 PM, the Sweat 34 program offers exercise classes by the city's top fitness studios on Broadway Boulevard outside Macy's. Upcoming Sweat 34 events: Wed., June 13, Wed. Aug 8 Sanctified Booty - This workout with Fitness Sanctuary is designed to strengthen the booty and lower extremities with a mix of strength and conditioning to today's hottest hits. Wed., June 20, Wed. July 25, Wed. Aug. 15 - 305 Fitness - Shed between 500 to 900 calories with this intense 55-minute cardio blast. Wed., June 27, Wed., July 18, Wed. Aug. 22 - IronStrength - Join Dr. Jordan Metzl from the Hospital for Special Surgery for this bootcamp class in the middle of Herald Square for 30 minutes, followed by a rocking Zumba class with Angelina Alfaro. Tues., July 3, Wed. Aug 1 - Ratchet Fitness - A workout with intermittent training that targets everything – abs, glutes, arms, and legs. And if you love working out to hip-hop and love a high-intensity cardio workout, this class is for you! Wed., July 11 - Angels & Demons Bootcamp - This class with Fitness Sanctuary is open to all levels and incorporates strength with cardio conditioning for a total body workout. This class is high energy and lots of fun set to today's hottest beats In addition to the weekly Sweat 34 workouts, try these calorie-burning activities: Mondays, July 9 – August 27 6:30-7:30 PM - Hoop 34 Sheryl Wilson of Fitnotic leads these weekly hula hoop classes. Come for a few minutes or stay for the full hour! All equipment provided. Thursdays, June 14 – August 23, 6 to 8 PM - Open Ropes - Learn the ropes from Double Dutch Empire in a block party-style weekly event. All programs sponsored by the 34th Street Partnership and its fitness partners. Founded in 1992, the Partnership is a business improvement district made up of property owners, tenants, and city officials, working to revitalize a 31-block district in the heart of midtown Manhattan with major streetscape improvements, special security and sanitation services, public events, tourist assistance, and free retail support services. The Partnership's programs and services are funded principally by a special assessment on commercial properties within the district. The Partnership is also responsible for the reconstruction and ongoing management and operation of Herald and Greeley Square Parks, which form the "bow tie" at the intersection of Broadway and Avenue of the Americas. http://www.cityguideny.com/eventinfo.cfm?id=312490
Broadway Boulevard
Broadway Boulevard
This event has already taken place. Click here for the latest events.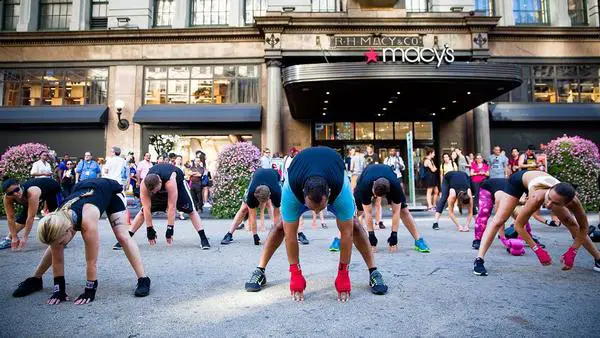 The 34th Street district is known for shopping and entertainment, but now a full complement of exercise classes has been added to its list of attractions. And it's all free! Each Wednesday from 6 to 7 PM, the Sweat 34 program offers exercise classes by the city's top fitness studios on Broadway Boulevard outside Macy's.
Upcoming Sweat 34 events: Wed., June 13, Wed. Aug 8 Sanctified Booty - This workout with Fitness Sanctuary is designed to strengthen the booty and lower extremities with a mix of strength and conditioning to today's hottest hits. Wed., June 20, Wed. July 25, Wed. Aug. 15 - 305 Fitness - Shed between 500 to 900 calories with this intense 55-minute cardio blast.
Wed., June 27, Wed., July 18, Wed. Aug. 22 - IronStrength - Join Dr. Jordan Metzl from the Hospital for Special Surgery for this bootcamp class in the middle of Herald Square for 30 minutes, followed by a rocking Zumba class with Angelina Alfaro.
Tues., July 3, Wed. Aug 1 - Ratchet Fitness - A workout with intermittent training that targets everything – abs, glutes, arms, and legs. And if you love working out to hip-hop and love a high-intensity cardio workout, this class is for you!
Wed., July 11 - Angels & Demons Bootcamp - This class with Fitness Sanctuary is open to all levels and incorporates strength with cardio conditioning for a total body workout. This class is high energy and lots of fun set to today's hottest beats
In addition to the weekly Sweat 34 workouts, try these calorie-burning activities:
Mondays, July 9 – August 27 6:30-7:30 PM - Hoop 34 Sheryl Wilson of Fitnotic leads these weekly hula hoop classes. Come for a few minutes or stay for the full hour! All equipment provided.
Thursdays, June 14 – August 23, 6 to 8 PM - Open Ropes - Learn the ropes from Double Dutch Empire in a block party-style weekly event.
All programs sponsored by the 34th Street Partnership and its fitness partners. Founded in 1992, the Partnership is a business improvement district made up of property owners, tenants, and city officials, working to revitalize a 31-block district in the heart of midtown Manhattan with major streetscape improvements, special security and sanitation services, public events, tourist assistance, and free retail support services. The Partnership's programs and services are funded principally by a special assessment on commercial properties within the district. The Partnership is also responsible for the reconstruction and ongoing management and operation of Herald and Greeley Square Parks, which form the "bow tie" at the intersection of Broadway and Avenue of the Americas.
This event has already taken place. Click here for the latest events.