The Indie Collaborative Comes to Carnegie Hall
11/19/18 | 8pm
Carnegie Hall
881 7th Ave Map
212-777-6727
$75
19-11-2018 12:00:00
19-11-2018 12:00:00
America/New_York
The Indie Collaborative Comes to Carnegie Hall | 8pm
The independent artist collective known as the Indie Collaborative is proud to announce their debut public performance at Carnegie Hall in New York City on Monday, November 19, 2018, at 8 PM. The show features three different genres of music: Musical Theater, World Music, and American Roots/Country Music. Featuring Tony Award Winner, Lillias White, Tony Award Nominee Rachel York, Something Rotten's Ryan VanDenBoom, and An American In Paris' Sara Estey, with musical direction by The Wiz's Timothy Graphenreed. Also, Grammy® Award-winning flutist and composer Wouter Kellerman of South Africa will perform music from his highly acclaimed world music repertoire. Rounding out the evening is Billboard Top 10 Country/Roots, multiple-award-winning singer/songwriter, Grant Maloy Smith, performing with his Nashville band. Each act represents a different style of music and the artist's unique background, symbolizing the vast diversity of music among the I.C. members. http://www.cityguideny.com/eventinfo.cfm?id=329998
Carnegie Hall
Carnegie Hall
This event has already taken place. Click here for the latest events.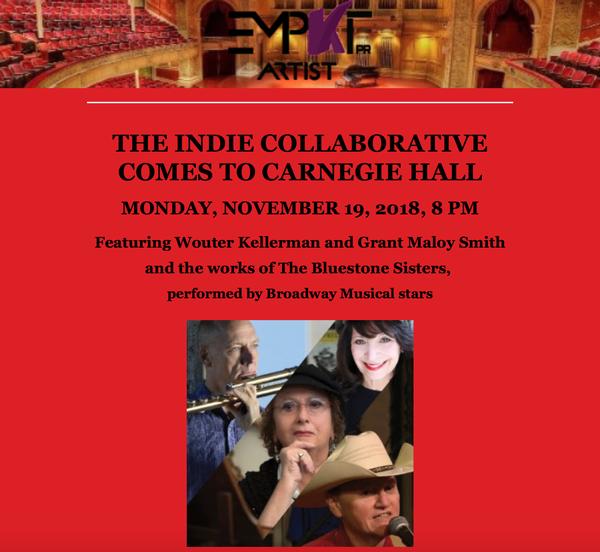 The independent artist collective known as the Indie Collaborative is proud to announce their debut public performance at Carnegie Hall in New York City on Monday, November 19, 2018, at 8 PM. The show features three different genres of music: Musical Theater, World Music, and American Roots/Country Music. Featuring Tony Award Winner, Lillias White, Tony Award Nominee Rachel York, Something Rotten's Ryan VanDenBoom, and An American In Paris' Sara Estey, with musical direction by The Wiz's Timothy Graphenreed. Also, Grammy® Award-winning flutist and composer Wouter Kellerman of South Africa will perform music from his highly acclaimed world music repertoire. Rounding out the evening is Billboard Top 10 Country/Roots, multiple-award-winning singer/songwriter, Grant Maloy Smith, performing with his Nashville band. Each act represents a different style of music and the artist's unique background, symbolizing the vast diversity of music among the I.C. members.
Venue Description: One of the most famous performance spaces in the world, and where the biggest orchestras in the world play when they come to New York City. They also offer neighborhood concerts throughout the year, tours of the historic halls, music programming, festivals, and more.
This event has already taken place. Click here for the latest events.
Upcoming Events at Carnegie Hall