Summer Like an Italian
Aug 09
| Fri | Fridays, 4-8pm | $20

Due to the coronavirus, please call to ensure this event is still happening before you leave home.
Buy Tickets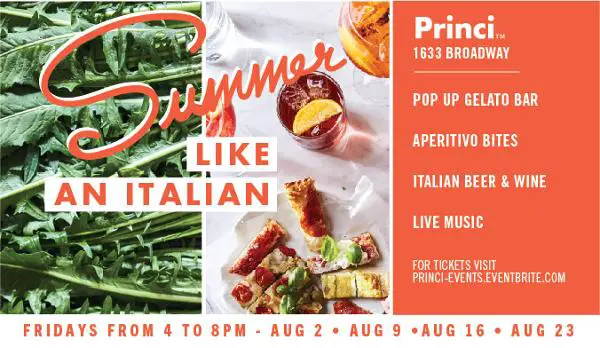 Experience the Spirit of Milan.
This summer, Princi is celebrating the history of aperitivo with artisanal food, Italian wines and beer, gelato, and live music!
Included in your ticket:
Your first beverage (alcoholic or non-alcoholic)
Unlimited access to aperitivo bites
Unlimited access to our pop-in gelato counter from M'O Gelato
Plus, join us for a chance to WIN A TRIP TO MILAN!
For official rules visit www.princi.com/italiansummer.
**Tickets will also be available at the door on the day of the event.
Venue: Princi New York
1633 Broadway Map
212-247-2527