Big Savings: Coupons and Discounts in NYC
March 16, 2017 - by City Guide Discounts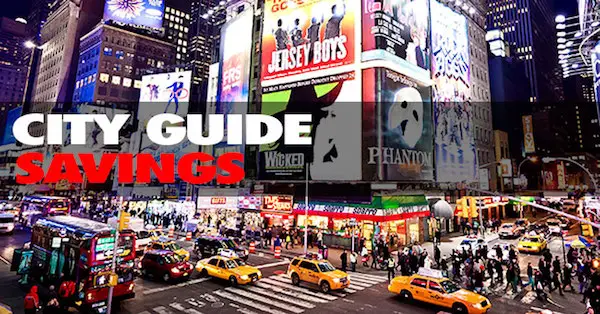 UPDATED MARCH 2017
It can be expensive trying to do everything you want to do in New York City. But fear not: NYC's original City Guide has long been a trusted source when you're looking to save money on your trip to New York. You can find some of the best discounts and coupons right here for NYC tours, attractions, museums, retail shops, transportation and more. Offers updated monthly.
TRANSPORTATION
Carmel Car & Limousine Service is New York's number one choice for private transportation. Whether you're going to or from the airport, to a Broadway show, or just want an elegant ride to anywhere in the five borroughs, Carmel's sedans and limos are always a comfortable, reliable choice. With the below coupon, you can save $4 on any ride over $20.
GET CARMEL SERVICE COUPON NOW
Cheapoair: Established in 2005, Cheapoair is a multinational online travel agency that sells travel services like airfare, hotel rooms, rental cars, and vacation packages. Choose from 450+ airlines. Up to $20 off service fees.
GET CHEAPOAIR COUPON NOW

SIGHTSEEING
Intrepid Sea, Air and Space Museum: You can save $3 off general museum admission at this non-profit educational institution that features the legedary aircraft carrier Intrepid, the space shuttle Enterprise, the world's fastest jets and a huided missle submarine.
GET INTREPID GENERAL ADMISSION COUPON NOW
Madison Square Garden All-Access Tour: Become a Garden insider! Enjoy a behind-the-scenes guided walking tour of the recently renovated, state-of-the-art World's Most Famous Arena. With over 600 events each year, you never know what you'll see! Visit the team locker rooms and experience the world of pro athletes and sports journalists. Learn how a basketball court becomes a sheet of ice, and tour the Theater at MSG. Explore the 130-year history of the Garden where legends have been made—from athletes to artists to politicians. You'll never know what you'll see on the All Access Tour. Tours operate daily, approximately every half-hour from 10:30am-3pm.
GET MADISON SQUARE GARDEN ALL-ACCESS COUPON NOW.
Ripley's Believe It or Not! Times Square: Save over 20% on admission to the world's most famous "Odditorium" which brings people of all ages face-to-face with world's most unbelievable curiosities. Use the code CITIGUIDE when you purchase tickets online for $7 off adult admission and $5 off for children. Or use the coupon inperson to save $5 for adults and $4 for children.
GET RIPLEY'S BELIEVE IT OR NOT! TIMES SQUARE COUPON NOW
One World Observatory: A visit to the One World Observatory is a journey like no other! Start by ascending to the top of the tallest building in the Western Hemisphere in less than sixty seconds, in state-of-the-art "Sky Pod Elevators" that feature a floor-to-ceiling LED screen showing the ever evolving New York skyline. Once reaching the 100th floor, visitors can take in panoramic, uninterrupted views on the main platform; the 101st floor features three dining areas and the 102nd has a private event space that can accommodate up to 300 people. Get a collectible pin, while supplies last.
GET THE ONE WORLD OBSERVATORY COUPON NOW
SHOPPING
Datavision is redefining retail with their new, fully interactive store in one of NYC's busiest shopping corridors. Featuring a full selection of computers, software, peripherals, digital cameras, camcorders, MP3 players, DVDs, personal video players, TVs, handhelds, GPS solutions, desktops, notebooks, tablet PCs, wireless LAN, carrying cases, mobile phones. Authorized internet/retail dealer for most major brands. Open until 8pm.
GET DATAVISION COUPON NOW
Hershey's Chocolate World Times Square: Hershey's Chocolate World Times Square is the place to go in NYC when your sweet tooth starts kicking in. Located in the heart of Manhattan, visitors can find any and every Hershey's product within these walls, from classic chocolate bars to peanut butter cups. Hershey's cookies are directly delivered to the store from Hershey, Pennsylvania.
GET HERSHEY'S COUPON NOW
Macy's: Macy's Herald Square on 34th Street is the flagship Macy's in New York City—and the world!. With good reason: Macy's covers an entire city block, making it America's largest department store. With over two million square feet of shopping space, visitors can spend an entire day in Macy's without even seeing everything it has to offer. Get 10% off.
Massage Envy: Massage Envy is a national-brand provider of professional and affordable massage and MURAD facial services. Get an introductory rate of only $79.99 for your first massage or facial.
M&M's New York : With a central spot on always-buzzing Broadway, M&M's World is a great stop for a snack or a souvenir. The Times Square location boasts a two-story color wall that is packed with thousands upon thousands of colorful milk, peanut, and specialty M&M candies. The enticing store also sells lots of fun merchandise, from apparel—including T-shirts for children, men, and women—to fun, colorful candy dispensers and drinkware.
GET M & M'S NEW YORK COUPON NOW
NHL Powered by Reebok: This is a mandatory stop for all hockey fans. With this being the world's only NHL store being located right in the heart of Manhatten, it is truly a special experience with customizable jersey's, apparel, interactive displays, and so much more. Get 15% off.
GET NHL POWERED BY REEBOK COUPON NOW
Jack's Place: "The Wireless Professionals" with a full line of unlocked GSM phones and accessories. Their mission is simple: to provide the best products and service to their customers at the lowest prices possible. Brand names include HTC, BlackBerry, Sony Ericsson, Motorola, Samsung, LG, Pantech, and Nokia.
Tissot: Since 1853, Swiss watch brand Tissot has been a pioneer of fine craftsmanship and innovation. Associated with style, topnotch quality and precision performance, the Tissot brand also offers a sense of traditional luxury that is within reach.
GET YOUR TISSOT COUPON NOW
DINING
Applebee's : Serving hearty All-American family fare since 1980. Their three-story Times Square location is the largest in the world. Full-service bar on street level, floor-to-ceiling views of Broadway in upstairs dining rooms. Delicious hometown specialties and favorites.
CLICK HERE FOR APPLEBEE'S COUPON NOW.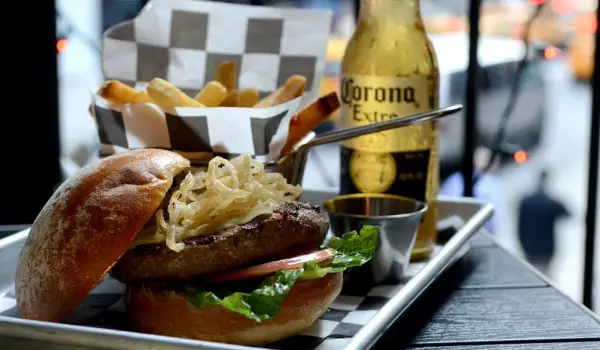 Buca di Beppo is the perfect place for great Italian food and fun! Whether you're hosting a group event, celebrating a special occasion or planning a business dinner, you'll enjoy Buca's authentic Italian cuisine in an eclectic, vintage setting, right in the heart of Times Square. Take $10 off $30.
GET BUCA DI BEPPO COUPON NOW
Dave & Busters : Centrally located in Times Square, New York's Dave & Buster's is a casual, super-fun destination for great American fare, signature drinks, and all kinds of video and interactive games—from old-time classics to today's action-packed latest. There's also a host of prizes for winners!
La Rivista The best beef, steak, pasta, and seafood in town. 20% discount on food and beverages. Open 7 days a week for lunch, dinner, and late night dining.
GET LA RIVISTA COUPON NOW
Looking for Free Group Planning Services?
Get free advice on planning your group's trip to New York.
RESTAURANTS

An'nam serves up delicious Japanese and Vietnamese favorites...

THEATER

Gaston Leroux's famous period thriller is now one of Broadwa...

SHOPPING

The world's only NHL store is located in the heart of Manhat...

SIGHTSEEING

Opened to the public in 1913 thanks to the ingenuity and amb...