Tiger Milk and More: The 6 Best Ceviches in NYC
January 26, 2018 - by Regina Molaro
Fresh fish and sushi aficionados can expand their seafood options by bringing some ceviche into the mix. This light, refreshing seafood dish is popular in the coastal regions of Latin America and the Caribbean, but is most closely associated with Peru. It's usually made from fresh raw fish cured in citrus juices such as lemon or lime, and spiced with ají or chili peppers. Other seasonings such as chopped onions, salt, and cilantro add a bit of zest. Here are our picks for New York City's 6 best ceviches.
Sen Sakana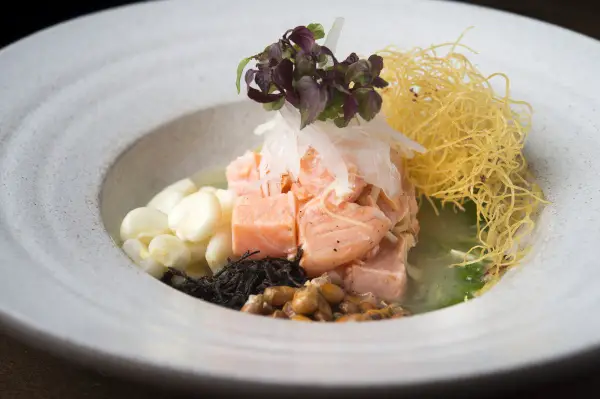 Newcomer Sen Sakana in Midtown provides a sleek setting to experience Nikkei cuisine, an intriguing mix of Japanese and Peruvian influences. A highlight is their Nikkei ceviche, which combines torched salmon, cancha (an Andean corn nut), oba (an herb from the mint family), and yuzu "leche de tigre"—the famous Peruvian "tiger milk," which is actually a citrus marinade. The harmony of flavors is not to be missed. 28 W. 44th St., 212-221-9560, sensakana.com
Brigitte
This stylish yet cozy restaurant on Manhattan's Lower East Side presents French fare with Provençal and Brazilian flavors and vegetable options. It offers a tantalizing ceviche dish made with passion fruit and lemon scallops, which is served with yuka, plantain chips, and basil oil. 37 Canal St., 646-649-3378, brigitteles.com
Desnuda
Ceviches, seafood, and South American wines are the focus of this intimate date-night wine bar. This hideaway boasts only 18 bar seats and doesn't have a full kitchen. Limited bar seats position patrons face-to-face with the personable chefs, which create an interactive dining experience. Traditionally ceviche is made from fresh raw fish cured in lemon or lime, and spiced with ají or chili peppers, but at Desnuda the fish isn't cured in acid. Menu offerings include the lobster ceviche, which includes a 1.5 lb. Maine lobster marinated in coconut milk, lime, and orange juice. It also boasts the potent flavors of ginger and jalapeno and comes with a mango pico de gallo. The king salmon ceviche is made with shaved almonds, Thai chili oil, orange slices, and sweet potato brulee atop a tamarind sauce. There's also the tiger prawn ceviche with cumin, cucumber, bell pepper, and jalapeño, and the tuna, which features spicy sesame sriracha aioli, red onions, scallions, and nori. There's another location in Williamsburg, Brooklyn. 122 E. 7th St., 212-254-3515, desnudawbk.com
Empellón Al Pastor
Chef Alex Stupak's East Village bar Empellón Al Pastor is now offering a new menu that includes shrimp ceviche in aguachile verde as a dynamite new bar snack. 132 St. Marks Pl., 212-367-0999, empellon.com/al-pastor
Pio Pio
The Peruvian inspired Pio Pio chain has expanded its menu beyond its hallmark menu of rotisserie chicken and green sauce, rice and beans, avocado salad, plantains, and sangria. Its options now include Chinese-Peruvian stir fry, fresh fish, and an array of ceviche dishes. Enjoy some fresh juice pisco cocktails with your meal. There are several Pio Pio locations throughout Manhattan, Brooklyn, and beyond. 604 Tenth Ave., 212-459-2929, piopio.com
Mission Ceviche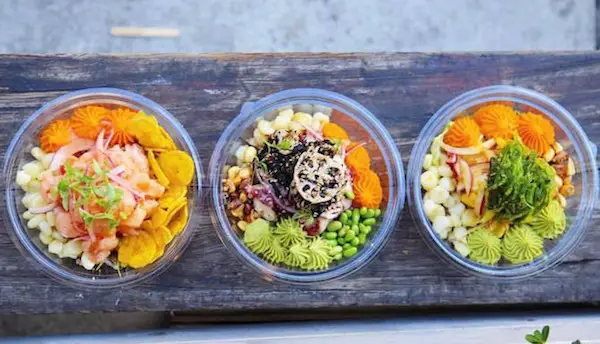 Celebrating Peruvian culture and community, Mission Ceviche presents a traditional and modern interpretation to raw, fresh, and healthy. Guests are asked to get creative and customize their own ceviche or Peruvian dishes. Those opting for ceviche can select their fish, which offers the catch of the day, shrimp, octopus, seafood (mixto), or tuna. Next they choose "tiger milk,"; a homemade spicy yellow chili pepper sauce; a coconut, yuzu, and soy sauce, or passion fruit. Three "complements" offer Boston Hydro lettuce, rice, or red quinoa. Mission Ceviche supports its community by teaming up with local vendors and farms to source ingredients. There's another location at 265 Canal St. 353 W. 14th St., 347-821-6359,
missionceviche.com
Looking for Free Group Planning Services?
Get free advice on planning your group's trip to New York.
RESTAURANTS

Multi-concept restaurant offering modern Japanese cuisine, a...

THEATER

In a heartbeat, 38 planes with 6,579 passengers were strand...

SHOPPING

DataVision is redefining retail with their new, fully intera...

SIGHTSEEING

Located in Times Square in the heart of New York City, Riple...