Those who love Korean food have plenty of options in New York City to sample the incredible cuisine. Read on for our favorite Manhattan picks, which know their way around Korean rice, vegetables, and meats.
Cho Dang Gol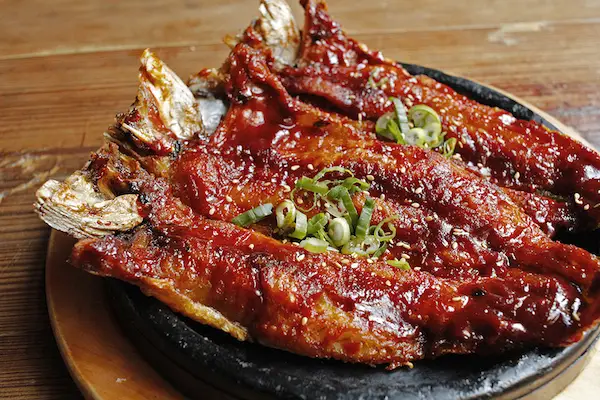 This casual Korean venue is renowned for its homemade tofu-based menu. Known as the "Tofu House," it offers soups and stews—all prepared with tofu. Every meal at this dining destination kicks off with a complimentary tofu starter. Popular items include dumpling jeongol (spicy hot pot with kimchi, homemade dumplings, and tofu along with squid, pork, and assorted vegetables) and dubu duruchigi (spicy stir-fried pork with homemade tofu). Korean-style pancakes are also a popular option and are offered with a variety of toppings such as assorted mushrooms, teriyaki chicken, seafood, kabocha, cod fish, and more. New recipes debut weekly and specials rotate with the seasons.
55 W. 35th St., 212-695-8222, chodanggolnyc.com
Gaonnuri
This posh, stylish, Michelin-recommended Korean eatery is located on the 39th floor of one of Manhattan's soaring skyscrapers and offers sweeping panoramic views. Lunch, dinner, and sweet desserts are offered, as well as delicious cocktails. Table barbecue offers tantalizing meat options such as marinated prime short rib, unseasoned duck breast, organic boneless chicken breast lightly marinated in soy, and more. A range of other entrees are available and include vegetarian options. Sample the salmon gui, which is grilled with peppery arugula, fresh pear, and a sprinkling of sea salt. A three-course fixed menu is also offered.
1250 Broadway, 212-971-9045, gaonnurinyc.com
Soogil
This modern Korean restaurant, which just opened its doors in the East Village, is named for Chef/Owner Soogil Lim who worked the kitchen at famed restaurant Daniel before becoming executive chef at Hanjan. The native of South Korea fuses French and Korean cuisines. His small plate menu marries authentic Korean flavors with French technique and is divided into three sections: Garden, Land, and Sea. Dishes include Spanish mackerel, which is grilled and served atop swiss chard-wrapped rice seasoned with ssamjang—a condiment made with doenjang (fermented soy bean paste), gochujang, sesame oil, scallions, and garlic. When temperatures dip, tuck inside Lim's cozy dining room and watch passersby through the spacious French windows that overlook the East Village.
108 E. 4th St., 646-838-5524, soogil.com
Her Name Is Han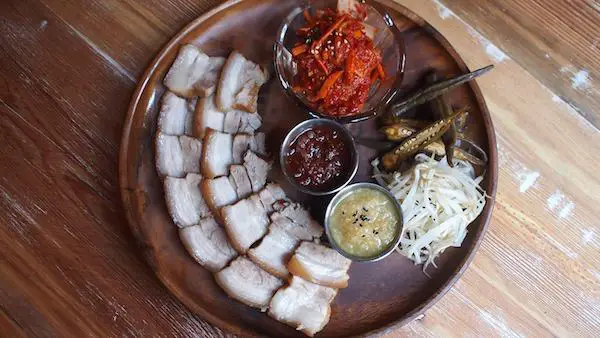 This modern space in Midtown offers home-style comfort food, which includes Korean pots, noodles, and barbecue. Her Name Is Han also offers a range of cocktails and house-infused soju—a distilled beverage of Korean origin. Lunch, brunch, and dinner menus are offered. All dishes are prepared solely with traditional Korean ingredients. The meals are described as "Korean soul food." Dishes include fire-grilled chicken, veggie bbq, and pork belly and rice cakes. The atmosphere is warm, inviting, and cozy, so bring the crew and dig in. 
17 E. 31st St., 212-779-9990, hernameishan.com
Jungsik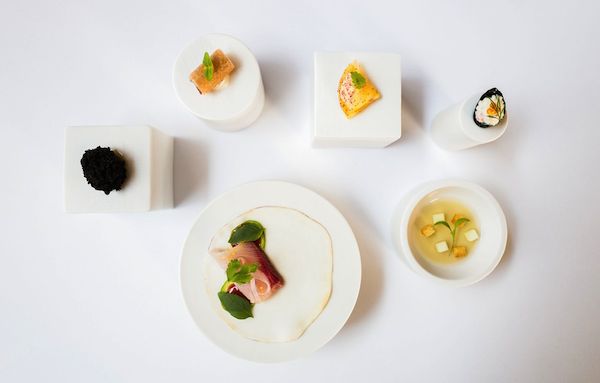 BangChan at Jungsik 
Jungsik offers a modern twist on contemporary Korean cuisine. At the helm is Chef Yim, who refers to the menu as "New Korean." This elegant, mod establishment offers seasonal fare, signature tastings, dessert tastings, and an extensive wine list. Osetra caviar, foie gras mandoo, and black cod are just a few of the finer options offered via the tasting menu. Seasonal fare includes scallops, urchin, and beyond. The minimalist interior boasts lots of white and natural light, ushering in a sense of serenity.
2 Harrison St., 212-219-0900, jungsik.com
missKOREA BBQ
This Koreatown restaurant offers barbecue, bulgogi ("fire meat" made of thin, marinated slices of beef or pork grilled on a barbecue), and hot pots in a chic, zen-like setting. missKOREA's Midtown venue offers three different dining experiences (Authentic, Imperial, and Modern) under one roof. Each utilizes natural, seasonal ingredients that hail from local markets. At the core of the menu is traditional cooking with an emphasis on unhurried preparation and ancient health principles.
10 W. 32nd St., 212-594-4963, misskoreabbq.com
Read Next | KBBQ: 5 Korean BBQ Spots to Try Now in NYC