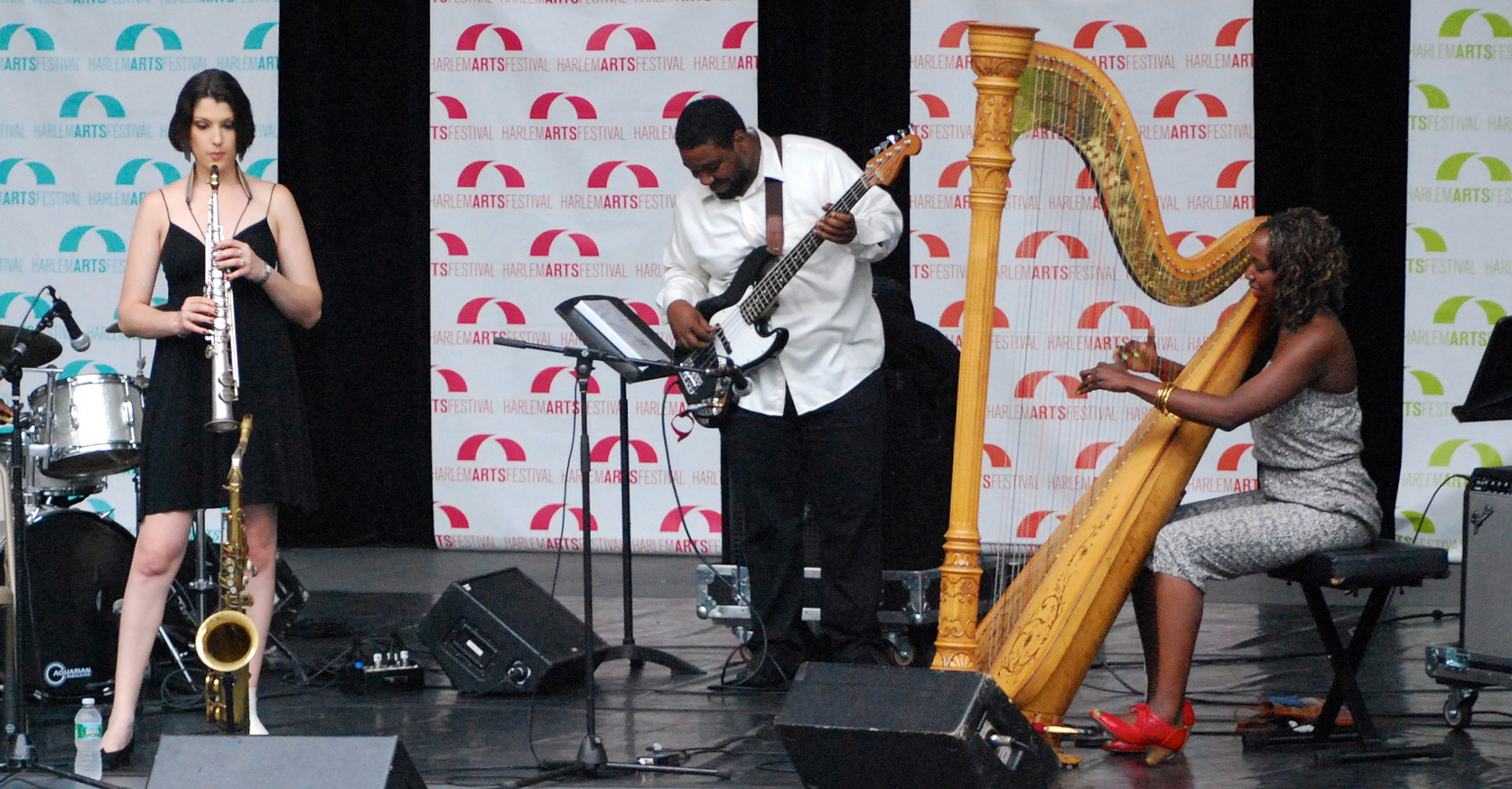 Photo: Nick Amoscato/Flickr

Want to enjoy some sultry music in New York City? NYC is filled with blues and jazz clubs, and City Guide's got all the best weekend shows in one place. Get your groove at some of New York City's most famed establishments, inlcuding the likes of B.B. King Blues Club & Grill, the Jazz Standard, and Terra Blues.


Clarence Spady Trio - Terra Blues
August 18, 2017 - New York
Ppwsl End of Season Extravaganza: the White Party - Littlefield
August 18, 2017 - Brooklyn
Fogo Azul, Spanglish Fly, Genie Adagio, Dakota Mayhem, DJ Keys SPANGLISH FLY is part band, part celebration: 11 musicians igniting a party that quickly spreads to the audience, a fever of musical joy that infects everyone in reach. SPANGLISH FLY is "single-handedly reviving sixties bugalú in NYC" (NBC New York), the mix of Latin and soul/R&B music that emerged from the clubs, the street corners, the transistor radios and the pool halls of 1960s Spanish Harlem, a/k/a "El Barrio"–an irresistible hybrid that blends traditional Afro-Caribbean rhythms with the fervor, the feeling, and the harmonics of 60s-era soul. Spanglish Fly "roars through covers, originals, and transformations of previously untouched soul hits" (Village Voice), paying homage to the boogaloo genre while refreshing it for a new generation, adding a contemporary perspective to the music while maintaining its timeless groove. SPANGLISH FLY originated in 2009 when DJ Jonny Semi-Colón (Jonathan Goldman) started noticing that amid his sets of old-school funk and soul vinyl, what really shook the dance floor was Latin boogaloo, the late-60s records of Joe Cuba, Joe Bataan, Ray Barretto, erc. Jonathan made it his m... (read more)
Kenny Barron & Ray Drummond Duo - MEZZROW
August 18, 2017 - New York City
Artists: Kenny Barron (Piano), Ray Drummond (Bass) Two true jazz legends - Kenny Barron & Ray Drummond. These guy's epitomized the Bradley's era and were famous for "no repeat" - never repeating a tune from set to set throughout an entire week. Please join us for this special weekend at Mezzrow. Doors at 7:30 PM Shows at 8 PM and 9:30 PM. $25 - listening room reserved seats. $20 bar/lounge To reserve a seat in the listening room, click on the link below. This is per set. However, if there is space you will be invited to stay.
Johnny O'Neal 'After-Hours' - MEZZROW
August 18, 2017 - New York City
Artists: Johnny O'Neal (Piano) Johnny O'Neal is a jazz legend - a virtuostic pianist in the style of Art Tatum and a great vocalist steeped in the blues. Johnny is our resident Friday night after hours pianist at Mezzrow. Come out and have a late night drink and listen to some amazing jazz piano with Johnny O'Neal. Set runs from 11:00 PM to close. $20 reserved music room tickets. One drink minimum imposed on all guests.
Chris Bergson Band - 55 Bar
August 18, 2017 - New York
Chris Bergson...Guitar & Vocals Craig Dreyer...Organ & Tenor Sax Matt Clohesy...Bass Eric Kalb...Drum
Daniel Nissenbaum- Jazz - Silvana
August 18, 2017 - New York
Daniel Nissenbaum is an acclaimed trumpet player and composer from Philadelphia, PA. He has performed with such luminaries as Donald Byrd, Marcus Miller, Darlene Love and Stevie Van Zandt. A graduate of Berklee College of Music, Daniel has toured throughout the US, Europe and Scandinavia performing a variety of pop, blues and original jazz music. As a composer, he has been employed by Chicken and Egg Productions, a documentary production company based in NYC, as well as Nickelodeon. He has also worked as a music supervisor and composer for numerous other projects under the directorial auspices of Judith Helfand, an award-winning documentary film maker producer.
Dana Reedy - Jazz Singer - Silvana
August 18, 2017 - New York
Dana Reedy is a wonderful, creative singer with a range of style including jazz standards, blues, bossa nova, pop, bebop and original songs. Dana performs in restaurants and jazz bars in New Jersey and New York City. Dana Reedy - Vocals Steve Nelson - Guitar David Shaich - Bass Ethan Kogan - Drums
Kudu Stooge - Psych-Rock / Jazz-Funk - Silvana
August 18, 2017 - New York
Kudu Stooge is a 5-piece collective based in Burlington, VT playing originals influenced by blues, psych-rock, funk, and jazz.
Sound Frontier - Blues / Rock / Funk - Silvana
August 18, 2017 - New York
Prepare yourself for another level of sound and music. Sound Frontier represents the voyage to a new dimension in music. Armed with Roots, Rhythm, and Sound, "The Frontier" has put together aspects of Blues, Funk, Jazz, (and anything else they can come up with) to deliver its own sound to the inquisitive music fan. Come one-Come all! Check out the music! Let your mind wander into the latest musical frontier....The Sound Frontier!
The Crooked Trio - Barbès
August 18, 2017 - New York
Every Friday, 5:00pm to 7:00pm, our special cocktail hourset. Straight and skewed standards with Oscar Noriega - drums; Marta Sanchez - piano; Jeong Lim Yang - bass, and a rotating cast of special guests..
Lunchtime Summer Jazz - Brooklyn Borough Hall
August 18, 2017 - Brooklyn
Hearing Things - Barbès
Through August 18, 2017 - New York
Matt Bauder is a saxophonist and composer as well as an accomplished multi-instrumentalist often adding clarinet, bass clarinet, flute, guitar and electronics to his stage and recording arsenal. He has performed with many iconic figures in avant-garde and rock music including Anthony Braxton, Fred Anderson, Roscoe Mitchell, Iron and Wine and Arcade Fire. He leads Hearing Things, an Organ/Drums and Sax trio that harks back to the honking days of R&B with a healthy dose of fascination for Ethio Funk. With MattBauder -saxophones, guitars; JP Schlegelmilch -organ and Vinnie Sperrazza - drums and special guest Ava Mendoza - guitar.
Blues Bbq Festival - Hudson River Park
August 19, 2017 -
HUDSON RIVER PARK'S 18TH ANNUAL BLUES BBQ 2017 looks to be an EPIC year for the Blues BBQ Festival! After a terrific 2016 event, the 18th annual Blues BBQ returns to Pier 97 for an amazing day filled with food, friends and great blues music! Pairing America's best Blues and Roots musicians with New York City's favorite BBQ restaurants makes for an unforgettable summer day on the Hudson River!
Air Supply - The Theatre at Westbury
August 19, 2017 - Westbury
This performance will be played in the half round, the stage will not rotate. This performance will be be played to sections B,C,D,E,F and G, Sections B and G are side partial / obstructed view. No Seat in the Theatre is more than sixty feet from the stage. Everyone needs a ticket regardless of age. Interested in VIP Membership and Premium Seating for our events? For information please call 516-247-5211 Members get the best seats!.
Guitar Legend Dick Dale - Brooklyn Bowl
August 19, 2017 - Brooklyn
GUITAR LEGEND DICK DALE Dick Dale invented surf music in the 1950's. Not the '60's as is commonly believed. He was given the title "King of the Surf Guitar" by his fellow surfers with whom he surfed with from sun-up to sun-down. He met Leo Fender the guitar and amplifier Guru and Leo asked Dale to play his newly creation, the Fender Stratocaster Electric Guitar. The minute Dale picked up the guitar, Leo Fender broke into uncontrolled laughter and disbelief, he was watching Dale play a right handed guitar upside down and backwards, Dale was playing a right handed guitar left handed and changing the chords in his head then transposing the chords to his hands to create a sound never heard before. You're at a nightclub one night a few years ago—the Lovin' Cup in Brooklyn's Williamsburg neighborhood, to be exact. Your favorite local singer is on the bill, so you got there early and grabbed the best table. You wait for the gig to start…You wait a little longer… The singer's backup band—guitarist Scott Metzger, bassist Jon Shaw and drummer Taylor Floreth—file onto the stage. Then comes the announcement: The singer never showed up, so tonight it's going to be instrumental music on... (read more)
A Decade of Soul - B.B. King Blues Club & Grill
August 19, 2017 - New York
featuring Bruce "Big Daddy" Wayne & Special Guest Prentiss McNeil of The Drifters A musical journey taking you back in time! Back to when Berry Gordy's Motown label and his studio band the Funk Brothers and Stax record's Booker T and the MG's were the proponents of what came to be known as a historical style of music. "Soul Music" A trip back to when King and Smash records gave us "The Godfather of Soul" while the Columbia and Atlantic label brought us "The Queen of Soul". Now after a 28 year tenure with "The Drifters", vocalist Prentiss McNeil along with Bruce Wayne are leading this classic soul review with their unmatched energy and breath taking showmanship. A Decade of Soul is a passion driven classic soul tribute where it's difficult to stay in your seat!
Kenny Barron & Ray Drummond Duo - MEZZROW
August 19, 2017 - New York City
Artists: Kenny Barron (Piano), Ray Drummond (Bass) Two true jazz legends - Kenny Barron & Ray Drummond. These guy's epitomized the Bradley's era and were famous for "no repeat" - never repeating a tune from set to set throughout an entire week. Please join us for this special weekend at Mezzrow. Doors at 7:30 PM Shows at 8 PM and 9:30 PM. $25 - listening room reserved seats. $20 bar/lounge To reserve a seat in the listening room, click on the link below. This is per set. However, if there is space you will be invited to stay.
Innov Gnawa - Barbès
August 19, 2017 - New York
The New York-based group of Moroccan musicians plays Gnawa music - The southern Moroccan trance music with roots in pre-islamic animist traditions. Led by master Maalem Hassan BenJaafer, InnoVe Gnawa uses traditional instrumentation such as the lute-like Sintir and the large castanet type Krakebs to accompany its ancient chants. Their approach is resolutely innovative though - an hypnotic, take on this ecstatic, trance-inducing tradition which has enthralled and inspired generations of musicians from around the world.
Joey Alexander Trio Featuring Ruben Rogers and Eric Harland - Blue Smoke & Jazz Standard
Through August 19, 2017 - New York
On his debut album My Favorite Things (Motema Music), Joey Alexander played everything from Coltrane to Rodgers & Hammerstein with a deft touch, adventurous spirit, and improvisatory verve; the trio disc earned a GRAMMY Award nomination and was one of the accomplishments that led to Joey being named as a "Next Generation Leader" by Time Magazine. With his second album, Countdown, the now–14–year–old pianist "challenges himself on multiple fronts," wrote Doug Collette at All About Jazz. The accompanists include bassist Larry Grenadier (Pat Metheny, Brad Mehldau) and sax¬ophonist Chris Potter (Dave Douglas, Dave Holland); the repertoire includes such striking originals as "Soul Dreamer" alongside challenging classics by Herbie Hancock ("Maiden Voyage") and John Coltrane ("Countdown"). "The Indonesian prodigy…has lit up the jazz world like no one since the Pat Metheny Group in the 1980s. His playing, like the playing of any jazz great, embodies contradictions that comple-ment rather than clash with each other. It's muscular yet subtle, deliberate yet relaxed, bright–eyed and vivacious like the young talent he is yet wistful and knowing, like a ghost." (Houston Chronicle)
The Legendary Count Basie Orchestra Directed by Scotty Barnhart - Birdland
Through August 19, 2017 - New York
2015 marked the 80th Anniversary of The Count Basie Orchestra. William J. "Count" Basie (1904-1984) started his orchestra in Kansas City in 1935 and proceeded to develop one of the greatest jazz groups in history. Under Basie's leadership -- with a strong commitment to making sure every tune was danceable -- the orchestra featured many of the greatest instrumentalists and vocalists in jazz including Billie Holiday, Lester Young, Harry "Sweets" Edison, Joe Jones, Joe Williams, Snooky Young, Frank Foster, Thad Jones, Frank Wess, Clark Terry, and many more. They played for Kings and Queens, appeared in movies and television shows, and won 18 Grammy® Awards, the most for any orchestra. Today, under the leadership of director, Scotty Barnhart, The Count Basie Orchestra is traveling the world, swinging and shouting the blues with precision, in Count Basie's unmistakable style of Kansas City swing. "The Count Basie Orchestra mark appears under license from the William J. Basie Trust"
Crimson Ragdolls - Terra Blues
Through August 19, 2017 - New York
Blues, Ragtime, Jazz, French Songs, Gospel, Folk Music, Originals, and more! Influenced by Sister Rosetta Tharpe, Louis Armstrong, Elizabeth Cotten, Fats Waller, Nina Simone, Django Reinhardt, The Memphis Jug Band, Irving Berlin, and others... Alison (guitar, piano, accordion, washboard), Joanna (double bass, banjo, violin), Megg (Washboard, Ukulele, Tenor Banjo), and Zoe (Clarinet, Piano, Accordion) are the Crimson Ragdolls!
Harlem Gospel Choir - B.B. King Blues Club & Grill
August 20, 2017 - New York
Southern Buffet & Live Music Every Sunday from 12:30 - 2:30 pm Featuring The World-Famous Harlem Gospel Choir On any Sunday you can visit a soul-food brunch at BB King Blues Club, New York City. The home-style "all you can eat" southern buffet is guaranteed to fill the hole in your soul, and the gospel performances will have you dancing on the stage. Please choose the Gospel Brunch event you wish to attend from the calendar below.
Klezmer Brunch w/ Traveling in Pairs - City Winery
August 20, 2017 - New York
Traveling in Pairs is a wonderful and explorative duo setup featuring Alon Nechustan (Israeli pianist and composer) and Samuel Torjman Thomas (saxophones and oud). Traveling in Pairstakes hold of a wide range of Jewish music repertoire – from Eastern Europe to North Africa, Jerusalem and New York – and gives it an entirely fresh treatment. Performer Bios: Dr. Samuel Torjman Thomas is a multi-instrumentalist (saxophone, oud, vocals, nay, clarinet, percussion), composer, bandleader, and a professor of ethnomusicology, Jewish studies, and interdisciplinary studies. Actively forging an artist/scholar model for over fifteen years, his scholarship and performance center on musics of the Middle East and North Africa, worldwide Jewish musics, and jazz-based traditions, as well as Sephardi-Mizra?i studies in poetry, rabbinic thought, and diaspora studies. Torjman Thomas is bandleader of ASEFA – the critically-acclaimed new music ensemble – and artistic director of the New York Andalus Ensemble– a multiethnic large ensemble featuring a choir and instrumentalists performing traditional musics of North Africa and Spain, in Hebrew, Arabic, and Spanish. Dr. Samuel Torjman Thomas is ... (read more)
Katherine Ella Wood Jazz Sessions - The Williamsburg Hotel
August 20, 2017 - Brooklyn
Music lives at The Williamsburg Hotel. Stop by the Lobby Bar for live jazz sessions with local singer Katherine Ella Wood, who earned her chops from Juilliard. Jam out as Katherine and the band cover some of jazz's greatest artists like Ella Fitzgerald and Louis Armstrong, while putting unique spins on well-known classics such as "Creep" by Radiohead. • Grab your friends and enjoy her sultry voice over signature cocktails every Wednesday from 8:30PM – 11:30pm. • On Thursdays you might catch her playing with special guests staying on property. Last month The Gorillaz made an appearance! Enjoy the jazz and jam sessions from 9:00PM – 12:00AM. • Those looking to treat the Sunday scaries can cozy up in velvet banquette seating for tea time between 12PM – 6PM as Katherine sings lighthearted "sunny jazz." Let her transport you back in time while sipping on premium teas curated by Stefen Ramirez of Tea Dealers while enjoying sweet and savory bites from the Brooklyn Bread Lab.
John Merrill & Friends 'After-Hours' - MEZZROW
August 20, 2017 - New York City
Artists: John Merrill (Guitar), Adrian Cunningham (Tenor Sax), Joseph Lepore (Bass) Guitarist John Merrill hosts the after-hours with his invited guests. Set runs from 11:00 PM to close. $10 walk-in music charge for this show, all musicians are free. $10 reserved music rooom seats. One drink minimum imposed on all guests.
Matt Baker and the Trio, Featuring Veronica Swift - Blue Note
August 20, 2017 - New York
Australian born Jazz Pianist Matt Baker has performed jazz festivals, clubs and concert halls in Australia, Europe, the USA and Pacific Rim. As of 2010, he is proud to call New York City his home. In April 2017 Baker released his latest album, a live DVD, "Live at Birdland", filmed "Live" at the iconic Birdland Jazz Club in New York City. Baker's previous album Almost Blue (via JazzElm Music), his 5 th as a leader, was recorded with producer Matt Pierson and released in June 2016. The album features tenor saxophonist Joel Frahm, along with Luques Curtis on bass, Obed Calvaire on drums and guitarist Lage Lund. He also recorded Underground in 2011 featuring Gregory Hutchinson, Dayna Stephens and Jeremy Pelt, which received rave reviews in Downbeat, Jazz Times and Jazz Wise UK, and reached #26 on the US JazzWeek charts. Baker's sideman credits include engagements with, among others, guitar icon Bucky Pizzarelli, tenor saxophonist Joel Frahm, bassists Endea Owens, Marco Panascia and James Cammack, drummers Darrian Douglas and Jerome Jennings and vocalists Veronica Swift, Alexis Cole, Tierney Sutton, Judy Collins and Barb Jungr. Baker has played numerous trio engag... (read more)
The Rooftoppers - Barbès
August 20, 2017 - New York
Led by guitarist Simon Chardiet, who has been a NY fixture for a few decades with his band the Bar Sinisters, the Rooftoppers take their cues from the 50's and 60's small combo recordings of local labels Blue Note/Prestige. They explore the bluesier and funkier side of jazz - from standard ballads, bebop and blues, sometimes with a Latin tinge. Featuring a quartet of NY veterans: Simon Chardiet Guitar and vocals : Jeff Gordon tenor sax: Mike Severino :drums; Jim Greene upright bass.
Borislav Strulev - Birdland
August 20, 2017 - New York
Borislav Strulev - universal multi-stylist, Renaissance-man - has performed virtually all classical repertoire for cello and toured all corners of the world - Borislav presents today his vision of crossover, classical music, jazz, tango and even rap - a stylish, high-quality fusion, on the edge of shocking. Borislav Strulev is an outstanding cellist of exceptional temperament, charismatic personality, powerful sound and virtuoso technique, a musician of faerie energy and drive. Borislav is the Music Director of: International Belgorod Music Fest - 'Borislav Strulev and Friends'. Mr. Strulev has performed at Carnegie Hall, David Geffen Hall, Alice Tully Hall, Kennedy Center and all the major halls throughout the United States, as well as Auditorio de Madrid and Auditorio de Leon (Spain) Auditorio de Torino (Italy) Muzikverein (Vienna) Suntory Hall (Tokyo) Berlin Philharmonic (Berlin) Salle Gaveau (Paris), Mariinsky Theatre Concert Hall (St-Petersburg), Bolshoi Theatre (Moscow), just to name a few, and beyond. He has also collaborated with most of the important orchestras and conductors in the world. Borislav had his debut at Carnegie Hall - played with legendary pianist Byr... (read more)
Smokestack Brunch: Tubby - Blue Smoke & Jazz Standard
August 20, 2017 - New York
For the first time in its 15-year history, Jazz Standard is launching a Sunday brunch series, "The Smokestack." Offering a $35 all-inclusive ticket which includes a complete meal of Blue Smoke brunch & a cocktail. The menu celebrates the diverse culinary traditions of the American South with a range of soulful barbecue classics alongside revived family recipes and new favorites from Executive Chef Jean-Paul Bourgeois. What goes better with Southern cuisine than Southern music! This week we present Tubby, the old school New Orleans R&B band guaranteed to get you moving in your seat.
The Baylor Project: 'the Journey' Tour - Blue Smoke & Jazz Standard
August 20, 2017 - New York
A husband. A wife. An astonishing debut album entitled The Journey. As the drummer for crossover quartet The Yellowjackets, Marcus Baylor is a three–time GRAMMY Award winner who performed and recorded with Cassandra Wilson and Kenny Garrett while coming into his own as a composer, arranger, producer, and bandleader. Jean Baylor was introduced to jazz as a vocal performance major in Philadelphia, where she was heavily influenced by artists such as Carmen McCrae, Jimmy Scott, and Shirley Horn. She too has expanded into composing, arranging, producing, and band leading. The Baylor Project will take listeners on an eclectic musical journey that showcases versatility and virtuosity in equal measure. London Jazz News called The Journey "a generous, charming album with a rich sound which places a marker in the sand and promises a solid future. The abiding strength of the project is its joyous¬ness, and that counts for a lot."
Masterworks Series - Barge Music
Through August 20, 2017 - Brooklyn
Beethoven Piano Quartet in E-flat Major, Op.16 Schumann Piano Quartet in E-flat Major, Op. 47 St. Petersburg Piano Quartet Alla Aranovskaya, violin Boris Vayner, viola Claudio Jaffe, cello Tao Lin, piano
George Gershwin - 59E59 Theaters
Through August 20, 2017 - New York
: George Gershwin Featuring 'Rhapsody in Blue', 'Summertime', 'I Got Rhythm', 'They Can't Take That Away from Me', 'Our Love is Here to Stay', and more!
Bob James Feat. Special Guests - Blue Note
Through August 20, 2017 - New York
The career of Bob James is long, varied and continues to evolve at every turn. From his first days in Marshall, Missouri, the music of Bob James has captivated audiences throughout the world. Discovered by Quincy Jones at the Notre Dame Jazz Festival in 1963, James recorded his first solo album, Bold Conceptions, that year for Mercury Records. 58 albums and innumerable awards would follow through five decades. He honed his skills working with Creed Taylor, working on albums for artists like Hank Crawford, Grover Washington, Jr, among others. While with CTI, James found great popular success overseeing significant hits for Paul Simon, Neil Diamond, Maynard Ferguson, and Kenny Loggins. While James is recognized as one of the progenitors of smooth jazz, his music has also had a profound effect on the history of hip hop, having been sampled often. Two of James' songs – "Nautilus" from 1974?s One and "Take Me to the Mardi Gras" from 1975?s Two – are among the most sampled in hip hop history. According to whosampled.com, "Nautilus" and "Take Me to Mardi Gras" have been sampled in thirty-two and forty-three hip-hop recordings, respectively. The title track from his 1981 album Sign... (read more)
Saron Crenshaw Band - Terra Blues
Through August 22, 2017 - New York
Regional De Ny - Barbès
Through August 25, 2017 - New York
Lyrical melodies, contrapuntal harmonies, and a swinging rhythm section: choro is Brazil's answer to early American jazz. The Regional de NY performs classic and original arrangements of Brazil's oldest popular music with deep groove and a love for improvisation. Personnel: Hadar Noiberg - flute; Vitor Gonçalves - accordion; Kahil Nayton - cavquinho; Cesar Garabini - 7 string guitar and
Jr Mack Band - Terra Blues
Through August 26, 2017 - New York
Pedro Giraudo Tango Quartet - Barbès
Through August 26, 2017 - New York
Originally from Córdoba Argentina, Pedro Giraudo moved to New York City in 1996. Since then he has become a highly versatile bassist, composer and arranger who is in high demand in both the worlds of Jazz and Tango. Pedro recorded bass on Ruben Blades' CD "Tangos", which won two Grammy Awards. He has also been the musical director of Mariela Franganillo Company's "Tango Connection" and "TangoRecuerdo," and performed with U.S.'s most prominent tango ensembles including Pablo Ziegler (Piazzolla's pianist), Luis Bravo's "Forever Tango," Hector Del Curto Quintet," Fernando Otero's "X-Tango" and Daniel Binelli's "Tango Metropolis." His new trio features Emilio Teubal, piano; Rodolfo Zanetti, bandoneón andPedro Giraudo, bass, compositions & arrangements
Steve Guyger - Terra Blues
Through August 26, 2017 - New York
Claiming the harmonica ads his instrument of choice, Steve Guyger has been studying the blues since his teens. Mastering the intense grittiness of Chicago-style harp playing landed Guyger one of his best gigs in 1980; a call from Jimmy Rogers. Blues Access magazine claims, "All the years...of touring with the legendary Jimmy Rogers has made Steve Guyger one of the greatest blues harp men in the world." Guyger's performances are enhanced by his fine clear voice and his preservation of the harp tradition with a unique and refreshing twist! www.steveguyger.com
Birdland Latin Jazz Big Band - Birdland
Through August 27, 2017 - New York
Excited to announce that starting Sunday August 6th I will be directing a new band at Birdland for a 5 week run. Bringing together some of the best players in Latin Jazz today from such bands as the Spanish Harlem Orchestra, Eddie Palmieri's band, and the Mambo Legends, this ensemble is incredible. Looking forward to sharing the stage with these guys, it's going to be a fun run. Come on down and enjoy some classic Mambo, cha-cha, and salsa as can only be experienced here in New York in one of the best clubs around - Birdland!!
Bill Sims Jr - Terra Blues
Through August 27, 2017 - New York
Jean Lee August Residency - Singer / Songwriter - Silvana
Through August 28, 2017 - New York
Drawing from an eclectic mix of R&B/soul, pop, folk and jazz, Jean Lee is an artist whose music effortlessly engages listeners with moving lyrics and her soulful voice regardless of genre. Coming off the heels of releasing her debut EP Gray, Jean's August residency at Silvana will showcase her original songwriting as well as highlight some of her musical inspirations such as Carole King, Joni Mitchell, and Lauryn Hill among others
The Jam of Now - Funk Jam session - Silvana
Through August 28, 2017 - New York
Danceable, rousing, and energetic, Jack Ross is all about fusing styles to create an unforgettable live show. The group displays virtuosic talent and precision musicianship. Drawing on his experience as a jazz, funk, and afrobeat drummer, Graham Doby (The Funk Ark, John Lee, John D'earth) formed Jack Ross almost immediately upon moving to New York City in 2014. The initial lineup – which included bassist Clint Greenlee, guitarist Brett Jones, and keyboardist Peter DelGrosso – wasted little time blending elements ranging from hip hop to math rock. With the addition of vocalist and frontwoman Noël Simoné Wippler, Jack Ross incorporated qualities of pop and soul to their sound, and new levels of fire and energy to their live performance.
Attias & Friends - Barbès
Through August 28, 2017 - New York
Michael Attias is one of Barbès earliest friends. He was responsible for our now legendary Nights of the Ravished Limbs Series. He is back every last Tuesday of the month. This month: KID ORCHID: Michaël Attias: alto saxophone, Ralph Alessi: trumpet, Jacob Sacks: piano, Sean Conly: bass, Tom Rainey: drums
Clarence Spady - Terra Blues
Through August 28, 2017 - New York
Raised in Scranton Pennsylvania, where he still lives, Clarence Spady is accredited with defining the 1990's blues scene. Raised by a musical family and encouraged to pursue blues, Spady started touring right out of high school. By the '90's, this singer/guitarist decided to head out and tour with a band of his own. Clarence Spady's skills as a songwriter paired with his solid mastery of guitar transcends typical blues performances, leaving audiences clamoring for more of his unique & intelligent sound. www.myspace.com/clarencespadyband
T Blues Band - Terra Blues
Through August 28, 2017 - New York
Ellen Kaye: Diamonds on My Windshield, the Road Show - Silvana
Through August 29, 2017 - New York
It's hard to catch the wind; the freedom of the highway, and the psychedelic insanity that was 1974. Ellen Kaye is tackling all three in her new run at Silvana. Two years after Watergate, two weeks after Nixon resigns and Ford takes office, America is pulling out of Vietnam, Shirley Chisolm has recently run for President. The Black Panthers, The Weather Underground, The Symbionese Liberation Army and Patty Hearst, and Angela Davis are the news as Ellen begins hitchhiking cross country - adventures good and bad, and a two year residency on Harts Island - it's a quintessential tale of some badass days and nights. Thank God Ethan Fein is on guitar. And Seth Goldman is keeping score. Blues/Folk
Slavic Soul Party - Barbès
Through August 29, 2017 - New York
Fiery Balkan brass, throbbing funk grooves, Roma accordion wizardry, and virtuoso jazz chops: Slavic Soul Party! is just what it says. Brash and strong as slivovitz, these nine musicians have forged a virtuosic new brass band music in the heart of New York City; their Tuesday bacchanal is a destination for locals and brass band fans from around the globe. SSP!'s latest album - "Plays Duke Ellington's Far East Suite" was recorded live at Barbès. John Carlson & Kenny Warren (trumpet), Peter Hess (sax/clarinet), Peter Stan (accordion), Tim Vaughn & Adam Dotson (trombone), Ken Bentley (tuba), Matt Moran and Chris Stromquist (go?/snare/perc). $10
Irving Louis Lattin - Terra Blues
Through August 29, 2017 - New York
Irving Louis Lattin, another of Chicago's notable music exports, is one of the most desirable talents in the entertainment industry. Called upon for his song writing prowess and blues/funk performances, Lattin's sound has been featured in commercials (Covergirl, Chevy, Pfizers ... etc) and on stages across the world. Lattin began playing music at age 13 and by the time he was 25, mastered both composition and piano. Although you have probably heard Irving Louis Lattin during your every day life without even realizing it, wake up your consciousness and grab a featured show of his talented song writing and "real-thing" appeal right here at Terra Blues! www.myspace.com/irvinglouislattin
Bobby Radcliff/Steve Guyger - Terra Blues
Through August 29, 2017 - New York
Oz Noy Quartet - 55 Bar
Through August 30, 2017 - New York
Oz Noy...Guitar Nir Felder...Guitar TBD...Bass Nate Smith...Drums
Craig Dreyer and Friends - 55 Bar
Through August 30, 2017 - New York
Craig Dreyer...Saxophone Al Street...Guitar Brett Bass...Bass Tony Mason...Drums
The Mandingo Ambassadors - Barbès
Through August 30, 2017 - New York
Guitarist Mamady Kouyate has been at the forefront of Guinean music since the 1970's. He is best known as one of Bembeya Jazz's guitarist but he has really made his mark with his own band, Les Ambassadeurs du Mandingue. "Dazzling vocal and guitar patterns over a rhythm section that is like a perfect system" Ben Ratliff, NY Times.
Jr Mack - Terra Blues
Through August 30, 2017 - New York
New Jersey native and self-taught guitarist, Jr Mack forged his own path into the heart of the blues. With the collected stage presence of a seasoned performer, Jr Mack lulls, mesmerizes, and reels the audience into a groove all his own. Having sat in or worked with The Allman Brothers Band, Robert Randolph, & many others, Junior Mack's soulful interpretation of the blues never fails to captivate.
Ray Schinnery - Terra Blues
Through August 31, 2017 - New York
Raised in New York City, Ray Schinnery is known for his humorous originals, guitar mastery, and his unique "story-telling" voice. BLUES MAGAZINE wrote "just when you think his vocal is a standard, rough-hewn blues shouter, he turns around and lays down some of the shivery-sweetest 3 part harmonies this side of the bible belt". A regular on the international as well as the local blues scene, "with his band, a solo performer, or with his guitar, Ray is a master showman..." www.rayschinnery.com
Swingadelic - SWING 46
Through August 31, 2017 - New York
Swingadelic performs every Monday night at Swing 46, NYC's premier dinner dance venue on Restaurant Row, 349 West 46th Street between 8th and 9th Avenues. Comfortable banquette seating, a nice dance floor and stage with a baby grand piano is the order of the day, all complimented by great cocktails and food served by a handsome and talented staff. There is a free dance lesson every night. Tourists, dancers and music lovers all mingle to create a warm & vibrant vibe. We enjoy playing this venue with a ten piece band that includes John Bauers/ piano and vocals, Paul Pizzuti/drums, Audrey Welber, Michael Weisberger and John DiSanto/saxes, Carlos Francis and Enrique Sanchez/trumpets and Rob Edwards and Alex Jeun on trombones. Lots of guest singers and musicians show up and it is not uncommon for your wait person or bartender to come up for a song.
Bobby Radcliff Trio - Terra Blues
Through September 02, 2017 - New York
Story/Bryan Band - Terra Blues
Through September 05, 2017 - New York
Michael Powers Frequency - Terra Blues
Through September 08, 2017 - New York
The Pioneers - Terra Blues
Through September 24, 2017 - New York
The Pioneers got their start at Terra Blues as the legendary backup group that supported Moe Holmes, former alto and tenor voice of the Holmes Brothers. Created in the early 1990's, the band is comprised of rotating talented musicians. After Moe's death in 2008 the current group of Jr Mack, Barry Harrison, Brian Killen & Pat Firch carry on in his footsteps.
Michael Powers - Terra Blues
Through September 25, 2017 - New York
Heralding from Bayonne New Jersey, Michael Powers now defines the New York City blues scene. Since settling in NYC in the 1970's, Power's originals and "re-shaped classics" have been dictating the raw essence of real blues in the city for years. This 5 time Blues Music award nominee "is no "rocker" masquerading as a "bluesman", no "Hendrix wanna be" - he is simply true to his ... heart and the rockin' soul in his music." Michael Powers is a rare find in the music world; "an impressive musical range and versatility - a musician for all seasons." (Blues Matters) His LIVE show tributes: Lightnin' Hopkins, Howlin Wolf, Muddy Waters, Elmore James, John Lee Hooker, Chuck Berry, British Blues, Robert Johnson and of course, Jimi Hendrix - and reflects his diverse influences when he performs his original compositions. Every live show can include electric, steel & acoustic guitars... A FESTIVAL FAVORITE FOR BLUES FANS & THE MEDIA
Mccoy Tyner - Blue Note
Through November 27, 2017 - New York
Jazz pianist McCoy Tyner is widely considered one of the finest and most influential pianists in jazz history. His signature booming left-hand and fleeting right created a unique sound that can be heard on his recordings as a sideman with the John Coltrane Quartet in the 1960s and on his 80-plus albums as a leader. Tyner's most recent project for McCoy Tyner Music/Half Note Records is his first solo effort in almost a decade titled Solo: Live From San Francisco. The release is the third for his label and features eleven solo vignettes recorded at the Herbst Theater in 2007. Tyner's blues based piano style, replete with sophisticated chords and an explosively percussive left hand has transcended conventional styles to become one of the most identifiable sounds in improvised music. His harmonic contributions and dramatic rhythmic devices form the vocabulary of a majority of jazz pianists. Born in 1938 in Philadelphia, he became a part of the fertile jazz and R&B scene of the early '50s. His parents imbued him with a love for music from an early age. His mother encouraged him to explore his musical interests through formal training. At 17 he began a career-changing relationshi... (read more)
David Ostwald's Louis Armstrong Eternity Band - Birdland
Through December 25, 2017 - New York
nspired by the noble jazz pioneers Louis Armstrong, Bix Beiderbecke, Duke Ellington, Jelly Roll Morton and their colleagues, David Ostwald's Louis Armstrong Eternity Band breathes life and passion into America's own great art form. Legendary record producer George Avakian describes the band in this way: "There has never been a band quite like this one. Most groups, past and present, stick to one style. Some current groups attempt to recreate early recordings in their entirety. These guys do neither. Inspired by divergent bands of the 1920s and 30s, you'll hear them swing a variety of styles in music by a wide range of composers, always true to the joy and heart of the music." Now in its 17th year of residency at Birdland, the weekly post-workday engagement is the city's best musical bargain! Tuba player David Ostwald leads a rotating lineup that features talents such as clarinetist Anat Cohen, trombonist/vocalist Wycliffe Gordon, pianist Ehud Asherie, drummer Marion Felder and more!
The Birdland Big Band - Birdland
Through December 27, 2017 - New York
The Birdland Big Band Every Friday, and for two headlining weeks a year, the "BBB" roars into action playing a thrilling and original mix of jazz, funk, Brazilian, Latin and world music for sold-out audiences. Featured weekly guest artists drop-in from television bands (David Letterman, Saturday Night Live) and pop music touring bands (Rob Thomas, Rod Stewart). Come see for yourself why Time Out New York called the BBB, "a completely unique experience... there isn't another band like this anywhere," and yelp.com proclaims, "if you hear one band in NYC make sure this is it... and prepare to be blown away!"