An A+ dining experience awaits at Bobby Van's Grill & Steakhouse in Times Square, a veteran steakhouse smoothly run by General Manager Paul Modica, serving up prime filet since 1969.


One can just walk by and glimpse the handsome, wood-toned interior of this steakhouse through its 30-foot high windows (on mild weather evenings, take advantage of the outdoor seating). While it is not mandatory to dress in your Sunday finest, it would not be frowned upon—there are many business meeting dinners held here as well. Cozy window booths line up along the ground floor; there is also a bar. Upstairs seating has a capacity for about 70, which can accommodate a private or a corporate party. On the mezzanine is a coveted single table overlooking downstairs that can seat up to six, perfect for an intimate gathering. Reservations are recommended.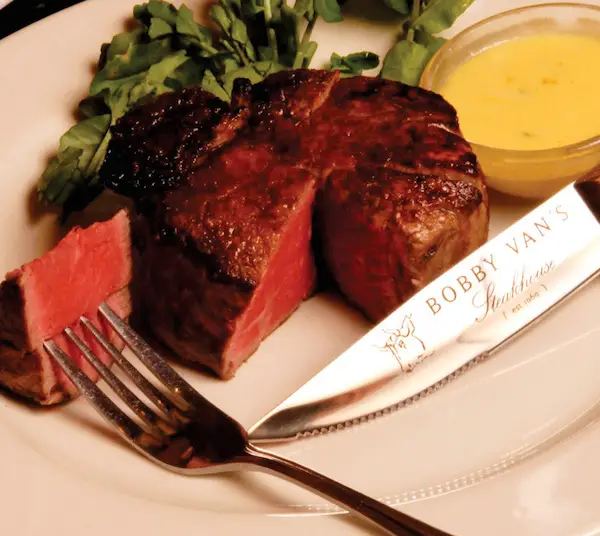 Getting ready to take in the new Broadway hit Oh, Hello, at the Lyceum Theatre right across the street, I saved my appetite for this pre-theatre standout. We began with some refreshing cocktails, including a Pallini Bourbon Tea with Pallini Lemoncello and a cosmopolitan (a great wine menu is also available), before sharing an appetizer of tasty, generously portioned crab cakes, drizzled with a light mustard cream for dipping. For the entree, I kept to the classics, ordering a petit filet with some creamed spinach and a baked potato (you can also choose fries or mashed potatoes). The filet was grilled and peppered to a perfect medium rare. My friend went with an equally delicious "surf" option of broiled diver sea scallops, served with rice and a remoulade. Considering we had a theatre date, the staff was sensitive to the need to serve us in a timely manner. We indulged our sweet tooth, sharing a decadent order of gelato sliders, served in a trio, with chocolate chip cookies, vanilla, hazelnut, and chocolate. 
For those that are skipping the show but still want to enjoy a mouthwatering dinner, Bobby Van's offers a three-course dinner menu Monday through Sunday, for a modest $45, from 8pm to 11pm. Options include a choice of salad or soup of the day; entrees of filet mignon with creamed spinach and French fries; grilled Atlantic salmon with mustard buerre blanc and creamed spinach; chicken Parmesan served with pasta; and dessert choices of New York cheesecake or chocolate mousse cake.  
If you're in town this Thanksgiving with family or friends and want a break from the kitchen, Bobby Van's has a wonderful prix-fixe menu for $59.95 (beverages, tax, and tip not included). A choice of appetizer (butternut squash, red beet salad, stuffed mushrooms) kicks things off. Entrees include a traditional Thanksgiving turkey dinner with mashed potatoes, sauteed stringbeans, and brown gravy; Atlantic salmon with sauteed spinach and rice; and filet au poivre, with mashed potatoes and sauteed stringbeans. Save room for dessert: options include pumpkin cheesecake, chocolate mousse cake, and carrot cake. 

Bobby Van's Grill is located at 120 W. 45th Street, 212-575-2599. Additional Bobby Van's locations can be found on Park Ave., Broad St. in the Financial District, and W. 50th St. For reservations, visit bobbyvans.com.