Churrascaria Plataforma - A Brazilian Rodizio in Manhattan
February 14, 2013 - by Ellis Nassour
Brazil is as much of an ethnic melting pot as the U.S., and this is reflected in the native cuisine. The variety of dishes is amazing, ranging from rice and beans and fish to pasta and chicken and pizza to kibbee. However, there's one thing all Brazilians love: great cuts of meat. They love savory, prime cuts of beef and pork and traditional sausages.
Plataforma, NYC's premier churrascaria (steakhouse), has long been a magnet for politicos, celebrities, locals, and visitors. It takes all Brazilian cuisine quite seriously, but it takes the rodizio style of dining to the nth degree.
Rodizio is the type of place where you pay a fixed price and waiters bring skewers of meats, chicken, and—a particularly Brazilian favorite—sausage to the table until you signal "Stop!" by flipping a card to red.
Thanks to the influx of tourism to tropical Brazil, it's caught on almost as quickly here as it did there. Almost being the optimum word. Partner João de Matos (the unofficial "mayor" of Little Brazil, 46th St. btw. Fifth & Sixth Aves., owner of BACC Travel, and publisher of the Portuguese/English newspaper The Brazilians) says, "It's a 75-year tradition born out of confusion. There's an annual religious festival near Sao Paulo which attracts thousands. Years ago, there was only one restaurant and the pilgrims overwhelmed the kitchen.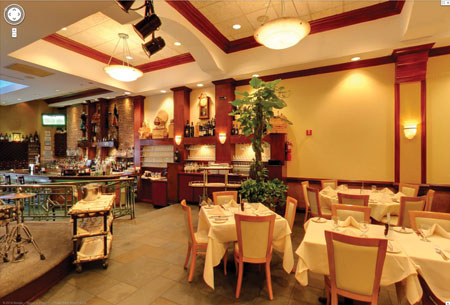 "Orders got confused," he continues, "and there was almost a riot. The owner had waiters pass the various meats around and let customers select. Before you knew it, rodizios were all over Brazil. This is the tradition my partner, Luis Gomes, and I wanted to bring here and make it authentic."
Gomes adds, "Our goal is value for your money, exceptional food, service, and cleanliness. We've been consistent for 15 years."
Begin at the gourmet salad station, teeming with four native casseroles and 40 rotating international choices: carpaccio (pounded, thinly sliced meat), sal picão (chicken salad), sushi, shrimp, and veggies. During Wednesday, Saturday, and Sunday lunch, Plataforma serves Brazil's long-simmering signature dish, feijaoada—beef and pork with black beans, spices, and herbs.
Back at your table, waiters arrive with an eye-popping feast of huge skewers right off the cooking spit: succulent cuts of beef, pork loin and ribs, leg of lamb, chicken, and sausage. All are roasted to perfection, and carved to your desire. Sides include broccoli, potatoes, rice and beans, and fried bananas. Should you make it to dessert, passion fruit mousse is delicioso!
The restaurant is the annual recipient of Wine Spectator's Award of Excellence and has a cellar of 18,000 wines and a lounge where Brazil's national cocktail, Caipirinhas, are made to order from a choice of 28 cachaças.
316 W. 49th St., 212-245-0505; 221 West Broadway, 212-925-6969; churrascariaplataforma.com
Looking for Free Group Planning Services?
Get free advice on planning your group's trip to New York.
RESTAURANTS

Multi-concept restaurant offering modern Japanese cuisine, a...

THEATER

Kander and Ebb's "musical vaudeville" in which Roxie Hart ga...

SHOPPING

Specializing in the great vineyards of California, France, A...

SIGHTSEEING

This renovated museum complex includes the 900-foot-long air...