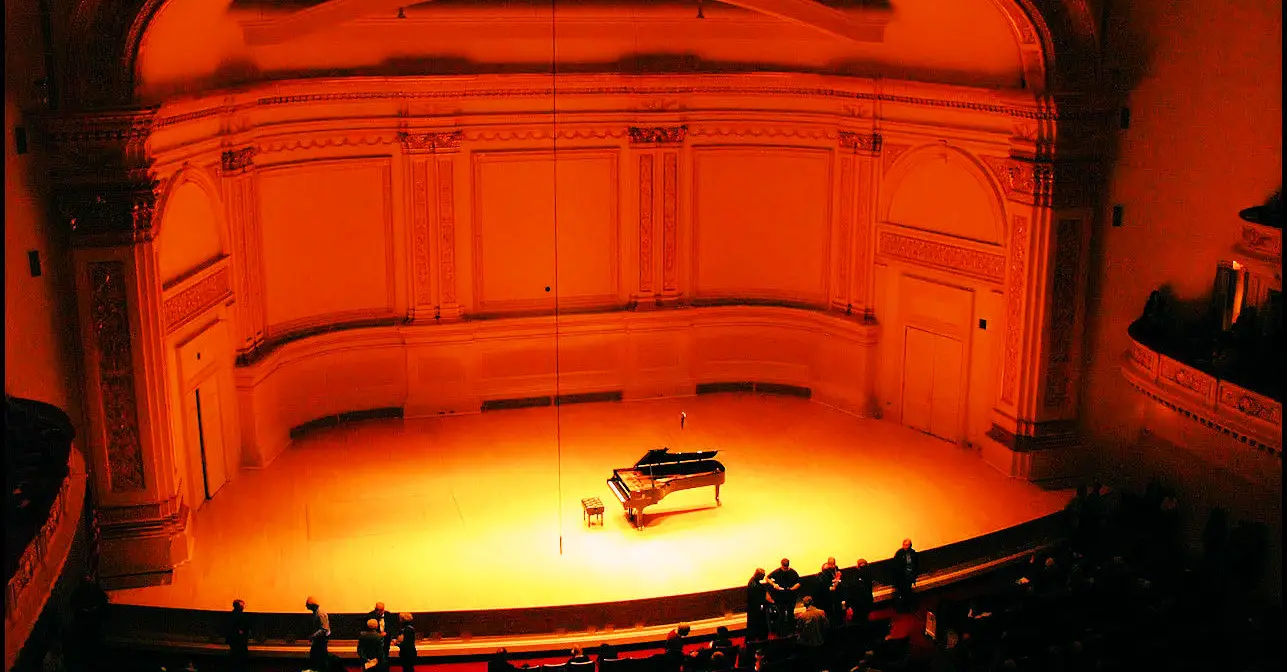 Photo: Fickr/Taos Melillo

From the New York Philharmonic to churches and smaller concert halls, you'll find the best of New York's classical music in City Guide's calendar. When it comes to acoustics, famous destinations like Carnegie Hall and Lincoln Center are world-class attractions and we've got every upcoming performance listed in our system.


Color Theory 2.0: Saxophones and Percussion - Christ & St. Stephen's Church
June 03, 2018 - New York
The PRISM Quartet presents Color Theory 2.0 following the 2017 release of the group's critically acclaimed COLOR THEORY album with So Percussion and Partch. Color Theory 2.0 spotlights Susie Ibarra and Tyshawn Sorey, groundbreaking percussionist/composers who join PRISM as soloists in world premieres of their own works. Both share PRISM's dedication to crossing musical boundaries; they bring a vast array of cultural, compositional, and improvisatory practices to the project. Color Theory 2.0 also features world premieres of stand-alone saxophone quartets by Elizabeth Hoffman, Professor of Composition at NYU, and Max Chung, winner of the PRISM/Walden School Young Composer Commissioning Award.
Thomas Nickell, Piano | Oistrakh Symphony of Chicago - Carnegie Hall (Zankel Hall)
June 03, 2018 - New York
Nineteen-year old American pianist Thomas Nickell will perform as soloist in Beethoven's Piano Concerto No. 2 with the Oistrakh Symphony of Chicago and conductor Mina Zikri, presented by the Alexander & Buono Foundation. The program will also include Liszt's Totentanz and Beethoven's Symphony No. 3, as well a composition by Mr. Nickell.
LPR X: NEXT Festival of Emerging Artists: New Music for Strings - (Le) Poisson Rouge
June 03, 2018 - New York
Le Poisson Rouge Presents NEXT Festival of Emerging Artists: New Music for Strings Featuring Tony Arnold, Guest Artist; String orchestra music of Jessica Meyer, Liisa Hirsch, Peter Askim and the World Premiere of Brett Dean's "And once I played Ophelia" for soprano and string orchestra
The Next Festival of Emerging Artists - (Le) Poisson Rouge
June 03, 2018 - New York City
Founded in 2013 by Artistic Director and composer Peter Askim, The Next Festival of Emerging Artists is an immersive residency for young (20-30 years old) professional string players focused on musical exploration, entrepreneurial thinking, and contemporary performance practice. The sixth annual festival takes place May 27- June 9. After a week at Music Mountain in Falls Village, CT, the festival moves to NYC. The festival returns to NYC for the fifth consecutive summer for a series of events in early June. On June 3 at (le) poisson rouge the orchestra is joined by soprano Tony Arnold performing in the world premiere orchestral version of Brett Dean's 'And Once I Played Ophelia'. Hailed by the New York Times as "a bold, powerful interpreter," Ms. Arnold is internationally acclaimed as a leading proponent of contemporary music. New music by Jessica Meyer, Liisa Hirsch, and Peter Askim will also be performed.
Louis Rosen and Friends: Dust to Dust Blues & Act One: Piano Music from the Theater - The Duplex Cabaret Theatre
Through June 03, 2018 - New York
Award-winning composer/songwriter Louis Rosen returns to The Duplex to celebrate the recent dual release on Di-tone Records of his second solo album, Dust to Dust Blues, and Act One: Piano Music for the Theater. He'll be joined by the legendary multi-instrumentalist David Mansfield, his long-standing collaborator and master bassist, Dave Phillips, and as a special guest, Broadway conductor/pianist Kimberly Grigsby performing the Act One Suite for Solo Piano from Louis' score for the 2014 Lincoln Center Theater production of James Lapine's Tony-nominated play, Act One. Also included: a special sneak peak at some new songs from Louis' upcoming 2019 release, I Don't Know Anything. "Rosen's music is a continually shifting patchwork of blues, folk, jazz and pop as earthy, tuneful art song." (New York Times) [In] the literate, sincere "Dust to Dust Blues", Rosen soulfully mines his past… "I seek out the holiness here in the wilderness…" which echoes like a classic, folk refrain…" (Cabaret Scenes/Broadwayworld.com) [On "Dust to Dust Blues"] "Very fine...and sometimes subversive tales of living and observations on a life... His lyrics are expansive..." (Cadence Magazine)... (read more)
Tosca Opdam, Violin - Carnegie Hall, Weill Recital Hall
June 04, 2018 - New York
Dutch violinist Tosca Opdam? will make her debut in Carnegie Hall's Weill Recital Hall ?presented by EBF Classics on June 4, 2018 at 8pm? with a program centered on the theme of "home." Program BACH Sonata for Violin and Harpsichord in E Major, BWV 1016 KORNGOLD Selections from Much Ado About Nothing Suite DEBUSSY Violin Sonata ROBIN DE RAAFF North Atlantic Light for Violin and Piano (World Premiere) PROKOFIEV Violin Sonata No. 2 in D Major, Op. 94bis
Facets of Brahms: Seasons of Brahms - Kaufman Music Center
June 05, 2018 - New York
Chamber music masterpieces from the dawn and dusk of Brahms's long career. The String Sextet No.1, written at 27, is an utterly confident work reveling in the rich sonorities of two cellos, two violas, and two violins. In the Clarinet Quintet in B Minor, written post-retirement and inspired by the clarinetist Richard Mühlfeld, the music muses over itself as a life lived, ending enigmatically at its own beginning. Pre-concert discussion with OSL Clarinetist Jon Manasse will introduce the range of Brahms's style that you will hear on the program, as well as the singular influence a performer can have on a musical artist. ARTISTS St. Luke's Chamber Ensemble PROGRAM BRAHMS - Clarinet Quintet in B Minor, Op. 115 BRAHMS - String Sextet No. 1 in B-flat Major, Op. 18 Orchestra of St. Luke's grew out of a versatile chamber ensemble that began performing concerts in 1974 at the Church of St. Luke in the Fields in Greenwich Village. Today, Orchestra of St. Luke's performs approximately 80 concerts each year at venues including Carnegie Hall, Lincoln Center, and the Caramoor Center for Music and the Arts, while keeping the intimacy of chamber music at the heart of its divers... (read more)
Skip The Pianoman - The Red Lion
June 05, 2018 - New York
Japan Society 2018 Annual Dinner - Japan Society
June 05, 2018 - New York
We are pleased to announce that Ajay Banga, President & CEO of Mastercard, will be the keynote speaker at the Japan Society's Annual Dinner to be held on Tuesday, June 5 at the Hilton New York. The reception begins at 6:30 pm and the dinner program at 7:30 pm. Attire will be black-tie optional. Each year the Annual Dinner attracts approximately 700 prominent business and diplomatic leaders. Since interest in attending this event is high, we urge you to make your reservation as soon as possible.
Countess Eden and Chris Johnson Present Dirty Blues Burlesque - Sid Gold's Request Room
June 05, 2018 - New York
A monthly live cabaret show brought to you by the twisted minds of Countess Eden and Chris Johnson at Sid Gold's Request Room, the best piano bar in NYC! With guest performances by stars of burlesque and vaudeville. 1st Tuesdays, $10 cover, and live piano karaoke after!
Bachata - Bryant Park
June 06, 2018 - New York City
Dance Party, hosted and produced by Talia Castro-Pozo, includes superb bands and expert dance instruction for extraordinary dancing experiences each Wednesday evening. Learn the steps from 6pm-7pm and then test out your new moves to live music from 7pm-8:30pm. Beloved Bachatero Wilson Daniel and seven other talented musicians from the Dominican Republic come together to play bachata with a classical feel and rooted sound.
Season of Brahms - The Morgan Library & Museum
June 06, 2018 - New York
St. Luke's Chamber Ensemble Brahms Chamber Music Festival Three intimate perspectives on the musical life of the Romantic-era master, featuring readings and special guests. Season of Brahms Brahms, Clarinet Quintet in B minor, Op. 115 Brahms, String Sextet in B-flat Major, Op. 18, No. 1*? From the Morgan's collection: Autograph manuscript of Brahms's Sextet for strings in B-flat Major, Op. 18, No. 1, arranged for Four Hands
Live Piano Karaoke with Joe McGinty - Sid Gold's Request Room
June 07, 2018 - New York
Joe McGinty was the keyboardist for the Psychedelic Furs from 1987 until 1992. He is also the founder and music director of Loser's Lounge, an NYC tribute series that has played to sold out crowds in NYC for over 20 years. He has worked with The Ramones, Ronnie Spector, Nada Surf and many others. TV and film credits include "One More Time" with Christopher Walken, "Bored To Death" and "Last Chance Harvey"
Happy Hour Piano Karaoke with Mark Piro - Sid Gold's Request Room
June 08, 2018 - New York
Sid Gold's Request Room now features Happy Hour Piano Karaoke on Fridays! Start your weekend off with a song! With Mark Piro at the keys! Check out Mark's song list!
New York Polyphony, vocal quartet - 92nd Street Y
June 08, 2018 - New York
New York Polyphony is among today's foremost vocal chamber ensembles, with a commitment to exploring the boundaries between ancient and modern music. The New York Times praised one of their two Grammy Award-nominated recordings as "a spacious, radiant treat." Hear them live in an intimate, late-night "salon" setting in music from the 19th century forward, with works by Schubert, whose lovely part-songs could melt the heart, new music by contemporary British composer, Ivan Moody, whose vocal music was described by the Los Angeles Times as "like jeweled light flooding the space," and more.