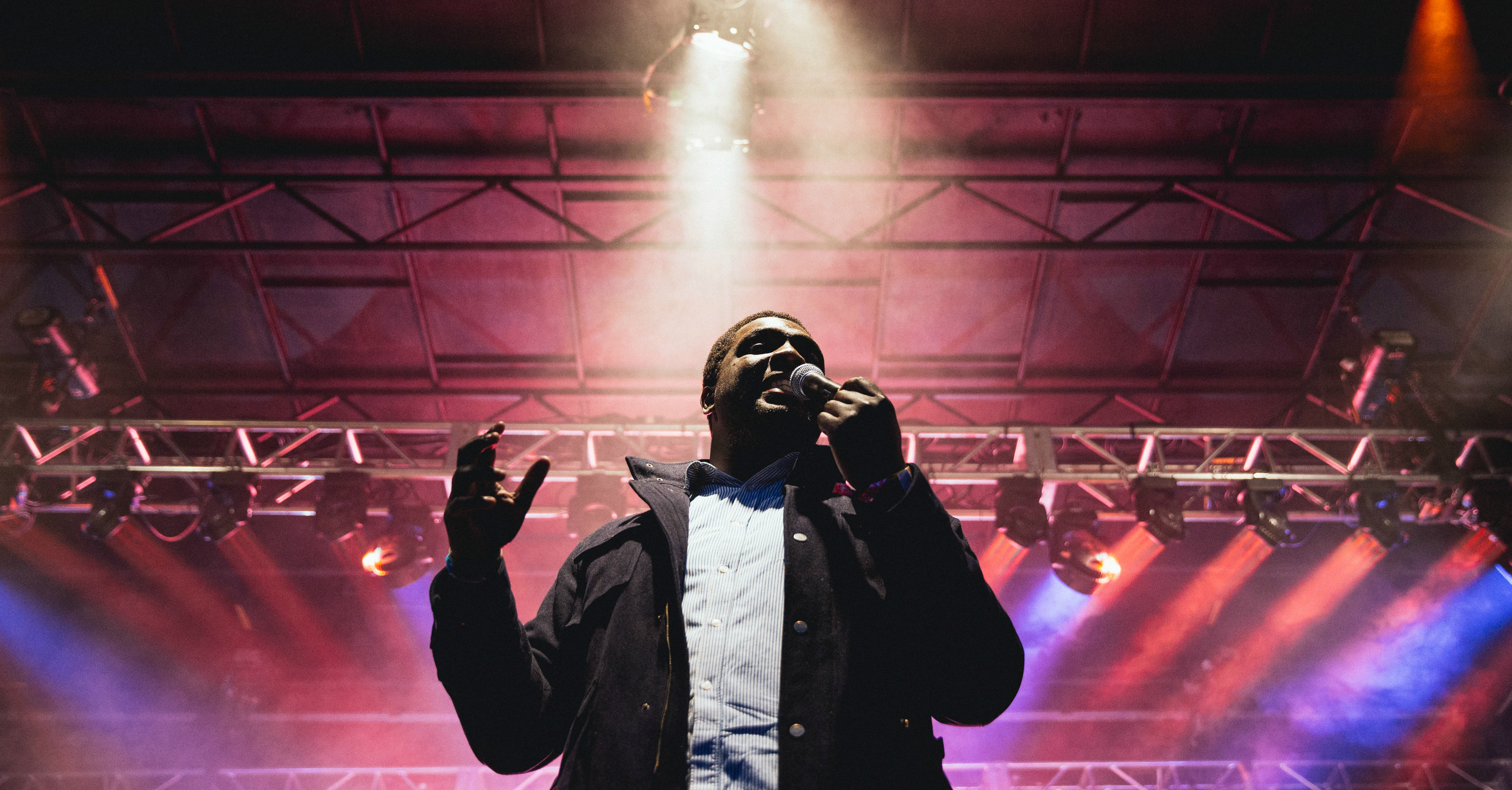 Photo: Flickr/Treefort Music Fest

Any night in New York brings dozens of chances for laughter. From basement comedy clubs to classic established venues, national comedians and sketch comedy groups are everywhere. City Guide lists Manhattan icons like Carolines, Gotham Comedy Club, and Comedy Cellar, alongside Jerry Seinfeld's frequent Beacon Theatre performances and up and coming comedy venues like Union Hall and The Creek and The Cave. We also list great improv spots like the PIT/Peoples Improv Theater and UCB/Upright Citizens Brigade.


Ari Shaffir: 'Shooter' Live Table Read - The Bell House
November 11, 2018 - Brookly
Danish and O'Neill, and Special Guests! This event is 21 and over In 1998, Ari Shaffir wrote a screenplay in college. His first and only movie script he ever wrote. It was... not good. It was about a man who gets the power of speed from He-Man and now wants to play college basketball. Uch. The script for "Shooter" has been mocked on podcasts for years. And now, for the first time ever, the script will be heard. Ari, along with Danish and Oneill, will be performing a live table read of "Shooter" along with some of their comedian friends. It will be a read and a mock-a-long. It's not quite as bad as "The Room" but it's not much better, either. **Please note that this event will be mixed seating/standing. Please arrive early for the best seat selection.
Comedy at the Knitting Factory Hosted by Will Miles, Clark Jones and Kenny Deforest - Knitting Factory Brooklyn
November 11, 2018 - Brooklyn
This event is 21 and over. Any Ticket holder unable to present valid identification indicating that they are at least 21 years of age will not be admitted to this event, and will not be eligible for a refund. Age Limit: 21+
NY Comedy Festival Gabriel 'Fluffy' Iglesias: One Show Fits All Tour - Beacon Theater
November 11, 2018 - New York
NY Comedy Festival Gabriel 'Fluffy' Iglesias: One Show Fits All Tour at the Beacon Theatre on Nov. 11th, 2018.
Mike Geffner Presents The Inspired Word - Parkside Lounge
November 12, 2018 - New York
NYC's hottest showcase + open mic in one of NYC's hottest performance venues - The Inspired Word @ the newly renovated Parkside Lounge! Age limit: 21+ (Must bring valid ID) When: EVERY Monday Night Where: The Parkside Lounge http://www.parksidelounge.net/ 317 E. Houston Street Manhattan, New York 10002 Doors open @ 7pm. This is a VERY popular open mic. We STRONGLY suggest you purchase a ticket in advance to guarantee a performance slot. Make sure to purchase ticket with your desired time slot window. You must arrive at least a half-hour before your slot window. Full backline. Honky-tonk piano and Casio Semi-Weighted Keyboard. Cool stage. Comfy cabaret-style seating. Cheap drinks, including the Bailout Package (shot of whisky + 22-ounce beer) for only $8, and $2 non-alcoholic options available. Cover charge: $10 for solo performer or audience member @ the door. Discount options online. You can pay online (to guarantee a slot) or at the door. Make sure to bring a printed out version of your ticket/tickets or be prepared to show your ticket/tickets (with confirmation number) on your phone. Please Note... (read more)
Vic DiBitetto - The Stanley Theatre
November 17, 2018 - Utica
Comedy returns to the Stanley Theater in Utica on Saturday, November 17th with Vic DiBitetto! Tickets are ON SALE NOW! An incredibly powerful performer, comedian Vic DiBitetto churns energy, honesty and humanity into nonstop laughter. His pace is frenetic. His material vivid and true. He's been called a cross between Rodney Dangerfield and Ralph Kramden. The bottom line is, DiBitetto leaves his audiences breathless with laughter. He's an Internet Sensation with over 20 million YouTube views and has appeared on television's America's Funniest People (ABC) where he was a $10,000 Grand Prize winner.
Beth Stelling Headlines Gotham Comedy Club - Gotham Comedy Club
Through November 17, 2018 - New York
Beth Stelling is a stand-up comedian, writer and actress based in Los Angeles. Beth's half hour special is featured in "The Standups" series for Netflix. She has also had a half hour special on Comedy Central and has appeared on several late-night shows, including "Jimmy Kimmel Live," "Conan" and "@MIDNIGHT." Beth tours extensively, performing at festivals, colleges and clubs across the country. Her television acting credits include "Red Oaks" on Amazon, "Corporate" and "Another Period" on Comedy Central. Beth wrote on the first two seasons of "Crashing" for HBO and was also hired to be their on-set writer when the show was shot in New York. She also wrote for "Another Period" on Comedy Central. Beth was most recently the on-set writer for the Universal feature "Good Boys" and prior to that was a writer for the HILARITY FOR CHARITY event for Netflix, both produced by Seth Rogen. Currently, she is consulting on Sarah Silverman's "I Love You America" for Hulu. Visit: https://www.sweetbeth.com/bde9x1y8kphq3zxeqrr09ro2tjl2il
Comedian Royale Watkins - Gotham Comedy Club
November 18, 2018 - New York
18 & over Comedian Royale Watkins brings you an original mix of the funniest comics, the Livest music and a guaranteed good time! Four comics, one of NY's most incredible DJ's, a live band and a guest music act to close to show. Past performers include Tracy Morgan, Tom Papa, Sherri Shepherd, Amy Schumer, Chris Rock and Jerry Seinfeld to name a few. But what really sets The Mixtape Comedy Show apart from other shows is your presence. We look forward to seeing you at the show!
Iliza Shlesinger - Carolines on Broadway
Through November 18, 2018 - New York
Iliza is one of today's leading comedians with a fan base who show their loyalty by creating their own Iliza inspired swag to wear to her shows. She recently completed hosting her late night limited run talk show "Truth & Iliza," on Freeform (formerly ABC Family). The self styled talk show is a cross between social commentary, politics, pop culture and Iliza's specific brand of feminism. In November 2017, she released her first book Girl Logic: The Genius and the Absurdity (Hachette Book Group) a subversively funny collection of essays and observations on a confident woman's approach to friendship, singlehood, and relationships. Iliza's fourth Netflix special Elder Millennial will premiere later in 2018 and she's currently filming the Paramount Pictures film "Instant Family," starring Mark Wahlberg and Rose Byrne. In September 2016, Iliza premiered her latest Netflix special, Confirmed Kills, which finds the comedian in top form, tackling poignant topics while not trading on laughs. She recently wrapped up her first 15 city national theatre tour with "Iliza: The Confirmed Kills Tour" and is currently readying her next stand-up special. For the second year in a row, Iliza... (read more)
Airplane Mode: Free Weekly Comedy Show in Park Slope - Cherry Tree
Through December 27, 2018 - New York
Airplane Mode is a weekly stand-up comedy show hosted by Raghav Mehta, Rebecca O'Neal, Rohan Padyhe and Geoffrey Asmus at Cherry Tree Bar in Park Slope right next to the Barclay's Center. Every Thursday @ 8pm Airplane Mode showcases the best stand-up comedians in NYC and the world for FREE. These comedians have been featured on Comedy Central, NETFLIX, HBO, CONAN and the Tonight Show. So make sure to see them before they are famous. This week's show features Chloe Radcliffe (CONAN's Comics to Watch) Tyler Fischer (America's Got Talent), Randall Otis (Above Average), Gena Gephart (Laugh Factory), and Donnie Sengstack (Winner of Funniest Comic in Baltimore).