Bice Ristorante Dining Review
February 14, 2012 - by Richard Jay Scholem
Beatrice Mungai Ruggeri (BiCE to her family and friends) opened her first restaurant in Milan in 1926. In the years that followed, she, along with her brothers and sisters, developed what became the pinnacle of Tuscan style cuisine in Milan. When her sons Remo and Roberto started to work in the Milan restaurant, they changed the typical trattoria into an international restaurant, and thus began a new era for the Ruggeri family's restaurant concept.
BiCE New York opened in 1987, and soon BiCE Restaurants opened in Europe, South America, and Asia. The 21st century has included expansion in Dubai and other Middle Eastern countries.
Designed by Adam Tihany and recently restyled by Federico Delrosso, BiCE New York represents a charming experience, a unique mix of elegance combined with great food and exceptional service which is the essence of the lifestyle in Milan.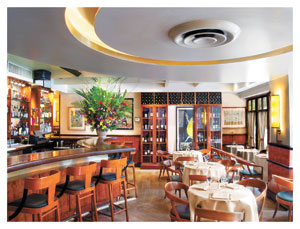 Bice is not a cutting-edge restaurant; experimentation and trailblazing is not what it's about. Its knowledgeable clientele seeks it out for superior versions of beloved Italian fare: top-of-the-line ingredients, refined dishes, light-touch cooking, seamless service, and, most of all, consistency.
False steps by either the kitchen or waitstaff are few and far between. The packets of bread sticks already on the table aren't the thick, clunky bready ones encountered at so many mundane red sauce Italian restaurants. Instead, they are the authentic ones found on tables throughout Italy. The long strips of focaccia in the diverse bread basket are moist with a tantalizing, salty surface, and the decorated circles of butter are soft and ready to be spread, not the rock-hard versions so common elsewhere.
On a recent evening, a thick, hearty, perfectly seasoned green lentil soup with an over-sized Parmesan crouton floating at its center was a standout. So, too, were small, crisp-surfaced crab cakes (sans filler) presented with salad and creamy tartar sauce. Generous hunks of warm goat cheese crowned an exemplary spinach salad alive with olives, sun-dried tomatoes, caper berries, garlic confit, and a rich, creamy dressing while a zingy dressing enhanced a hearts of palm, avocado, corn, tomato, olive, asparagus, and romaine-lettuce amalgam.
A striped bass filet special, with sautéed mushrooms in a subtle, white wine/tarragon sauce, looked like a giant marshmallow and tasted like heaven. A veal chop, pounded virtually to the size of a catcher's mitt, topped with fresh tomatoes was more than I could finish as was a fettuccine suffused with shrimp, porcini mushrooms, plenty of garlic, and tomatoes. Entrée honors went to a pan-seared, smoked duck breast; fat fringed, pink, and beautifully fanned out, it was a juicy perfection.
The desserts are winners, including one of the best tiramisus in the city: Tiramisu delle Bice and cioccolatissimo (warm, soft-centered chocolate cake with ice cream), and a superb selection of ice creams and sorbets.

7 E. 54th St. btw. Madison & Fifth Aves., 212-688-1999; www.bicenewyork.com

Richard Jay Scholem was a restaurant critic for the New York Times' Long Island section for 14 years. His A La Carte column appeared from 1990 to 2004. For more "Taste of the Town" reviews, click here.
Looking for Free Group Planning Services?
Get free advice on planning your group's trip to New York.
RESTAURANTS

Burke's dual-concept restaurant opened in 2005 and spans the...

THEATER

Gaston Leroux's famous period thriller is now one of Broadwa...

SHOPPING

Indulge in natural luxury with the softest bedding on the pl...

SIGHTSEEING

The 9/11 Memorial honors the nearly 3,000 people killed in t...