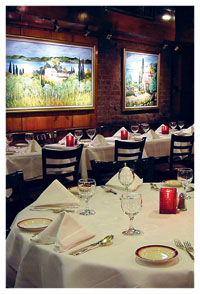 Not that long ago, there were a number of affordable French restaurants in the West 40s and 50s. They served not expensive haute cuisine but a hit parade of classics: escargot, onion soup, pâté, coq au vin, chicken Cordon Bleu, frogs' legs, canard a l'Orange, steak Bordelaise, Napoleons, etc. Most of these unpretentious spots have long since disappeared from the restaurant scene.
That's the bad news. The good news is at least one is hanging in there. The 23-year-old Le Rivage is a survivor with the cozy, cosseted, walk-down feel of its predecessors. Its four-course $20 prix-fixe lunch, four-course $35 pre-theatre dinner, and four-course $25 after-8pm meal all rank as NYC best buys. Add a fairly priced, straightforward wine list, knowledgeable waitresses, and a captivating European milieu, and you have a restaurant to experience, savor, and remember.
Its walls are brick and wood, there's a single rose on each white tablecloth, an old-fashioned lantern over the bar, hanging copperware, soft lighting, and oil paintings and impressionist French prints on the walls. It's no wonder they pack 'em in before the theaters open. (It's more relaxed after 7:45.)
It's not just Le Rivage's outstanding value that attracts the largely local crowds every night. These in-the-know New Yorkers are there for Paul Denamiel's cooking. Denamiel, a Culinary Institute of America graduate, runs the kitchen with a sure hand and a feel for French cuisine. (Another family member, Marcel Denamiel, presides over the dining room.)
Their aim is to lovingly and accurately recreate the dishes that have made French food the world's standard—and they succeed. The crunchy bread could be on a Parisian restaurant's table; use it to sop up the garlicky butter sauce after you've eaten the six plump escargots. Forget all the canned sardines you've ever sampled and order the mild, imported ones that are accompanied by French potato salad and minced onions on tomato slices.
Dishes like deep, dark, full-flavored onion soup, rich, mushroom-covered chicken Cordon Bleu, and tender, butter-soaked frogs' legs are more than tired clichés here. Their expert preparation reminds us why they became so popular in the first place. And if the soft-shell-crab special is available, order it. There are few better renditions.
Finish with a traditional flourish like a light chocolate mousse or a Napoleon and know that you have eaten very well for very little.
340 W. 46th St. btw. Eighth & Ninth Aves., 212-765-7374; www.lerivagenyc.com
Richard Jay Scholem was a restaurant critic for the New York Times' Long Island section for 14 years. His A La Carte column appeared from 1990 to 2004. For more "Taste of the Town" reviews, click
here
.