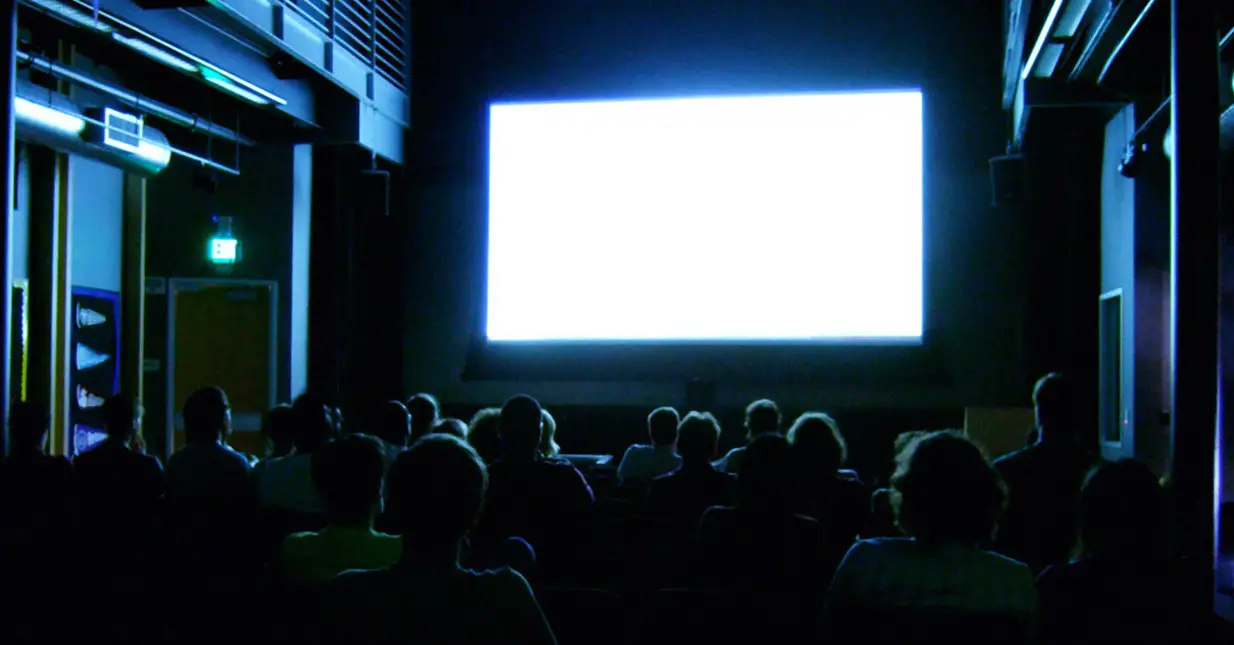 Photo: Flickr/Kenneth Lu

New York has a vibrant repertory film scene, with classic movie houses like Film Forum joined by newer venues like Metrograph, Videology, and Nitehawk Cinema. You can also find movie specials, premieres, and simulcasts like the Metropolitan Opera Live in HD listed in City Guide?s film calendar section.


A Christmas Carol - Museum of the Moving Image
Through November 11, 2018 - Astoria
Dir. Edwin L. Marin. 1938, 70 mins. 35mm. With Reginald Owen, Gene Lockhart, Kathleen Lockhart. Experience the original film adaptation of Charles Dickens's beloved Christmas tale on the 80th anniversary of its original release. Ebenezer Scrooge transforms from an unhappy and cruel man to a kind and generous patriarch after being visited by ghosts of his past, present, and future on Christmas Eve.
Dinner for One Presents: Life Sucks - The Peoples Improv Theater
December 16, 2018 - New York
DINNER FOR ONE PRESENTS: LIFE SUCKS A SNEAK PREVIEW SCREENING Get your vizor out of storage and frost those tips because we are taking you back to the year 2001….to a time you wish you could forget: MIDDLE SCHOOL! Embark on a night of nostalgia as the PIT screens a special sneak preview of the first two episodes of Dinner for One's independent television series LIFE SUCKS before it's released! It's Freaks and Geeks meets Wet Hot American Summer. What's not to like? Dance to R Kelly, whip out your gel pens and sag your jeans because it's time to relive your most horrifying pubescent moments. 2001 attire is highly encouraged. Slap bracelets and Fruit by the Foot will be provided!
Film: Sing-Along: White Christmas - Symphony Space
December 16, 2018 - New York
Count Your Blessings if we get a White Christmas instead of a Heat Wave! Sing along with Bing Crosby, Danny Kaye, Rosemary Clooney, and Vera-Ellen!
A Sheen Center Christmas with Jamie Parker - Sheen Center
December 17, 2018 - New York
Join us in ringing in the Christmas season with this Sheen Center holiday tradition. This year's celebration will feature a children's choir singing carols, a reading of the classic poem "Twas The Night Before Christmas" by Broadway's Harry Potter and Tony Nominee, Jamie Parker and the screening of a classic Christmas film! Fun for the whole family!
Blood Manor: Krampus Holiday Experience - Blood Manor
Through December 30, 2018 - New York
Experience the wrath of Krampus -- half goat, half demon -- this December only at Blood Manor! Legend says that during Christmas season, Krampus puts anybody who has misbehaved during the year in a sack -- and drowns them, eats them, plucks their eyeballs out and feeds their limbs to the demons, transporting them to hell. Krampus Holiday Experience is a fully immersive and interactive experience, where the naughty come face to face with Krampus and several other holiday horror demons. If you make it out alive (of course, you will?), you enter Santa's Broadway Photo Factory, where you can meet Santa Clause himself and snap photos of the whole family with him and in front of holiday greeting card sets and designs built especially for this holiday event!
SEE MARY QUEEN OF SCOTS at The Paris Theatre and then continue your royal experience at The Plaza! - The Paris Theatre
Through December 31, 2018 - New York
Starting December 7, those who purchase a ticket to see MARY QUEEN OF SCOTS at The Paris Theatre will be invited to The Plaza to continue their royal experience. With the purchase of any cocktail or evening fare at The Rose Club at The Plaza, the moviegoer will receive a uniquely regal dessert inspired by Queen Mary. How does the promotion work? Here's what is required to receive the complimentary item at The Plaza: - Guest must purchase a ticket to see MARY QUEEN OF SCOTS at The Paris Theatre in New York City, NY. The theatre is located at 4 W 58th St, New York, NY 10019. - Guest must exchange their ticket for a promotional invite at The Paris' box office. - From December 7-December 31, 2018 -- guest must purchase a cocktail or food at The Rose Club AND present the promotional invite to their server. To purchase tickets, please visit: www.MQOSxThePlazaxTheParis.com ABOUT Academy Award nominees Saoirse Ronan and Margot Robbie star as Mary Stuart and Elizabeth I in MARY QUEEN OF SCOTS. Queen of France at 16 and widowed at 18, Mary returns to her native Scotland to reclaim her rightful throne. When Scotland and England fall under the rule of the compelling Elizabeth... (read more)
Room H.264 - Museum of the Moving Image
Through January 27, 2019 - Astoria
2018. Jeff Reichert (b. 1978, Northfield, New Jersey. Resides in Brooklyn), Damon Smith (b. 1968 in Houston, Texas, Eric Hynes (b. 1974, Staten Island, New York. Resides in Brooklyn). Video installation. In his 1982 documentary Room 666, German director Wim Wenders asked the question "Is cinema a dead language, an art which is already in the process of decline?" to directors including Steven Spielberg, Michelangelo Antonioni, Jean-Luc Godard, Rainer Werner Fassbinder, and others. Nearly 35 years later, the makers of Room H.264 invited filmmakers to answer the same question. Each filmmaker was recorded under specific conditions replicating those of the Wenders film: the subjects were left alone in a hotel room with a tripod mounted camera running for ten minutes. Room H.264: Astoria, NY, January 2018, projected on the main screen in the Video Screening Amphitheater, is a film created from footage captured at the Paper Factory Hotel in Long Island City in January 2018. On side monitors are the raw, unedited sessions from the two Room H.264 shoots to date, in Brooklyn and Long Island City. The Wim Wenders film from 1982 plays on a monitor on a pedestal. The title of the installa... (read more)