New York City's 10 Best Food Trucks
April 25, 2016 - by Chelsey Grasso
Food trucks are officially a thing in New York, and a very good thing at that. Forget waiting in hour-long lines to get seated at the hottest new restaurant in Manhattan, and instead prepare yourself to hop on line for awesome Mexican, Indian, and Korean BBQ. These 10 food trucks below have entirely upped the game when it comes to off-the-cuff dining, and while it's hard to beat a sit-down restaurant, low prices and high quality may have you seeking out a meal on wheels.
Food Trucks NYC: Korilla BBQ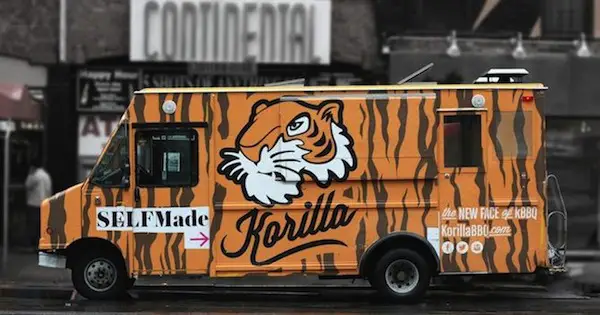 We can't talk about NYC food trucks and not top our list off with the Korean-Mexican fusion truck that is Korilla BBQ. Keep your eyes peeled for the orange and black tiger-striped food cart that serves up Korean tacos, burritos, and rice bowls. And perhaps most obviously, make sure you try their kimchi combinations and array of hot sauces. korillabbq.com
Food Trucks NYC: The Cinnamon Snail
This vegan food truck has a rotating menu that keeps the dishes it serves up exciting and fresh. From ancho cili seitan burgers to lemongrass five spice seitan sandwiches, this hot spot on wheels is a vegetarian's dream come true. Be sure to check out their morning selection of donuts, pastries, and fair trade coffees as well! cinnamonsnail.com
Food Trucks NYC: Snowday Food Truck
If you love maple syrup (and really, who doesn't?), then you're going to want to get this food truck on your GPS as soon as humanly possible. Snowday's menu is filled with maple syrup-inspired foods that range from a maple cheddar grilled sandwich to maple bacon fried brussels sprouts. Oh, and they source their ingredients from local farmers, so you can feel good about your purchase too! snowdayfoodtruck.com
Food Trucks NYC: The Desi Food Truck
Get your fill of Indian food from The Desi Food Truck, where there is no shortage of chicken tikka marsala, chicken biryani, lentil stew, and kati rolls. If you don't know what any of that is, it's time to find out first-hand. One of The Desi Food Trucks can always be found at SoHo Square Park, making it easy to track down no matter what day of the week. desifoodtruck.com
Food Trucks NYC: Uncle Gussy's
We wanted to put Halal Guys on this list, but since it's technically a food cart and not a food truck, we decided that Uncle Gussy's was the next best thing if you're looking for mouthwatering Greek street-meat platters. The combo (chicken and lamb gyro over rice) is a favorite, as are the classic gyro sandwiches and Greek salads. unclegussys.com
Food Trucks NYC: Luke's Lobster Truck

Who can turn down a lobster roll… ever? We know we can't, which makes Luke's Lobster Truck a place we think everyone should frequent on the regular. They also have clam chowder, crab rolls, and lobster grilled cheeses on their traveling menu, so make sure you arrive with an appetite. lukeslobster.com
Food Trucks NYC: Schnitzel & Things
Chicken schnitzel, pork schnitzel, eggplant schnitzel, you name it, they got it. Bratwurst? Of course. Austrian potato salad and cucumber salad? You know it. If you're craving some hearty, German food, tracking down Schnitzel & Things food truck is your best bet. schnitzelandthings.com
Food Trucks NYC: Wafels & Dinges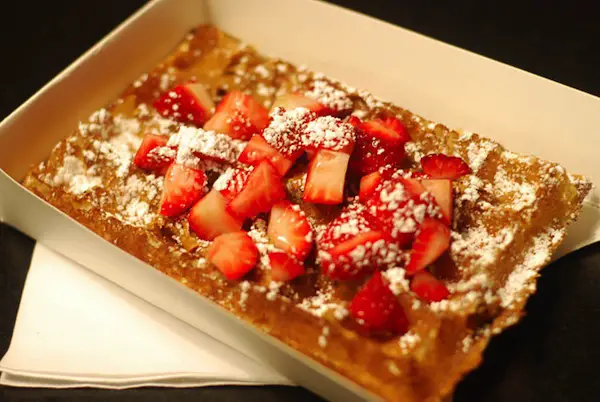 We of course had to include at least one dessert food truck on this list, and of course it had to be Wafels & Dinges. True, they do serve up a handful of noteworthy savory options as well (pulled pork, anyone?), but it's the dessert Belgian waffles topped with fudge, speculaas (short-bread biscuits), strawberries, and the like that gets our gears going. wafelsanddinges.com
Food Trucks NYC: Tacos Morelos
"Late night" and "Mexican food" seem to go hand-in-hand, don' t they? Good thing Tacos Morelos agrees with us, and good thing they get up early to have breakfast ready for the early birds too. From steak, chicken, pork, and beef burritos to chorizo, al pastor, and vegetarian tortas, you really can't go wrong here. tacosmorelosny.com
Food Trucks NYC: Taim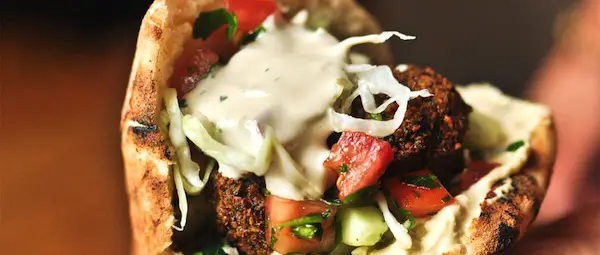 Sometimes you just crave falafel and nothing else will do. For those days, Taim has you covered. Their crispy falafels balls are served in fresh pita beside Israeli cucumber and tomato salad, cabbage coleslaw, and a memorable tahini sauce that will leave you begging for more. taimfalafel.com
Looking for Free Group Planning Services?
Get free advice on planning your group's trip to New York.
RESTAURANTS

A sophisticated, elegant steakhouse with generous portions o...

THEATER

This streetwise musical will take you to the stoops of the B...

SHOPPING

The world's only NHL store is located in the heart of Manhat...

SIGHTSEEING

Enjoy the best prices for deluxe double decker, hop-on, hop-...