New York City's 10 Best Food Trucks
July 24, 2018 - by Chelsey Grasso
Food trucks are officially a thing in New York, and a very good thing at that. Forget waiting in hour-long lines to get seated at the hottest new restaurant in Manhattan, and instead prepare yourself to hop on line for awesome Mexican, Indian, and Korean BBQ. These 10 food trucks below have entirely upped the game when it comes to off-the-cuff dining, and while it's hard to beat a sit-down restaurant, low prices and high quality may have you seeking out a meal on wheels.
Food Trucks NYC: Korilla BBQ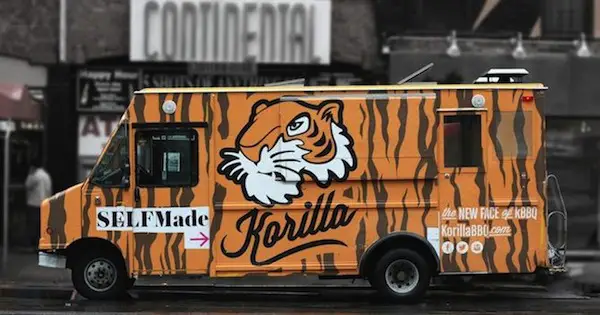 We can't talk about NYC food trucks and not top our list off with the Korean-Mexican fusion truck that is Korilla BBQ. Keep your eyes peeled for the orange and black tiger-striped food cart that serves up Korean tacos, burritos, and rice bowls. And perhaps most obviously, make sure you try their kimchi combinations and array of hot sauces. Korilla typically serves the lunchtime crowd in Midtown during the workday, although its trucks can also be found in Soho. If you're not interested in truck-spotting, Korilla now has brick-and-mortar locations in Urbanspace Vanderbilt, Downtown Brooklyn, and Midtown East. Follow @KorillaBBQ for location updates. korillabbq.com
Food Trucks NYC: The Cinnamon Snail
The first organic vegan truck in the U.S., The Cinnamon Snail keeps its rotating menu exciting and fresh. From ancho chili seitan burgers to lemongrass five-spice seitan sandwiches, this hotspot on wheels is a vegan's dream come true. There are also gluten-free options like French toast with Vermont maple syrup. Be sure to check out their other morning selection of donuts, pastries, and fair trade coffees as well! The Cinnamon Snail has found two permanent locations: one in the Pennsy near Penn Station, and the other in the Financial District. Their food truck travels across the mid-Atlantic, so it's a rarer Manhattan sighting than we'd like…Sigh. Follow @VeganLunchTruck for location updates. cinnamonsnail.com
Food Trucks NYC: DF Nigerian
If you've never tried Nigerian food, you should definitely visit the Nigerian Embassy in Midtown. They don't have food at the Embassy (not for the public, anyway), but parked outside is 2017 Vendy Cup Winner DF Nigerian. Run by Godshelter and Bisola Oluwalogbon, the truck serves authentic, aromatic Nigerian dishes like jollof rice and efo elegusi, a spinach stew with milled melon seed. Try the boiled Ghana yam with red bell pepper sauce and goat meat—and, if you're feeling more adventurous, peppered snail. Truck at 828 Second Ave., 718-451-6330, divineflavoredcatering.com
Food Trucks NYC: Anton's Dumplings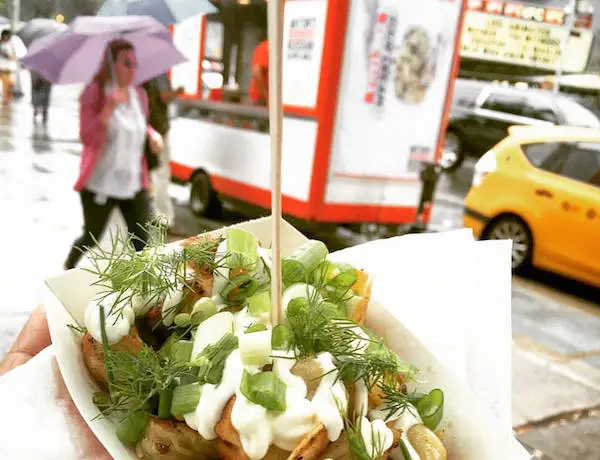 photo: @yosh25
Two words: free pickles. That's just one appeal of Anton's Dumplings, a popular food truck run by Belarusian Anton Yelyashkevich. The truck serves pelmeni, thin dough surrounding yummy meat and/or cheese. The brief menu presents excellent filling options, including pork, potato, and chicken. Toppings like gouda, sriracha, dill, sour cream, and soy sauce (meant for the teriyaki-flavored dumplings, but you do you) round out this excellently executed street food. The truck's old location in the West Village has recently relocated to Williamsburg, FYI. 90 Havemeyer St., 212-634-7664, antonsdumplings.com
Food Trucks NYC: Uncle Gussy's
We wanted to put Halal Guys on this list, but since it's technically a food cart and not a food truck, we decided that Uncle Gussy's was the next best thing if you're looking for mouthwatering Greek street-meat platters. A big blue food truck with a religious following, this will be a line you'll be glad you joined. The combo (chicken and lamb gyro over rice) is a favorite, as are the classic gyro sandwiches with white sauce. Uncle Gussy's doesn't roam around like other food trucks. Find it next to St. Bartholomew's Church in Midtown East Monday through Friday until 4pm. It also has permanent locations in the Financial District and Long Island City, Queens. Truck at 345 Park Ave., 929-600-1111, unclegussys.com
Food Trucks NYC: Los Viajeros
The Bom Fries are reason enough to check out food truck Los Viajeros. These beauties come with chipotle sauce, chorizo, and three kinds of cheese. Started by an adventurous married couple (los viajeros means "the travelers" in Spanish), the truck's cuisine blends flavors from Dominican, Cuban, and Mexican cultures. They serve a fantastic take on the ubiquitous menu item that is the fish taco; theirs comes with fried tilapia, slaw, mango salsa, and chipotle aioli. They make a mean veggie burrito too! Los Viajeros hits 4 of the 5 boroughs during its weekly rounds. Their two weekly Manhattan stops are Union Square on Mondays and near the Alexandria Center (E 29th and 1st Ave.) on Fridays. Follow link for scheduled truck locations, los.viajeros15@gmail.com, losviajerosfoodtruck.com/#schedule
Food Trucks NYC: Taïm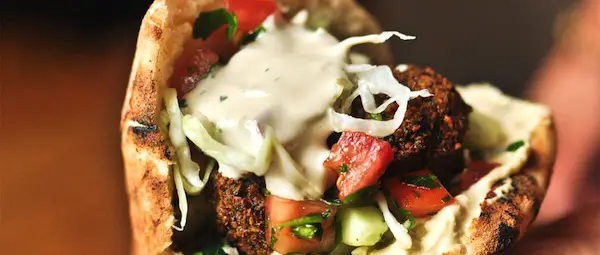 Sometimes you just crave falafel and nothing else will do. For those days, Taïm has you covered. These crispy Israeli falafels balls are served in fresh pita beside Israeli cucumber and tomato salad, cabbage coleslaw, and a memorable tahini sauce that will leave you begging for more. Their second specialty happens to be smoothies, made with fresh ingredients like date, banana, and lime. Taïm has three storefronts throughout the city, two on the way, and a truck that can be found in Nolita and Soho. Just follow the scent of falafel! 212-219-2216, taimfalafel.com
Food Trucks NYC: Wafels & Dinges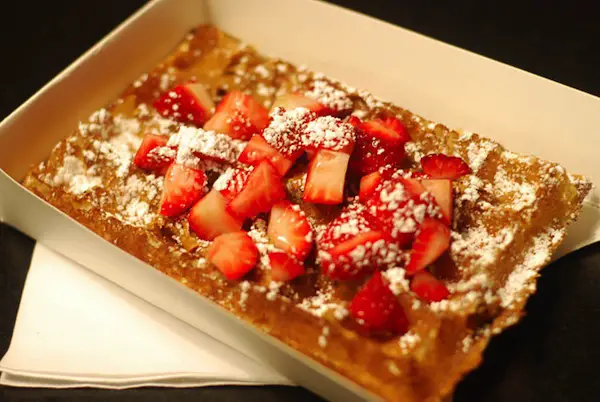 We had to include at least one dessert food truck on this list, and of course it had to be Wafels & Dinges. True, they do serve up a handful of noteworthy savory options as well (pulled pork, anyone?), but it's the dessert Belgian waffles topped with fudge, speculaas (shortbread biscuits), strawberries, and the like that gets our gears going. Check their website for permanent locations and daily carts all over town! Follow @Wafelsanddinges for truck location updates. dinges.nyc
Food Trucks NYC: Tacos Morelos
"Late night" and "Mexican food" seem to go hand-in-hand, don' t they? Good thing Tacos Morelos agrees with us, and good thing they get up early to have breakfast ready for the early birds too. From steak, chicken, pork, and beef burritos to chorizo, al pastor, and vegetarian tortas, you really can't go wrong here. tacosmorelosny.com
Food Trucks NYC: Van Leeuwen
Van Leeuwen, once an ice cream truck only, has an ever-expanding list of locations in Manhattan and Brooklyn. Their small-batch artisanal ice cream is homemade and perfect on a hot day. Try their innovative flavors like Passion Fruit Layer Cake, Honeycomb or Peanut Butter Marshmallow Crunch (it's s'mores-y!). VL also serves vegan ice cream made with coconut milk and fruity sorbets. Dairy-free options include Dark Matter, Peanut Butter Chocolate Chip, and Matcha Tea. No live location updates are available, but their trucks can typically be found in busy areas like Union Square, Williamsburg, and Soho. vanleeuwenicecream.com
—Additional Reporting by Merrill Lee Girardeau
Looking for Free Group Planning Services?
Get free advice on planning your group's trip to New York.
RESTAURANTS

Multi-concept restaurant offering modern Japanese cuisine, a...

THEATER

Gaston Leroux's famous period thriller is now one of Broadwa...

SHOPPING

Specializing in the great vineyards of California, France, A...

SIGHTSEEING

The only provider of ferry transportation to the Statue of L...