Free Things to Do in Brooklyn This Week - November 19-November 26
November 19, 2017 - by CG Directory Editor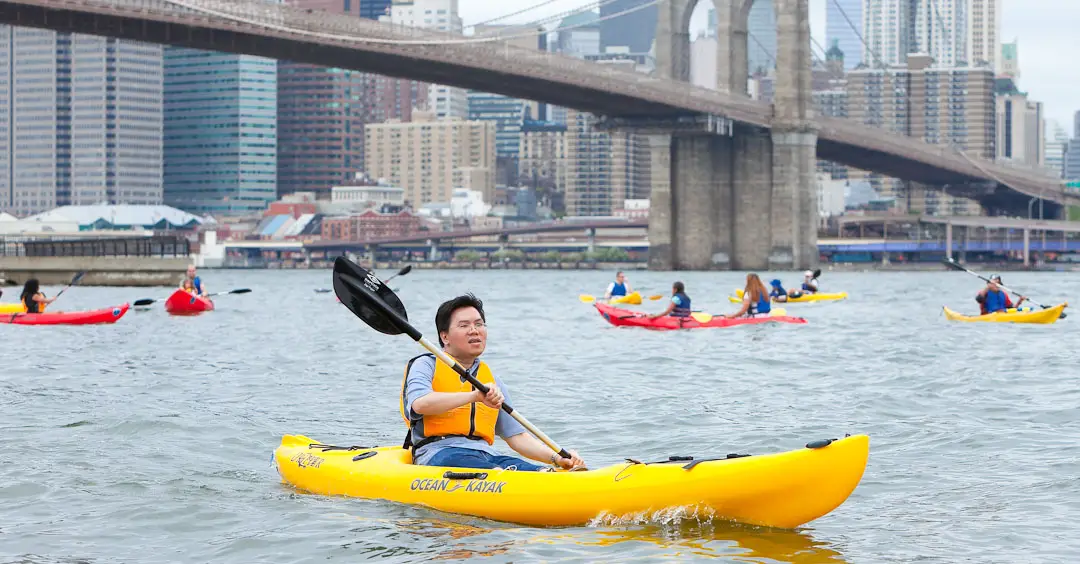 Photo: Charlie/Flickr

On a budget? Not to worry. City Guide's weekly roundup of free things to do in Brooklyn will keep your entertained without breaking the bank. From catching a free outdoor movie screening to exploring breathtaking Prospect Park, there's something in this weekly roundup for everyone wanting to travel without burning a hole in their wallet.


Free Legal Services for All - Brooklyn Borough Hall
November 20, 2017 - Brooklyn
Score Nyc Small Business Mentoring - Brooklyn Borough Hall
November 20, 2017 - Brooklyn
Free Legal Services for All - Brooklyn Borough Hall
November 21, 2017 - Brooklyn
Veterans' Issues
Free Legal Services for All - Brooklyn Borough Hall
November 22, 2017 - Brooklyn
Family Law
Winter on a Flatbush Farm - Lefferts Historic House
November 24, 2017 - Brooklyn
Get ready for winter as they did in the 19th century farming village of Flatbush. Learn how to make a candle, watch a master spinster spin wool thread, and enjoy Dutch treats made at our outdoor hearth from a Lefferts family recipe. St. Nicholas will visit at 3 pm.
Jnote Quartet at Kitchen 21 - Kitchen 21
November 26, 2017 - Brooklyn
Live Jazz Brunch happening on Sundays from Noon to 4PM at the Kitchen 21 located on 21st Street and the boardwalk of Coney Island right next door to the amphitheatre. Have an exquisite brunch to the sounds of live jazz provided by Stephanie Jeannot and her trio featuring Brett Benteler on upright bass, Danny Dalelio on piano, Stephanie Jeannot on vocals and Napoleon Revels-Bey on drums. This event is hosted by Eric Frazier Productions. There is free parking across the street and the room inside of the Kitchen 21 is very nice with friendly staff and delicious options to choose from.
Open (C)All: Truth - BRIC
Through December 17, 2017 - Brooklyn
Closed Mondays We all know that Art is not truth. Art is a lie that makes us realize truth, at least the truth that is given us to understand. The artist must know the manner whereby to convince others of the truthfulness of his lies. ~ Pablo Picasso We live in an era when truth is under assault. In a time of alternative truths and truthiness, we ask that you show us your truth. What is real and true for you? BRIC's open call exhibitions—presented every other year in the Gallery of BRIC House—feature the work of over 125 artists and are open to all members of the BRIC Contemporary Artist Registry. BRIC's Registry is free and open to artists who were born, live, or work in Brooklyn.
Fernanda Mello: Mirror's Inhabitants - BRIC
Through January 07, 2018 - Brooklyn
Working primarily in painting and drawing, Fernanda Mello reinterprets folkloric culture she learned as a child growing up in Brazil. A self-taught artist, Mello derives her artistic inspiration from her studies of South American tribes and shamans of the Amazon region. In Mirror's Inhabitants, she catalogs the life of Davi Kopenawa, an important indigenous shaman from Brazil who advocated for rainforest conservation and indigenous rights in light of the arrival of gold miners and their diseases in his region. Fernanda Mello has exhibited at Greenpoint Gallery, Brooklyn; the Fort Tilden National Recreation Area; the Regents Canal Festival and The Brick Lane Gallery, both in London; Grand Palais, Paris; Galeria Olho d'Agua, Brasilia; and FilaAC, São Paulo. She is the recipient of an award from the National Endowment for the Arts and currently resides in Brooklyn.
Leigh Davis: An Inquiry into the Ele - BRIC
Through January 07, 2018 - Brooklyn
Closed Mondays Intrigued by the complicated relationship people have with death and grief, Leigh Davis explores the moments directly proceeding, during, or right after someone loses a loved one. Working in a variety of media, Davis creates an archive of End-of-Life Experiences (or ELEs), which can be described as any sort of deathbed coincidence, premonition, change in atmosphere, or peculiar vision. Through interactions with funeral directors, hospice nurses, religious leaders, and people of all spiritual backgrounds, Davis has accumulated an assemblage of images and oral and written accounts that bridge the mystical gap between the earthly realm and that of the spiritual.
Twelfth Night - Theatre for a New Audience, Polonsky Shakespeare Center
Through May 27, 2018 - Brooklyn
By William Shakespeare Directed by Maria Aitken May 10-27, 2018 "If Music Be the Food of Love, Play On!" This Beloved Comedy Is an Engaging Mixture of Mischief, Unrequited Love and Gender Confusion—All Interwoven with Music and Some of Shakespeare's Most Beautiful Language. Shipwrecked in the Alluring Country of Illyria, Twins Viola and Sebastian Each Believe the Other Dead and Embark on Parallel Adventures of Mistaken Identity and Self-Discovery. Tony Nominee Maria Aitken (The 39 Steps) Directs This Co-Production of the Alumni of the Acting Company and Delaware's Resident Ensemble Players (Rep).
The Means of a Ready Escape: Brooklyn's Prospect Park - Prospect Park Alliance
Through September 30, 2018 - Brooklyn
In celebration of the 150th anniversary of Prospect Park, Brooklyn Historical Society and Prospect Park Alliance present an exhibition that celebrates the founding vision of the Park, traces its social and historical trajectories, and examines the important role that Prospect Park has played as "Brooklyn's Backyard" for 150 years. The Brooklyn Historical Society is closed on major holidays.
Looking for Free Group Planning Services?
Get free advice on planning your group's trip to New York.
MORE Activity Planner ARTICLES
RESTAURANTS

Beer hall casual meets craft cocktails with a healthy dose o...

THEATER

The Tony-winning creators of "Ragtime" transport us from the...

SHOPPING

A premier destination for family entertainment....

SIGHTSEEING

Enjoy the best prices for deluxe double decker, hop-on, hop-...