Free Things to Do in Brooklyn This Week - September 16-September 23
September 16, 2018 - by CG Directory Editor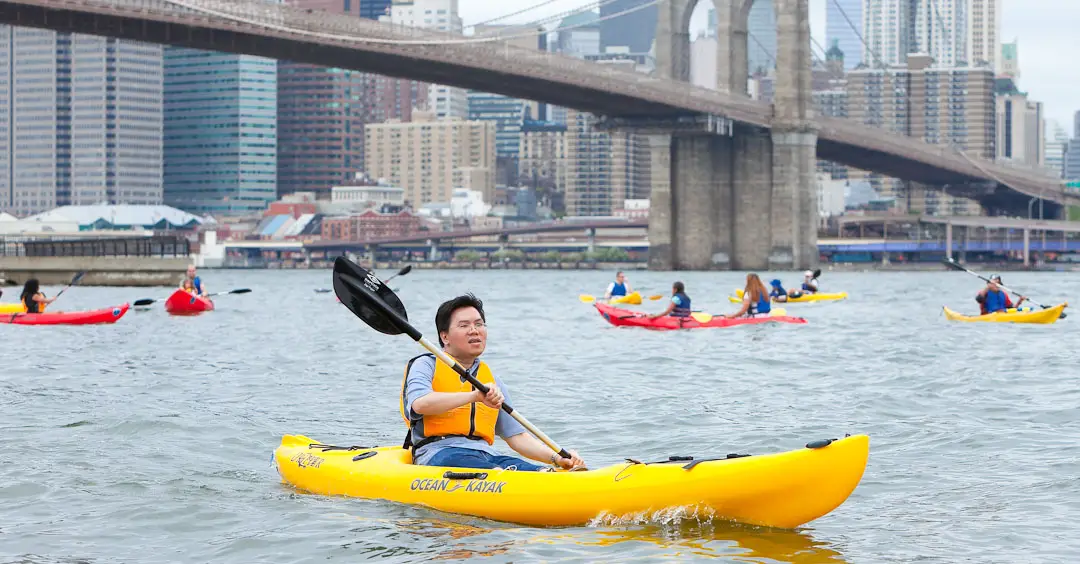 Photo: Charlie/Flickr

On a budget? Not to worry. City Guide's weekly roundup of free things to do in Brooklyn will keep your entertained without breaking the bank. From catching a free outdoor movie screening to exploring breathtaking Prospect Park, there's something in this weekly roundup for everyone wanting to travel without burning a hole in their wallet.


Smorgasburg Prospect Park - Prospect Park Alliance
September 16, 2018 - Brooklyn
Smorgasburg, the celebrated open-air food fair presented by Brooklyn Flea in partnership with Prospect Park Alliance, returns to Prospect Park this spring! On Sundays from April through October, over 100 local and regional food purveyors will gather on Breeze Hill to offer a range of cuisines.
David Byrne - Kings Theatre
September 16, 2018 - Brooklyn
I was born in Dumbarton, Scotland. It was what was called a breech birth … which often means butt first … which was probably exceedingly difficult for my mother and may have been indicative of a bad attitude on my part. I was there, but I don't remember. My parents had what was called a mixed marriage, which made life difficult. And there was little work in Scotland in those years. We moved to Canada on a boat, the QE2, when I was very young and after some years in Hamilton, the family moved to Baltimore, where I had my primary and secondary education. I loved art class and was asked to leave the school choir. I played guitar in a band with some friends; I think Ricky Brewster was the singer. At a high school battle of the bands, a rival band pulled the plug on us. We lost the contest. I wanted to be able to study both art and engineering—as I saw creativity in both areas—but that didn't seem possible, so I went to art school in Baltimore and Rhode Island. There I encountered people with backgrounds very different than mine. Very different class, cultural, and economic backgrounds. This was all new and hard to understand at first. I made music at the same time I was at art sc... (read more)
Monday Volunteer Corps: Eastside Revival - Prospect Park Alliance
September 17, 2018 - Brooklyn
Join Prospect Park Alliance to help beautify two of the Park's most elegant locations: the Vale of Cashmere and the Rose Garden. Tasks may include raking, sweeping, path edging, and litter removal. Please note that there will be no Eastside Revival on 5/28, 9/3, and 10/8. Register online or call (718) 287-3400 for more information.
IGDA NYC Coffee & Ice Cream Social - Ample Hills Creamery
September 17, 2018 - Brooklyn
There are plenty of game industry networking events, bar mixers, and drink nights out there, but we wanted to do something a little different—so instead, we started up the IGDA NYC Coffee and Ice Cream Socials. Held the third Monday of every month at an ice cream parlor rather than a bar, our socials are alcohol-free, family-friendly, and open to all ages. We'll be at Ample Hills Creamery in Gowanus, Brooklyn, with an upstairs roof deck and indoors lounge. The menu includes a great selection of whimsical, handcrafted flavors, including dairy-free vegan options, plus hot chocolate and coffee drinks. Come grab a cone or a cuppa and hang out with fellow game devs!
New York Islanders vs. Philadelphia Flyers - Barclays Center
September 18, 2018 - Brooklyn
Parm, an acclaimed casual Italian restaurant, is the perfect place to start your Barclays Center experience. Make your dinner reservation for Parm by calling 917.618.6340 or online through RESERVE.
National Geographic: A Year Reflecting on Race and Diversity in America - Photoville
September 22, 2018 - Brooklyn
Many people say that National Geographic was their first exposure to the world beyond their own community. In April, National Geographic launched a series of stories on race and diversity in America. It's difficult to understand 21st-century America without exploring the issue of race. It's the elephant in the room, permeating every aspect of our culture, neighborhoods, schools, businesses, politics, sports, arts, and relationships. A cultural wave in the United States has, once again, put race at the forefront of the national discourse. On stage Saturday night will be several National Geographic photographers who contributed to the series of stories on race and diversity. Wayne Lawrence photographed "The Many Colors of Matrimony" and "The Stop," a collaboration with ESPN's The Undefeated about black and Hispanic motorists who have been pulled over by the police due to the color of their skin. Ruddy Roye and Nina Robinson photographed "A Place of Their Own," about rising enrollment and student activism at historically black colleges and universities. Ismail Ferdous documented the growing visibility of South Asian Americans throughout American society in "Building a New Ameri... (read more)
Sesame Street Live! Let's Party! - Barclays Center
Through September 23, 2018 - Brooklyn
Jump to the beat with your friends on Sesame Street! Join the fun with aninteractive show that unfolds on one of the world's most famous streets at the funniest, furriest party in the neighborhood… get ready for Sesame Street Live! Let's Party! coming to Barclays Center September 21 – 23. Learn new songs and sing along to familiar favorites with Oscar and Cookie Monster; build a snowman with Elmo; flap your wings with Big Bird; marvel at Abby's magic; be amazed when Super Grover flies; and move to the rhythm with Rosita. Anything's possible when everyone who shares something in common gets together. Kick your feet to the beat at Sesame Street Live! Let's Party!
The Means of a Ready Escape: Brooklyn's Prospect Park - Brooklyn Historical Society
Through September 30, 2018 - Brooklyn
In celebration of the 150th anniversary of Prospect Park, Brooklyn Historical Society and Prospect Park Alliance present an exhibition that celebrates the founding vision of the Park, traces its social and historical trajectories, and examines the important role that Prospect Park has played as "Brooklyn's Backyard" for 150 years. The Brooklyn Historical Society is closed on major holidays.
Yang Yuanyuan - Art in General
Through September 30, 2018 - Brooklyn
Yang Yuanyuan (b. 1989, Beijing) lives and works in Beijing. She received a BA (hons) in photography at London College of Communications, University of the Arts London in 2013. By experimenting with different ways of visual storytelling, Yang creates narratives where facts and fiction coexist and speak about topics such as memory and history. Yang's work has been exhibited and published internationally. Her solo exhibitions include: "At the Place of Crossed Sights"(C-Space, Beijing, 2016) and "In-between Places" (Being 3 Gallery, Beijing, 2012). She participated Anren Biennale (2017) and Guangzhou Image Triennial (2017). Her works have been the subject of exhibitions at Guangzhou Times Museum, Guangzhou (2017); Yang Art Museum, Beijing (2017); Fotogalerie Wien, Vienna (2016)?Benaki Museum, Athens (2015); Objectifs, Singapore (2015); Espacio de Arte Contemporáneo (EAC), Montevideo (2015) and Three Shadows Photography Art Center, Beijing (2012).
Yo Re Mi Music and Movement - Spark by Brooklyn Children's Museum
Through December 21, 2018 - Brooklyn
Yo Re Mi Music and Movement Friday, 10:45 – 11:45 am Ages 9 to 36 months Brooklyn's own waterfront offers endless ways to explore nature up close! We'll get our hands a little dirty, have a close look at some of the plants and animals in our Brooklyn backyard, and create hands-on projects inspired by our outdoor adventures. Friday: twelve (12) sessions from September 28 - December 21, 2018. $396 for the fall session. (We will skip November 23 for the Thanksgiving holiday.) Note that classes are designed as a partner class for children and caregivers. SPARK offers registered semester-long classes featuring art, language, music, and movement for children ages 9 months to 5 years and their caregivers. • All classes take place at SPARK, 1 John Street, Bklyn, NY 11201 • Sessions are taught by professional Teaching Artists • Class size limited to 12 children and their caregivers. • Advanced registration required • Tuition: $396per child for the 12-week session (10% discount for BCM Passport Members) Children must be accompanied by a parent or caregiver. Schedule and offerings subject to change. Tuition is nonrefundable and nontransferable. Register online... (read more)
Airplane Mode: Free Weekly Comedy Show in Park Slope - Cherry Tree
Through December 27, 2018 - New York
Airplane Mode is a weekly stand-up comedy show hosted by Raghav Mehta, Rebecca O'Neal, Rohan Padyhe and Geoffrey Asmus at Cherry Tree Bar in Park Slope right next to the Barclay's Center. Every Thursday @ 8pm Airplane Mode showcases the best stand-up comedians in NYC and the world for FREE. These comedians have been featured on Comedy Central, NETFLIX, HBO, CONAN and the Tonight Show. So make sure to see them before they are famous. This week's show features Chloe Radcliffe (CONAN's Comics to Watch) Tyler Fischer (America's Got Talent), Randall Otis (Above Average), Gena Gephart (Laugh Factory), and Donnie Sengstack (Winner of Funniest Comic in Baltimore).
Looking for Free Group Planning Services?
Get free advice on planning your group's trip to New York.
MORE Activity Planner ARTICLES
RESTAURANTS

Vida Verde brings the tastes, colors, sounds, and scents of ...

THEATER

Kander and Ebb's "musical vaudeville" in which Roxie Hart ga...

SHOPPING

A premier destination for family entertainment....

SIGHTSEEING

Manhattan's premier all-glass, European-inspired dining crui...