9 New York Parks Where You Can Score Free Yoga This Summer
July 11, 2018 - by Merrill Lee Girardeau
In warm weather, New York City commits an amazing act of generosity: the city trots out its best professional yoga instructors, sends them to beautiful parks, and invites the public for group yoga classes that are free to participants. These classes provide a win-win for both the dedicated practitioner and the newbie who doesn't know a downward dog from a tree pose. All levels are welcome to enjoy the refreshing summer air and the free instruction one time only, or every day of the week. Read on to learn about 9 stellar (or should we say solar) summer yoga series throughout the city, many of which last through September!
Free Yoga Outdoors in NYC: Bryant Park
Jane Kratochvil Photography
This crazy-popular yoga series has begun its 16th year at Midtown's ultimate oasis: Bryant Park. On Tuesday mornings at 10 am and Thursday evenings at 6 pm, come enjoy a lively flow with hundreds of other yogis on the lawn. Come half an hour early to grab a Gaiam mat for your practice (there are 1,200 available, but they go surprisingly quick). Check out the series' Frequent Yogi card for free swag from Gaiam and KeVita, the probiotic drink company. The more classes you take, the better your prizes! Sixth Avenue between W. 40th and 42nd Sts., bryantpark.org
Free Yoga Outdoors in NYC: Washington Square Park
Perfect your warrior 1 beneath the arch at Greenwich Village's Washington Square Park. Taught by Sacred Sounds Yoga instructors, these free classes will be held every Wednesday and Thursday morning at 8:30 am and will last an hour. The classes will last from June 6 to September 6. Who knows? You may get your headstand by Labor Day! BYOM (Bring Your Own Mat). Garibaldi Plaza: Enter at Washington Square East and walk toward the central fountain, 212-396-5873, washingtonsquareparkconservancy.org
Free Yoga Outdoors in NYC: Riverside Park
Sail away with yoga on the Hudson River! There are two recurring classes to check out at the Summer on the Hudson calendar. Come Wednesday evenings for Salute to the Sun, a hatha class (i.e. basic yoga that draws from a variety of yoga types). Hollis teaches this class from 6:30 pm to 7:30 pm on the Plaza at 66th Street. The series begins June 6 and ends September 26. Thursdays, work out your chaturangas at 6:30 pm on the lawn at 74th Street. This Yoga Flow class is taught by Nina Semczuk and is offered from May 10 to October 25. BYOM for both classes. If you're looking for more fitness classes, dance, or pilates, check out Summer on the Hudson's other free classes in Riverside Park! Plaza at 66th Street: West of West Side Highway at W. 66th St.; Lawn at 74th St: Off Riverside Dr. and W. 74th St., nycgovparks.org
Free Yoga Outdoors in NYC: Flatiron Plaza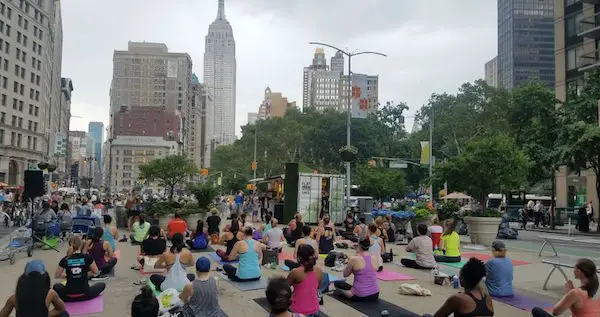 As part of the Flatiron Summer Series, free yoga will be yours for the taking this summer. Yoga and other types of fitness will be offered underneath the iconic Flatiron Building on Wellness Wednesdays. On Wednesday, July 11, enjoy an open level class from local studio bod? nyc at 6 pm. RSVP and sign your mandatory waiver here. Stretch out with an up-dog—or ten—at Vinyasa Yoga with the New York Health & Racquet Club's Erin Barry on August 1. RSVP and download waiver here. A limited number of yoga mats will be provided, but BYOM encouraged. Flatiron South Public Plaza: Broadway between 22nd and 23rd St., flatirondistrict.nyc/summer2018
Free Yoga Outdoors in NYC: Battery Park
Come for free classes under the watchful eye of Lady Liberty every Sunday and Wednesday at Battery Park! Flow through your vinyasa as Tejal leads you through this one-hour class. Sundays, classes will be held at 11:30 am. Wednesdays, come for 6:30 pm yoga. There will be a limited number of mats for your use, but BYOM just in case. Before you arrive, please register at EventBrite (link below). This series lasts through September 30. Woodlawn Lawn: just west of SeaGlass Carousel, 212-344-3491, eventbrite.com
Free Yoga Outdoors in NYC: Brooklyn Bridge Park
It would be pretty surreal to practice a sun salutation as the sun rises on Brooklyn Bridge nearby. Get ready to live it at the Sunrise: Abhaya Yoga series this summer at Brooklyn Bridge Park. Come Mondays at 7:30 am to stretch and strengthen (bonus, there are a limited number of mats for use!). Registration will begin at 7 am prior to each class, during which all participants must sign a mandatory waiver. This series starts June 4 and ends July 30; it is held on the lawns at Pier 6. If your definition of "yoga" is a little more fluid, come to a Piyo class on Tuesdays at 7 pm. These classes combine yoga and pilates into one super-toning, super-lengthening workout. Piyo classes are offered at Empire Fulton Ferry, Tuesdays from June 5 to August 28. Pier 6: Enter at the corner of Atlantic Ave. and Bridge Park Dr.; Empire Fulton Ferry: off the northwest corner of Main and Plymouth Sts., brooklynbridgepark.org
Free Yoga Outdoors in NYC: Socrates Sculpture Park
Yoga in a sculpture garden with a waterfront view? Sounds too good to be true! Come Saturdays and Sundays to Long Island City, Queens, for free vinyasa yoga (i.e. lots of sun salutations) this summer. On Saturdays, Jennifer Batson will teach at 9:30 am, and Morgan Miller is up at 11 am. Sundays, come at 10 am to flow with instructor Yojaida Estrella. Classes last an hour and are held May 19 to September 16. BYOM. 32-01 Vernon Blvd., socratessculpturepark.org
Free Yoga Outdoors in NYC: Prospect Park
You're in good company at Prospect Park's free yoga series in Brooklyn (a haven, it seems, for dedicated yogis). Bend + Bloom Yoga, a Park Slope studio, and Lululemon Brooklyn bring you a class full of dragonfly and triangle poses in beautiful Long Meadow. Classes last an hour and are held Thursdays at 7 pm. The series started up June 7 and will run until August 30. Be sure to RSVP here. You can also check out Healing Hatha Yoga, Fridays at noon in Prospect Park's Audubon Center. BYOM for both. Long Meadow: Enter at Grand Army Plaza and walk south, or enter at 3rd Street and walk east, Audubon Center: 101 East Dr., 718-965-8951, prospectpark.org
Free Yoga Outdoors in NYC: Randall's Island
Something of a hidden gem, Randall's Island is an athlete's paradise of 480 acres, just across the East River from Harlem. Accessible by car and footbridge, the island hosts soccer, tennis, and track events, as well as yoga in the warm months. Each Tuesday and Thursday evening, come enjoy a free class with a teacher from Sweet Water Dance and Yoga. Tuesday classes will be held at Sunken Meadow Picnic Area, and Thursday classes at East River Picnic Area. These classes occur 6:30-7:30 pm, weekly until September 13. BYOM! Sunken Meadow: 43 Sunken Meadow Loop; East River Picnic Area: across from Field 81 on the river-side of East River Ln., 212-830-7722, nycgovparks.org
Looking for Free Group Planning Services?
Get free advice on planning your group's trip to New York.
RESTAURANTS

Multi-concept restaurant offering modern Japanese cuisine, a...

THEATER

Gaston Leroux's famous period thriller is now one of Broadwa...

SHOPPING

PANDORA, one of the leading names in jewelry for more than 3...

SIGHTSEEING

In addition to 360-degree views from Midtown Manhattan, the ...