Gotham After Hours: Live Music, Cocktails, Comedy All in the City That Never Sleeps
January 2, 2008 - by City Guide
From torch-song cabarets to cutting-edge dance clubs, from neighborhood bars to velvet-rope lounges, plus world-class comedy clubs and establishments with all manner of live entertainment, New York City is a world capital of nightlife. Here you can find libations from beer and wine to elaborate cocktails and high-end champagne, often accompanied by great food.
A throwback to the fabled days of New York nightclubs, B.B. King Blues Club & Grill features top-caliber music stars and soul-accented entrees. The Showcase Room has video screens and state-of-the-art sound, a bar where you can snack and listen, and a dance floor. Lucille's Grill (named after B.B.'s famed guitar) features specialties bursting with flavor, including blackened catfish, barbecued ribs, and more. Reservations are recommended. 237 W. 42nd St. (Seventh-Eighth Aves.), 212-997-4144
Two bars in one venue - what more could anyone ask for? Channel 4 Irish Bar and Restaurant, located at the heart of Rockefeller Center, is the perfect place to unwind after a day of shopping or sightseeing. How about one of the specialty cocktails, like the mint-choc-tini or the refreshing C4 Cosmo - a blend of vodka, Triple Sec, with a splash of cranberry juice and lime. Hungry? Try an Irish classic like shepherd's pie or stick to the basics with a hamburger - and leave room for Irish coffee. 58 W. 48th St. (Fifth-Sixth Aves.), 212-819-0095
Club Groove is the only place in New York City where you can hear the best live R&B and funk music seven nights a week. Every night at 9:30, the club features great house bands performing favorites from artists such as Earth, Wind & Fire, Marvin Gaye, and Stevie Wonder through Mary J. Blige, Usher, and Jay-Z. Club Groove also has a full bar and food menu, and offers one of the best happy hours in the city - all food and drinks are only $4. There is no cover charge except for Fri. & Sat. after 9:30pm ($5). 125 MacDougal St. at W. 3rd St., 212-254-9393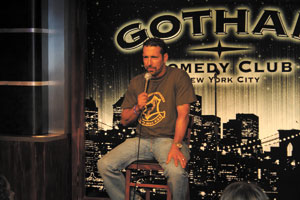 Voted a top-rated comedy club by the Daily News and best comedy club in NYC by NY Press, Gotham Comedy Club is one of the city's most elegant and upscale venues. It hosts seven shows a week with today's top talent, such as Lewis Black and Colin Quinn. Even legends like Jerry Seinfeld drop in on occasion. Recent performers include Jessica Kirson, Macio, and Ben Bailey. 208 W. 23rd St. (Seventh-Eighth Aves.), 212-367-9000
Ha! Comedy Club is an inexpensive place to see good comedy in a laid-back atmosphere. The award-winning hosts, famous comic veterans, and even the eager newcomers are hilarious. Factor in some cheap drinks and finger food, and you'll be set for a fun night. Ha! Comedy Club also hosts the musical review Growing Up 70s, starring Barry Williams (Greg from "The Brady Bunch"). 163 W. 46th St. (Sixth-Seventh Aves.), 212-977-3884
Fraternal-twin nightspots Home & Guest House, known for their social scene (i.e., "beautiful people") and difficult-to-pass velvet ropes (so dress to the nines), both feature a sexy atmosphere and similarly rich decor featuring comfort and style. Home is carefully designed to service your every whim in complete luxury, including bottle service, and hosts daily themed parties with music spun by special guest DJs. Guest House features some of the hottest house music DJs in the world. For table reservations, call 212-273-3700, email rsvp@homeguesthouse.com, or visit www.homeguesthouse.com. 532 & 542 W. 27th St. (Tenth-Eleventh Aves.), 212-273-3700
A magical presentation awaits you at Ninja New York. It's an eye-catching place - in fact, it's a pitch-perfect recreation of an 18th-century Japanese ninja village, and magicians visit each table to perform illusions. There's an extensive sake list, including several exclusive to Ninja (one even freezes as it lands in the glass). Ninja serves traditional Japanese dishes such as sushi and shabu shabu, while adding a French or Italian spin to others. Only the freshest ingredients are used at Ninja, as wasabi is prepared tableside and even the ginger is homegrown. 25 Hudson St. (Reade-Duane Sts.), 212-274-8500
At Sofrito, an aromatic mix of authentic Puerto Rican cuisine, the magnificent sounds of music from around the world, and a Caribbean atmosphere takes you back to la Isla del Encanto. It's also the new restaurant from Jimmy Rodriguez, of Jimmy's Bronx Cafe fame. Mi casa, tu casa...Sofrito. On Sun., Carmen Carrasco sings in eleven languages; on Mon., Fri. & Sat., there's a live Latin band. 400 E. 57th St. (First Ave.-Sutton Pl.), 212-754-5999

CG1307
Looking for Free Group Planning Services?
Get free advice on planning your group's trip to New York.
RESTAURANTS

Burke's dual-concept restaurant opened in 2005 and spans the...

THEATER

The story of cosmetics titans and fierce competitors Helena ...

SHOPPING

Shop or sell at this weekend bargain hunters' paradise....

SIGHTSEEING

Sweeping, unobstructed, open-air views of NYC from the top o...