More S'mores, Please! Hershey's S'mores Experience in Times Square
November 9, 2018 - by Samantha Aronson
When you take your sweet tooth to Times Square, Hershey's Chocolate World is a must-stop experience. Beyond treats and gifts and all kinds of fun, you can feel like you're at a summer campfire all year round with The S'mores Experience. It's every bit as delicious as it sounds. Each s'more consists of a home-made marshmallow (regular or raspberry), a home-made graham cracker, and a whole Hershey's chocolate bar. (Feeling adventurous? You can swap out the Hershey's bar for a Reese's Peanut Butter Cup for a unique twist.)
First, they take two yummy marshmallows and graham crackers and place them on a conveyor belt that leads to the oven.
The marshmallow toasts inside the oven and comes out perfectly crisp.
Then, half of a decadent milk chocolate bar is placed on each marshmallow. The chocolate melts on top of the warm marshmallow for a few seconds before it's ready for the final step.
If you're brave you can mush the two sides together to complete the S'mores sandwich. (Or, if you're not feeling lucky, the S'mores technician can do it for you.) To finish off the S'mores Experience take a big bite and be transported into chocolate heaven.
If you've still got room for more chocolate, (who doesn't) check out one of the other signature spots at Hershey's Chocolate World.
There is the bakery, with sweet treats and pastry that are just calling your name.
In the Hershey's Kitchen you can purchase large and medium sized kisses!
Then there are the candy vending machines where you can fill up a bucket of any candy combination you can imaging. They even feature a machine filled with only Blue Jolly ranchers! How cool is that?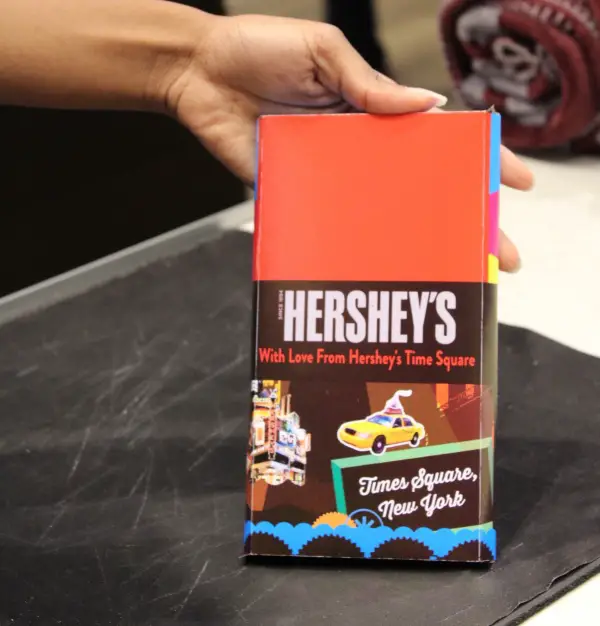 Before you leave, make sure to get a personalized huge chocolate bar. Just select Cookies & Cream, Milk, or Dark Chocolate then take a picture (or skip that part), create your personalized message, and you are good to go!
Hershey's Chocolate World S'mores Experience Video
Hershey's Chocolate World is open daily 9am-midnight. 20 Times Square building (701 Seventh Ave. on 47th St.), 212-581-9100, hersheys.com/chocolateworld/en_us/other-locations/times-square.html

Looking for Free Group Planning Services?
Get free advice on planning your group's trip to New York.
RESTAURANTS

Multi-concept restaurant offering modern Japanese cuisine, a...

THEATER

Gaston Leroux's famous period thriller is now one of Broadwa...

SHOPPING

The world's largest source of cameras, camcorders, and more ...

SIGHTSEEING

In addition to 360-degree views from Midtown Manhattan, the ...