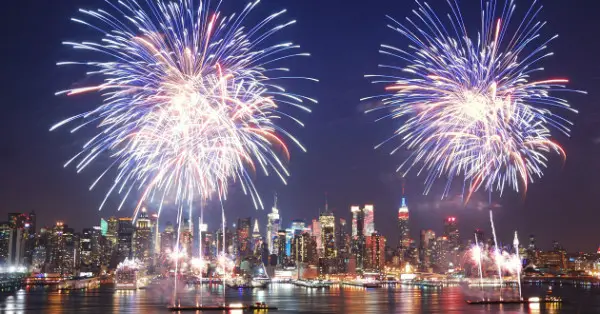 Holiday events and specials join parades and celebrations in City Guide's New York specials activity planner. From the Macy's Thanksgiving Day Parade to New Year's Eve to Christmas, Easter, Valentine's, and St. Patrick's Day, you'll find the best in New York holidays on City Guide's calendar listings. You'll also find amazing street fairs, festivals, and more.


Thanking Our Troops on Veterans Day - Staten Island Children's Museum
November 11, 2018 - Staten Island
Free admission all day for veteran and active military families with ID.
Unleash the Power Within - Prudential Center
Through November 11, 2018 - Newark
Overcome any fears holding you back and start living the life you desire at Unleash the Power Within. This 3 ½-day event with Tony Robbins will help you unlock and unleash the forces inside you to break through your limitations and take control of your life. Unlike other personal development plans, Unleash the Power Within is an immersive experience that will give you decades of proven strategies over one long weekend. No matter what you want in life – joy, love, passion, fulfillment – Unleash the Power Within will give you the drive and momentum to achieve it. Don't settle for an ordinary life when you can create an extraordinary one! Commit to the ultimate weekend of personal growth and set personal development goals you can (and will!) conquer at Unleash the Power Within.
Free Skating For Vets - Bryant Park
November 12, 2018 - New York
Bank of America Winter Village at Bryant Park is offering veterans and active military members, plus four guests, free skate rentals, at the only admission-free skating rink in NYC, when they show their ID.
Scavenger Hunt - Bryant Park
November 13, 2018 - New York
Join us for the 8th annual Holiday Shops Scavenger Hunt. Discover 10 items hidden throughout the kiosks. First to find all 10 items wins! Tuesday, November 13, 5:00pm–7:00pm Bank of America Winter Village at Bryant Park
The International Human Rights Art Festival - Wild Project
Through November 18, 2018 - Manhattan
The International Human Rights Art Festival is thrilled to announce its 2018 Festival, co-produced by and held at the Wild Project, from November 12-18, 2018. The Festival will comprise more than 20 events and 150+ artists, presenting advocacy performances and art which bring together beauty, sincerity, vulnerability and engagement to open a space for healing, discussion and social change.
Girlboss Rally NYC - Knockdown Center
Through November 18, 2018 - Maspeth
The Girlboss Rally is back for a fourth time, this time bigger and better than ever before. Part conference part experiential inspiration wonderland, the Girlboss Rally has taken the tired conference world by storm, creating a space for the next generation of entrepreneurs, intrapreneurs, and thought leaders to meet, hatch plans, and thrive together.
Epic New York Beer Tour - Bars, Taprooms, Breweries - Empire State Building
Through December 22, 2018 - New York
The Beer Adventures app offers 150+ highly curated tours in 75 cities around the globe. Currently in 25 US cities, we take you to all of the best bars, taprooms and breweries in town giving you a day out to remember on your own terms. For this 'Epic New York Beer Tour' we invite you to join us in NYC as we hit up to 10 venues across Manhattan and Brooklyn in one day. This is one of our favourite Beer Adventures and it's done best by a combination of walking, subway and whatever else mode of transport is for you! Starting by the Empire State Building you'll pass loads of famous landmarks, go over and under the East River, hit both villages (Greenwich and East) and of course visit all the very best beer bars NYC has to offer. Come thirsty, hungry and ready to make a day of it! HOW IT WORKS: Search for 'Beer Adventures' in the Apple appstore or Google Play and download for free. You can then select the city and tours you want in-app. The Beer Adventures app acts as a magical mystery tour directing beer fans around a city at the touch of a few buttons. Available on iOS and Android, we offer highly curated, built in itineraries in most major cities. STARTING O... (read more)
Grand Central Holiday Fair - Grand Central Terminal
Through December 24, 2018 - New York
The 2018 Grand Central Holiday Fair will open on Monday, November 12, 2018. Please check back for vendor information and Fair hours closer to the date. In the meantime, watch our video of the 2016 Fair build out in historic Vanderbilt Hall!
New York Makers Showcases Statewide Artisans - Grand Central Terminal
Through December 24, 2018 - New York
New York Makers, the first-of-its-kind digital marketplace + magazine celebrating the makers, movers, and shakers of the Empire State, will have its inaugural shop in Grand Central Terminal this holiday season. As part of the beloved Grand Central Holiday Fair, New York Makers has specially curated a collection of high-quality, distinctive New York products created by more than 20 talented artisans from Buffalo to Westchester and everywhere in between. Holiday shoppers will have six weeks to see and shop at the Holiday Fair, beginning November 12 through December 24, 2018.
The Velvet Underground Experience - Velvet Underground Experience
Through December 30, 2018 - New York
Revisit New York City in the early 1960's to explore how this iconic American rock band influenced modern music, fashion, art, and popular culture in frontman Lou Reed's native city. From their go-to Lower East Side hangouts to Andy Warhol's Silver Factory, explore the band's favorite NYC haunts through Matali Crasset's original scenography.
Candytopia - Penn Plaza
Through January 06, 2019 - New York
For a one of a kind, sweets filled experience Candytopia is not one to be missed. Candytopia is as close as NYC is going to get to having a real life Candyland in our reach. Enjoy chocolates and treats of all kinds while exploring their show room, featuring a marshmallow tsunami! Afterwards take a stroll through the gift shop for decadent sweets that can be take home!