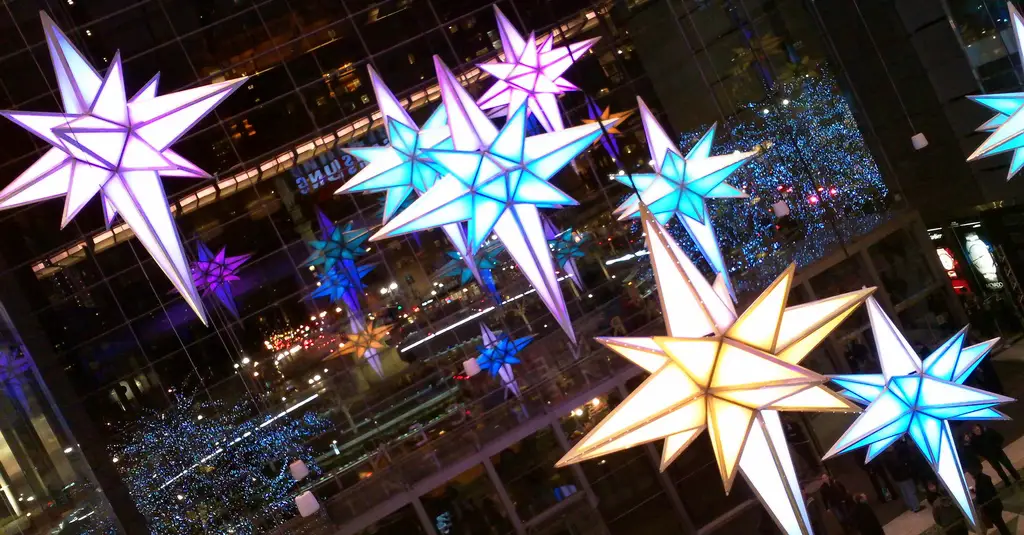 Photo: Shannon McGee/Flickr

New York City takes its seasonal specials and holidays seriously. City Guide's got all the latest and greatest news on the holiday events and specials coming up in New York City this weekend. From scoping out the windows on Saks Fifth Avenue during the Christmas season to catching a round of fireworks on the Hudson on the Fourth of July, you won't miss a thing.


Cirque Musica Holiday presents Wonderland - Palace Theater
December 08, 2018 - Albany
Cirque Musica presents Wonderland is a concert and visual experience where audiences will journey into a world of high-flying adventure with amazing acrobats, aerialists, hilarious hijinks and holiday cheer that is Wonderland. The show blends the spellbinding grace and daredevil athleticism of today's greatest circus performers with the sensory majesty of a symphony orchestra performing the greatest holiday music of all time. Cirque Musica presents Wonderland is the perfect opportunity for the entire family to experience great holiday music LIVE while enjoying an edge of your seat circus experience.
Wizard Fest Yule Ball * Harry Potter Party - Brooklyn Bazaar
December 08, 2018 - Greenpoint
For those of you who thought you'd missed out on your acceptance letter, we are pleased to announce you have mail! We are tremendously excited to inform you that you have been invited to Wizard Fest! A Harry Potter themed dance party 12/08 @ Brooklyn Bazaar where we transform one of your favorite venues into Hogwarts and throw a huge dance party! Errol the Owl is delivering cheap presale tickets and special ticket options to join the festivities! Reminder: Wizard Fest is All Ages but you have to be 21 to drink the Butter Beer!
Annual Holiday Dinner Party - Bayside Historical Society
December 08, 2018 - Bayside
Join Bayside Historical Society at the Castle in Fort Totten Park for our annual celebration of the winter holidays. There will be cocktails, dining, dancing, and music, as well as raffles and 50/50. Get the details about the dinner menu and purchase your tickets online on the BHS Website. General admission is $75.00 per person for BHS members; $85.00 for non-members. Reservations are required. RSVP by December 1, 2018 at https://www.baysidehistorical.org/events-1/annual-holiday-dinner-party, or contact us at 718-352-1548 or info@baysidehistorical.org.
MSG Holiday Festival - Madison Square Garden
December 09, 2018 - New York
The annual Madison Square Garden Holiday Festival Presented by Advance Auto Parts is back in action on Sunday, December 9th showcasing local programs. The Holiday Festival is the longest-running holiday season college basketball event in the country and will feature Columbia and Iona in game one followed by a St. John's / Princeton tilt.
Dick Fox's Holiday Doo Wop Extravaganza - NYCB Theatre at Westbury
December 09, 2018 - Westbury
Holiday Doo Wop Extravaganza Line Up: Jay & The Americans Charlie Thomas's Drifters Shirley Alston Reeves - Original Lead Singer of The Shirelles The Original Coasters The Classics The Knockouts Johnny Farina of Santo & Johnny
Grand Holiday Bazaar - Grand Bazaar NYC
December 09, 2018 - New York
This is the Holiday market to shop for unique gifts that you can't find elsewhere! Open every Sunday from November 25 - December 30!, indoors and outdoors! Come shop from 150+ hand-picked independent, local artisans and dealers. Find one-of-a-kind handmade holiday decoration and fashion, vintage accessories and collectibles, handmade jewelry and furniture, rare antique silverware, and delicious artisanal foods. Our Grand Holiday Bazaar is the only market with both an indoor and outdoor market area, and with rotating merchants. Holiday shopping never felt so good as you'll be supporting local artisans and independent dealers, and 100% of Grand Bazaar NYC's profits are donated to four local public schools benefiting over 4,000 children.
White Label CBD Market Invites You to Our HOLIDAY 2018 Pop-Up Market - The Space
Through December 09, 2018 - New York
Guests will enjoy samples of many products, education on proper CBD dosing, entry into a raffle, and be able to shop Beauty, Food, and Lifestyle products devoted to all things CBD. Customers purchasing $75+ will also receive a custom tote bag with special offers. The curated market is on a mission to educate and enlighten by showcasing brands that are ethical with the highest standards of cultivation and lab testing. White Label CBD Market inaugural pop-up event opens on December 8th and 9th at The Space in Soho, NY. December 8th - 11am - 6pm December 9th - 11am - 6pm The Space 515 Greenwich St, 506 New York, NY 10013 Tickets: $15 https://www.eventhi.io/event/white-label-cbd-holiday-market-738 ***event is open to guests ages 21+
Epic New York Beer Tour - Bars, Taprooms, Breweries - Empire State Building
Through December 22, 2018 - New York
The Beer Adventures app offers 150+ highly curated tours in 75 cities around the globe. Currently in 25 US cities, we take you to all of the best bars, taprooms and breweries in town giving you a day out to remember on your own terms. For this 'Epic New York Beer Tour' we invite you to join us in NYC as we hit up to 10 venues across Manhattan and Brooklyn in one day. This is one of our favourite Beer Adventures and it's done best by a combination of walking, subway and whatever else mode of transport is for you! Starting by the Empire State Building you'll pass loads of famous landmarks, go over and under the East River, hit both villages (Greenwich and East) and of course visit all the very best beer bars NYC has to offer. Come thirsty, hungry and ready to make a day of it! HOW IT WORKS: Search for 'Beer Adventures' in the Apple appstore or Google Play and download for free. You can then select the city and tours you want in-app. The Beer Adventures app acts as a magical mystery tour directing beer fans around a city at the touch of a few buttons. Available on iOS and Android, we offer highly curated, built in itineraries in most major cities. STARTING O... (read more)
Urban Zen's Holiday Marketplace - Urban Zen
Through December 23, 2018 - New York
Donna Karan's Urban Zen is collaborating with the International Folk Art Market to create a winter market experience at the Urban Zen store in New York City. The marketplace will feature more than 30 international artisans from countries like Colombia, India, Thailand, and South Africa. Products range from accessories to clothes, textiles and home décor. This collaboration is an extension of our summer partnership. For the opening weekend, come meet these six artisans will be at Urban Zen sharing their stories and engaging with customers • Marie Alexandrine Rasoanantenaina • Bounkhong Signavong • Porfirio Gutierrez • Abduljabbar Khatri • Farzana Sharshenvieva • Jabulile Nala* Preservation of Culture is at the core of Urban Zen's mission. This collaboration manifests our mission to preserve cultures, and create a soulful economy where we craftsmanship is our focus. The Holiday Marketplace will take place from December 6th through the 23rd Mon - Wed, 10AM - 6PM Thurs, 10AM – 7PM Fri, 10AM – 6PM Sat, 11AM – 6PM Sun 12PM - 5PM
Santa's Visits to Winter ONEderland - One World Observatory
Through December 24, 2018 - Financial District
For a limited time, the observatory has been transformed into Winter ONEderland: A Holiday Experience Above It All. The experience (which includes visits from Santa himself) will open to the public on Monday, November 26, continuing through January 7. Schedule for Santa's Visits to Winter ONEderland at One World Observatory: Monday, November 26th: 8am-6pm Saturday and Sunday, December 1st & 2nd: 10am-6pm December 8th through the 24th: 10am-6pm
Grand Central Holiday Fair - Grand Central Terminal
Through December 24, 2018 - New York
The 2018 Grand Central Holiday Fair will open on Monday, November 12, 2018. Please check back for vendor information and Fair hours closer to the date. In the meantime, watch our video of the 2016 Fair build out in historic Vanderbilt Hall!
New York Makers Showcases Statewide Artisans - Grand Central Terminal
Through December 24, 2018 - New York
New York Makers, the first-of-its-kind digital marketplace + magazine celebrating the makers, movers, and shakers of the Empire State, will have its inaugural shop in Grand Central Terminal this holiday season. As part of the beloved Grand Central Holiday Fair, New York Makers has specially curated a collection of high-quality, distinctive New York products created by more than 20 talented artisans from Buffalo to Westchester and everywhere in between. Holiday shoppers will have six weeks to see and shop at the Holiday Fair, beginning November 12 through December 24, 2018.
The Velvet Underground Experience - Velvet Underground Experience
Through December 30, 2018 - New York
Revisit New York City in the early 1960's to explore how this iconic American rock band influenced modern music, fashion, art, and popular culture in frontman Lou Reed's native city. From their go-to Lower East Side hangouts to Andy Warhol's Silver Factory, explore the band's favorite NYC haunts through Matali Crasset's original scenography.
Nyc Winter Lantern Festival - Snug Harbor Cultural Center & Botanical Garden
Through January 06, 2019 - Staten Island
This holiday season, the first ever NYC Winter Lantern Festival is coming to Staten Island! The NYC Winter Lantern Festival is the China National Tourist Office New York 2018 signature event, produced by New York Events & Entertainment (NEWYORKEE) and Haitian Culture, and co-sponsored by Empire Outlets and Snug Harbor. Between November 28, 2018 and January 6, 2019, seven acres of Snug Harbor Cultural Center & Botanical Garden will be illuminated by 40 LED installations that stretch up to 30 feet tall. The LED lanterns will be accompanied by live performances of traditional Chinese dances and art. Along with this, NEWYORKEE is partnering with a variety of holiday vendors to create an experience for guests of all ages.
Candytopia - Penn Plaza
Through January 06, 2019 - New York
For a one of a kind, sweets filled experience Candytopia is not one to be missed. Candytopia is as close as NYC is going to get to having a real life Candyland in our reach. Enjoy chocolates and treats of all kinds while exploring their show room, featuring a marshmallow tsunami! Afterwards take a stroll through the gift shop for decadent sweets that can be take home!