The 31st Annual Fleet Week New York is almost here! From Wednesday, May 22, until Tuesday, May 28, the city will host an estimated 2,600 sailors, marines, and members of the Coast Guard to honor their service. Active military personnel, veterans, and members of the public are invited to explore New York's waterfront during Fleet Week with tours of actual naval ships and a wide range of other events. See a movie at Intrepid, take a dining cruise around New York Harbor, and catch a special Mets game for Fleet Week New York this year.
The Intrepid Sea, Air & Space Museum
Board the decommissioned U.S. aircraft carrier Intrepid and celebrate the men and women of the armed forces with special events throughout Fleet Week. On Pier 86 outside Intrepid, there will be a Coast Guard cutter ship, the USS Lawrence O. Lawson, available for public tours throughout the week. On May 24, catch Top Gun screened under the stars for free on the flight deck of Intrepid. May 25-27, representatives from the U.S. Marine Corps, Coast Guard, Air Force, America's Vetdogs, the Fire Department of New York, and other organizations will be on hand for talks and demonstrations. There will also be face-painting, live music, a pop-up planetarium, and demonstrations like "How Do Things Fly?" for families, recurring throughout the weekend. On Memorial Day (May 27), Intrepid will also host a commemoration ceremony including a 100-foot American flag and a Navy jet flyover, which is free for all. All pier events are free, and events inside the museum are free with the purchase of a museum ticket. U.S. military and veterans get in free with valid ID. May 22-27. Pier 86: W 46 St. & 12th Ave., 877-957-SHIP, intrepidmuseum.org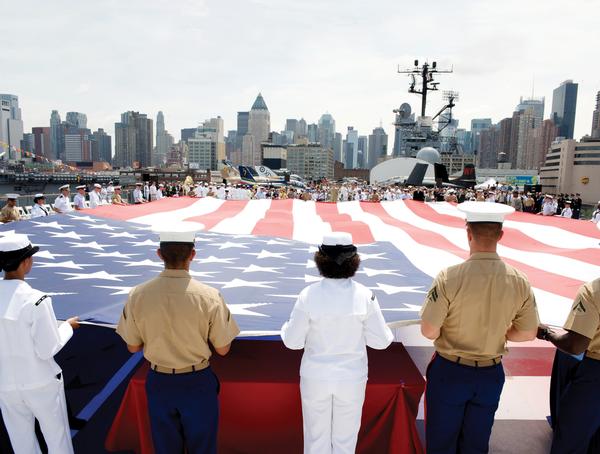 Circle Line Cruises
Learn about New York City from the water on Circle Line Cruises. Circle Line's fleet of ferries hosts informative, entertaining cruises narrated by expert guides as you explore the waters around Manhattan. Cruises include the popular Best of NYC Cruise, circumnavigating the island of Manhattan, and the Landmark Cruise, showcasing the most iconic features of the New York skyline. There are also food and drink available for purchase aboard the ships. Military personnel, active or veteran, can enjoy these cruises for 50% at the ticket booth with ID. May 22-27. Pier 83 at W 42nd St.; South Street Seaport: Pier 16; 212-563-3200, circleline.com
New York Water Taxi
New York Water Taxis drop you off and pick you up throughout the city in their distinctive yellow catamarans. Military personnel will receive $10 off their pass during Fleet Week, whether you're looking for a quick trip from Hell's Kitchen to Battery Park or a longer, narrated ride around Manhattan. Several different passes are available, and boats dock in midtown at 42nd Street, Battery Park, South Street Seaport, and DUMBO in Brooklyn. Various locations, 212-742-1969, nywatertaxi.com
Bateaux New York
Luxury boating doesn't get much better than this. At Bateaux New York, military personnel and visitors will be treated to a seated meal inside the all-glass cabin of a Bateaux ship during Fleet Week. Experience a three-course meal accompanied by panoramic views of the city during lunch, brunch, or dinner. All cruises not only serve great food (including unlimited mimosas at brunch) but provide live musical entertainment. Cruises available throughout Fleet Week, including Memorial Day. Pier 61, Chelsea Piers, 866-433-9283, bateauxnewyork.com
North River Lobster Co.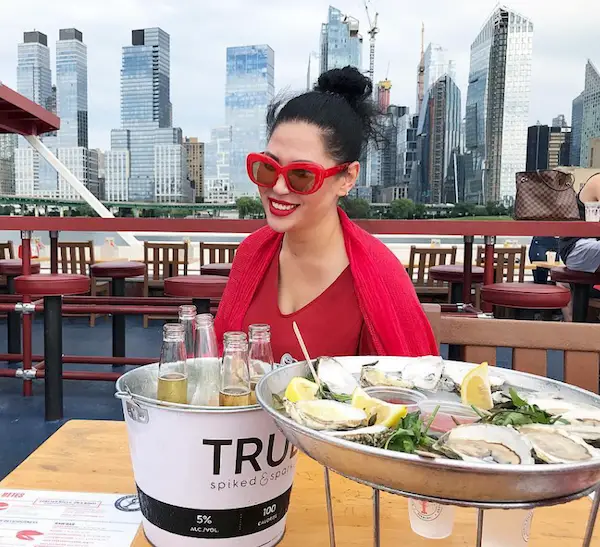 Get yourself to a floating lobster shack for more maritime fun. North River Lobster Co. serves epic lobster rolls (seriously, there's a two-foot-long one on the menu), raw seafood, hush puppies, craft cocktails, and more. The restaurant is a working vessel that sails the Hudson River daily while guests enjoy the view along with their food and drink. The Sailor's Punch cocktail, in fact, will be a special throughout Fleet Week. This spot is a perfect stop after your trip to the Intrepid, as it's just a few piers south. Pier 81 at W 41st St. & 12th Ave., 212-630-8831, northriverlobsterco.com
The Parade of Ships & Ship Tours
Fleet Week officially begins May 22 with the Parade of Ships. All visiting military craft will sail through New York Harbor from Battery Park to south of George Washington Bridge in Harlem. For the rest of Fleet Week, ships will be docked at various piers throughout the city and will host free tours in Manhattan, Brooklyn, and Staten Island. Parade: May 22-25, 8am-12pm; Tours: May 23-28, 8am-5pm; Pier 88, Brooklyn Cruise Terminal, & Homeport Pier.
Specials for Military Members
All across the city, servicepeople with active military ID can take advantage of deals and specials. In addition to every day savings from participating city venues, head to Ripley's Believe It or Not! Times Square where from Wednesday, May 22 through Tuesday, May 28, this amazing odditorium will be offering FREE admission to all service members in uniform! Friends and family who are accompanying them receive $10 off admission as well.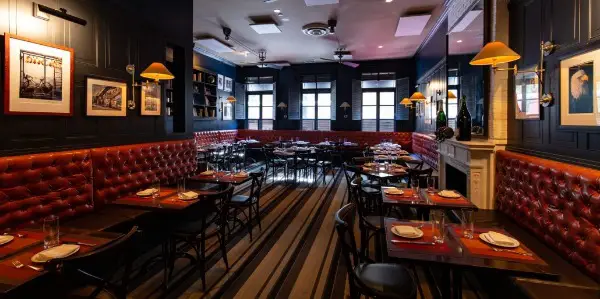 New Upper East Side hotspot David Burke Tavern wants to buy the military a beer! From Friday, May 24th through Sunday, May 26th, show your active military ID and get a free Sam Adams Boston Lager with the purchase of a David Burke Tavern Burger at the bar.
Navy Dive Tank in Times Square
Divers from the U.S. Navy will be posted in Times Square three days during Fleet Week, diving into a huge tank of water. Visitors can also play games and take photos as they learn about divers' role in the Navy. The event is free for all. Thurs., May 23, 10am-5pm. Military Island in Times Square at W. 43rd St.
Side by Side Military Appreciation Event
Saturday, May 25, Rockefeller Plaza will host the U.S. Coast Guard Silent Drill and live musical performances in honor of the U.S. armed forces. Stop by Rockefeller Center to witness the elegant precision of the drill team and meet other military personnel in attendance at this free afternoon event. Sat, May 25, 12-6pm. 45 Rockefeller Plaza.
Mets Family Sunday
Play ball, Fleet Week-style, on Sunday, May 26 at Citi Field. The Mets play the Detroit Tigers during the afternoon, and military static displays will take place on the plaza in honor of Fleet Week. A Navy Band Northeast singer will perform the National Anthem, and a FA-18 will fly over the stadium before the game. Sun., May 26, 1pm. 123-01 Roosevelt Ave., 866-800-1275, mlb.com
Official U.S. Navy Page/Flickr
---
For a complete schedule of Fleet Week New York events, visit militarynews.com.