La Silhouette: A Modern French Classic
October 26, 2011 - by Richard Jay Scholem
What's a restaurant like La Silhouette doing in Hell's Kitchen? The answer is, it's prospering and deservedly so. This is an East Side restaurant on the West Side, and its very creative bill of fare is not nouveau, nouvelle or traditional, but modern French of a sort encountered every day in Paris.
Owners Sally Chironis and Tito Rahman, executive chef Matthew Tropeano, and even designer Richard Bloch are all heavyweights in the sophisticated world of high-end restaurants. Chironis managed Le Bernardin, the city's premier French seafood spot. (Rahman was the assistant manager there.) Tropeano hails from La Grenouille, and Bloch has designed destination restaurants from NYC to San Francisco, including Masa, Dovetail & Benu in SF.
Their glittering backgrounds and experience have created a classy, haute hangout in the unlikeliest of neighborhoods; an informal yet outstanding restaurant that exhibits not a hint of attitude or pretense.
Patrons enter through a tiny bar/dining area that ends in a recessed dining room with an outdoor patio at its rear and a second-floor private dining room overhead. Each room offers subtle lighting, muted sound, plants, and bare, Anigre tables with black placemats and contemporary design. Our Parisian waiter appeared quickly after we were seated, and what followed continued the onward-and-upward dining experience. Our delectable appetizers include a Poached Farm Egg with "truffled" mascarpone polenta, oyster mushrooms, and procini coulis; Long Island Fluke Tartare with American caviar, citrus vinaigrette, and poppy seed flatbread; and Veal Sweetbreads with butternut squash agnolotti, pumpkin seeds, and sage.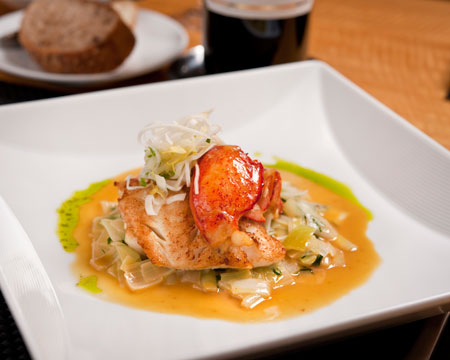 But the main courses are where La Silhouette's kitchen really comes out and shines. Entrées include a Wild Mushroom Risotto with truffle oil and Parmigiano; Lamb Chop & Lamb Shank Crèpinette with broccoli rabe, sweet potatoes, fennel-lamb sausage, and rosemary jus; and Butter Poached Lobster & Bass with celery root-apple "slaw" & leek fondue and sauce Américaine.
Desserts to remember -- courtesy of pastry chef Jeff Sytsma -- include: Popcorn "Crème Brûlée" with candied honey crisp apples, caramel popcorn, and salty caramel ice cream; a Roasted Pear Tarte Tatin with candied ginger, sable breton, and chocolate sorbet; and a créme fraîche tart with blueberry-tapioca compote and chocolate sorbet.
A five-course tasting menu is also available upon request (entire table only).
362 W. 53rd St. (8th-9th Aves.), 212-581-2400; la-silhouettenyc.com. Open for lunch, brunch & dinner.
Richard Jay Scholem was a restaurant critic for the New York Times Long Island Section for 14 years. His A La Carte Column appeared from 1990 to 2004. For more "Taste of the Town" reviews, click here.
Looking for Free Group Planning Services?
Get free advice on planning your group's trip to New York.
RESTAURANTS

New York City's most famous landmark, the Empire State Build...

THEATER

Gaston Leroux's famous period thriller is now one of Broadwa...

SHOPPING

Heaven for designers, artists, and antiques lovers....

SIGHTSEEING

From May through the summer months, Circle Line Downtown off...