Mangia, Manhattan: Little Italy and Beyond
October 6, 2006 - by City Guide
New York City is home to many of the world's finest restaurants, including a plethora of fine Italian eateries. From small plates to family-style, from coal-oven pizzas to veal chops Siciliano, here are some of our favorite finds.
With three locations,
Angelo's Pizza
(1697 Broadway btw. 53rd & 54th Sts., 212-245-8811; 117 W. 57th St. btw. Sixth & Seventh Aves.; 1043 Second Ave. at 55th St.)
cooks up coal-oven pizzas using fresh ingredients. Try either of their white pies (ricotta or mozzarella) for the purest presentation of their great flavors.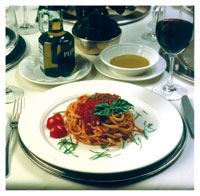 At the casually elegant yet down-to-earth
Angels
(1135 First Ave. btw. 62nd & 63rd Sts., 212-980-3131)
(right), ceramic cherubs watch over you as you feast on your choice of 55 fresh pastas, paella, seafood, chicken, and veal. Favorites include the San Benedetto (angel hair with lobster and shrimp in a cognac-laced cream sauce) and the San Lucifero (angel hair in a spicy diavolo sauce).
Da Rosina
(342 W. 46th St. btw. Eighth & Ninth Aves., 212-977-7373)
is perfect for dining before or after the theatre with a charming atmosphere and very affordable prix-fixe specials from the entire menu.
The traditional
Il Tinello
(16 W. 56th St. btw. Fifth & Sixth Aves., 212-245-4388)
makes you feel right at home with excellent service and food. It's a personal favorite of Regis Philbin and his favorite dish, agnolotti al "Regis," has become a popular item.
A long list of creative specials and a menu of more conventional choices round out the offerings in
Il Valentino
's
(330 E. 56th St. btw. First & Second Aves., 212-355-0001)
elegant dining room, elevating Northern Italian cuisine to new heights.
Mangia in one of
La Mela
's
(167 Mulberry St. at Grand St., 212-431-9493)
five dining rooms (left), or even outside on the sidewalk. Enjoy a family-style feast with selections such as antipasti, mozzarella and tomatoes, and a variety of meat dishes.
The aesthetically stunning
La Prima Donna
(163 W. 47th St. btw. Sixth & Seventh Aves., 212-398-3400)
has something to offer at all hours of the day: a special prix-fixe lunch, a cocktail hour where you can sip one of their signature drinks, or an elegant-yet-inexpensive pre-theatre dinner in the evening. Enjoy the hospitality by general manager Mohamed Choayra.
If you like a side dish of history to go with your pasta,
Patsy's
one and only location
(236 W. 56th St. btw. Broadway & Eighth Ave., 212-247-3491; www.patsys.com)
was Frank Sinatra's favorite. It still attracts celebrities who enjoy the stuffed calamari, veal chops Siciliano, and pastas served with Patsy's world-famous sauces (made from the freshest ingredients, they are available at the restaurant, in better supermarkets, and specialty food stores, and come in six varieties: marinara, tomato basil, fra diavolo, puttanesca, vodka, and pizzaiola).
San Domenico NY
's
(240 Central Park South btw. Broadway & Seventh Ave., 212-265-5959)
(right) menu includes favorites such as: soft egg raviolo with truffled butter; homemade spaghettoni with tomato and basil; suckling pig with oven-roasted apples and potatoes; or roasted saddle of veal with pancetta-cream sauce, braised endive, and caramelized pearl onions, followed by gourmet desserts.
The dishes at
San Martin
(143 E. 49th St. btw. Lexington & Third Aves., 212-832-0888)
have a Spanish twist to them, making for one-of-a-kind cuisine. They offer great veal and an assortment of pastas that will make it hard to save room for dessert — but the mud pie is excellent.
The pasta at
Simply Pasta
(120 W. 41st St. btw. Sixth Ave. & Broadway, 212-391-0805)
seems to be everyone's favorite, but we say try the seafood, meats, thin-crust pizza, and daily specials.
Giant-size portions and classic Italian dishes are what draw people to
Tony's Di Napoli
(147 W. 43rd St. btw. Broadway & Sixth Ave., 212-221-0100)
. Family-style, favorites include veal parmigiana, chicken cacciatore, and ravioli.
Villa Mosconi
(69 MacDougal St. btw. Bleecker & Houston Sts., 212-673-0390)
is celebrating more than 25 years of satisfying hungry patrons. Popular entrées include veal Bolognese and swordfish, but they can whip up just about anything — even if it's not on the menu.
Vita Restaurant
(338 W. 46th St. btw. Eighth & Ninth Aves., 212-581-8482)
features Italian bistro cuisine on Restaurant Row. Comfortable and modern, it's great for theatre dining with prix-fixe specials and bar and lounge areas.
Looking for Free Group Planning Services?
Get free advice on planning your group's trip to New York.
RESTAURANTS

Brings together the character of Hell's Kitchen past with th...

THEATER

In a heartbeat, 38 planes with 6,579 passengers were strand...

SHOPPING

DataVision is redefining retail with their new, fully intera...

SIGHTSEEING

In addition to 360-degree views from Midtown Manhattan, the ...