Where to Watch March Madness in New York City
March 17, 2017 - by Chelsey Grasso
March Madness is officially underway, and everybody knows that the best way to enjoy a game is in the company of good friends, good eats, and of course, good booze. Rounded up below are our top five picks for where to enjoy the games in New York City during this month of high-stakes basketball games and brackets galore. Whether you're rooting for Duke or UCLA or a Cinderella story, you're bound to have a good time at any one of these basketball-loving hangouts below.
Best of NYC March Madness: Gleason's Tavern (Midtown West)
"Libations shall set you free" is Gleason's Tavern's motto, and it's one that's all too true come March Madness, when competition fills the air and basketball becomes more than just a sport. If you're looking for a classy sports bar to enjoy the action at, then be sure to head to Gleason's, where you can still enjoy all the fun of the televised games on awesome 60" screens while lounging on black leather booths and sipping down Cucumber Gin Fizzes. 206 W. 41st St., 212-302-2167, gleasonstavern.com
Best of March Madness: Flatiron Hall (Flatiron)
Flatiron Hall is the quintessential New York City beer hall, featuring a 25-foot Victorian style bar with antique glass arches and an array of vintage chandeliers and old school décor. As for the booze, you can find 12 special beers on tap at all times in this speakeasy-inspired establishment. The food here is delicious, including the joint's famed Pastrami Reuben Spring Rolls, made with Carnegie Deli pastrami, gruyere, sauerkraut, and spicy mustard sauce. They'll be showing all the games in comfortable surrounds. 38 W. 26th St., 646-790-3200, flatironhall.com
Best of NYC March Madness: Bill's Bar & Burger (Midtown West)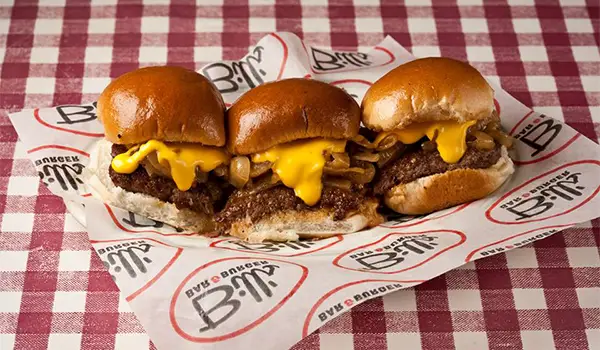 Bill's Bar & Burger is serving $15 pitchers, $5 pints, and $5 mini burgers all throughout March Madness. They'll also be offering half-priced appetizers, so you can enjoy Smoked Bacon Chile, Housemade Guacamole, and Loaded Nachos while you root for your favorite players. There's plenty of room to enjoy the game at Bill's Bar & Burger Rockefeller Center. 400 seats fill the beloved hangout, making this particular location the biggest standalone burger joint in the country. Additional locations in West Village and the Financial District. 16 W. 51st St., 212-705-8510, billsbarandburger.com
Best of NYC March Madness: Heartland Brewery and Chophouse (Midtown West)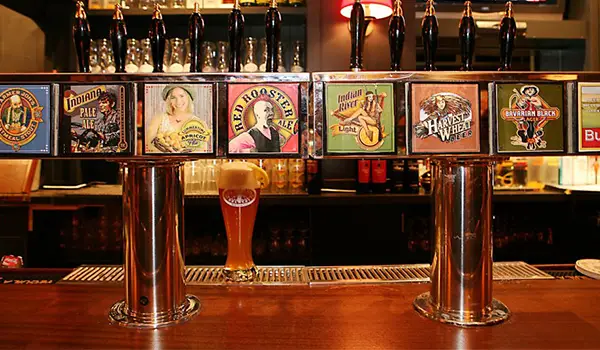 Heartland Brewery Chophouse is one of the few casual chophouses that you'll find in Manhattan, making it the perfect location to down a few beers, enjoy a hearty steak, and take in the games. If steak's not really your thing, Heartland's eclectic menu includes all sorts of other items, including Rigatoni with Roasted Eggplant, Maui Fish Tacos, and Farmer Jon's Ma's Meatloaf. And of course, you'll find at least 15 beers on tap, ranging from ales and porters to lagers and stouts. You'll also find the games (and great grub and beer) at Heartland Brewery and Rotisserie, Heartland Brewery Midtown West, HB Burger, and Guy's American Kitchen & Bar. 127 W. 43rd St., 646-366-0235, heartlandandbrewery.com
Best of NYC March Madness: Houston Hall (West Village)
Manhattan may be cramped for space, but Houston Hall has managed to snag a whopping 8,000 square feet of the West Village's prime real estate. While Houston Hall is one of the newer beer halls on the NYC scene, it still manages to fill up pretty quickly, especially during weekends when DJ's take over the sound system and major sporting events are broadcast in the space. Major sporting events like March Madness! You'll find IPA, lager, ciders, and ales on their 11-beer draft menu, along with Milk Truck sandwiches (Bacon Cheddar Blue, Milk Truck Classic, and 3 Cheese Grilled Cheese). 222 W. Houston St., 212-675-9323, houstonhallny.com
Best of NYC March Madness: The Irish Exit (Midtown East)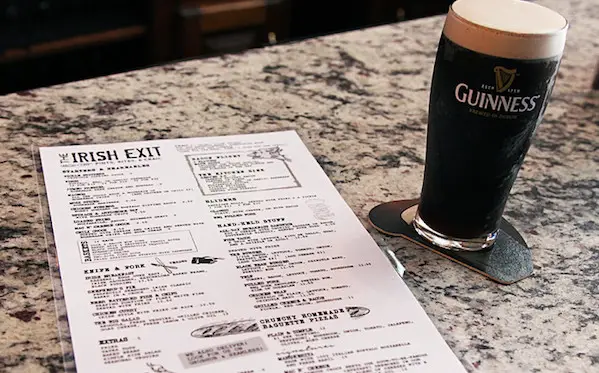 Things are known to get a little rowdy at Irish pubs, and The Irish Exit is no exception… but who doesn't want to be around a some extra energy during the highlight of the basketball season? The Irish Exit is offering $12 Bud Light pitches and $24 Bud Light towers during every game. Round up a big group of friends to watch the game at this Irish pub, where reservations of ten or more people will receive their first platter of wings at half-price. 978 2nd Ave., 212-755-8383, irishexitnyc.com
Best of NYC March Madness: American Whiskey (Midtown West)

If it's a TV set you're looking for, American Whiskey won't let you down. With 32 flat screens, this three-story, oak and leather booze joint doesn't have a bad seat in the house. March Madness flight specials are common here, which comes in handy seeing as American Whiskey serves over 100 domestic versions of its namesake liquor. Pair your beverages with Oysters on the Half Shell, Fried Brussels Sprouts, or Crinkle Cut Fries. 247 W. 30th St., 212-967-1070, americanwhiskeynyc.com
Looking for Free Group Planning Services?
Get free advice on planning your group's trip to New York.
RESTAURANTS

The newest member to the Heartland Brewery family, HB Burger...

THEATER

In this new musical, Jenna, supported by her quirky crew of ...

SHOPPING

Find the right gear for your workout. ...

SIGHTSEEING

Voted one of New York's most unique attractions, Madame Tuss...