Where to Watch March Madness 2019 in New York City
March 6, 2019 - by Merrill Lee Girardeau
It's about time to get bonkers for basketball. The NCAA tournament, March Madness, starts March 19, and you can find several places in NYC screening the 67 games during these 19 days of bracket-crazed competition. Find 10 bars and restaurants below where you can cheer on your team in the company of friends, food, and booze.
March Madness 2019 in NYC: Heartland Brewery & HB Burger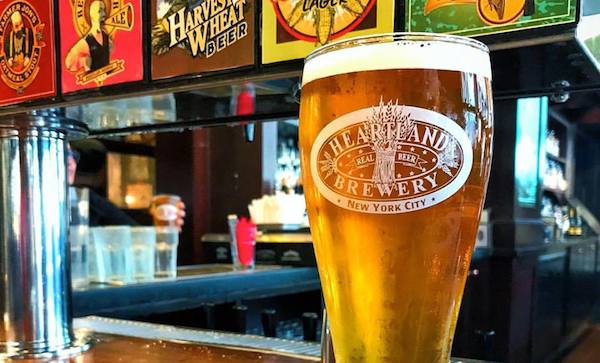 Heartland Brewery presents a perfect marriage of craft beer and mouth-watering burgers. Both of its locations make a pretty great pick for March Madness too. Conveniently located in Times Square (the Heartland Brewery and Chophouse) and right inside the city's most famous building (Heartland Brewery and Rotisserie Empire State Building), both have ample seating, lots of TVs, every March Madness game streamed live, and quality food and drink to make your game-watching experience even better. There's a third Heartland in midtown as well, the Times Square HB Burger spinoff. 127 W. 43rd St. (btw. Sixth Ave. & Broadway), 646-366-0235; Fifth Ave. & 34th St., 212-563-3433; HB Burger: 127 W. 43rd St. (btw. Sixth Ave. & Broadway), 212-575-5848, heartlandbrewery.com/hb-burger2, heartlandandbrewery.com
March Madness 2019 in NYC: The Three Monkeys
Celtics fans, head straight to The Three Monkeys in Hell's Kitchen. Home to Boston fans across all sports, the bar will give you a free shot if you wear Celtics colors on game night. This bar serves an extensive list of beers on tap, plus very good bar food like flatbreads, truffle mac 'n cheese, and nachos. If you find yourself wiling away the wee hours after a game, remember The Three Monkeys serves food until 3am. 236 W. 54th St., 212-586-2080, thethreemonkeysbar.com
March Madness 2019 in NYC: The Ribbon
The Ribbon, a spinoff of the Blue Ribbon empire, works great for the bracket-obsessed and anyone who just wants a good meal. This excellent restaurant has televisions at both the Upper West Side location and brand-new Times Square outpost (the screens at that one are located at the bar, btw). Order the buffalo cauliflower or plate of oysters for a snack and the lamb chops as a main, whether you have your eyes on the game or not. Times Square: 220 W. 44th St., 212-944-2474, 44.theribbonnyc.com; UWS: 20 W. 72nd St., 347-504-7541, theribbonnyc.com
March Madness 2019 in NYC: Slattery's Midtown
If you're looking to watch the game in Kips Bay—or if you're a UNC fan—go to Slattery's. This Irish pub on East 36th has 25 televisions throughout the space and provides a home away from home for the Tar Heels. The room in the back has the biggest TV with the best sound quality; we recommend posting up there to soak in the game. 8 E. 36th St., 212-683-6444, slatterysmidtownpub.com
March Madness 2019 in NYC: Gramercy Ale House
Gramercy Ale House is where Villanova fans gather to cheer on the Wildcats. It's also a dependable pub with several TVs and a friendly atmosphere, in Madness season and out. In addition to drinks at the bar, Gramercy Ale House serves a standard bar-food menu that includes waffle fries. 272 Third Ave., 646-678-3566, gramercyalehouse.com
March Madness 2019 in NYC: American Whiskey
American Whiskey boasts 32 flat screen TVs among its three floors. Come here not only for whiskey (there are 375 varieties) but for Cavs fans rooting for UVA in the tournament. Count on special March Madness-themed whiskey flights, crinkle cut fries, and tater tot poutine at this bar near Penn Station. 247 W. 30th St., 212-967-1070, americanwhiskeynyc.com
March Madness 2019 in NYC: Houston Hall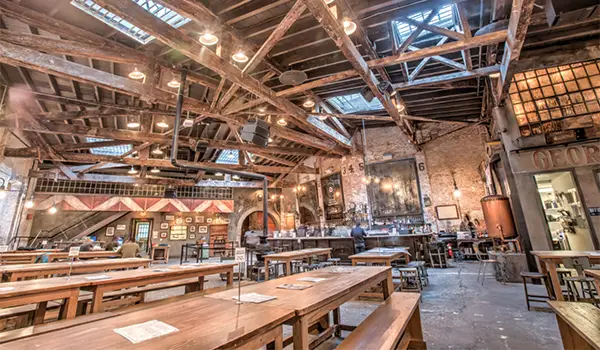 If you're staying in the West Village to watch the game, Houston Hall is your best bet for a seat during the First Four. That's because it's enormous, at 8,000 square feet. Count on TVs and projectors here, plus beer and a giant soft Bavarian pretzel… Actually, there's a quite a lot on this menu; we just want the pretzel. Happy hour is Monday through Friday, 4-7pm. 222 W. Houston St., 212-675-9323, houstonhallny.com
March Madness 2019 in NYC: Standings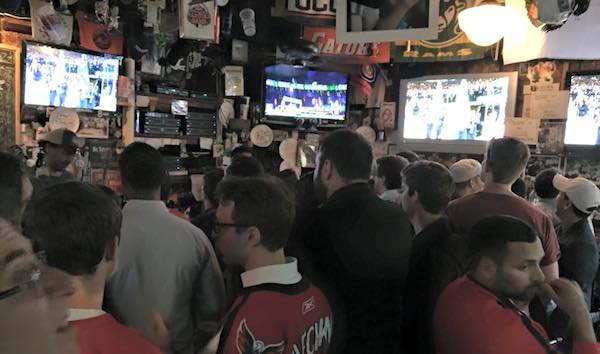 Standings in the East Village can get pretty polarizing: it's crowded with rowdy sports fans and their paraphernalia, which cover the walls and ceiling. If that sounds like your thing, come along and join the roar at this small watering hole, which has been known to give out free pizza during the Madness. You might run into Gonzaga, Indiana, and Louisiana State fans while you're there. Regional beers on tap include Peak Organic Ginger Saison from Portland, ME, and Harpoon UFO Pineapple from Boston. 43 E. 7th St., 212-420-0671, standingsbar.com
March Madness 2019 in NYC: Hair of the Dog
The Lower East Side is the land of bars, so it figures there's a pretty good sports-bar option in the neighborhood. The specials at Hair of the Dog are outrageously good every day (including weekends), and happy hour lasts till 8pm on weeknights. There are 17 HD TVs and 3 projectors here, ensuring you'll have a great view of the game. On weekends it can get pretty rowdy, so plan accordingly. 168 Orchard St., 212-477-7771, nycbestbar.com/hairofthedog
March Madness 2019 in NYC: Hometown BBQ
If you ask us (and a lot of other people), Hometown serves the best barbecue in the city. Take a pilgrimage to Red Hook, Brooklyn, for a Southern-inspired evening of ribs and b-ball. Hometown has TVs behind the bar and red sauce good enough to drink. Go team! 454 Van Brunt St., 347-294-4644, hometownbarbque.com
March Madness in 2019 in NYC: Sanctuary Hotel's Tender
The Sanctuary Hotel's Tender restaurant provides a chic lounge atmosphere complete with multiple 55" HD TVs and two 82" projector screens. While cheering on your favorite NCAA teams, enjoy some March Madness specials, which include Jameson Shots ($6), Beer Buckets ($49) and Game Day Wings ($10). Tender's regular menu will also be offered with tasty selections including avocado fries, cheddar mac 'n' cheese, tuna tartare and Tender Omakase—chef's choice. 130 W. 47th St., 212-514-5000, tendernyc.com
March Madness in 2019 in NYC: The Pennsy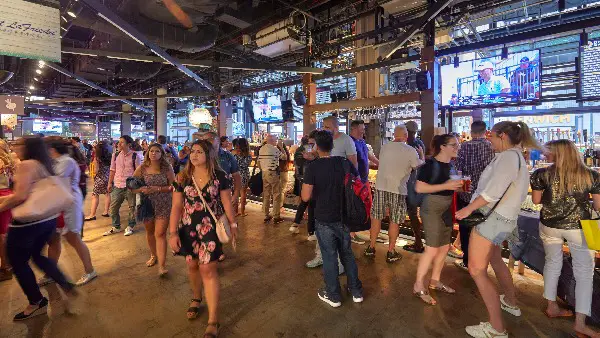 The Pennsy Food Hall is a gourmet oasis in Penn Station, with a huge range of super-fresh options. Starting March 19, The Pennsy Bar will be showing the March Madness games for the entirety of the tournament on all 14 TV's located above the bar. The featured lineup will include 2 for $10 Buds and Bud Lights, along with daily specials corresponding to MSG events taking place the same night. There are some great food pairings from the Pennsy's six diverse vendors: Pat LaFrieda, Taco Dumbo, Cinnamon Snail, Sabi Sushi, Ribalta, and The Little Beet. 2 Pennsylvania Plaza, 917-475-1830, thepennsy.nyc
Looking for Free Group Planning Services?
Get free advice on planning your group's trip to New York.
RESTAURANTS

Multi-concept restaurant offering modern Japanese cuisine, a...

THEATER

In a heartbeat, 38 planes with 6,579 passengers were strand...

SHOPPING

Specializing in the great vineyards of California, France, A...

SIGHTSEEING

Sweeping, unobstructed, open-air views of NYC from the top o...