Museum Events in New York City This Weekend - May 18-May 20
May 14, 2018 - by CG Directory Editor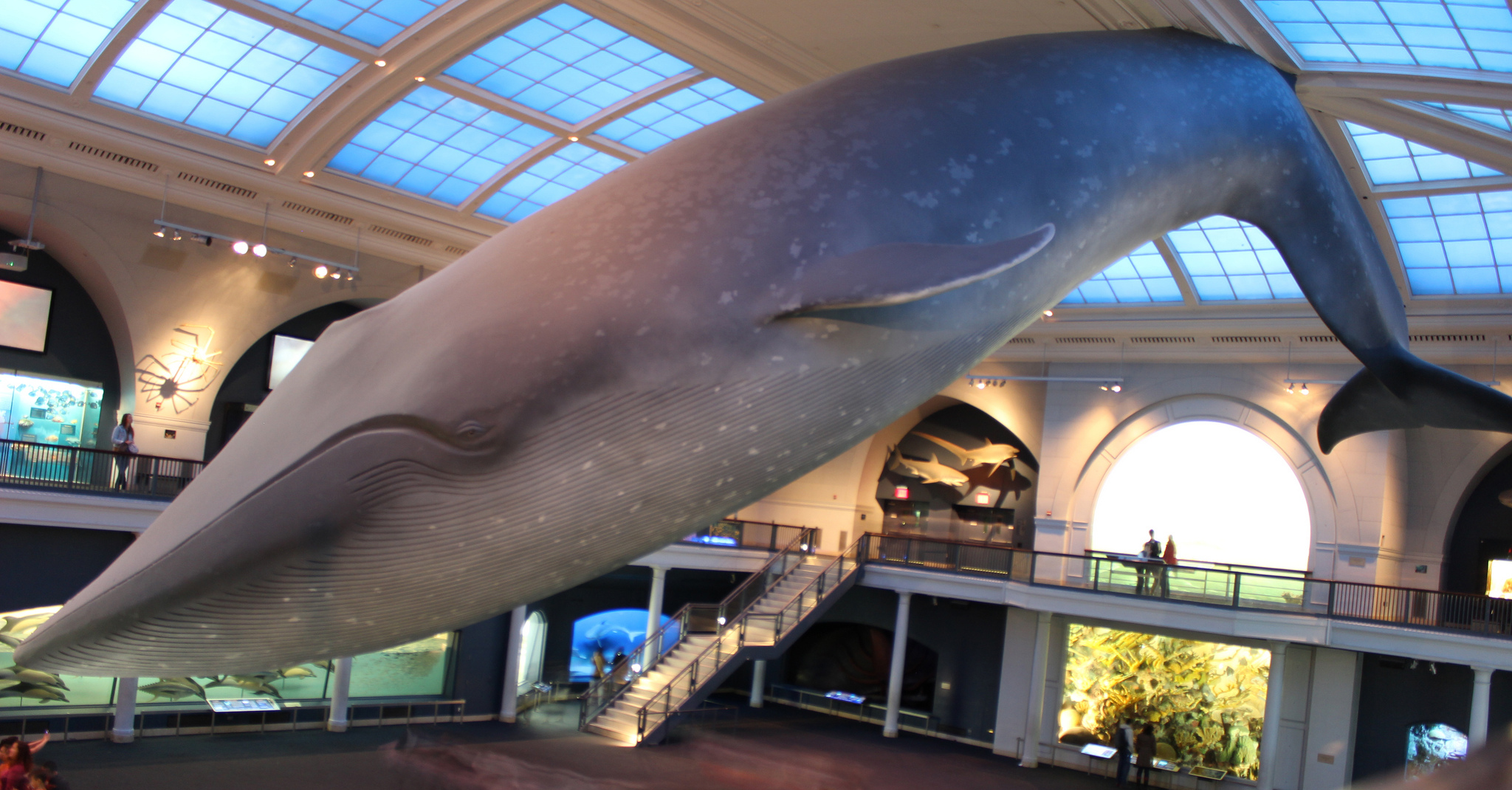 Photo: F. Dassan/Flickr

The Met, the MoMA, the Guggenheim, the Whitney, and the Museum of Natural History ? these are just a sampling of the many great museums open to the city. If you're wanting to spend some time exploring these cultural gems, then City Guide's guide to museum events in New York City this weekend will be your best companion.


Watson Adventures' Dancing Nudes Murder Mystery Scavenger Hunt - Metropolitan Museum of Art
May 19, 2018 - New York
Join Watson Adventures on a murder mystery scavenger hunt for adults at the Metropolitan Museum of Art! An eminent scholar's husband has been shot dead, a week after receiving strange messages and images of "dancing stick figures" on her computer. The messages are somehow linked to nude artwork in the museum. Who is the murderer? What is the secret of the dancing nude figures? See if your team of sleuths can figure out whodunnit on this unusual murder mystery scavenger hunt based on a Sherlock Holmes story. Price includes museum admission. Advance purchase is required.
Art Expo - Conference House
May 19, 2018 - Staten Island
Rebel Spirits: Robert F. Kennedy and Martin Luther King Jr. - Museum of the City of New York
Through May 20, 2018 - Manhattan
The lives of Robert F. Kennedy and Martin Luther King Jr., who were born into very different worlds, managed to intersect in many ways prior to their deaths in 1968. On the occasion of the 50th anniversary of their assassinations, this exhibit incorporates images from some of the best-known photojournalists of the era along with correspondence, publications and other materials that showcase both men's lives and work.
The Student Concours - The Art Students League
Through May 20, 2018 - New York
Each year from January to May, student work is exhibited in the Phyllis Harriman Mason Gallery. These exhibits showcase the work of all the school's students in every discipline (painting, drawing, printmaking, sculpture, mixed media). Each week the exhibition changes in order to accommodate all the classes at the League. The exhibitions are open to the public; most of the artwork is available for purchase. One student work per class exhibition is deemed "best in show" and awarded a "Red Dot." These works can then be seen in June in the annual Red Dot Exhibition. Traditionally, several pieces in the Red Dot show are purchased for the League's Permanent Collection. Student Concours Schedule by Date Student Concours Schedule by Instructor Name
Rebel Spirits: Robert F. Kennedy and Martin Luther King Jr - New York Historical Society
Through May 20, 2018 - Upper West Side
On the surface, Robert F. Kennedy and Martin Luther King Jr. were born worlds apart?culturally, geographically, racially, financially, and politically. But by the time they were killed within two months of each other in 1968, their worlds had come together. Images taken by some of the most renowned photojournalists of the era?alongside original correspondence, publications, and ephemera?illustrate the overlapping trajectory of their lives, exploring their deepening tie as well as how their interests expanded beyond civil rights and organized crime to encompass shared concerns for the poor and opposition to the war in Vietnam.
Peter Hujar: Speed of Life - The Morgan Library & Museum
Through May 20, 2018 - New York
With Speed of Life, the Morgan presents the first in-depth retrospective of the New York-based photographer Peter Hujar (1934–1987). Drawn from the extensive holdings of the artist's work at the Morgan and from nine other collections, the exhibition and its catalog explore the artist's full career, from his beginnings in the mid-1950s to his central role in the East Village art scene three decades later. Hujar's sharp, serene, square-format photographs confer gravity on the object of his attention, granting it an eternal moment's pause within the rush of passing time. Hujar focused on the spark of encounter between himself and his subject, be it a goose, a lover, an underground theatrical performer, the dappled surface of the Hudson River, or the placid features of his own face. In early adulthood Hujar worked as a studio assistant to magazine professionals and spent years in Italy with two successive partners, artists Joseph Raffael and Paul Thek. His short career in fashion photography ended in 1971, when Hujar decided the hustle of magazine work "wasn't right for me." After moving into a loft above a theater at Twelfth Street and Second Avenue in 1973, Hujar pursued a boh... (read more)
30-Minute Met: Guide's Choice in Japanese - The Met Fifth Avenue
Through May 22, 2018 - New York
A tour of favorite objects; guide's choice, your treat.
Jerusalem Between Heaven and Earth - Riverspring Health
Through May 27, 2018 - New York
Derfner Judaica Museum + The Art Collection at Hebrew Home at Riverdale is pleased to announce Jerusalem Between Heaven and Earth, jointly organized with the Jewish Art Salon and guest curator Ori Z. Soltes for the 2017 Jerusalem Biennale, which will be on view at the Derfner Judaica Museum from January 28–May 27, 2018. A reception and talk will take place from 1:30–3 p.m. on Sunday, January 28, 2018, at the Museum, located at 5901 Palisade Avenue in the Riverdale section of The Bronx. This exhibition is free and open to the public. R.S.V.P. 718.581.1596 or art@hebrewhome.org. Photo I.D. required for entry at all times.
Vestiges & Verse: Notes from the Newfangled Epic - American Folk Art Museum
Through May 27, 2018 - New York
Vestiges & Verse: Notes from the Newfangled Epic unites more than two hundred and fifty works by twenty-one seminal and recently discovered self-taught artists, who will be introduced for the first time through the examination of the idiosyncratic structures of their lifelong, intricate narratives—notably, their sequential and developing aspects. Rare manuscripts, series of drawings, illustrated notebooks with coded texts, expanding cartography, journals, and multi-part collages will provide an art historical and pluridisciplinary perspective on the mechanisms behind visual storytelling.
Stephen Shore - Museum of the City of New York
Through May 28, 2018 - Manhattan
Shore precociously began his career as a teenager, shooting black-and-white images of Andy Warhol's Factory during the 1960s. He then went on to become one of the pioneers of color film as a fine art medium. MoMA covers his career, from his high school days to his recent forays into digital photography.
Before the Fall: German and Austrian Art of the 1930s - Neue Galerie
Through May 28, 2018 - New York
On February 22, 2018, Neue Galerie New York will present "Before the Fall: German and Austrian Art of the 1930s," an exhibition devoted to the development of the arts in Germany and Austria during a decade marked by economic crisis, political disintegration, and social chaos. The Neue Galerie is the sole venue for the exhibition, which will be on view through May 28, 2018. The exhibition is organized by Dr. Olaf Peters, University Professor at Martin-Luther-Universität Halle-Wittenberg, and serves as the third show in a trilogy of exhibitions curated by Peters that focus on German history. The first of these three shows, "Degenerate Art: The Attack on Modern Art in Nazi Germany 1937" organized in 2014, examined the infamous traveling exhibition "Entartete Kunst" mounted by the National Socialist regime. The exhibition was an enormously popular and critical success. The second show, "Berlin Metropolis: 1918-1933" on view in 2015, explored the critical role played by the city of Berlin in the growth of modern culture. Pandiscio Green is the designer of the exhibition and catalogue for "Before the Fall," and can also be credited for the inventive installations for the previous two ... (read more)
Stephen Shore - MoMA : Museum of Modern Art
Through May 28, 2018 - New York
Stephen Shore encompasses the entirety of the artist's work of the last five decades, during which he has conducted a continual, restless interrogation of image making, from the gelatin silver prints he made as a teenager to his current engagement with digital platforms. One of the most significant photographers of our time, Stephen Shore (American, b. 1947) has often been considered alongside other artists who rose to prominence in the 1970s by capturing the mundane aspects of American popular culture in straightforward, unglamorous images. But Shore has worked with many forms of photography, switching from cheap automatic cameras to large-format cameras in the 1970s, pioneering the use of color before returning to black and white in the 1990s, and in the 2000s taking up the opportunities of digital photography, digital printing, and social media. The artist's first survey in New York to include his entire career, this exhibition will both allow for a fuller understanding of Shore's work, and demonstrate his singular vision—defined by an interest in daily life, a taste for serial and often systematic approaches, a strong intellectual underpinning, a restrained style, sly hum... (read more)
DREAM MACHINE - DREAM MACHINE
Through May 31, 2018 - Brooklyn
The Dream Machine is a self-guided journey that takes visitors through ten rooms inspired by the human sleep cycle. The pop-up brings the wonders of the dream state to life creating a one-of-a-kind playground full of interactive exercises. Participants can float through clouds and explore a galaxy all while walking through the space which is set in Brooklyn's Williamsburg neighborhood. The experience promises to be "the closest you'll ever get to walking through your dreams and remembering them afterwards." --Esiwahomi Ozemebhoya hel-lo@-visitdreammachine.com
King in New York - Museum of the City of New York
Through June 01, 2018 - Manhattan
For the 50th anniversary of Martin Luther King Jr.'s assassination, this MCNY exhibition explores the activist's New York City ties and the importance of the City in the national civil rights movement. Among the items on view are images of King's church sermons and United Nations speeches as well as documents related to his discussions about race relations with New York City's mayor.
Explore Walks: Brooklyn Bridge and Lower Manhattan Walking Tour - Brooklyn Borough Hall
Through June 01, 2018 - Brooklyn
Let the entire city be your museum! Our guided walking tour starts in downtown Brooklyn and explores the history and evolving present of Brooklyn as we cross the world's most famous bridge. The tour continues up through Chinatown and back to Lower Manhattan, passing some of the most historic sites and diverse architecture in all of New York. Sites like Federal Hall, Wall Street, African Burial Ground, World Trade Center, and many more that might otherwise fly beneath the radar! The tour finishes steps from the 9/11 Memorial and Museum and ferries to the Statue of Liberty, perfect for continuing your trip!
Tarsila do Amaral: Inventing Modern Art in Brazil - MoMA : Museum of Modern Art
Through June 03, 2018 - New York
Tarsila do Amaral (Brazilian, 1886–1973) is a foundational figure in the history of modernism in Latin America. The first exhibition in the United States exclusively devoted to the artist focuses on her pivotal production from the 1920s, from her earliest Parisian works, to the emblematic modernist paintings produced in Brazil, ending with her large-scale, socially driven works of the early 1930s. The exhibition features over 130 artworks, including paintings, drawings, sketchbooks, photographs, and other historical documents drawn from collections across Latin America, Europe, and the United States. Born in São Paulo at the turn of the 19th century, Tarsila?as she is affectionately known in Brazil?studied piano, sculpture, and drawing before leaving for Paris in 1920 to attend the Académie Julian. Throughout subsequent sojourns in Paris, she studied with André Lhote, Albert Gleizes, and Fernand Léger, fulfilling what she called her "military service in Cubism," ultimately arriving at her signature painterly style of synthetic lines and sensuous volumes depicting landscapes and vernacular scenes in a rich color palette. The exhibition follows her journeys between France and Braz... (read more)
Visiting Exhibit Gallery - Brooklyn Children Museum
Through June 10, 2018 - Brooklyn
BLOCK PARTY brings together the elements of the iconic Brooklyn block party all under one roof, including a series of dimensional stoops set against a backdrop of artistic facades of residential buildings, and different "street" and green spaces to play games, meet friends, relax, and have fun. Large-scale photographs by Brooklyn-based artist Anderson Zaca, who has long documented block parties in Brooklyn, will be featured and invoke the joy, action, and diversity of block parties celebrated annually across neighborhoods in New York City. Families will be invited to add to the photographs, and record their own images and experiences in the city among those of their neighbors.
Arts of the Islamic World in French - The Met Fifth Avenue
Through June 11, 2018 - New York
A tour of the New Galleries for the Art of the Arab Lands, Turkey, Iran, Central Asia, and Later South Asia explores the Metropolitan Museum's collection of Islamic art, a collection that is one of the finest and most comprehensive in the world. Fifteen galleries grouped by geographic region trace the course of Islamic civilization from Spain in the West to India in the East. The tour draws on this collection to explore the rich artistic traditions of the Islamic world and the distinct cultures within its fold.
30-Minute Met: Guide's Choice in Spanish - The Met Fifth Avenue
Through June 11, 2018 - New York
Alberto Savinio - Museum of the City of New York
Through June 23, 2018 - Manhattan
Giorgio de Chirico's younger brother, Savinio lived under the shadow of his more famous sibling. Still, he shared De Chirico's Surreal aesthetic and haunting subject matter, though not his classical precision. Instead, Savinio opted for a combination of softer contours and brushwork that, in something of a supreme irony, became the template for Chirico's late work.
Dunsmore: Illustrating the American Revolutionary War - Museum of the City of New York
Through June 30, 2018 - Manhattan
Painter John Ward Dunsmore depicted realistic scenes and portraits of the American Revolution and the early days of the United States. This is a chance to see 47 of Dunsmore's works—the largest collection of its kind. For more information, visit frauncestavernmuseum.org.
Morning Hours for Members and Patrons - The Met Fifth Avenue
Through June 30, 2018 - New York
Start your day at The Met! Each month, Members and Patrons* are invited to attend private morning hours for one or more select exhibitions before the Museum is open to the public. Please present your Member or Patron card to admit you and a guest. Only the street-level entrance at 81st Street and the Parking Garage entrance will be open during this hour.
Feathers: Fashion and the Fight for Wildlife - New York Historical Society
Through July 15, 2018 - Upper West Side
Feathers: Fashion and the Fight for Wildlife, an exhibition exploring the history of the ground-breaking Migratory Bird Treaty Act of 1918, examines the circumstances that inspired early environmentalists—many of them women and New Yorkers—to champion the protection of endangered birds. Administered by the U.S. Fish and Wildlife Service, the Migratory Bird Act prohibited the hunting, killing, trading, and shipping of migratory birds. It also regulated the nation's commercial plume trade, which had decimated many American bird species to the point of near extinction.
David Bowie is - Museum of the City of New York
Through July 15, 2018 - Manhattan
The late, great David Bowie is the subject of this Brooklyn Museum exhibition, which provides "unprecedented access" to the musician's personal library, including such artifacts as costumes, handwritten lyric sheets, photos, videos and original album art. The hundreds of objects on display chronicle Bowie's expansive creative life; from his teenage years spent in England, to his long career as a pop superstar and cultural touchstone, and finally his last 20 years living in New York City. This multimedia installation features continuous audio, video and animations that coincide with the various items on display.
Adrian Piper: A Synthesis Of Intuitions, 1965–2016 - The Museum of Modern Art
Through July 22, 2018 - Manhattan
In 1996 Adrian Piper wrote, "It seemed that the more clearly and abstractly I learned to think, the more clearly I was able to hear my gut telling me what I needed to do, and the more pressing it became to do it." Since the 1960s, this uncompromising artist and philosopher has explored the potential of Conceptual art—work in which the concepts behind the art takes precedence over the physical object—to challenge our assumptions about the social structures that shape the world around us. Often drawing from her personal and professional experiences, Piper's influential work has directly addressed gender, race, xenophobia, and, more recently, social engagement and self-transcendence.
Hipkiss Bulwark - The Drawing Center
Through July 29, 2018 - Soho
Praised for their meticulously-detailed panoramic landscapes, Anglo-French artists Alpha and Chris Mason, known collectively as Hipkiss, have been collaborating for three decades on intricate drawings that interweave dystopian narratives with a personal lexicon of symbolic forms. Past works by Hipkiss chronicle fictional histories of warring clans, urban crusades, and quasi-apocalyptical societies. For Bulwark, the artists' first solo museum show in New York, Hipkiss will present the most recent cycle of drawings in their series The Towers (2015–ongoing). The drawings pull from the myriad allegorical significance of towers as symbols for transcendence, irrational ambition, and piety.
Beyond Suffrage: A Century Of Women In New York Politics - Museum of the City of New York
Through August 05, 2018 - Manhattan
In honor of the women's suffrage centennial in New York State, the Museum of the City of New York explores women's political activism from the fight for voting rights up to the present day. Among the themes explored through artifacts, documents, costumes, photos and audiovisual materials are labor, health reform, good government and the women's liberation movement.
Derrick Adams: Sanctuary - MAD Museum of Art and Design
Through August 12, 2018 - Columbus Circle
Derrick Adams is a New York–based, multidisciplinary artist working in performance, video, sound, textile- and paper-based collage, and multimedia sculpture. His practice is rooted in deconstructivist philosophies such as the fragmentation and manipulation of structure and surface, and the marriage of complex and improbable forms. Through these techniques, Adams examines the force of popular culture and the media on the perception and construction of self-image.Derrick Adams: Sanctuary is an exhibition of large-scale sculpture, and mixed-media collage and assemblage on wood panels that reimagine safe destinations for the black American traveler during the mid-twentieth century. The body of work was inspired by The Negro Motorist Green Book, an annual guidebook for black American road-trippers published by New York postal worker Victor Hugo Green from 1936 to 1966, during the Jim Crow era in America.
Julia Phillips: Failure Detection - The Museum of Modern Art
Through September 03, 2018 - Manhattan
MoMA PS1 will present the first solo museum exhibition of New York-based artist Julia Phillips (b. 1985, German), featuring newly commissioned major works in combination with existing sculptures. Primarily working with ceramics, Phillips creates objects and scenes that are intimately connected to the body. Her sculptures mostly avoid direct figuration, however, and instead propose various interventions into and support structures for the body, emphasizing its absence from the works. Impressions of the human form are visible through elements like casts of orifices, handprints, and other traces, which indicate particular bodily placements in relation to her forms. While suggestive of particular functions and purposes that are overtly physical, these works also extend to the social and psychological. For Phillips, the body is entangled in the real and abstract spaces of politics, evident through indications given in her arrangements as well as the works' titles, which are often directives for specific actions.
Surface/Depth - Museum of Arts and Design (MAD)
Through September 09, 2018 - New York
In June of 2015, Miriam Schapiro, the pioneering feminist artist and founding member of the Pattern and Decoration movement, passed away at the age of ninety-one. Surprisingly, given her status as the elder stateswoman of the feminist art movement, the tremendous impact of her oeuvre on contemporary art has yet to be fully acknowledged or critically assessed. This exhibition seeks to redress this gap in the history of American art through an exploration of Schapiro's signature femmages, the term she coined to describe her distinctive hybrid of painting and collage inspired by women's domestic arts and crafts and the feminist critique of the hierarchy of art and craft. In examining the aesthetic and political objectives of Schapiro's femmages, this exhibition highlights the pivotal role her work and leadership played in the expansion of the art world to include historically marginalized forms of craft, decoration, and abstract patterning associated with femininity and women's work. Although she is unheralded as the source, the influence of Schapiro's subjective approach to forms of decoration can be identified today in an remarkably diverse group of artists who continue to find i... (read more)
La Frontera - Museum of Arts and Design (MAD)
Through September 23, 2018 - New York
Nearly two thousand miles long, the US-Mexico border (la frontera) is the most frequently crossed international border in the world. Although predominantly depicted in the American media as a hub of drug trafficking and violence, the border—porous in nature—is also a place that allows for the exchange of ideas, wealth, and culture. Recently at the forefront of political and cultural conversation following the current US President's anti-immigration discourse and executive orders, the border has been characterized by contradictions since the nineteenth century, when the US annexed an important portion of Mexican territory. For Mexicans, Central Americans, and the United States citizens living alongside it, the border presents daily challenges that carry within them both hope and devastation. It is a complex physical, economic, cultural, social, and emotional landscape of human interaction.
Walk This Way: Footwear from the Stuart Weitzman Collection of Historic Shoes - New York Historical Society
Through October 08, 2018 - Upper West Side
Shoes in recent years have culturally transcended their utilitarian purpose to become an object of desire and deliberation, calling up abstract considerations—like the freighted meanings of femininity, power, domination, and aspiration—for both women and men alike. Walk This Way: Footwear from the Stuart Weitzman Collection of Historic Shoes highlights examples from the shoe designer's extensive private collection, assembled over three decades. The exhibition considers the story of the shoe from the perspectives of collection, consumption, presentation, and production with more than 100 pairs of shoes on view. The exhibition will explore larger trends in American economic history, from industrialization to the rise of consumer culture, with a focus on women's contributions as makers, designers, and entrepreneurs. Coordinated by Valerie Paley, vice president, chief historian, and director of the Center for Women's History, with Edward Maeder, consulting curator, and Jeanne Gardner Gutierrez, curatorial coordinator.
Susan York Foundation - The Drawing Center
Through October 18, 2018 - Soho
For the second long-term installation presented in The Drawing Center's Lab Corridor, Santa Fe-based artist Susan York will create a site-specific installation that references the internal structure of the museum's 35 Wooster Street building. Using graphite as a sculptural rather than a two-dimensional medium, York will create replicas of parts of the museum's foundation: eroded concrete piers that protrude above the museum's ground floor. York's long-term installation will initiate an expanded field of activity at The Drawing Center, pointing to new opportunities for exploring drawing as an interactive and socially-minded practice. Additionally, by bringing attention to The Drawing Center's building, York's installation will generate opportunities for discussion about the importance of museums continuing as public spaces with permanent, physical presence
The Long Run - MoMA : Museum of Modern Art
Through November 04, 2018 - New York
Floor Four, The David Geffen Galleries Innovation in art is often characterized as a singular event—a bolt of lightning that strikes once and forever changes what follows. The Long Run provides an alternate view: by chronicling the continued experimentation of artists long after their breakthrough moments, it suggests that invention results from sustained critical thinking, persistent observation, and countless hours in the studio. Each work in this presentation exemplifies an artist's distinct evolution. For some, this results from continually testing the boundaries of a given medium, for others it reflects the pressures of social, economic, and political circumstances. Often, it is a combination of both. The Long Run includes monographic galleries and rooms that bring together artists across a broad range of backgrounds and approaches. All the artists in this presentation—drawn entirely from MoMA's collection—are united by a ceaseless desire to make meaningful work, year after year, across decades. They include Lee Bontecou, Louise Bourgeois, Melvin Edwards, Gego, Philip Guston, David Hammons, Jasper Johns, Joan Jonas, Helen Levitt, Elizabeth Murray, Georgia O'Keeffe, Gerhard ... (read more)
Inside You - American Musuem of Natural History
Through June 16, 2019 - New York
Did you know that your gastrointestinal tract is home to about 100 trillion bacteria? That's more organisms than there are stars in the Milky Way! Our bodies are home to many trillions of microbes, including bacteria, viruses, fungi, and other organisms collectively called the human microbiome. In any human, microbial genes outnumber the genes in human DNA by more than 100 to one. This new perspective leads us to look at our bodies not just as individuals, but as entire ecosystems.Inside You explores the rapidly evolving science that is revolutionizing how we view human health and introduces some of the scientists who are breaking new ground in microbiome research.Inspired by the Museum's popular exhibition The Secret World Inside You, this exhibition introduces visitors to microbes that live in, on, and around all of us. Engaging graphics detail how microbes aid digestion, influence your immune system, and help fight harmful microbes. You'll find out how we acquire our microbiome and how it is shaped by the foods we eat and the environment we live in. Inside You is co-curated by Susan Perkins and Rob DeSalle, curators in the Museum's Division of Invertebrate Zoology and the ... (read more)
Picasso's Le Tricorne - New-York Historical Society
Through December 31, 2020 - Upper West Side
Now on display at the New-York Historical Society is a newly acquired and conserved Picasso in the exhibition Picasso's "Le Tricorne." It is the first work by Picasso, and one with great wall power and a New York history, to enter New-York Historical's collection. Pablo Picasso painted the stage curtain for the two-act ballet The Three-Cornered Hat (El sombrero de tres picos or Le tricorne). The ballet and curtain were commissioned by the impresario Sergei Diaghilev for his avant-garde, Paris-based Ballets Russes, the most influential ballet company of the twentieth-century. The ballet was choreographed by Léonide Massine with music by the Spanish composer Manuel de Falla. It premiered on July 22, 1919, at the Alhambra Theatre in London with sets, costume designs, and the monumental stage curtain created by Picasso. Picasso biographer John Richardson once called "Le Tricorne" the artist's "supreme theatrical achievement." The production, which was conceived by Diaghilev and Massine during a trip to Spain, was enhanced by its many Spanish collaborators, including Picasso who also designed the costumes and set for the ballet. Measuring roughly 20 feet square, the curtain depict... (read more)
Looking for Free Group Planning Services?
Get free advice on planning your group's trip to New York.
MORE Activity Planner ARTICLES
RESTAURANTS

Beloved midtown spot takes inspiration from local tradition,...

THEATER

This new American musical offers a deeply personal and profo...

SHOPPING

A premier destination for family entertainment....

SIGHTSEEING

Located in Times Square in the heart of New York City, Riple...