If you're traveling to NYC in a large group, planning a visit to one of New York's outside sites is a great way to soak up the city's atmosphere. It can be tricky keeping track of large groups in the United State's most populated city, but  the ten sites below provide perfect ways to experience New York City while still having enough space for big gatherings. Read on for the ten best outside spots for groups in NYC.
Groups Outside in NYC: Central Park
Central Park covers about 1.3 square miles of upper Manhattan, and every inch of it has been beautifully developed to provide a memorable exploration of the land. With  five bodies of water (including the beloved Jacqueline Kennedy Onassis Reservoir), miles of foot trails, a theater, and even a zoo, there's no shortage of activity in the park during any given day. Whether you're here to sightsee or picnic, Central Park is a great destination for a New York group.
Groups Outside in NYC: Prospect Park
Designed by the same architect who helped piece together Central Park, Prospect Park is Brooklyn's pride and joy. Covering 585 acres, this park begins at Grand Army Plaza and includes dozens of trails, a zoo, and acres of rolling green grass for picnicking. prospectpark.org
Groups Outside in NYC: Williamsburg Bridge
While the Brooklyn Bridge may be getting a lot more foot traffic, it's exactly the lack of tourists that makes the Williamsburg Bridge that much more of a hidden gem. This bridge offers a separate path for bikers, so larger groups can feel relaxed hanging out on the pedestrian path. Covered in street art and providing spectacular views of Manhattan, the Williamsburg Bridge is a must.
Groups Outside in NYC: High Line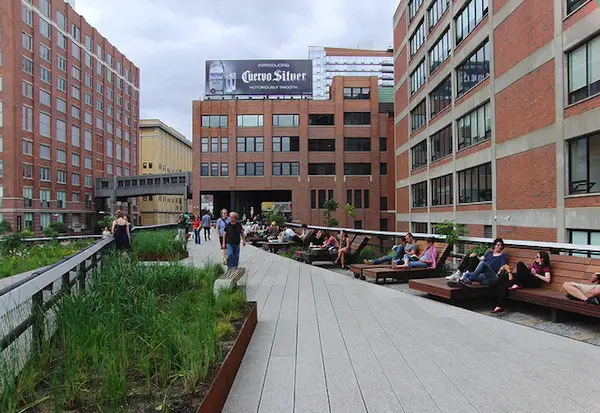 The High Line is one of New York City's newer developments, having only been completed as a spot for recreation in 2014. Built on a historic freight rail line, this urban park towers above Manhattan's west side for a stretch of just under 1.5 miles. Greenery, rotating art installations, and food vendors make this destination worth visiting, with space enough to accommodate groups. thehighline.org
Groups Outside in NYC: Riverside Park
Located on the Upper West Side, Riverside Park offers a breathtaking waterfront view from 72nd to 158th streets along the Hudson. Activities at the park include courts for various sports, a skate park, a bicycle greenway, and a public marina. nycgovparks.org
Groups Outside in NYC: Brooklyn Botanic Garden
Stretching across 52 acres, visitors can spend days at the Brooklyn Botanic Garden without running out of new sights to see. The Rock Garden, Cherry Esplanade, and Japanese Hill and Pond Garden are some of the most popular collections at the garden, but don't miss the Bonsai Museum and Lily Pool Terrace. bbg.org
Groups Outside in NYC: Chelsea Piers
Chelsea Piers offers a plethora of recreational and sports facilities in the city, which can be starved for space to run around in. From boxing and yoga to rock climbing and sailing, there are 28 acres dedicated to fun between 17th and 23rd streets along the Hudson. Free kayaking is even an option! chelseapiers.com
Groups Outside in NYC: Governor's Island
Opening in late May every year, Governor's Island is the perfect getaway for groups, with a large public space. Visitors can take a ferry to the island and spend the day exploring an interactive sculpture garden and historic structures. An array of exhibitions and events takes place on the island throughout the summer. govisland.com
Groups Outside in NYC: Brooklyn Bridge Park 
Covering 85 acres along the East River in Brooklyn, if you're looking for a perfect view of the Manhattan skyline, this is it. Six piers include a beach, soccer field, and basketball court, while an assortment of eateries and photo ops also provide plenty of fun. brooklynbridgepark.org 
Groups Outside in NYC: Times Square 
You can't go to New York City and not visit Times Square. Packed with foot traffic, large groups won't ever feel out of place in this central hub of the city. Get your face on one of the site's live digital screens and go shopping at any store your heart desires, including the must-see Hershey's Chocolate World. timessquarenyc.org