A father-son visit to New York City offers just the right amount of excitement and bonding opportunities. If you're planning a trip, make sure you check out these eight shops, restaurants, museums, and activities while you're in town. From Blue Man Group to the Staten Island Ferry, these recommendations will be appreciated by every age group and they represent an eclectic range of some of the city's best happenings!
Best of NYC Father-Son Trips: Nintendo NY (Midtown West)
Nintendo NY has 10,000 square feet dedicated to gaming. This store spreads itself out over two floors and is filled to the brim with games, souvenirs, and memorabilia. A Wii U console and Nintendo 3DS handheld systems can be played in-store. Showcasing the oldest of Nintendo systems, as well as selling the latest and greatest, Nintendo NY feels like a top-notch museum for gamers. Hats, shirts, stuffed animals, and tumblers are just some of the goodies waiting to be picked-up at this megastore. 10 Rockefeller Plz., 646-459-0800, nintendonyc.com


Best of NYC Father-Son Trips: David Burke Kitchen (South Village)
No matter your age, any and all meat-lovers will be impressed by David Burke Kitchen. The restaurant's open kitchen offers guests the opportunity to take a look at the food being prepared while the outdoor garden offers exceptional seating during the warmer months. You and your little guy can fill up on 60 Day Dry-Aged Sirloin, Young Roast Rack of Lamb, and Goffle Road Farm Chicken Breast entrees while enjoying hand-cut fries and loaded baked potatoes on the side. 23 Grand St., 212-201-9119, davidburkekitchennyc.com
Best of NYC Father-Son Trips: Blue Man Group (NoHo)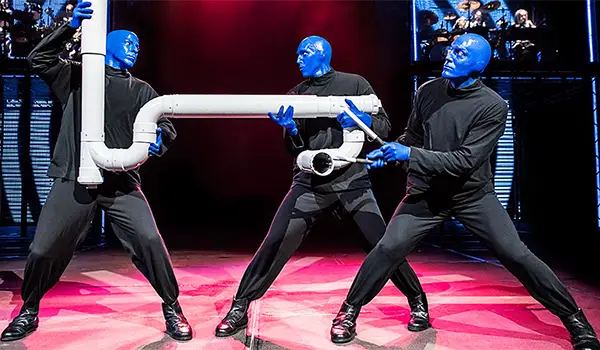 The Blue Man Group performs in the treasured Astor Place Theatre, and the show is one you and your son will never forget. The performance combines music, comedy, and technology to create an experience that is as innovative as it is energetic. Great for all ages, the Blue Man Group is a participatory show that will get have you pumping your fists in the air and screaming at the top of your lungs. As their own website puts it, "so much for a quiet evening." 434 Lafayette St., 800-258-3626, blueman.com
Best of NYC Father-Son Trips: Staten Island Ferry (Financial District)
Take a step back in time when you ride on the Staten Island Ferry, which is one of the last remaining ships of an entire ferry system that was used to get to Manhattan before bridges and subways were built. The views of the Financial District from this quick round-trip ride are spectacular, as are the views of The Statue of Liberty and Ellis Island. And the best part of all this? It's completely free to ride! 4 Whitehall St., 212-639-9675, siferry.com
Best of NYC Father-Son Trips: Helicopter Flight Services's The New Yorker Tour (Financial District)
If you really want to go above and beyond (literally!), schedule a seat on The New Yorker Tour with Helicopter Flight Services. This 12- to 15-minute helicopter ride will take you all around the island of Manhattan, providing a bird's-eye view of the glamorous city and all of its iconic landmarks. You'll fly above the Hudson River, so make sure you bring along your camera for shots of One World Trade Center, the Empire State Building, and the Chrysler Building! Downtown Manhattan Heliport, 6 E. River Piers, 212-355-0801, heliny.com
Best of NYC Father-Son Trips: American Museum of Natural History (Upper West Side)
What boy doesn't love life-size dinosaur replicas? You'll find the American Museum of Natural History filled with them, along with just about every other animal you can think up. Currently on exhibit are Dinosaurs Among Us, The Titanosaur, Opulent Oceans, Space Show: Dark Universe, Countdown to Zero: Defeating Disease, Wonders of the Arctic, and Crocs: Ancient Predators in a Modern World. Central Park and W. 79th St., 212-769-5100, amnh.org
Best of NYC Father-Son Trips: Midtown Comics (Midtown West)
Is your son a fan of the Avengers? How about Captain America? Guardians of the Galaxy? Take him to Midtown Comics to explore a haven of graphic novels, manga, comics, and more. You'll even find action figures and collectibles at this shop, along with t-shirts and apparel that will make any comic fan smile. Additional locations in the Financial District and Midtown East. 200 W. 40th St., 212-302-8192, midtowncomics.com
Best of NYC Father-Son Trips: Intrepid Sea, Air & Space Museum (Midtown West)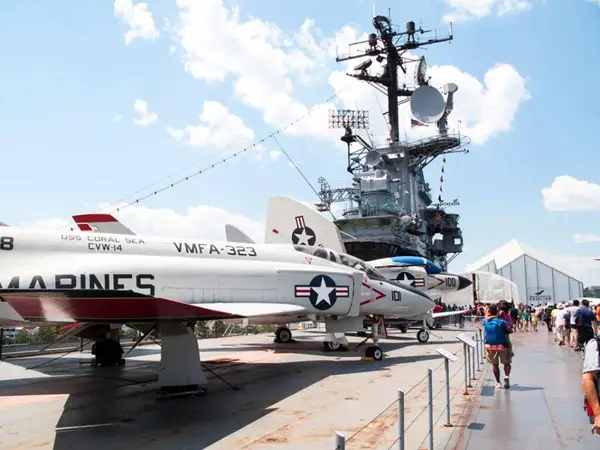 Another one we have to include in this neck of the woods is the Intrepid Sea, Air & Space Museum. Located at Pier 86, the Intrepid takes you on an interactive journey through history to learn about American innovation and bravery. It includes the Space Shuttle Pavilion, home to Enterprise, the world's first space shuttle, which paved the way for America's successful space shuttle program. Also on display are 27 authentically restored aircraft, including the Lockheed A-12 Blackbird, the world's fastest military jet and spy plane, and the British Airways Concorde, the fastest commercial aircraft to ever cross the Atlantic Ocean. Rounding out the museum are the submarine Growler, the only American diesel-powered strategic missile submarine open to the public, an 18,000 sq. ft. education center, Pier 86 (a publicly accessible pier that is part of the Hudson River Park Trust), and the Exploreum, an interactive hall focused on themes of water, space, air, and life at sea. Going on right now through Oct. 31 at the Intrepid is Star Trek: The Starfleet Academy Experience. Pier 86, W. 46th St. and 12th Ave., 212-245-0072, intrepidmuseum.org.