For dads and their sons, New York City offers just the right amount of amusement and bonding opportunities. If you're planning a trip, make sure you check out these restaurants, museums, shops, and activities. From freebies like the Staten Island Ferry to the long-running creativity of the Blue Man Group, these suggestions are ideal for every age group and they represent an eclectic range of some of the city's best opportunities!
Best of NYC Father-Son Trips: Nintendo NY (Midtown West)
Imagine 10,000 square feet dedicated to nothing but gaming. That's Nintendo NY. Inside Rockefeller Center, it's two full floors filled to the brim with memorabilia, games, and souvenirs. Nintendo 3DS handheld systems and a Wii U console can be played in-store, too. This popular spot showcases the oldest of Nintendo systems, as well as selling the latest and best new stuff on the market, Nintendo NY feels like a top-notch museum for gamers. 10 Rockefeller Plz., 646-459-0800, nintendonyc.com


Best of NYC Father-Son Trips: Blue Man Group (NoHo)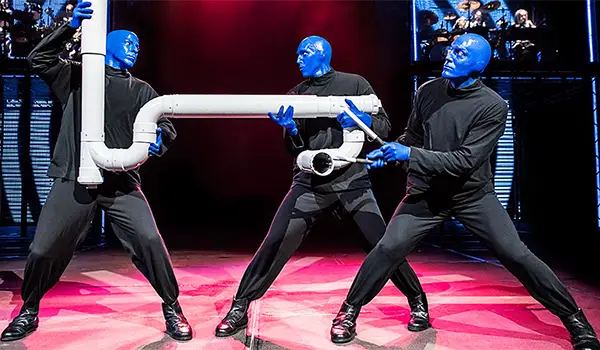 Still ensconced at the venerable Astor Place Theatre, Blue Man Group remains a show you and your dad or son will never forget. Although it's been updated to incorporate modern technology, the performances still combine music, comedy, and computers to create an energetic and innovative experience that appeals to all ages. It's also a show that leans into audience participation that will get leave you pumping your fists and screaming at the top of your lungs. As their own website puts it, "so much for a quiet evening." 434 Lafayette St., 800-258-3626, blueman.com
Best of NYC Father-Son Trips: Staten Island Ferry (Financial District) 
The best way to see the Statue of Liberty from the water without paying is aboard the Staten Island Ferry. It's one of the last remaining ships of an entire ferry system used to get to Manhattan before bridges and subways were built, and it runs 24/7 and 365 days a year. Along with City Statue Cruises, which provides the only means of actually reaching Liberty Island or Ellis Island, you can also take in the same view that greeted arriving immigrants making their way through New York Harbor. As the ferry pulls in you can see all of FiDi and both the Hudson and East Rivers. It's easily the best free tourist opportunity  the city has to offer. 4 Whitehall St., 212-639-9675, siferry.com 
Best of NYC Father-Son Trips: Helicopter Flight Services's The New Yorker Tour (Financial District)
Up, up and away!! Schedule a seat on The New Yorker Tour with Helicopter Flight Services and they'll show you NYC as no one else can. This 12-to 15-minute chopper ride lifts more than your spirits. You'll soar you across the island of Manhattan, get a bird's-eye view of Gotham and all of its best-known landmarks. You'll fly along the Hudson River, so make sure you bring along your camera for shots of One World Trade Center, Chrysler Building, and the Empire State Building! Downtown Manhattan Heliport, 6 E. River Piers, 212-355-0801, heliny.com
Best of NYC Father-Son Trips: American Museum of Natural History (Upper West Side) 
What boy didn't go through a serious phase of dinosaur obsession?  (And of course every father starts life as a son.) The American Museum of Natural History is a dinosaur lovers' dream come true, along with just about every other animal you can name. Check their listings to see what's currently being emphasized, but know that those giant lizards who once ruled the Earth are celebrated in a big way here. Central Park and W. 79th St., 212-769-5100, amnh.org
Best of NYC Father-Son Trips: Midtown Comics (Midtown West)
Got a favorite Avenger? Into fantasy? Ever ask yourself if Batman could take on Captain America and win? If any of those is true, then you owe it to yourself (and the boy in you or with you) to drop in on Midtown Comics, truly a haven of manga, graphic novels, vintage issues, and more. You'll even find collectibles, action figures and more at this shop, along with t-shirts and apparel guaranteed to bring a smile to the face of any true comics fan. Additional locations in the Financial District and Midtown East. 200 W. 40th St., 212-302-8192, midtowncomics.com
Best of NYC Father-Son Trips: Intrepid Sea, Air & Space Museum (Midtown West)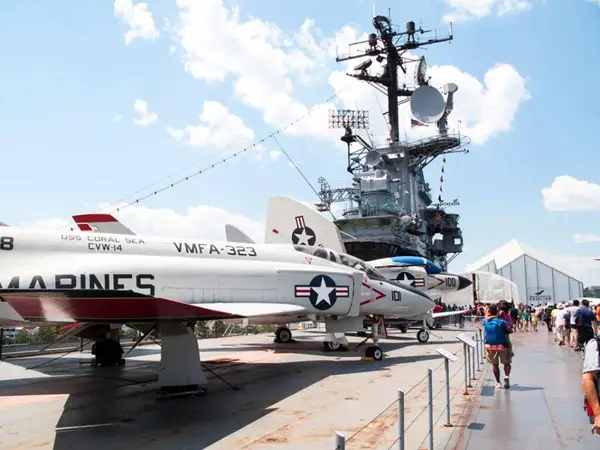 While you're in the Midtown area, be sure to check out the Intrepid Sea, Air & Space Museum, located at Pier 86. It's an interactive trek through history that may be the last word on American innovation and bravery during the Cold War. Here's where you'll find the Space Shuttle Pavilion (home to the world's first space shuttle, the Enterprise) the which spearheaded the entire space shuttle program. You'll also find more than two dozen restored aircraft, including the authentic Lockheed A-12 Blackbird, the world's fastest spy plane, and the British Airways Concorde, the fastest commercial aircraft to ever cross the Atlantic. As if that weren't plenty, the submarine Growler is berthed there, too. It's the only American diesel-powered strategic missile submarine open to the public. All that, plus an 18,000 sq. ft. education center, Pier 86 (a publicly accessible pier and part of the Hudson River Park Trust), and the Exploreum, an interactive hall focused on themes of water, space, air, and life at sea. Pier 86, W. 46th St. and 12th Ave., 212-245-0072, intrepidmuseum.org.