NYC Holiday Alternative Events with Silent Discos
November 14, 2017 - by Regina Molaro
Manhattan is the place to be at holiday time, but it doesn't have to be all noise and chaos. Music fans will enjoy the hip quiet disco party scene at this lineup of events hosted by Quiet Events Silent Disco. When guests arrive at the venue of their choice, they'll receive a pair of special wireless glowing headphones. With the flip of a switch they can select between up to three DJs who spin different genres of music—from holiday music to Hip-Hop, Top 40, Soulful House, throwback tunes from the 80s, 90s, and 2000s, and beyond. Guests can adjust the volume to their own preferred level. The headsets boast a bright color LED light that alerts other party-goers to which channel they're listening to. Revelers can dance along with those in the crowd who are listening to the same tunes. It's a super social event; just lower the volume or take the headphones off to spark up a conversation.
Harlem Holiday Lights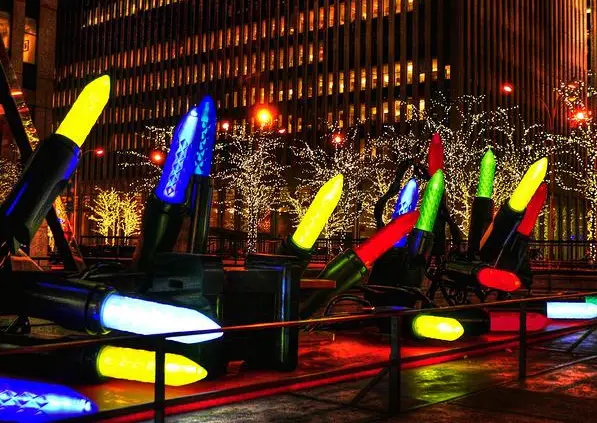 Nov. 16 - Explore Harlem while rocking out to some cool tunes at the first Silent Party hosted by Larry Scott Blackmon, a singer, songwriter, and record producer. Party-goers will dance, sing, and celebrate the kickoff of the Holiday Lights Celebration with three guest DJs who will be spinning live. The lineup includes DJ Vern who will play Soulful House, DJ Cosi and Marc Smooth who will spin Old School music, and DJ Stormin Norman who will play today's Hip-Hop and R&B hits. Dress warm for this festive outdoors event. 6pm-8pm. 125th St, Morningside Ave, and Hancock Pl, Harlem, 212-662-8999.
Kids Rooftop Sunday Party
Nov. 19 - Make it a Sunday fun day with the whole family at Hudson Terrace—an upscale lounge and club venue. This sleek space boasts panoramic views of the Hudson River and has a covered rooftop. This Quiet Events bash is ideal for revelers of all ages. Three deejays will showcase their talents and inspire the crowd to sing and dance the afternoon away. Deejay 1 will spin Top 40 dance hits while Deejay 2 will play throwback tunes from the 80s, 90s, and 2000s. Hip-Hop and R&B will be played by Deejay 3. The music lyrics are clean and there's a great selection of food and drinks. Tickets are limited. Noon-4pm. Hudson Terrace, 621 W. 46th St., Manhattan, 212-315-9400, hudsonterracenyc.com
VIP Rooftop Party
Dec. 2 & 16 - This modern, upscale VIP Rooftop party space invites revelers to enjoy magical rooftop views of Manhattan. Three deejays will set the party scene. Deejay 1 will play Top 40 Dance Hits, Deejay 2 will have the crowd rocking out to throwbacks of the 80's, 90's, and 2000s, and Deejay 3 will spin Hip-Hop, Reggae, and Soca. If singing and dancing under the stars seems like an enticing idea for a night out in New York City, join the revelry at Cantina Rooftop. Specials include $8 well drinks before 12 p.m. and hourly shot specials. Bottle service and reserved seating is available (for bottle service, contact: James at Stage 48, james@stage48.com). 11pm-3am. Tickets are available at the door, but are limited. Guests must be 21 to party; dress to impress. Cantina Rooftop, 605 W. 48th St, 212-957-1700, cantinarooftop.com
Holiday Lights Party Tour
Dec. 15 - The holiday season marks an ideal time to tour the Big Apple while it's all dressed up and flaunting its holiday style. The Holiday Lights Tour was created with the New Yorker in mind, but offers an opportunity for out-of-towners to learn hidden secrets and interesting facts about this dynamic city. While witnessing spectacular festive décor and twinkling lights, guests can tune into two channels of music—either Top 40 or holiday tunes. Check-in time is at 7:30 p.m. and the tour leaves at 8:30 p.m. Limited tickets are available. Dress warmly. 7:30pm-10:30pm. Tir Na Nog, 254 W 31st St., 212-630-0249, tirnanognyc.com
General Information for All Events
*There's no need to print out tickets. Guests can show the code via their phones. Guest names will also be on a list at the door.
*Guests must have a credit or debit card for the check-in process. If the headphones are not returned after the event, there will be a $100 charge after the event.
*Valid ID is required at events with alcohol.
*800-833-9281, info@quietevents.com quietevents.com.
Looking for Free Group Planning Services?
Get free advice on planning your group's trip to New York.
RESTAURANTS

Vida Verde brings the tastes, colors, sounds, and scents of ...

THEATER

The Tony-winning creators of "Ragtime" transport us from the...

SHOPPING

An array of quality branded merchandise showcasing HBO's® aw...

SIGHTSEEING

A state-of-the-art Coney Island amusement park that's home t...