Founding Mothers: 'Saving Washington' at New-York Historical Society
March 17, 2017 - by Alison Durkee
While most historical accounts of the Revolutionary Era focus on the Founding Fathers, the New-York Historical Society is turning its attention to an oft-forgotten group: women. The museum is kicking off its new Center for Women's History, which officially opens in late April, with Saving Washington, an exhibition exploring the impact women made in America's earliest years.
Taking on early American history from a female perspective, Saving Washington demonstrates how women were able to involve themselves politically prior to getting the vote. Though the exhibition spans from the Revolutionary War to the Seneca Falls convention in 1848, broadly touching on a number of historical moments, Saving Washington has a particular focus on Dolley Madison, the former first lady whose social graces allowed her to wield considerable political influence.
"Saving Washington upends the familiar narrative of our American founding as a power struggle among men," Dr. Louise Miller, president and CEO of the New-York Historical Society said in a statement, "offering the story of Dolley Madison, and women of the republic more generally, as an example of how women's critical but often behind-the-scenes work gave rise to the nation's capital as a beacon for the world."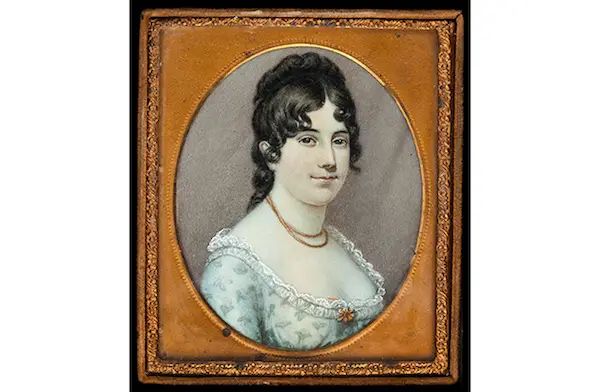 Aline Alaux, copied from Gilbert Stuart, Mrs. James Madison (1768–1849), n.d. [detail]. New-York Historical Society, Gift of Thomas W. Streeter.
The exhibition delves into the ways that women strategically inserted themselves into early American politics, from journalism to signing petitions to the "parlor politics" of the Madison White House. These strategic social interactions are explained through interactive displays, which give visitors the chance to recreate 18th-century dinner table conversations and parlor games to discover how Dolley and others asserted influence in the social sphere. Alongside these interactive and multimedia displays are a variety of historical treasures from the NYHS's vast collection (supplemented by other institutions), including a Dolley Madison dress, an elaborate 19th-century ballot box, and bullets from the Revolutionary War.
Through this combination of interactivity and traditional displays, Saving Washington creates a clear and insightful picture of women in politics during the nation's earliest years. The exhibition highlights women's achievements without sugarcoating the reality of their marginalized place in society, and is quick to bring attention to individual women's achievements while simultaneously putting them within a broader historical context.
Though the three-room exhibition's eye-catching visuals and artifacts will satisfy those just taking a quick walk-through, Saving Washington's insightful textual notes and interactive displays reward the thorough visitor. This emphasis on interactivity and text, however, does feel in some ways detrimental to the Revolutionary-era women featured at the exhibition's start, such as Elizabeth Schuyler and Abigail Adams, who are primarily represented through understated portraits and less-noticeable interactive displays. The men of the era, on the other hand, are robustly represented through clear displays giving historical context, while Dolley Madison and later women are depicted through clearer displays later in the exhibition. As a result, the exhibition may appear a bit unbalanced to those that aren't able to fully explore the interactive elements.
This, however, feels like a minor quibble. Saving Washington puts a necessary spotlight on an all-too-forgotten group, offering a view of American history lacking in most historical accounts. After seeing the thoughtful presentation and historical analysis on display, women's history advocates should be all the more excited about what future treasures the Center for Women's History has in store.
Saving Washington is on view at the New-York Historical Society through July 30. For more information, visit nyhistory.org.
Looking for Free Group Planning Services?
Get free advice on planning your group's trip to New York.
RESTAURANTS

Guy's American Kitchen & Bar is a dynamic restaurant introdu...

THEATER

A new musical following a wannabe rock star who poses as tea...

SHOPPING

Specializing in the great vineyards of California, France, A...

SIGHTSEEING

In addition to 360-degree views from Midtown Manhattan, the ...