Whether you're traveling in New York on your own or with friends, there are lots of attractions of special interest to women. There's shopping and makeup, sure, but also theater, nightlife, and public art that nods to the historic contributions of the fairer sex. Read on for some great activities when you're a woman alone in New York City.
NYC for Solo Women: Makeup Lessons
What woman doesn't want to look as good as she can? To make the most of what you've got, invest an hour in a totally personalized makeup lesson. MakeUp By Shara has been doing makeup for over 15 years and takes each woman's preferences into account. You are encouraged to bring your own makeup to the session ($125, tip if you wish) and/or buy any of the brushes or products used. Shara does half the client's face; you replicate her work and leave with written instructions on how to do the job yourself afterwards. The salon is in the Pierre Hotel; services can be booked by phone or online. 2 E. 61st St., makeupbyshara@aol.com or 212-600-0723
NYC for Solo Women: Tours
Williamsburg Bites explores local fare, including Mast Brothers Chocolate.


Looking to do some sightseeing, but don't want to feel like a tourist? Like A Local Tours offers a variety of Manhattan and Brooklyn tours give the insider slant on everything from the Flatiron District to Williamsburg to food and beer tastings. For film buffs, On Location Tours covers NYC's favorite TV and film sites, including tours dedicated to TCM Classic Movies, Central Park, and Sex and the City.
NYC for Solo Women: Public Art
Eleanor Roosevelt at Riverside Park/flickr/Eden, Janine & Jim
Honor your foremothers at the (relatively few) statues of prominent women salted around New York. Sunk in thought, an eight-foot high statue of Eleanor Roosevelt is in Riverside Park at West 72 Street. A bronze bust of Gertrude Stein is in Bryant Park, behind the New York Public Library. Abolitionist Harriet Tubman meets your gaze where St. Nicholas Avenue and West 122 Street meet. All locations are in Manhattan.
NYC for Solo Women: Cocktails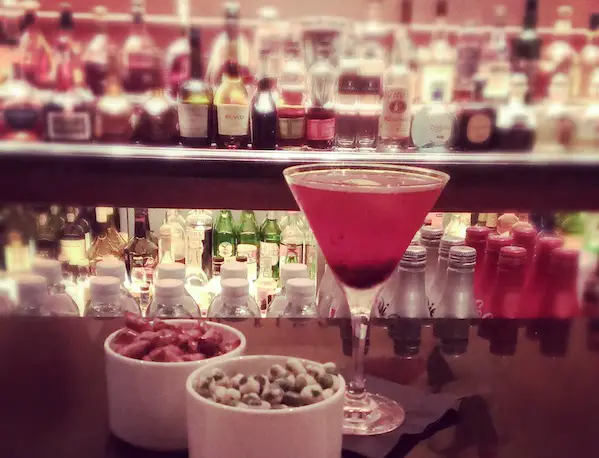 King Cole Bar/Facebook
Have a drink (alcoholic or not) at one of the city's glamorous bars, like the King Cole Bar at the St. Regis Hotel. This iconic bar has spelled sophistication since it opened in 1932. Gaze at the Maxwell Parish mural of the King himself while sipping an old-world cocktail like a Manhattan and pretend that Marilyn Monroe just walked in. For maximum fun, dress up a little.
NYC for Solo Women: Salons
There are thousands of nail salons in NYC; Susie's on the Upper West Side (252 W. 72nd St., 212-496-8874) gets high marks. It's no-frills but clean and the staff all do a good job. For a somewhat fancier—and pricier—version, look into tenoverten (yes, that's "ten over ten"), with locations in Tribeca, Soho, and midtown. A signature pedi is $45 while the hour-long custom clocks in at $65. If you want inspired nail art, investigate Valley, with salons in NoLita and Chelsea, to book services in 15 to 60 minute increments.
NYC for Solo Women: Theater

For a little culture along with your new looks, a discounted day of event tickets at Lincoln Center is available at 25 to 50 percent off full price. Starting at noon, tickets are available at the indoor space, formerly known as the Harmony Atrium, that extends from Broadway to Columbus Avenue between 62nd and 63rd Streets. In the evening, you can often find free entertainment there (it goes by the David Rubenstein Atrium these days).
NYC for Solo Women: Shopping
A closet full of clothes but nothing to wear? New York offers personal shoppers who'll take you on a tour of the stores based on your size, budget, and preferences, all obtained via email ahead of time. Check out luxury personal shopper Joan Kaufman, who's worked with New York locals and visitors of every stripe, with a quick eye for what's going to look best on a client no matter how long she's known them. Val of the service Shop with Val ($95 an hour with a two hour minimum) will visit stores ahead of time and pull out items so you don't have to leave the fitting room. Shopping with a gal pal(s) is also possible. Val@shopwithval.com or 347-SHOP-787.
Want to buy great stuff for kids but keep the cost down (after all, outgrowing duds is part of their job description)? Visit Jane's Exchange, a consignment store for children's goods in the East Village. Jane's sells not only gently worn, stylish kids' duds but also dance shoes, ice skates, and other kid-necessary items.
Diamonds are still a girls' best friend, right? To see masses of them, stroll along the 47th Street Diamond District, starting at Fifth Avenue heading west. Of course you can shop, and many women report that very good deals can be had here, but you can also simply look. Diamonds range in size from very small to large, set into earrings, necklaces, and even tiaras. The glitter can be blinding.
NYC for Solo Women: Ohm Sweet Ohm
If all the rushing has you in need of some quiet "me" time, Shambhala Meditation Center offers low-cost meditation periods almost every day. On the 6th floor at 118 W. 22 St. in Chelsea, the center opened in 1971 and offers training as well as classes in Buddhist teaching and meditation instruction. Just say "ohm."