Nightlife in New York City This Weekend - July 13-July 15
July 9, 2018 - by CG Directory Editor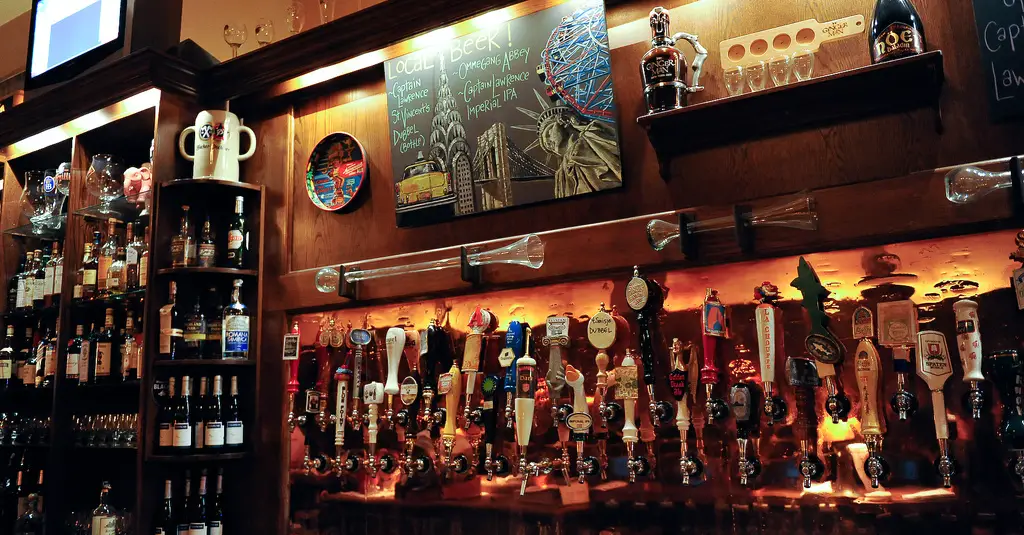 Photo: Jazz Guy/Flickr

New York City is the ideal metropolis for night owls wanting to stay out late long past the setting of the sun. From evening shows and late night performances to bustling bars and packed nightclubs, find exactly what you're looking for on City Guide's weekend nightlife guide to New York City.


Fly in July - Beer, Chocolate, & Doughnut Tasting Event - Precious Metal
July 14, 2018 - Brooklyn
Enjoy beer from Finback Brewery, chocolate from FINE & RAW, and doughnuts from Dun-Well Doughnuts at this tasting event! With your ticket, you will receive a flight of 4 beer tastings, 4 chocolates, and 4 doughnuts - all chosen and developed to mix and match beautifully. You can taste, review, and compare notes with other attendees. There are two serving times, at 2 p.m. and 5 p.m. Beer, donuts, and chocolate on a Saturday afternoon! What's not to love? Presented with our friends at Hop Culture.
Ride The Wave Midnight Yacht Cruise - Harbor Lights Yacht
Through July 15, 2018 - New York
Invites you to the "Ride The Wave Midnight Yacht Cruise" SATURDAY, JULY 14TH, 2018 Aboard the Multi-Level & Climate-Controlled HARBOR LIGHTS YACHT Docking from SkyPort Marina 23rd Street & FDR Drive East Side of Manhattan Boarding approx 11:45pm | Returning approx 3:45am/4:00am E-Ticket Check-in for Boarding Passes begins approx 10:45pm Times are subject to change 3 Levels to Party! Music by: DJ E.M. Mainstream || Top 40 || EDM || Latin THE BIGGEST OUTDOOR LOUNGE CASH BARS & CASH BUFFET TO PURCHASE FOOD & DRINKS Tickets start at $25 per person Price is subject to raise | Processing Fees Applied To Purchase Tickets, Visit www.nypartycruise.com 21 & Over | ID a Must | Dress to Impress Button Down Shirts Preferred for Gents Absolutely No Baseball Hats, Shorts, Hoods, Boots, Athletic, or Baggy Attire For Info: Email events@nypartycruise.com Visit www.nypartycruise.com Birthday Packages, Bachelorette Parties, & College Graduation Packages Available
We Have Your "COUNTRY" Covered! In the heart of Times Square: Opry City Stage is the best place to watch the 2018 FIFA World Cup - Opry City Stage
Through July 15, 2018 - New Yorl
If you're not in Russia enjoying the 2018 FIFA World Cup and happen to be in Times Square, the "Crossroads of the World", we have an ideal location to watch the universe's most anticipated soccer event. Newly-opened Opry City Stage , located on 1604 Broadway between 48th and 49th Streets, is opening its doors to soccer fans from all across the globe to enjoy this year's World Cup action beginning JUNE 14 THROUGH THE CHAMPIONSHIP GAME ON July 15. Opry City Stage, home to mouth-watering southern cuisine and outstanding live country music performances, will have 19 wide-screen televisions and three jumbotrons (120"/7 ft. by 7 ft) with stadium surround sound dedicated to World Cup Doors open EACH DAY AT 8 A.M. with World Cup broadcasts on Opry televisions throughout the day. Opry City Stage will recognize and honor fans wearing jerseys of their favorite World Cup team with special-priced drinks – including beers from all across the world – and food. Opry plans additional World Cup promotions including Tuesdays' two-step dance salute to international soccer fans.
Compass Song - Times Square
Through August 03, 2018 - New York
Artists Mendi + Keith Obadike have stretched fragments of music, poetry, stories, and myths across the pedestrian plazas and surrounding blocks in all four cardinal directions, for visitors to discover whether they're exploring the neighborhood or simply on their way to work. The result is Compass Song, a free app-based public sound artwork inspired by Times Square's rich history as the Crossroads of the World that officially launches Wednesday, July 12th. Compass Song was commissioned by and created in residence with Times Square Arts. As you turn on the app, plug in your headphones and walk through Times Square, a voice will accompany your wanderings with poems about searching for freedom, reflections on navigating the city, and cross-cultural myths about the cardinal directions, woven through with quotes from and reworkings of Walk With Me, the African-American spiritual turned Civil Rights freedom song. The voice in Compass Song is always underscored by a drone, a unique harmony that translates the latitude and longitude data for Times Square into sound and modulates as you walk north, south, east, or west. Interspersed with this are vocal performances of the sounds of Ti... (read more)
Cabaret at Claude's 2018 Series - Southampton Inn
Through August 23, 2018 - Southampton
Featuring Konstantin Soukhovetski A Prodigy of The Juilliard School Hailing from Moscow Every Thursday Night from June 21st To August 23rd Prix Fix From 7pm To 9pm Show Starting At 9pm $75 Prix Fix Includes Two Course Dinner One Glass of House Wine & Ticket to The Show $40 at the Door Starting at 8:45pm Includes One Glass of House Wine & Ticket to The Show Featuring the Music of Madonna, Celine Dion & other Iconic Artists Call 631-283-6500 for reservations & information or visit http://www.southamptoninn.com/
Claude's at the Southampton Inn - Southampton Inn
Through August 31, 2018 - Southampton
Claude's at the Southampton Inn is the exciting debut 2018 eatery providing the epitome of comfort and luxury dining plus entertainment in Southampton. This summertime favorite of locals and visitors alike is perfectly situated at the epicenter of Southampton Village. Enter via the enchanting European-styled courtyard, freshly re-planted gardens, and pool patio to discover Claude's newly renovated interior space — your premier destination for summer 2018. This beloved and bespoke restaurant will be serving delectable chef's-choice dinners from renowned Executive Chef James Carpenter. Claude's Restaurant is open year- round and provides beautiful inside dining or enchanting outdoor dining in the European courtyard or poolside patio. The restaurant is open for breakfast, lunch and dinner from 7:00am to 9:00pm. Carry Out Claudes will be ready to supply to-go lunches and suppers for trips to the beach, picnics, beautiful hikes through Southampton. A newly constructed state-of-the-art performance stage will host rock star pianist, actor, and Juilliard School prodigy Konstantin Soukhovetski every Thursday evening from 9:00pm to 10:00 pm. Beginning June 21, 2018, Soukhovetski wil... (read more)
Get the Offers on Sushi Food - Zen Ramen and Sushi
Through December 05, 2018 - New York
Zen Ramen & Sushi – One of the Authentic Japanese Restaurants & Bars in Manhattan, NYC. We are a very exquisite restaurant that is proud to serve you authentic ramen and sushi along with several other Japanese dishes to suit your taste buds. Order online now for the delicious ramen & sushi delivery at your home.
Models and Bottles Fridays ... Free on the A.C. Pass Guest List - Show
Through December 29, 2018 - New York City
Models and Bottles Fridays Text keyword SHOWNYC to 83361 for Instant RSVP and chance to win a VIP Party (FREE Admission, Bottle & More!) SHOW. NYC Nightclubs. 135 West 41st Street. Times Square. 10 pm-???(Broadway and 6th Ave) A.C. Pass List invites you to "The Original" Models and Bottles Fridays at NYCs newest premier hotspot, Show NYC! This will be the biggest Friday Night party NYC has ever seen. Top DJs, aerialists, dancers, expert mixologists, bottle service served by our #Showgirls, a true VIP experience, a sexy crowd, all in a spectacular new venue. Ask about our specials, VIP packages and Group/ Birthday specials.. World reknown DJs play open format, house music, old skool, top 40, mash-ups and more. Everyone receives complimentary admission on the "A.C. Pass List" (ladies til 12am, Gents til 12am). Ask me about special birthday (& group) packages. Call me direct @ 917.653.0768 for Table Service and more details. 21+ID. To expedite entry, get on the "A.C. Pass Guest List" please e-mail me directly, crisac@mac.com. Doors and list opens at 10 pm & all list closes at 2 am. All admission is at the discretion of the doorman. Dress fashionable please. Dress code: Ladie... (read more)
Looking for Free Group Planning Services?
Get free advice on planning your group's trip to New York.
MORE Activity Planner ARTICLES
RESTAURANTS

Beer hall casual meets craft cocktails with a healthy dose o...

THEATER

In a heartbeat, 38 planes with 6,579 passengers were strand...

SHOPPING

Specializing in the great vineyards of California, France, A...

SIGHTSEEING

This renovated museum complex includes the 900-foot-long air...